I've worked in digital marketing for over five years, both on the agency side and in-house. Over the years, email marketing has remained the cornerstone of digital marketing strategy.
It's important to focus on nurturing the relationship with existing customers as well as expanding your contact database, which is where an email marketing strategy comes in.
Not only is it a simple way to keep in constant contact with customers, informing them of offers and new services, but it is a fairly inexpensive way to reach broad audiences effectively and generate new leads.
The people you want to reach with your email campaign are already on their desktops daily for their business, so reaching out via their inbox makes perfect sense.
Now we'll take a deep dive into what B2B email marketing actually means, and which platforms you need to be aware of in 2023 to build your brand awareness and increase your subscribers (and your revenue!).
What Is B2B Email Marketing?
By definition, B2B email marketing refers to the use of email campaigns to promote products to other businesses, rather than individual consumers, which is where B2C comes in.
The difference between B2B and B2C marketing revolves around the audience being targeted and the goal of the campaign. Although Return on Investment (ROI) is the main goal of both communications, they each take a different approach.
B2C emails favor a more casual, personal tone, and they typically try to relate to the consumer as well as trying to trigger an emotional response. A typical B2C journey involves the recipient opening the email, clicking through to a webpage and making a purchase or signing up for a service. (See more email funnel examples here.)
B2B email marketing services are used to generate leads and will aim to highlight expertise, or provide valuable information to address a pain point the target organization might be facing. A typical example for this is email marketing for SaaS (software as a service).
B2B emails get straight to the point, with a more direct, professional tone (note, it's important to bear in mind that B2B customers are people too – so avoid the typical mistake of sounding too robotic!). They tend to take a results-oriented approach and target a selection of individuals and decision-makers at a company.
The fact is, businesses are BUSY, and already know all the tricks in the marketing game, so often appreciate getting straight to the point.
What matters to them are direct facts, figures and how your service is going to benefit them. B2B email marketing campaigns will also be highly personalized, using factors such as job title, industry, company size, or even the stage that the reader is at in their buying journey.
It's all about creating compelling content that relates to your target audience and utilizing the email marketing tools available in the market to increase your engagement and open rates.
We'll be going into more detail about what email marketing tools are available to help you craft the perfect email campaign, so don't worry about feeling overwhelmed at this stage – we've got you!
What's the Cost of B2B Email Marketing?
Choosing the right email marketing platform can be a bit of a headache. There isn't a shortage of options, so it's important to ensure that you're getting value for your money with a service that meets your needs.
You can choose from a variety of paid plans or take advantage of the free email marketing subscriptions – but bear in mind that these will offer fewer functionalities and often limited customer support. Make sure to check out our price comparison tool where you can see how the prices vary according to your subscriber count.
We've put together a quick overview of some of the popular email marketing solutions out there. We weigh up the pros and cons of each, so choosing your perfect match just got a lot easier. You can thank us later!
Email marketing platform
Cost from
Pros
Cons
ActiveCampaign
From $39/mo

> See ActiveCampaign pricing guide

Offers a 14 day free trial

Ideal for a business of any size, ActiveCampaign offers powerful automation, good reporting capabilities, high deliverability rates and a free migration service.
The Plus and Professional plans are considerably more expensive compared to the number of contacts you get. No free plan offered.
GetResponse
From $19/mo

> See GetResponse pricing guide

Offers a free plan for up to 500 contacts

Easy-to-use interface, good support available. Built-in sales funnel software.
Things can get expensive quickly if you want to access features such as marketing automation or ecommerce features.
Brevo (Sendinblue)
From $35/mo

Offers a free plan with unlimited contacts

Brevo offers good value for the price, and is a more affordable option compared to some other platforms. It also offers a WordPress plugin, along with a CRM (even in the free plan!)
Deliverability tests fluctuate – whilst it has a fairly good deliverability rate, it can differ from one test to the next, shown during our deliverability tests.
HubSpot
From $20/mo

Offers a 14 day free trial

The marketing and sales platform offers great tools for managing a large database of contacts, as well as the ability to build landing pages for free. You can also integrate easily with lead gen platforms such as LeadOnion to import more contacts
Expensive subscription plans – you also pay for contacts by the thousand, meaning you could end up paying much more than your subscription level.
MailerLite
From $25/mo

> See MailerLite pricing guide

Offers free plan for up to 1000 contacts

Affordable price and good value for the range of features
Larger businesses could find the feature set lacking. Basic reporting and limitations when it comes to marketing automation
Zoho
From $20/mo

Offers a 14 day free trial

A lower cost option with a good range of features, including automation, CRM, and integrations with a wide range of 3rd-party apps. Its free plan is also good value for small businesses, with features to track leads, manage contacts and tasks.
Zoho is not as user-friendly as other options, and those that are new to email marketing software and CRM systems may find it hard to navigate.
Constant Contact
From $12/mo
Offers a ton of good features, including segmentation, contact management and reporting. The platform also offers niche features, such as event management – allowing you to manage event invitations and bookings.
Charges a higher premium for automations than other platforms yet doesn't offer more advanced automations.
Omnisend
From $16/mo

Offers free plan up to 250 contacts

Best for ecommerce B2B brands. Great library of email templates. Advanced features included across plans.
Some users report lack of communication when it comes to updates – leaving them to have to contact customer care to figure out how to navigate some of the new features.
Mailchimp
From $13/mo

> See Mailchimp pricing guide

Offers a free version – includes up to 500 contacts and 1,000 sends per month, with a daily send limit of 500.

User-friendly interface, fairly straightforward to use, a good option for beginners.
Fairly expensive, as costs can creep up quickly. You should also be aware that the platform will charge you even for unsubscribed or inactive contacts in the database.
Which Email Marketing Platform is Right for Your Business?
We'll now explore what the best email marketing services have to offer small businesses, going over the pros and cons in more detail. It's worth noting that a lot of the features are commonplace across each platform, but we'll highlight the ones that are doing it best.

ActiveCampaign
An intuitive, versatile platform that excels in terms of automation and seamless integration with other platforms. ActiveCampaign boasts 920+ integrations, including Microsoft, WordPress, Facebook and Shopify.
Pros
Marketing automation with Predictive Action – ActiveCampaign provides "Predictive next steps" which suggests the next steps for you when building out automated workflows. Ultimately, this helps to build an intuitive user experience that converts leads into sales.
Good selection of templates – ActiveCampaign offers a modern selection of templates as well as a drag-and-drop editor, keeping design simple. However, if you feel you have good design skills, you can design your own template from scratch.
Built in CRM – ActiveCampaign's CRM stacks up well against other platforms, with its flexibility and ability to streamline the perfect customer journey. There are no limits to the number of processes you're able to build in the platform, enabling you to provide a great customer experience, without worrying about sacrificing personalization.
Cons
No free plan available – Only a free trial is available with ActiveCampaign. Unlike many of its competitors, it does not offer a free plan.
Complex – If you're looking for a simple, quick and low-cost platform, and you find you don't need as many advanced features, then this may not be the best suited email solution for you.
> Read our full ActiveCampaign review for more information
> Try ActiveCampaign for free for 14 days

GetResponse
A solid choice for an email marketing platform and automation solution, GetResponse offers all the necessary tools to send newsletters, automate your email marketing, and view and analyze statistics.
The platform also offers some additional features, including a website builder, a chat function, webinar hosting, and the ability to build landing pages.
Pros
Autoresponders – Save time on follow-up emails with automated autoresponder emails delivered to your subscribers based on predefined conditions/rules you set.
Send Time Optimization – Emails are delivered according to your subscribers' timezone, no matter where they are in the world!
Drag and drop editor – GetResponse also offers a simplified drag and drop email editor, so you don't need HTML skills to craft the perfect email.
Visual workflow builder – Visualize and build your ideal customer journey using the drag-and-drop automation builder.
A/B testing – GetResponse offers great testing functionalities, allowing you to optimize your communications based on data.
Webinars – The webinar solution allows you to provide an interactive experience offering room for up to 1000 attendees. It also performs well when it comes to webinar presentation and audience engagement capabilities.
Cons
Lower deliverability rates – GetResponse doesn't perform as well as other email solutions in our email deliverability tests.
Higher cost – Features such as automation are only available on paid plans, whereas this is a feature available on other platforms for free.
Webinar function – Granted, it's great that GetResponse offers this handy tool for running online events… However, it's worth bearing in mind that you can only run paid-for webinars on the most premium (and expensive!) plans.
> Check out our full review of GetResponse for more information, or see how GetResponse compares to ActiveCampaign
Brevo (formerly Sendinblue)
Brevo was developed to fill a gap in the market, offering a user-friendly, one-stop-shop for email marketing and automation to small businesses. It's often praised for its affordability and is a popular email marketing platform as a result.
Pros
Drag-and-drop editor – Brevo has one of the best drag and drop functionalities, winning on its speediness and ease of use.
Transactional emails – The transactional email service enables the delivery of important customer updates in real time. You can test the free plan with 300 emails a day, no strings attached!
Best time feature – A common theme amongst the platforms, Brevo also offers the best time feature, allowing you to send emails at the optimal time, giving you more chance of higher opening rates.
Automation – Regardless of the plan you choose, you still get access to Brevo's full range of automation abilities. You can begin with pre-built workflows for the most common scenarios, or dive into more advanced options such as A/B testing, personalized content and user journeys.
Cons
Deliverability – It's quite an important consideration, as you want your emails to actually have the chance to land in your recipients' inbox. With Brevo, it's not a major con, as the platform offers a fairly decent deliverability rate. However it lacks consistency, and differs from one test to the next, shown during our deliverability tests (which we run twice a year).
Slower, clunkier platform – Not as smooth and seamless as the others, Brevo's platform is less user-friendly and less speedy than its competitors.
> Learn more in our Brevo review
HubSpot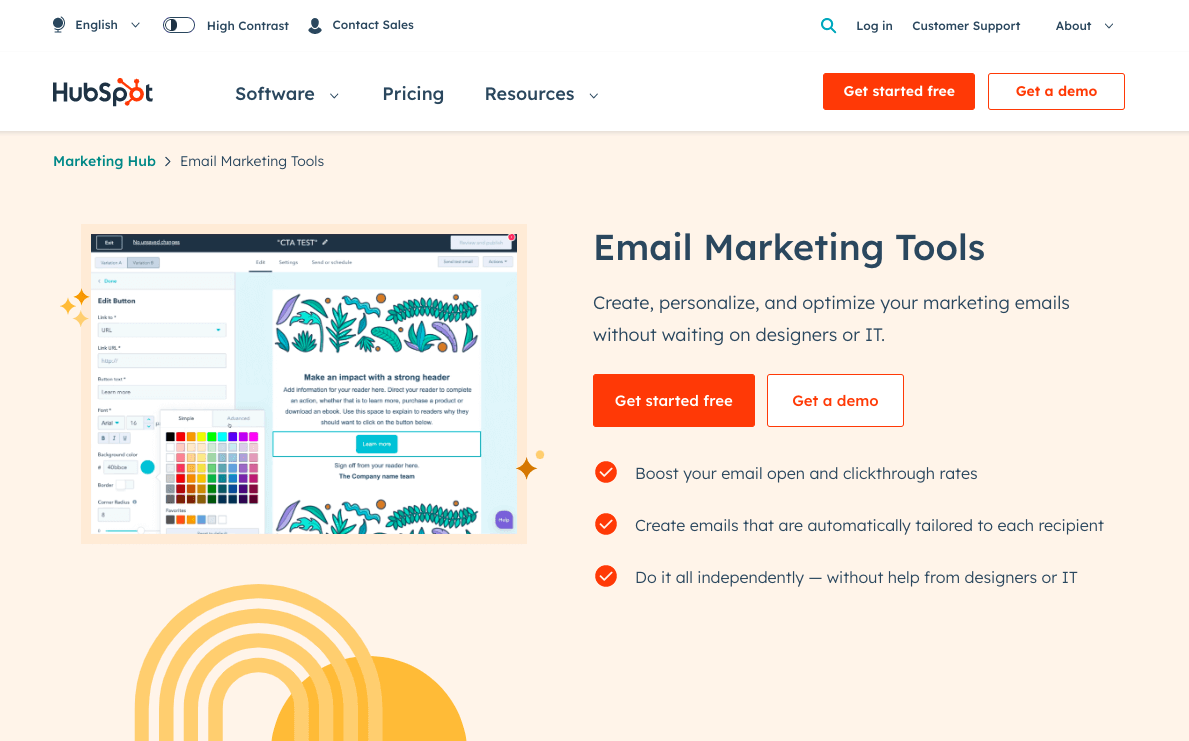 HubSpot may be on the more expensive side (we uncover the hidden costs in our full HubSpot review) but its portfolio of advanced features makes up for it. In terms of functionality, HubSpot is perfect for account-based marketing and excels at merging your CRM with email marketing efforts. The popular email marketing platform is on par with the category's top players, making it one of the best choices for many B2B companies.
HubSpot also features as our number one choice as the best CRM for small businesses.
Pros
Audience Segmentation – HubSpot makes it easy to create individual lists to deliver personalized marketing campaigns. It offers seamless integration with other lead generation platforms so you can import and segment data easily.
Drag and drop email builder – This feature allows you to design beautiful, tailored emails with a drag and drop email builder.
WordPress plugin – This plugin for WordPress offers access to HubSpot's portfolio of tools and features on your site.
Web forms – Gather contact details from prospective customers with standalone, pop-up or embedded forms.
Calls-to-action – Boost conversion rates with calls-to-action that you can personalize, test and optimize based on performance.
Behavioral Targeting – Personalize your marketing outreach with advanced features that use people's activities on the web to tailor advertisements and messages that resonate most with them.
CRM – A Customer Relationship Management system (CRM) is a must for any business to manage customer-related data. Hubspot offers a cloud-based CRM helping businesses to track and nurture leads, manage contacts efficiently and highlight sales opportunities.
CMS – With a well-developed content marketing plan, comes a lot of click-worthy content you'll want to share with your audience. A Content Management System (CMS) allows you to do just that. Hubspot's CMS hub sits within the CRM and allows you to create and manage website pages with ease, optimized for conversion across devices. Read our full Hubspot CMS review.
Cons
Expensive paid plans – Prices creep up rapidly alongside your growing requirements and amount of contacts. If you opt for the Professional plan you'll have to commit to a 12-month contract. Some of the features offered in HubSpot can be available for free with other providers.
Basic templates – For quite an expensive service, you'd expect to see more modern email templates, fit for grabbing your reader's attention – I'm often sending out newsletters to our customer database in my marketing role, so I was quite surprised to see such a basic selection of email templates.
MailerLite
MailerLite offers many of the same functionalities as other ESPs, including drag-and-drop editors, automation, the ability to build landing pages and pre-designed templates. It was also awarded our Best Email Marketing Tool for Ease of Use badge for 2023!
Pros
Integration – MailerLite easily connects with a multitude of other web apps, which seamlessly work together to share information, automate workflows and improve customer experience.
Email deliverability – MailerLite has an impressive average deliverability rate of 94.6%, previously winning our 'Best of 5' award for the last 5 rounds of tests.
A/B testing – The split testing feature allows you to take the guesswork out of email marketing and maximize your engagement rates by discovering which emails work best with your audience.
Cons
Really limited features on the free plan – Unlike other platforms which offer a free plan, MailerLite doesn't offer the same functionality when it comes to sending out newsletters, with no ready-made templates available unless you're on premium plans.
Lack of customer support – User reviews have often stated frustration regarding their support service, which is said to be slow and unreliable. The platform also doesn't offer a chat support function unless you purchase their Advanced plan.
> Learn more in our complete MailerLite review
Zoho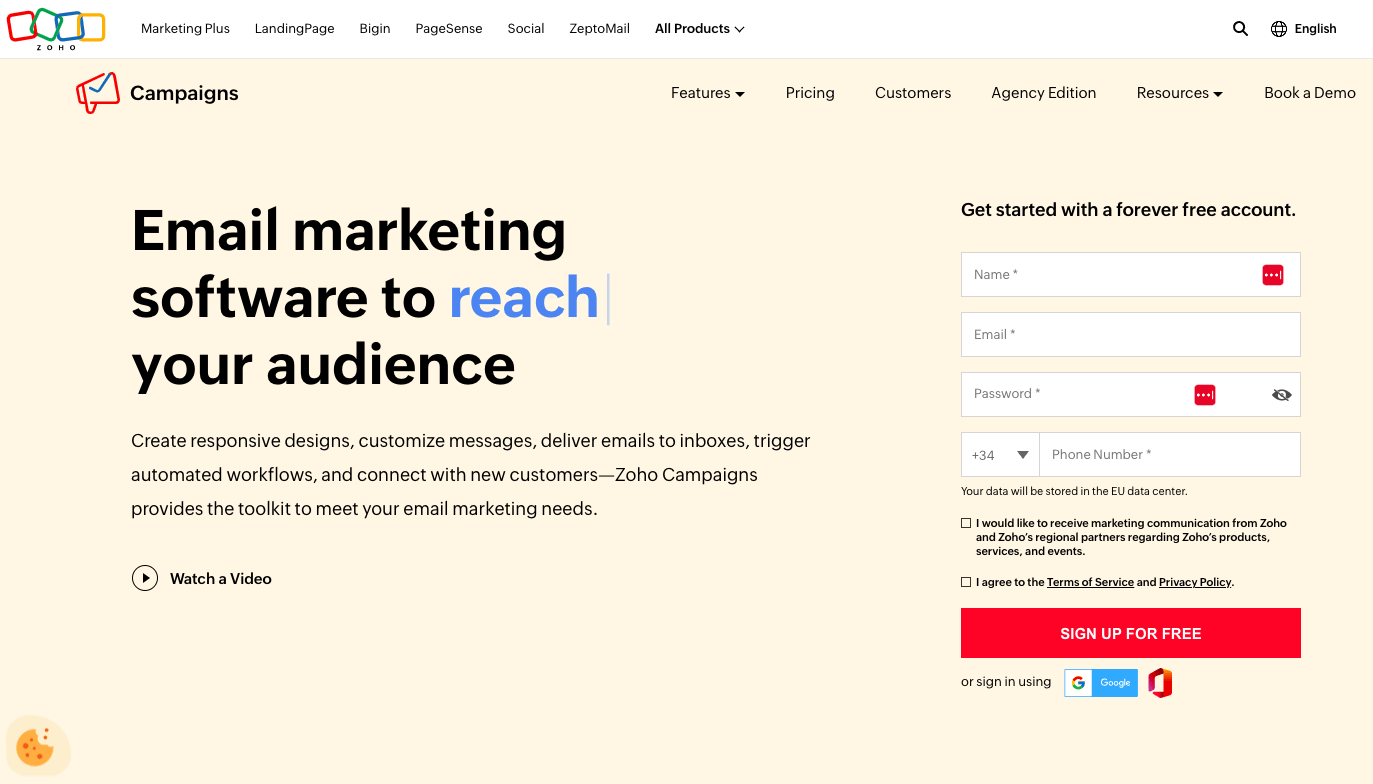 Zoho is a popular email marketing software and CRM that brings your sales, marketing and customer data together in one platform. It also offers project management, invoicing, HR management, and more. Zoho is known for its affordable pricing plans and the ability to customize its applications to meet specific business needs.
Pros
Detailed reporting – Zoho allows you to add up to 10 custom dashboards within its Standard plan. The dashboard also offers simple customization using its drag and drop tool.
Good support available – Support available 24/7, through phone, email and chat functions.
Suitable for a multilingual team – The platform works in a total of 26 languages, and the support offers 11. This is great if you have a remote team working across the world.
Automation – Offers both email marketing automation and CRM automation. Zoho's CRM automation tools enable you to automate standard tasks – which take care of routine activities so you can focus more on other areas of your business and boost productivity. Its email marketing automation offers triggers set up around customer data and behavior metrics. An action – such as email reminders for abandoned carts – happens whenever the contact meets the definition of the trigger.
Cons
Not the most user-friendly – Beginners may find the platform harder to navigate as the software is clunkier and generally quite complex compared to other platforms such as HubSpot.
Lack of support – Harder to access live chat functions, with users having to sign up to Zoho Desk. There have also been reports of lack of responsiveness from the support team and long customer service wait times – which may hinder your productivity if anything goes wrong!
Constant Contact
Constant Contact is one of the more well-known names in the world of digital marketing. The platform is best suited for beginners who are after quick, simple features with ready-made templates and easily accessible phone support. Check out our full review.
Pros
New AI tools – This is a new feature within the platform using the power of AI to create better crafted emails that appeal to the audience and increase open rates. With just a few keywords, you'll automatically be given varied content options to choose from, saving you heaps of time and brain power when crafting email campaigns.
Niche features – Constant Contact includes both events and social media tools, allowing you to pull your marketing needs together in one platform. Schedule your social posts, run Facebook and Instagram ads, and respond to your customers all in one place. Their event tools allow you to build a branded registration form, sell tickets, create modern email invites, and even a landing page for your event. You'll also be able to track responses in real-time. Event planning just got a whole lot easier.
High deliverability rates – The platform offers some of the highest rates of deliverability in our tests, consistently performing well.
Cons
Value for money – Not as cost-effective as other platforms, Constant Contact's pricing is considerably higher when you weigh up against what they actually offer.
Difficult cancellation process – We all know how annoying it can be when a company makes it unnecessarily difficult to cancel a subscription… well Constant Contact is unfortunately one of those. Not available within your account settings, you'll have to call them up directly within business hours (Eastern time).
> Read our full Constant Contact review
> Try Constant Contact for free

Omnisend
If your B2B business specializes in ecommerce, Omnisend could very well be the best B2B email marketing software for you. Integrating with Shopify, BigCommerce, WooCommerce and other ecommerce platforms, its automation capabilities are impressive, as are its ecommerce-specific email marketing features (which we detail below). A free plan is also available.
Pros
Automation – With Omnisend, you can automate tasks such as abandoned cart emails, cross-selling, customer reactivation, transactional emails, and order follow-up. This can save time and increase conversions for B2B ecommerce businesses.
Email templates – Omnisend offers 25 modern email templates and various form designs, including holiday forms for seasonal discount popups, making it ideal for B2B ecommerce businesses that want to showcase a modern image.
Centralized dashboard – Combining multiple channels such as SMS messages, social media posts and email campaign analytics under one roof, Omnisend provides actionable insights, allowing you to easily monitor and optimize your performance.
Performance benchmarking – B2B ecommerce businesses can use Omnisend's health check feature to evaluate their brand's overall performance compared to industry peers in areas such as customer retention, campaigns, workflows, cart abandonment, and sign-up forms.
Ecommerce email features – You can embed unique features like product pickers, scratch cards and gift boxes into your emails, helping to boost conversion rates.
Cons
Not ideal for advanced tracking – Omnisend's reporting features offer a good amount of data, including revenue generated, but B2B ecommerce businesses won't be able to see the geographic location of their subscribers.
Limited sending allowance – B2B ecommerce businesses with larger subscriber lists may find Omnisend's free plan, which allows 500 emails per month to 250 subscribers, to be insufficient. Other free email marketing services offer more generous sending allowances.
Few integrations – It's missing direct integrations with key tools such as Google Analytics and popular CRMs.
Deliverability – Omnisend doesn't fare so well in our deliverability tests.
> Read our complete Omnisend review to learn more
Mailchimp
Mailchimp is one of the most commonly used marketing platforms and is often the first port of call for small businesses looking for an email service.
It's famous for its wide range of features and templates, as well as having a pretty user-friendly interface. Mailchimp pioneered the forever free plan, however, recent changes to the plan mean it's a lot less attractive than it used to be.
I use Mailchimp regularly to create newsletters and email marketing campaigns – and what I love most about it is its efficiency. When your work day is already a bit hectic and email comms are on the agenda, it's great to know that you can import contacts, create an email and get it out to your subscribers within the hour – giving you more time for that well-deserved coffee break.
Pros
Email design – Mailchimp offers a lot of flexibility with design functionality, including basic layouts and layouts tailored for particular events such as announcements or sales. If you want to go rogue, there's also an option to code your own – Mailchimp offers something to suit everyone's needs. Mailchimp's drag and drop editor also makes it easy to duplicate, delete and move content around with ease. You can customize your newsletter to your heart's content thanks to the editor's large array of options.
Reporting – Mailchimp has everything you need in terms of reporting. The dashboard excels against other platforms, offering up additional features including geo-tracking, click maps, as well as monitoring your email campaign performance and social media marketing.
Automation – With 45 pre-built automations, you can focus on increasing your audience engagement and create responsive emails. The automation feature allows you to create welcome emails, send reminders to those who have abandoned their shopping basket, and more. You can customize the journey with your own rules and conditions, based on the recipients' actions. Note, however, that you'll need the more expensive Standard plan to make the most of this feature.
Cons
High-cost subscriptions – Paid plans are expensive compared to other platforms, and it's worth reiterating that the platform will charge you even for unsubscribed or inactive contacts in the database.
Free plan isn't what it used to be – The free plan offers increasingly limited features, with the recent removal of email scheduling, and support is now only available for the first 30 days.
Doesn't allow affiliate marketing – This can be a dealbreaker if you're looking to use content creators and influencers as part of your marketing strategy. The platform doesn't allow affiliate marketing within its terms and conditions.
> Check out our full Mailchimp review for more information, or see how Mailchimp vs ActiveCampaign compare to each other
Why Is an Email Marketing Service Important?
Now, let's look at why investing in an email marketing service should be one of the top priorities in your email marketing strategy.
You may have heard that email marketing is dead, which has been a shared concern across marketing departments. However, this is not the case. It still remains a vital tool within the marketing mix, allowing businesses and organizations to remain in constant contact with their customers, keeping them up-to-date with the latest products and promos.
We've rounded up a few of the things email marketing software can do, to give you an idea about how it can be a key tool to boost your business growth.
Generating website traffic
Email marketing is a great way to boost your website hits. When you produce great content, you want your customers and contacts to know all about it, right?
As well as shouting out about your latest blog post on socials, sending an email marketing campaign to your database that links to your website will give you a good chance of increasing web traffic. So, be sure to include a click-worthy call-to-action in your email campaigns!
Increasing web traffic is not only great for brand awareness and encouraging people to purchase a product or service, but also your SEO rankings.
Segmentation
Typically, segmentation is simply the division of your contact list into smaller segments based on your preferred datasets. This is a personalization tactic, so you could divvy up your data based on location, age, purchase history or customer journey.
The individual lists are created so that you can tailor the content in your email campaign to their individual interests and needs, rather than creating one mass email – which your readers will most likely recognise and shows minimal effort. It's important to give your audience something valuable and relevant to them, which is why email segmentation should be top of your priorities when planning an email campaign.
Automation
A marketing automation tool uses predefined rules to send personalized emails based on actions customers take, or don't take, using automation techniques. For example, this could be automating welcome emails when a customer subscribes, or a notification that the customer has something in their cart but hasn't checked out. It could also be a series of emails, such as a drip campaign, sent over a period of time.
Automated emails can be a handy reminder to customers, reminding them of why they bought from you in the first place and encouraging future purchases. Check out our round up of the best marketing automation software for more information.
Lead Nurture campaigns
Email nurturing campaigns have the ability to increase engagement and keep your readers coming back for more. Nurture campaigns are a series of timely emails (using automation tools as we covered above) sent to your contact list to notify your audience about special offers or other promotional activity.
Nurture campaigns are all about investing in your audience and building a relationship. As well as your emails voicing why you are best in your niche, these emails aim to make your audience feel valued through personalization and delivering content that speaks to their needs and desires. For example, lead nurturing campaigns can be triggered after a customer takes a specific action, such as downloading a whitepaper. This would then set off a series of targeted emails to be delivered to pique their interest and encourage them to take action.
Analytics
It's super important to make use of the reporting and analytics within your chosen email marketing service. Analyzing data based on subscriber behavior can help you to understand your audience better and tailor your campaign based on their interests. This allows you to avoid guesswork and make well-informed decisions based on solid figures.
You can also expect higher return of investment (ROI) by identifying areas within your campaigns that are underperforming, and optimize your following emails based on this to improve their effectiveness and increase response rates.
Collecting feedback/surveys
When it comes to customer experience and improving the user journey, it's important to be on top of your game to stay ahead of the competition. An email marketing service can help you to obtain customer feedback (think customer satisfaction surveys), allowing you to see what you might need to improve, as well as what's going right for you.
Deliverability
Email deliverability is the process of successfully reaching the inboxes of your mailing list. However, it is not always that easy, with obstacles such as emails bouncing or landing in a spam folder. Following email best practices is an important consideration when crafting that perfect email campaign. We've rounded-up 6 steps to take to improve your deliverability rate.
Integration
Integration in email marketing is the tying together of relevant software and tools to optimize your performance. This function allows marketers to bring together their email marketing with their CRM or CMS platforms as well as other services including Eventbrite, SurveyMonkey and social channels to optimize advertising campaigns.
For example, the SurveyMonkey integration with Hubspot will allow you to distribute custom surveys to prospects and customers, and analyze data from the responses in Hubspot. This will then allow you to organize your contacts and manage the type of follow-up they will receive.
Overall, an email marketing service is an essential tool for small-to-medium-sized businesses looking to effectively communicate with their audience as well as generate new leads through an increase in website traffic and raising brand awareness. Email marketing has the ability to make every customer touchpoint unique and help you to stand out amongst your competitors.
Final Thoughts on B2B Email Marketing Software
By investing in email marketing software and making use of its unrivaled capabilities, you can keep communications alive with current customers, generate more leads, and drive sales more efficiently.
All of the platforms listed are key players in the game and will be a vital tool to boost your business growth. It's worth noting, though, that expensive doesn't always mean better, and there are many affordable options that provide similar functionalities, such as Brevo and MailerLite. Although lower-priced, they aren't lacking in terms of capabilities, and with generous free plans on offer, it's worth a shot.
We hope this article has given you some insight into the best email marketing software available and the pros and cons of each, so you can make a well-informed decision that meets your business needs.
We keep our content up to date
20 May 2023 – Sendinblue is now called Brevo
Our Methodology
This article has been written and researched following our EmailTooltester methodology.
Our Methodology