While most hoteliers rely on email for communication with guests, they often overlook its potential as a marketing channel to drive repeat business.
So, what's the secret to leveraging email effectively in marketing? And how does it differ from conventional communication?
If this all sounds confusing, you're in the right place! This guide will attempt to answer all your questions and offer actionable tips on how to get the most from an email marketing strategy for your hotel.
As you'll see, it's divided into two key sections. The first is about becoming better at hotel email marketing and newsletter strategies, and the second is about choosing the best email marketing platform.
Why Email Campaigns are Essential for Your Hotel Marketing
The first point to understand about hotel email marketing is that it's one of the best ways to reach your audience. According to a study by Constant Contact, open rates for the travel and tourism industries can be as high as 39.15% (although this probably includes booking confirmation emails and other transactional emails, which we talk about in the next section).
What is Email Marketing for Hotels (and How Does it Differ From Regular Emails)?
Hotels typically send two distinct types of emails: transactional emails and marketing emails. Transactional emails in the hotel industry are all about delivering important information and aiding guest interactions. These emails include things like booking confirmations, check-in instructions, and receipts.
On the flip side, marketing emails are designed to promote the hotel's services, offers, and the overall brand with the goal of driving bookings and revenue.
While both types of emails are essential components of a hotel's guest communication and marketing strategy, a key point to remember is that you don't need explicit permission to send transactional emails.
However, when it comes to marketing emails, you do need permission from recipients to send them. So, it's crucial to keep this in mind as you develop your email marketing strategy for your hotel. We have a full guide to permission-based marketing here.
What Can You Achieve With Hotel Email Marketing?
Just like with general marketing, your emails can have specific goals that vary from one campaign to the next. Generally speaking, this is what you will aim for:
Brand awareness: This includes welcome emails, "our story" emails, or emails about getting to know your subscribers and their interests.
Consideration from visitors: Emails that highlight your unique selling point or engaging conversational emails, for instance.
Conversion stage: Messages that include discounts, deals, promotions, or special offers. In sales terms, it's often referred to as the decision stage, a.k.a turning list subscribers into paying guests.
Follow-up: This includes pre-arrival emails, upselling and cross-selling emails, or feedback requests.
Loyalty-building: You can also send follow-up emails that are all about turning previous guests into long-term returning visitors. This includes special offers, reminders of previous holidays, an invite to your loyalty program etc.
As you can see, email marketing can be used at any stage of the customer journey. There is a lot more in there than simply giving your hotel guests facts about their stay!
How to Get Started With Hotel Email Marketing?
The good news is that getting started with hotel email marketing is easier than ever. The challenge is that it still requires thought and planning. Here are the basics you need to get started:
An email marketing service: Your CRM probably already takes care of automated guest emails. If it lacks functionalities or flexibility, you may want to look at integrating the features of a more powerful email marketing provider.

A subscription form: Of course, before you send emails, you need people to be able to receive them. Make sure the subscription form isn't hidden in a dark corner of your website, and check out our guide on building your email list here. Oh, and don't forget to let people unsubscribe as well (most providers charge by volume, and there is nothing more infuriating than dark patterns for user experience).

A good reason to send emails: We'll look at the best strategies below, but always remember that the fewer emails you send, the better! Put yourself in the shoes of your guests. They all have busy lives and don't want to be bombarded with irrelevant offers.

High quality, relevant email content: This is related to the point above, but do make sure the emails you send reflect highly on your establishment. This is a lot easier to do if you can segment your email subscribers, by the way.
Well designed landing pages: Make sure the pages on your website that you send your readers to (from your emails), are optimised for higher conversion rates.
Still need pointers on starting your hotel email campaigns? Refer to our step-by-step guide for a thorough breakdown of all the info you will ever need on email marketing.
Tips for Writing and Sending Better Hotel Emails
Okay, now that you should be convinced that email marketing is right for your hotel, let's look at concrete tips on how to get the most out of your email marketing efforts.
1) Define your goals
Whether you're sending a single email or working on a complex campaign, it's crucial to ensure that you have a clear goal in mind. This has several benefits:
It will let you measure your success rate: we'll look more into how to measure it later, but you want to avoid "throwing things at the wall to see what sticks". The clearer your idea of what you're trying to achieve, the easier it is to assess the results.
It focuses your content: you want to control how much information you give to people, and sometimes it can get lost if you try to cram too many details into the same email.
You can send fewer emails: this may sound counter-intuitive, but actually, having a well-thought-out campaign can help reduce the number of emails you need to send. Remember that every email you send increases the chance of an unsubscribe.
Do you want to let guests know about visit-worthy atractions in the area? Or give them an idea of the check-in experience? Think carefully about what kind of goal these emails achieve in the broader marketing strategy: it will help you write better emails.
2) Ensure your tone of voice is consistent and relevant
It may sound obvious, but you should double-check that your emails, website, and social media channels have a consistent tone of voice, branding, and content.
Are you a cheap and cheerful guesthouse that appeals to budget travelers? You might want to sound casual and friendly.
Do you cater to business travelers and large corporate events? Authoritative and professional might be more suitable. Only you can decide based on the kind of accommodation you provide.
And remember that you are of course allowed to change your tone of voice based on your target audience, on a per-email basis! For instance, local travelers won't need information about sightseeing options, whereas those coming from abroad are more likely to be interested in these kind of activities. This could impact how you write as well as the content you offer.
3) Workshop the subject line
Subject lines are the first words your subscribers will read, and they're the main reason they will open or delete the email. Make sure they're short (so they can fit on mobiles) and to the point. Avoid click-bait and try to generally be informative rather than sales-y.
Personalization is also a good tactic. Using a contact's name in the email subject line can increase open rates by 50%!
Pro tip: if you're not sure about how the subject lines will look on your customers' devices, give our free subject line tester a go!
4) Images are great – but remember mobile users!
Most email marketing platforms let you use templates for your email design. They usually include a large image that you should replace with your own. It's visually appealing, and a great way to showcase your rooms, amenities, scenery, or even location.
But don't be tempted to go too big when it comes to the file size! As we've written in our tips on how to avoid spam filters, you should optimize your images, avoid videos, and be careful with your links! If you spend ages crafting a beautiful email, the last thing you want is for it to miss the inbox and disappear into the receiver's spam folder.
5) Don't forget the unsubscribe button
After you've worked so hard to build your subscriber list, you may be tempted to make them stay for as long as possible. It's better to set them free if they want to. By that, we mean of course that an unsubscribe button should always be included in your emails.
Firstly, it helps subscribers signify that they're done with your hotel and promotions. It's a good thing! It means you don't have to waste so much effort trying to convince them any longer.
There's also an indirect positive consequence, which is that you might end up paying less for your email marketing software. Many of them charge by subscriber (although some do it by email sent), so you're doing your wallet a favor by letting people unsubscribe!
Also, since you're only emailing contacts who actually want to receive your emails, you'll find your overall engagement rates will improve – which in turn can help to boost your deliverability rates.
Finally, in many countries it's a legal requirement! Regulations like GDPR in the EU and CAN-SPAM in the U.S. state that you must provide an opt out option in your emails, otherwise you may face very large fines!
You can also mitigate the potential loss, by providing a preferences page where your contacts can access and control the frequency or type of emails they receive from you, to discourage them from ultimately unsubscribing.
Confused about what budget to set aside for your hotel email marketing strategy? Use our newsletter software pricing comparison for a better idea.
Hotel Email Newsletter Ideas
A challenge of email marketing for hoteliers is that you may run out of inspiration. There are only so many times you can rely on your sales funnel campaign without sounding desperate or putting people off.
This is why hotel newsletters are a great way to keep your guests engaged and build relationships, without necessarily trying to sell them your services.
Here are ideas worth considering:
Seasonal news: Christmas markets, New Year's Eve parties and summer holidays are all worth mentioning every now and then to get people excited about potential getaways.
Holiday promos: From Thanksgiving to Diwali, you can expect people to travel more during the holidays. Now's your chance to offer an attractive discount that will help fill as many hotel rooms as possible. These tend to work well paired with urgency messages, where the discounts are limited either by a countdown or the number of offers available.
Professional milestones: Received a new award for hospitality? Hired your 100th staff member? Or maybe you want to highlight a new facility? Don't hesitate to share it with your subscribers.
Local highlights: One of your goals as a hotel is also to help guests have a great time in the area. Sharing your knowledge of local attractions with people who have never been to the area is a great way to get them excited about their stay, drive them to your blog, and build up trust in your brand.
Competitions and giveaways: A classic marketing technique that still delivers great results. The giveaway is a versatile tool that can be combined with requests for customer feedback, sharing content on people's socials, or even for no reason at all!
For example, this newsletter email from the Ace Hotel combines promotions with useful information around local events and restaurants (Source: Really Good Emails):

5 Examples of Hotel Marketing Emails
Let's now use what we've learned to look at great examples of hotel email marketing.
1) The Pre-Arrival/Upgrade Email
Marvel at the clean design and great CTA in this pre-arrival email by the Hansar, Bangkok.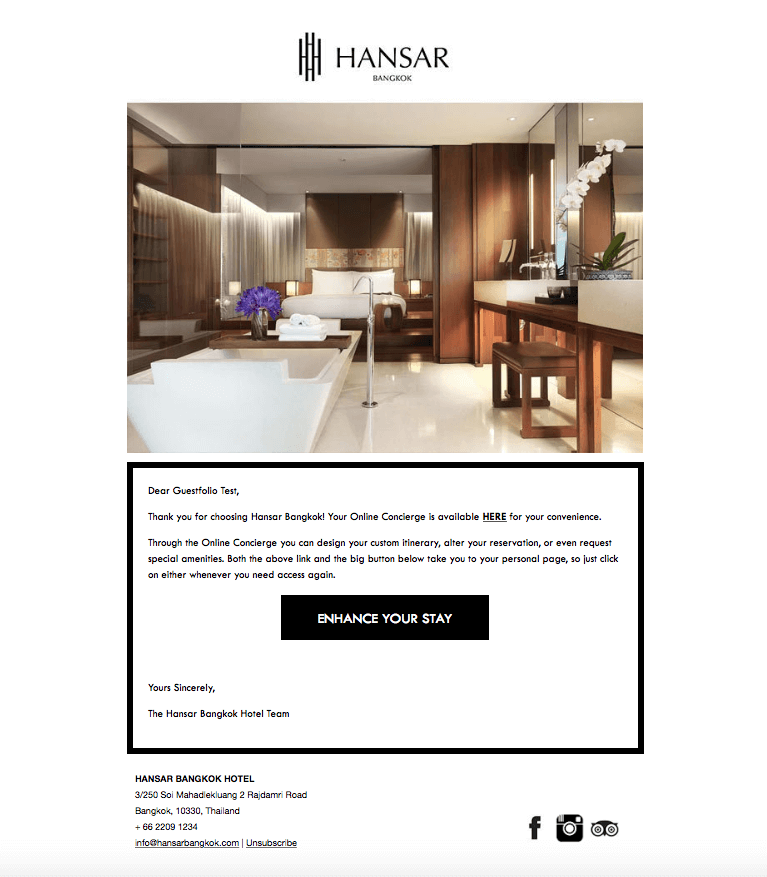 Framing the upgrade as an opportunity to "enhance your stay" is a great way to convey a sense of luxury, especially combined with the picture of the upgraded room. We also like that you get a big button and a hyperlink in the copy. The text even lets you know that both buttons perform the same action to remove any confusion.
2) The Holiday Promo
Chill. Warm. Winter. Cozy. See how Kimpton uses the right words to communicate exactly what makes its hotel destination attractive?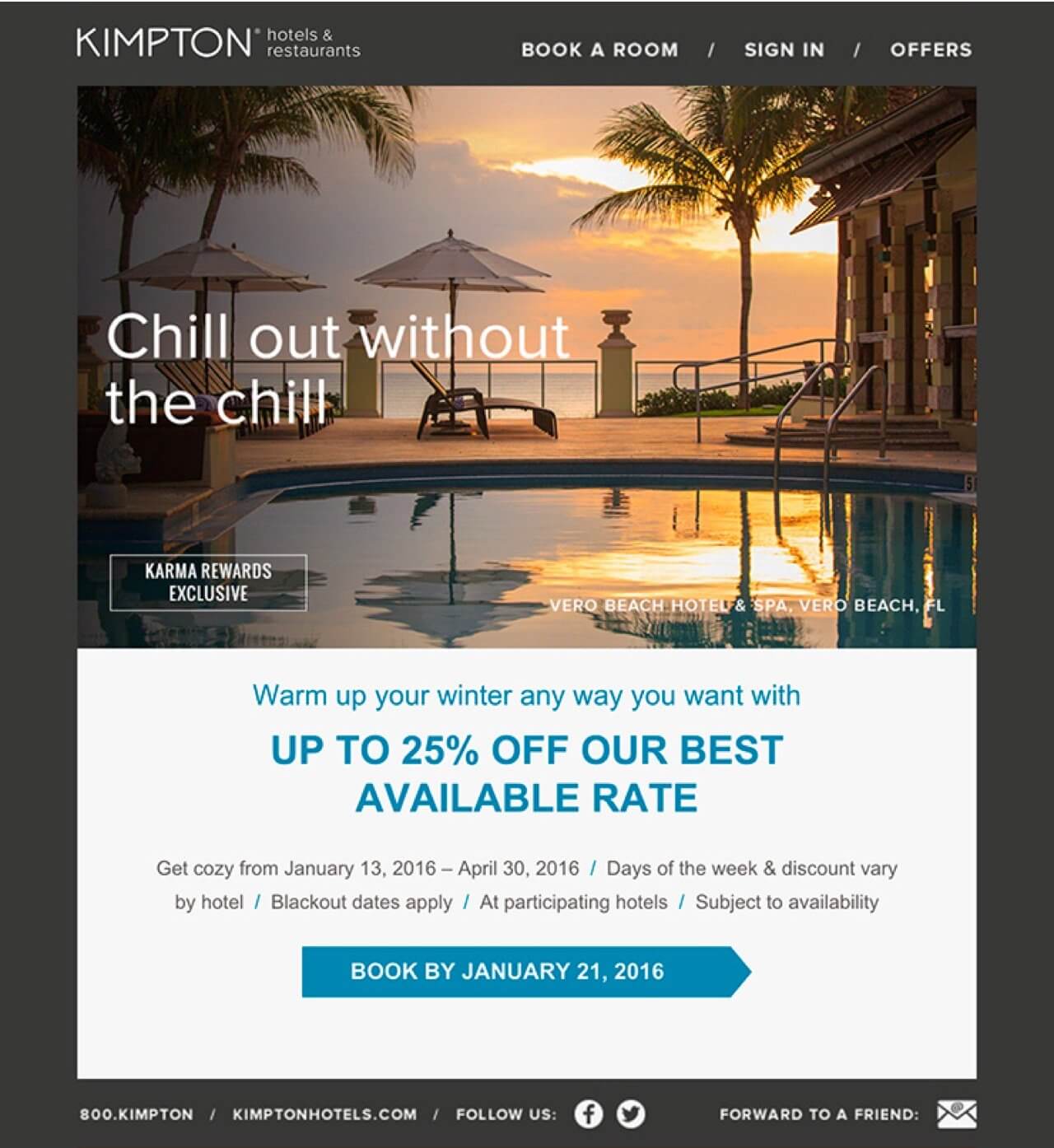 We love how the promo is clearly outlined in simple, concise terms. The discount is attractive, but the fact that the terms and conditions are laid out also helps remove any confusion for those who wish to book – not to mention that there is a bit of FOMO as the promotion is time-limited.
3) The Feedback Request
Granted, this email from The Inn at Union Square is a bit wordy for what it's asking: essentially a feedback request. But do note how everything conveys a sense of luxury and professionalism.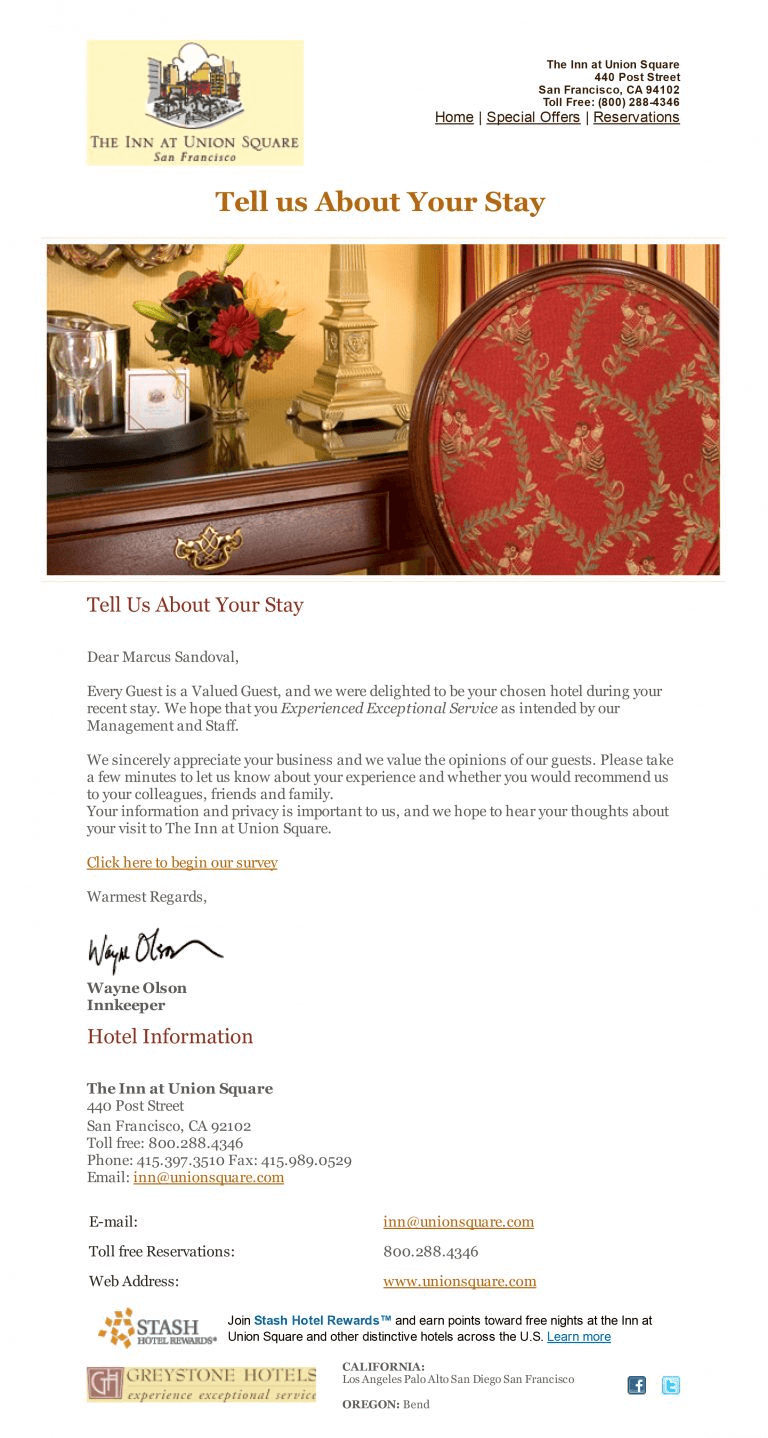 From the letterhead to the Innkeeper's handwritten signature (and what about that job title: innkeeper!), you clearly get a sense that this is a hotel that knows exactly what it is and who its clientele is.
4) The Local Events Guide
A clear headline, evocative picture, and simple call to action. We love how this message from the Palace Hotel is completely designed with the guest in mind.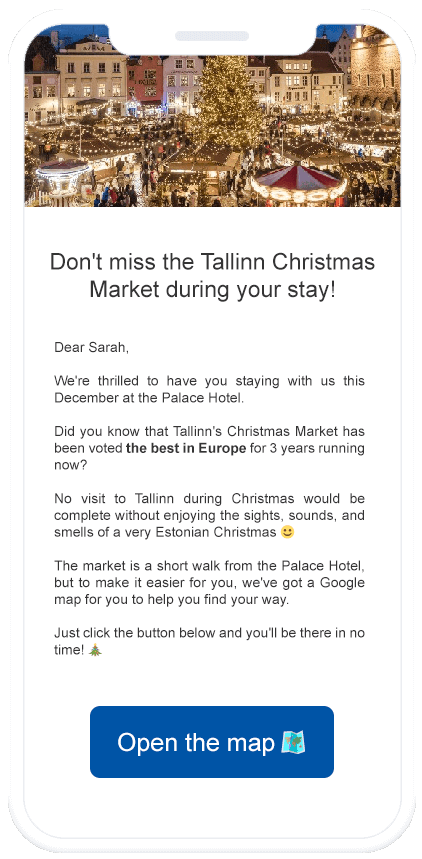 You get a bit of background about the event, a tip that it's happening during your stay and an actually useful link to Google Maps! This is a fantastic example of how to enhance guest experience with a little bit of forethought.
5) The Referral Email
Hotel Tonight is a hotel booking site rather than a hotel, but there's a lot you can learn from its email marketing. Firstly, the company has settled on a tongue-in-cheek tone and is completely committed to it throughout its copy.

But what's really interesting is how the email guides you through multiple offers that become more and more attractive. First, there's the idea that maybe you shouldn't stay with family. Then shows you some attractive rates. And finally, it gives you the perfect excuse to become a repeat customer with a referral link.
6) The Milestone / Brand Awareness Email
These kinds of hotels can be challenging to write because it's 1) easy to sound too boastful 2) more about celebrating yourself than helping the guests. So you have to be humble and straight to the point. This is exactly what Hotel Drisco manages to do here.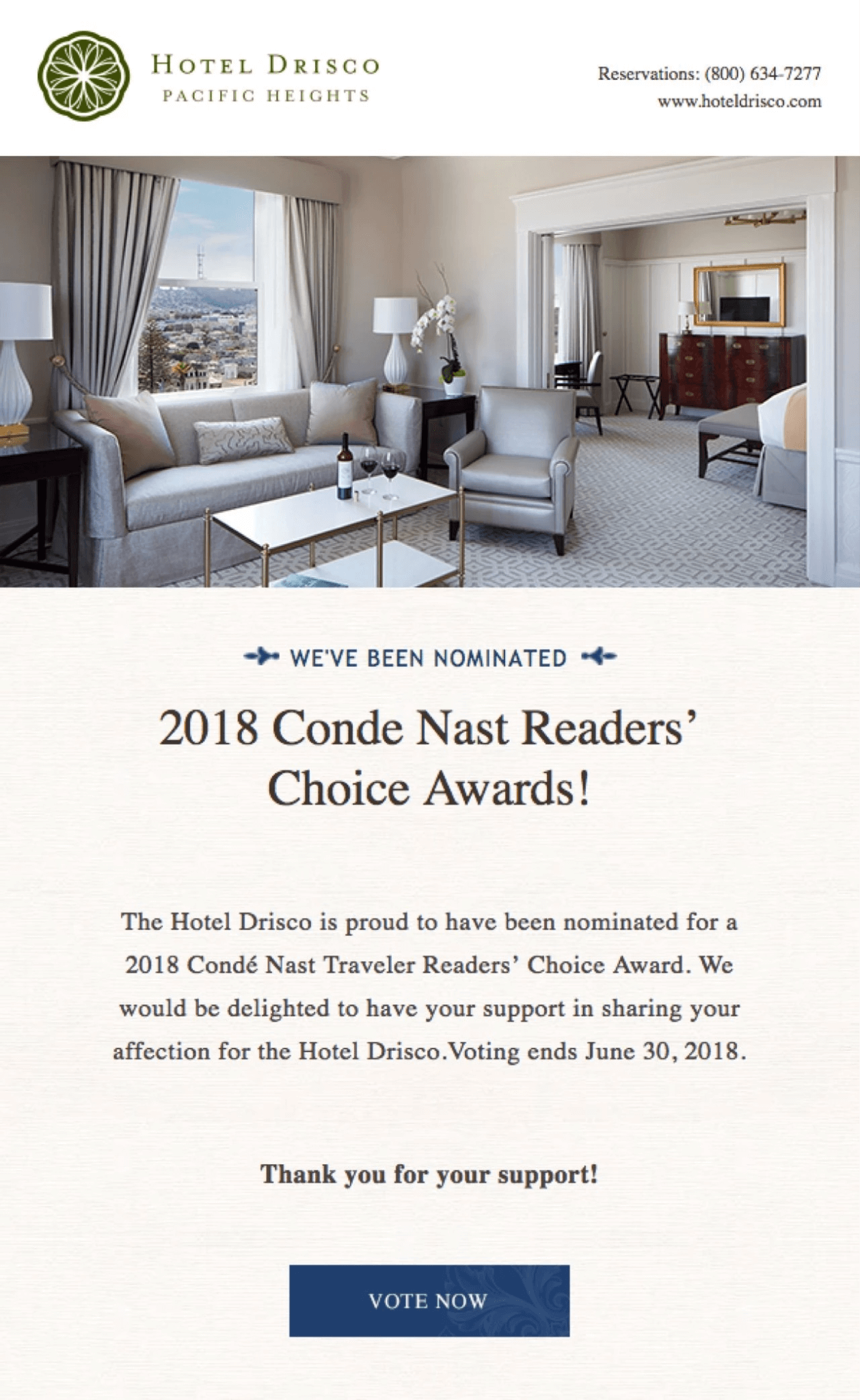 Even though it is asking for the reader to vote, we love how the copy remains confident and professional without sounding desperate. It's a fantastic example of how to keep things short and sweet – especially when you're asking your customers for a favor without offering anything in return.
7) The Loyalty Offer
The Hotel On Rivington automatically sent this email to someone after they stayed with them for the first time. It's an attractive offer that highlights everything they might have enjoyed about their visit.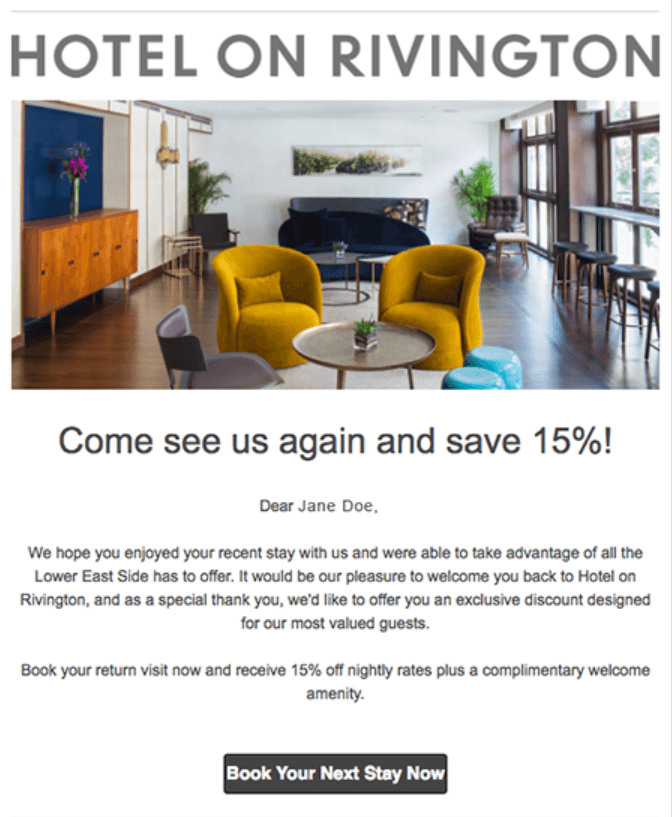 With these kinds of campaigns, the timing and audience are everything. Send the loyalty email too soon, and it won't make sense for the guest to rebook too early in advance (especially if they've come from far away). Send it too late, and you might miss the chance to remind your guests that you exist.
This is the perfect use case for A/B testing your emails and segmenting customers based on demographics and customer data such as how far they've traveled, how long they stayed, and whether they traveled for business or pleasure.
And speaking of email marketing features, let's take a closer look at what we believe are the essential requiremets for all email marketing tools.
Important Email Marketing Provider Features for Hotels
Now that we've got good email ideas, let's see which provider you should send them with. Not all email marketing providers are created equal, and we think you should definitely consider the following points before committing to one platform:
Ease of use: You may be familiar with your CRM's email triggers, but what if you want to test more complex workflows? What about A/B testing? Or HTML code for the signup box on your website? Make sure the learning curve isn't too steep.
Deliverability: What is the point of sending emails and building a mailing list if your messages end up in the spam folder? We've devised a series of thorough deliverability tests to ensure you get your money's worth.
Segmentation: The ability to tag or generate groups (aka segments) of users based on shared characteristics or behavior is a must-have to deliver tailored messages to the right people.
Reporting: You should get some basic metrics to gauge how your hotel emails are doing. An open rate and click-through rate are the bare minimum, but some providers let you dive deeper into analytics to better keep track of your ROI.
Automation: It may sound overwhelming, but you might be surprised at how easy email automation can be (not to mention powerful).
Last but not least, don't forget about the integration options. At the very least, make sure that the provider works with your CRM or property management system. Social media integration is also good. Some will even work directly with your business email provider or your booking system to make things easier.
Our 5 Favourite Email Marketing Providers for Hotels
It's now time to announce our recommended email marketing platforms for the hospitality industry. If you need to compare more providers or read more detailed reviews, do jump over to our main website where you can even check out alternative CRMs.
1) ActiveCampaign – An Automation Powerhouse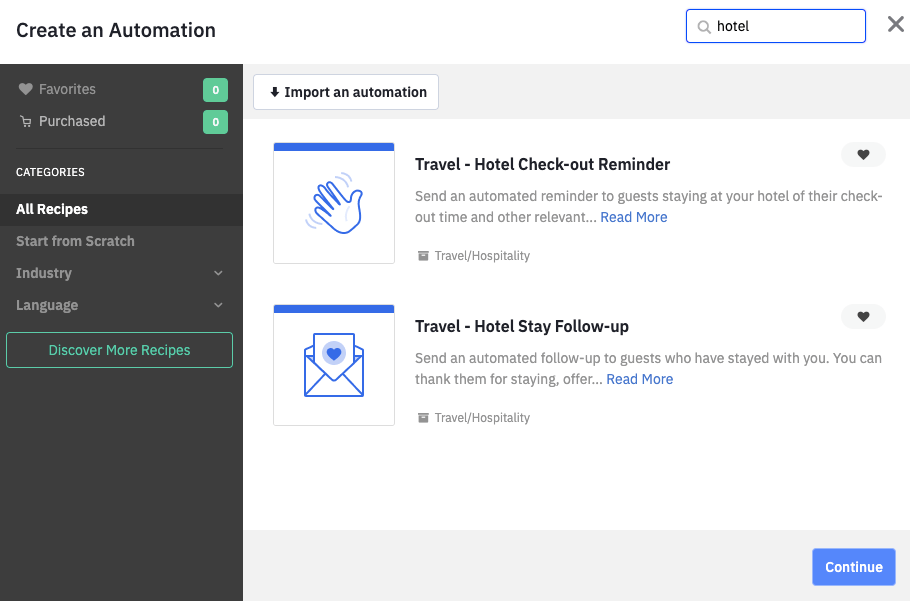 ActiveCampaign may not be the easiest email marketing tool to get started with, but we always feel that it's worth the effort of learning it. This is because its features are incredibly powerful. The ability to combine it with SMS and even social ads means that it goes way beyond the simple act of sending emails.
It's also worth metioning that if you do find that you're struggling with the learning curve, their customer support is fast, friendly and efficient!
If you want to test your marketing campaigns and measure the results, ActiveCampaign has got you covered. It comes with powerful A/B testing, exhaustive reports, and even suggestions on how to get better results.
The email templates are also elegant and optimized for mobile, which means you only need to replace the images and text to get a top-class design.
Two more points: ActiveCampaign is at the higher end of the pricing spectrum (starting at $39 per month for 1,000 users. It's also worth noting that the company has its own CRM, which could work for your hotel, as well as integrations with platforms like Cloudbeds and BookingSync.
> Read the full ActiveCampaign review
2) MailerLite – Simple, Effective, Affordable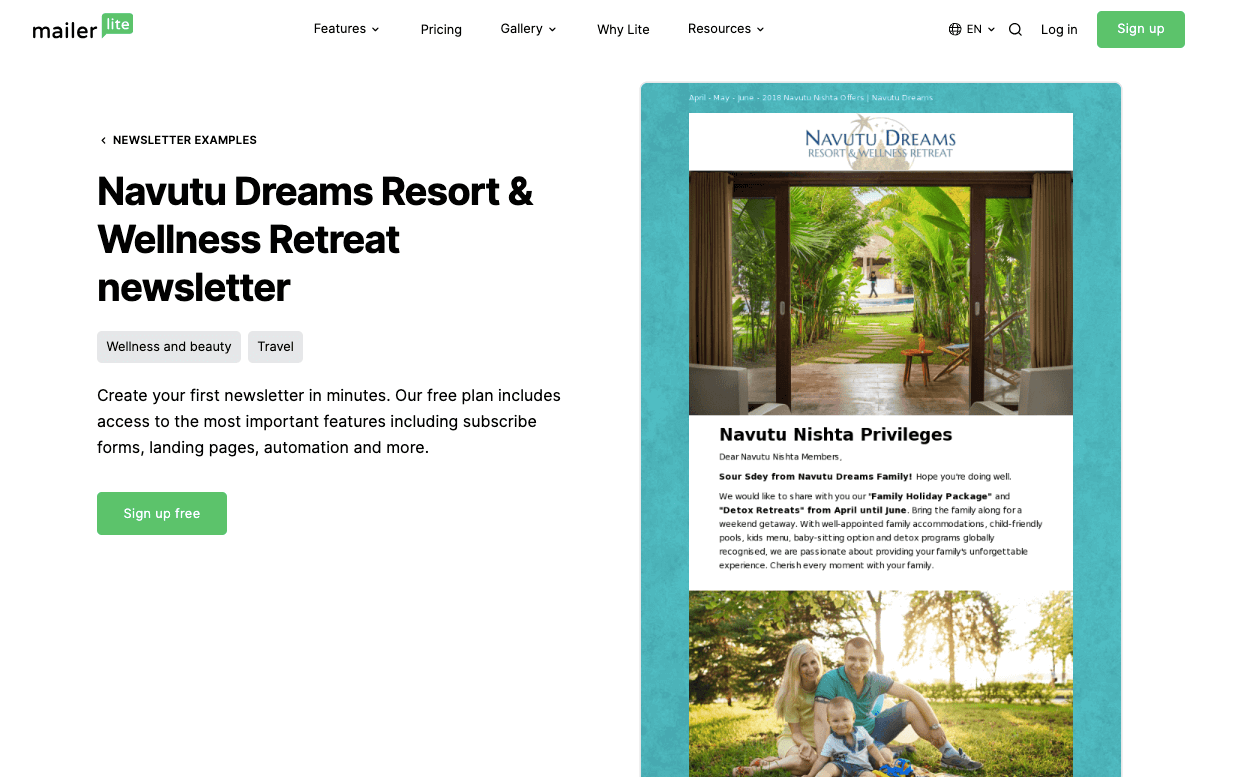 Not only does MailerLite offer a free plan, but we also feel that its paid plans offer excellent value if you have a medium-sized list of subscribers ($15 per month for 1,000 users). This is in part due to how it counts subscribers, which only includes your active customer base (some providers still charge for unsubscribed or inactive contacts).
The ease of use is also a strong selling point, with a clean interface whether you're building a template or creating a custom landing page. The deliverability ranks high in our tests, and the automation workflows offer enough of the basics without being overwhelming.
On the negative side, it's not as powerful as other solutions on this list (missing certain triggers, for instance). This is why we would definitely recommend it to hoteliers who want a simple yet effective solution rather than advanced marketers.
> Read the full MailerLite review
3) Brevo – Best Value For Money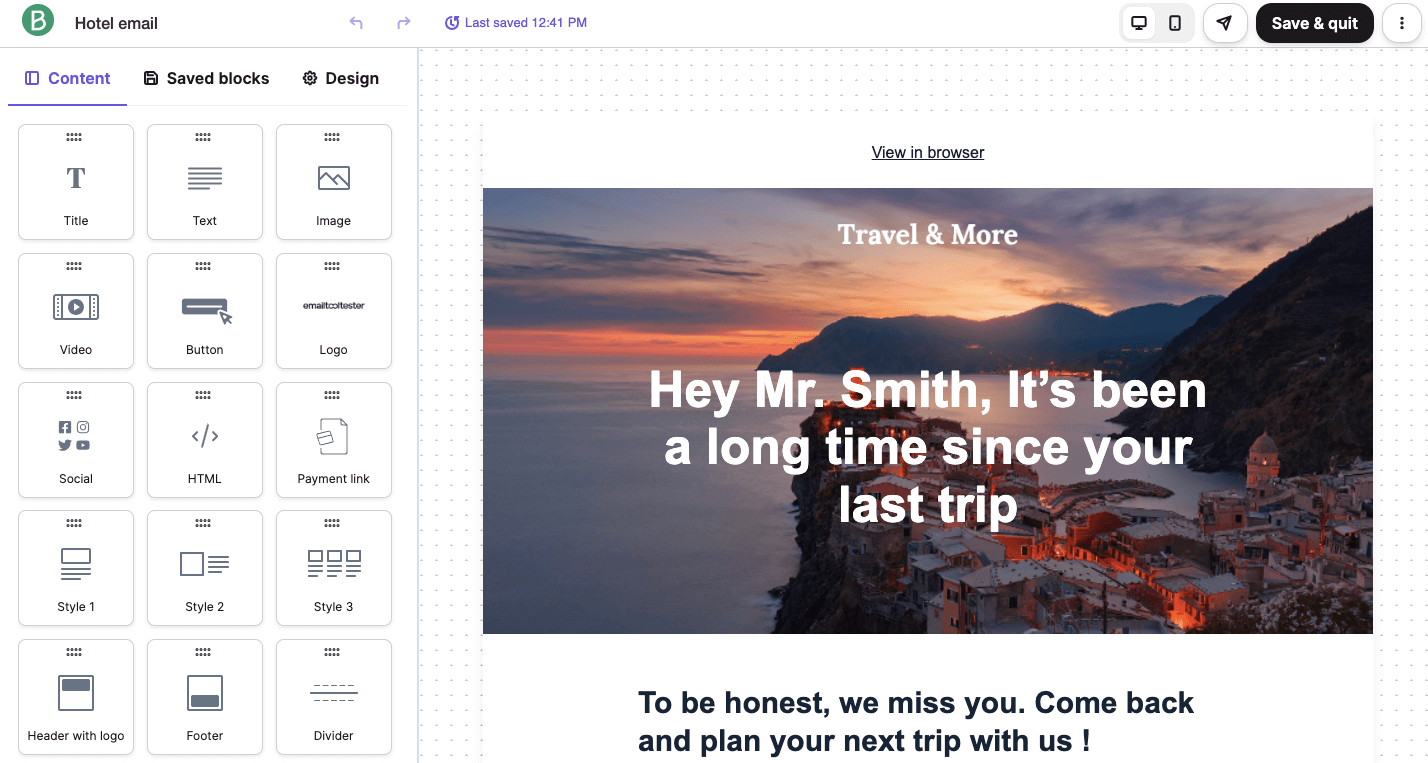 We awarded Brevo our "Best Value for Money" badge in 2023 for two good reasons: 1) we still can't believe how many features you get on its free plan, and 2) the paid plans are really generous too (starting at $25/month for 20k emails). Note that you're charged based on email volume, not subscriber count.
But while the prices are hard to beat, this doesn't come at the cost of features. Brevo lets you send transactional emails such as invoices and passwords (ideal for your hotel) but also allows powerful automation to build the most sophisticated campaigns.
Our main reason why it's lower in the list is that the deliverability wasn't always on par with the best providers out there. We hope this can improve over time as Brevo would be a fantastic option for all hotels out there.
> Read the full Brevo review
4) GetResponse – Lead Capture and List Automation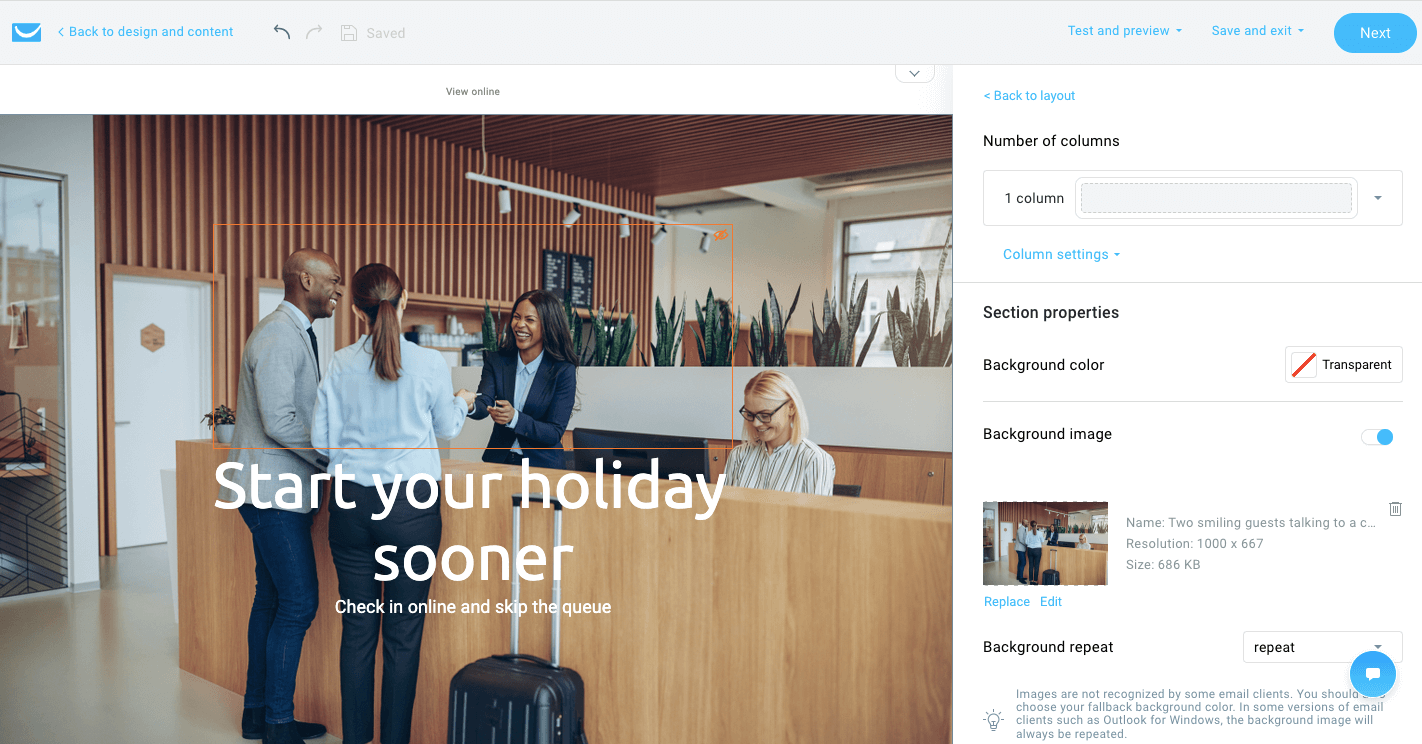 We like to recommend GetResponse as a lead capture solution because the features are ideal for inbound marketing. What we mean by that is that it's almost like an email marketing tool and CRM rolled into one.
Case in point: you get a powerful landing page editor to grow your subscriber count outside of your hotel website, Google Analytics integration, and list segmentation (on the higher-paid plans). The latter is fantastic for really targeting the right guests at the right time, rather than using a scattershot approach.
It should be said that GetResponse works great for online stores, but you might find it a bit overkill for the travel industry. However, if you manage to make its powerful features work for you, it could be a great asset in your overarching marketing strategy.
> Read the full GetResponse review
5) HubSpot – Good Enough As Your Main CRM?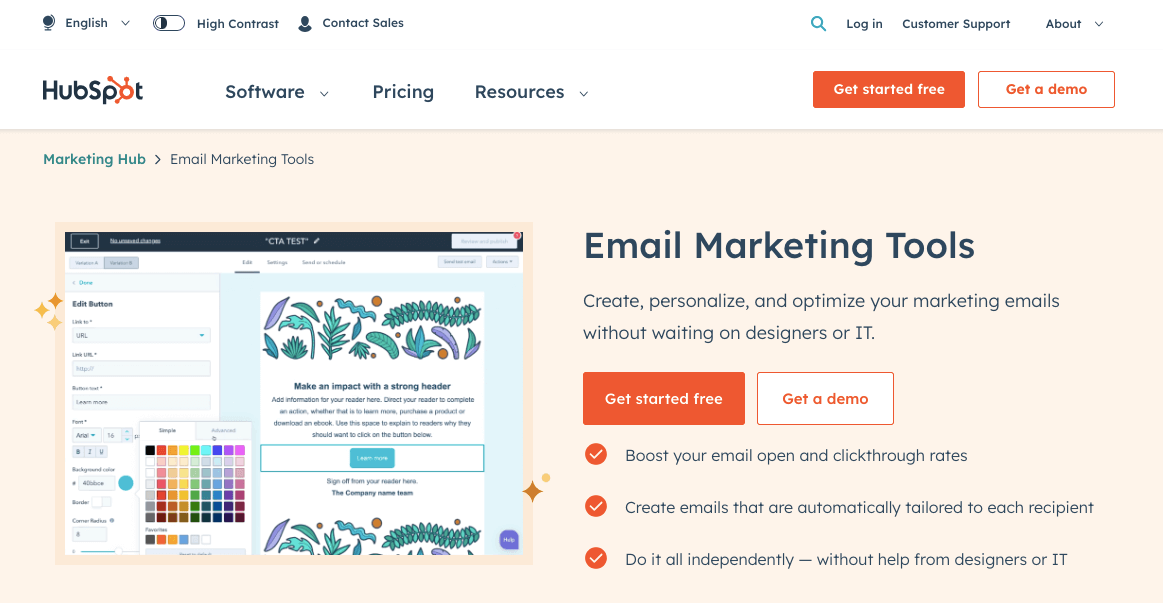 Let's think a bit outside the box here: HubSpot is first and foremost a customer relationship management software, but its email marketing features are nothing to sneer at.
In fact, if you've been considering upgrading your own CRM for a while, HubSpot CRM is an excellent choice that lets you: track leads and customers, create timelines of your interactions with customers, chat in real-time with prospects, integrate with Gmail and Outlook, create tasks and goals for your team, and much more.
As far as email marketing is concerned, HubSpot lets you create beautiful email templates without designers or IT, personalize them for more opens and clickthroughs, optimize campaigns with A/B tests and analytics, and even leverage the power of AI to craft engaging copy.
One thing to note, though, is that while the free plan is attractive, HubSpot charges a steep price for businesses with more than 1000 customers. It's very easy to jump from $0 per month to $50 then $975 depending on the features, seats, and customer volume you have.
> Read the full HubSpot CRM review
Key Takeaways About Email Marketing for Hotels
Hotel marketing is still one of the most effective ways to reach customers directly. A great advantage you have in the travel industry is that customers will want to give you their email addresses to receive the essential communication messages.
And as long as you have the appropriate marketing tools for the job (and the permission!), you can take these mandatory emails and turn them into fully-fledged email campaigns that can help to keep customers coming back.
Hopefully, this post will give you enough ideas to write and send better emails, launch successful campaigns, and maybe even choose the best email marketing tool for your needs.
Feedback, comments, recommendations? Don't hesitate to share them with us in the field below!
Our Methodology
This article has been written and researched following our EmailTooltester methodology.
Our Methodology