Google tells us that ActiveCampaign gets, on average, double the hits when compared to ConvertKit.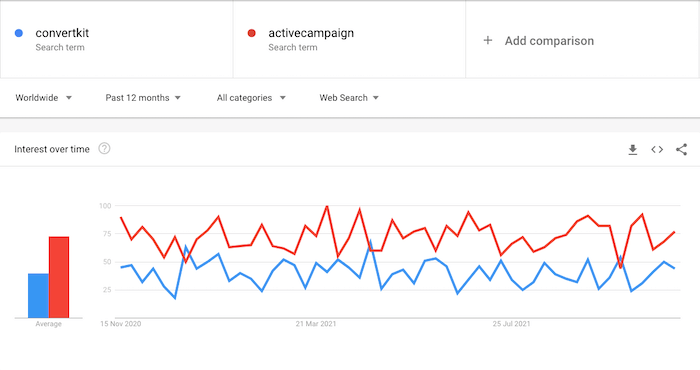 But does that mean it's actually a better email marketing service? I'm going to use this ConvertKit vs ActiveCampaign review to dissect everything from ease of use and price all the way to deliverability.
ConvertKit vs ActiveCampaign: Summary
Both ConvertKit and ActiveCampaign charge you based on subscriber count rather than emails sent, however, ActiveCampaign does come out slightly more expensive. That said, I'd argue that ActiveCampaign's features are superior to ConvertKit's, especially when it comes to marketing automation,
landing pages
and reporting.
Are you ready to delve into this head-to-head? Let's get stuck in!
ActiveCampaign Video Review
ConvertKit Video Review
Ease of Use and Editor
You'd be surprised how much time you can waste getting to grips with a new email marketing tool. That's why we look at ease of use before anything else. If you're new to email marketing, you'll no doubt appreciate a shallow learning curve and an easy to navigate interface.
Though both of these tools have a well-designed backend, it is slightly easier to locate what you need in ConvertKit's menu. It's not that ActiveCampaign's interface is badly designed, it just has quite a few more options than ConvertKit. If you're just starting out or not likely to use all the features, this can be a little overwhelming.
In terms of the editor, ActiveCampaign beats ConvertKit hands down; the drag & drop editor takes no time to master, and if you need any help then you have some helpful tooltips that pop-up when you hover over a particular element.
With ActiveCampaign, you have the ability to save custom 'blocks' to reuse next time, and you can also see changes other people have made, Google Docs-style. The only thing that is slightly annoying is that it autosaves every little change, so if you need to undo something you did a few minutes ago, you'll find yourself clicking back through tons of changes.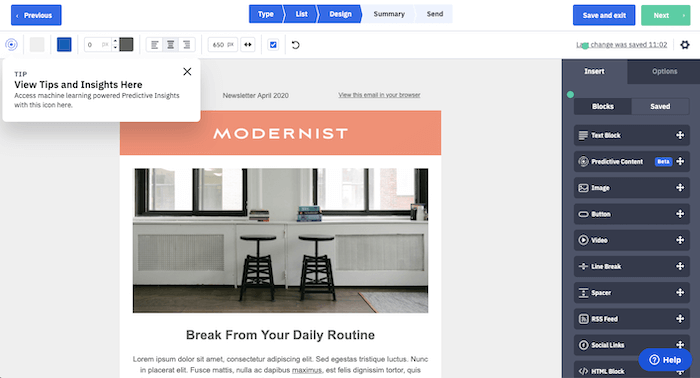 The joy of using a drag & drop email editor is that it makes it super easy to create a good-looking email without having to write a single line of code, and this can be very appealing for small businesses with few resources.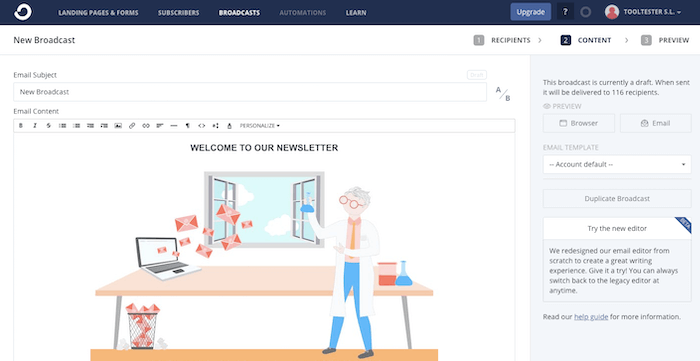 ConvertKit takes a slightly different approach, with its overly simplified editor. In fact, it actually has two editors: a plain-text editor and a newly updated one with a few more content options. However, neither of these facilitate the creation of visual emails due to a lack of formatting options and interactivity (i.e. it lacks a drag & drop editor).
The few templates that are available (which are more like design themes than templates) are very hidden. It's quite likely that you'll need to play around with the code in order to get the email looking how you'd like.
Of course, if all you want to do is send out plain-text emails, then it's very straightforward.
Winner: Considering ConvertKit's shortcomings when it comes to the interface and editor, I'm going to start off this comparison by awarding a point to ActiveCamapign 1-0.
Design and Flexibility
As I mentioned above, ConvertKit has just 3 templates and they are really very basic, in fact, one of them is 'text only' so that leaves just 2 templates.
Image grouping and column-based layouts are simply not possible, which greatly limits what you can do in regards to creating visual content. This is ironic because ConvertKit heavily markets its product towards young creatives.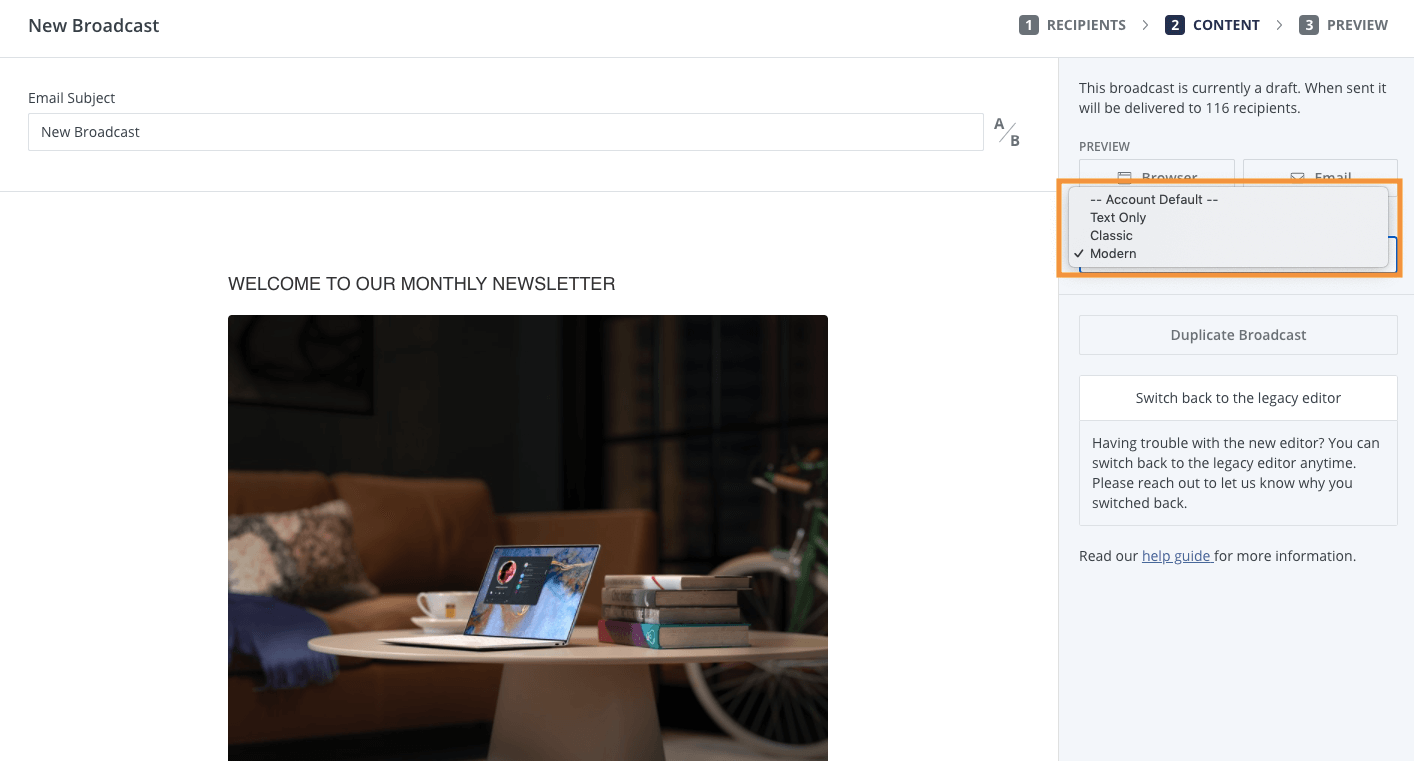 What you can do is code your email template in the HTML editor – this is a nice feature to have for more advanced marketers and tech-savvy creatives but really needs to complement a more beginner-friendly option, in my opinion.
ActiveCampaign, on the other hand, has around 125+ modern, responsive templates to choose from and you also have the option to code sections or your entire email in HTML. The designs aren't bad and it's fairly easy to adapt them to your company's branding.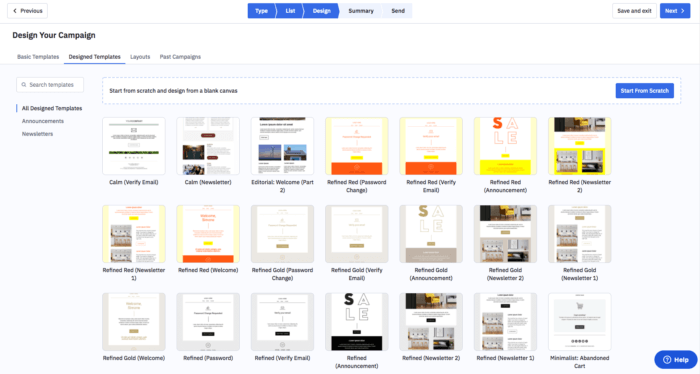 Plus plans and above have access to ActiveCampaign's free email design service, meaning that someone will create a branded email template for you to use.
Winner: Due to ConvertKit's limitations, and ActiveCampaigns wide range of well-designed templates, this is another clear win for ActiveCampaign!  2-0.
Email Automations
We give ActiveCampaign 5 stars for automation. It really does offer one of the most powerful solutions and makes it pretty easy for the user by offering plenty of templates and a visual flow-chart-style editor.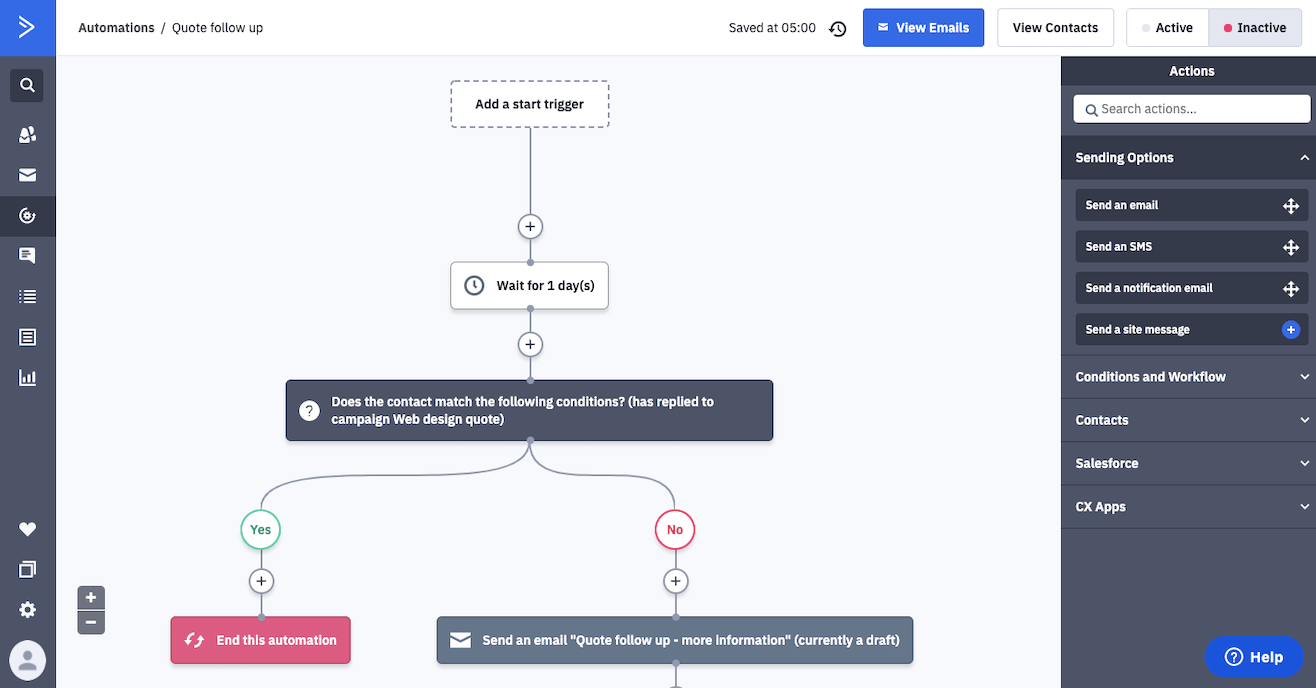 Set up follow-up campaigns, abandoned cart emails, automatically tag subscribers when they perform a particular action – there are no limits to what you can do with ActiveCampaign!  Having so many options might all sound a bit overwhelming but it's actually very easy to set up and manage.
ConvertKit's flexible tagging and segmentation system mean that you can run highly focused automated campaigns to very specific groups of contacts, for example, when they click on a link or sign up via a form. You can also use simple if/then conditional rules and date-based triggers.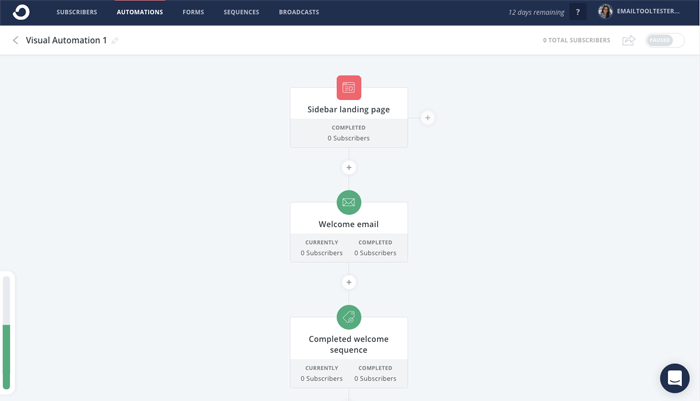 The automation workflow editor is also very easy to use, as everything is done inside the automation editor itself, for example, when you add an email or form to your workflow you can edit it inline, rather than having to leave the editor.
Winner: Though ConvertKit's automations are decent, they're still no match for ActiveCampaign's advanced automation options. 3-0 to ActiveCampaign.
Registration Forms
Both ActiveCampaign and ConvertKit offer 4 form types to choose from, though bear in mind that ActiveCampaign's Lite plan includes only the inline form display.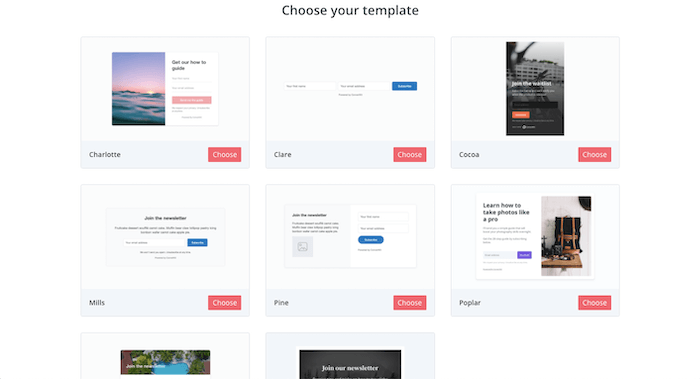 ConvertKit has a number of modern templates to choose from, whereas ActiveCampaign doesn't offer templates, instead, you'll need to style the form using the formatting opinions.
The plus of having ready-made templates is that there's less work for you, however, you will find that you have fewer customization options with ConvertKit, and some might find this inhibits them.
In fact, if you want to add a custom field, you'll have to come out of the editor and go into a customer profile – not the simplest way of doing things in my opinion. ActiveCampaign, on the other hand, offers a whole host of custom fields.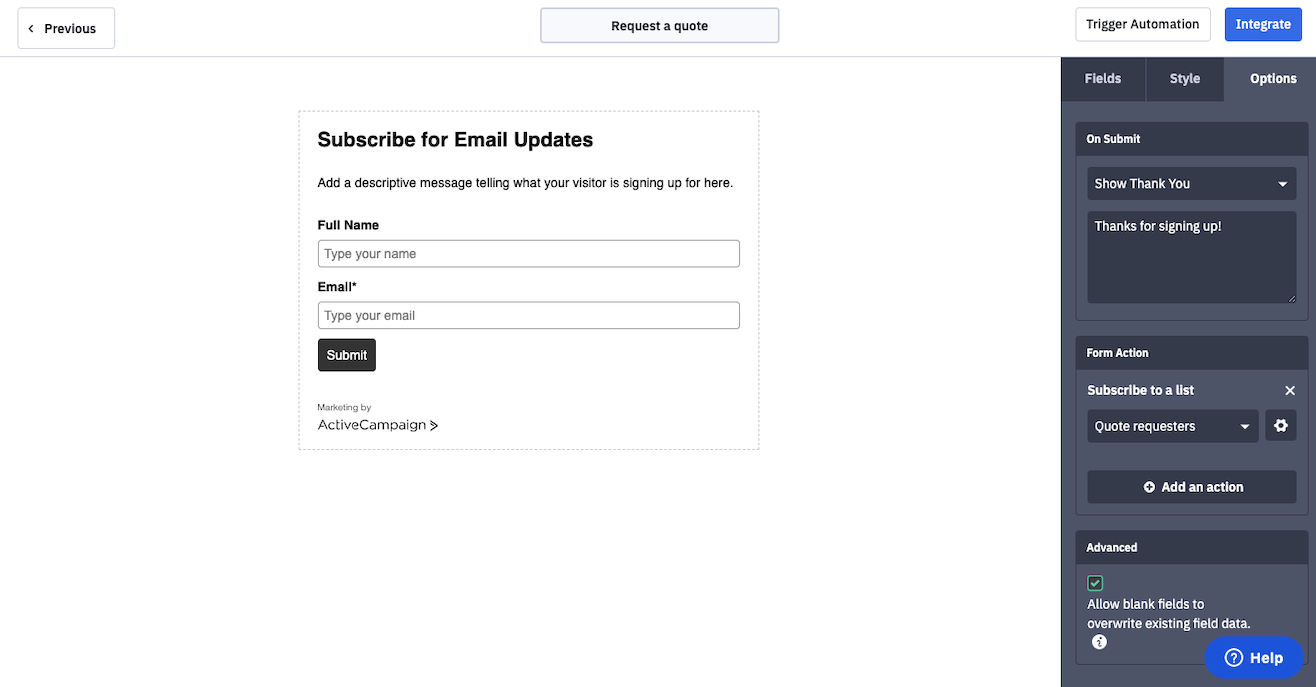 Winner: ConvertKit is a good option for basic sign-up forms, however, it is lacking when it comes to customization options, which can be useful when you're trying to build your email list. For that reason, we're giving ActiveCampaign the point here. 4-0
Spam and Design Testing
ConvertKit doesn't do spam or design testing. The only thing it offers is a preview tool that lets you view emails as individual subscribers would.
ActiveCampaign's spam testing is simply a 'pass' or 'fail' without much explanation to help understand the ruling. You can preview your email on various clients, however, you'll be charged $1 per test/client.
Winner: Though neither of the providers wowed me in this round, I'm going to have to give the point to ActiveCampaign due to ConvertKit's lack of options here. 5-0
Reporting
ActiveCampaign is in the lead with 5 points to 1, and spoiler alert, ConvertKit is not about to bring it back with its reporting features I'm afraid.
With it only showing the open, click-through and unsubscribe rate, ConvertKit's reporting is pretty basic. What I'd like to see are social media and ecommerce conversions, and also the bounce-rate!
You won't be short of insights with ActiveCampaign; you'll be able to delve into opens, click-maps, page visits, geo-tracking, and more. If you have an online store on a platform such as Shopify, BigCommerce or WooCommerce, reports are also available on the Plus plan and higher.
ActiveCampaign also comes with a CRM, meaning that, in addition to email and automation reporting, you'll have access to deal reporting and sales performance metrics, as well as forecasts.
Winner: You've guessed it! ActiveCampaign bags itself another point with its excellent reporting features, taking the scores to 6-0!
Deliverability
It's imperative that the email tool you select has good deliverability, otherwise all your efforts leading up to sending your campaign will have been for nothing.
We've been tracking the deliverability of the providers we review for a number of years.
Here are the average figures of how they performed in our last 3 rounds of bi-annual deliverability tests (Mar 2021 – Apr 2022):
| | CONVERTKIT | ACTIVECAMPAIGN |
| --- | --- | --- |
| Overall Deliverability Rate | 93% | 91% |
Overall, ActiveCampaign has a very good track record (scoring in the nineties). You'll see it has a decent sender score and saw fewer emails end up in spam compared to ConverKit. That said, ConvertKit has performed very well in our recent tests!
Winner: Both tools clearly invest resources into maintaining excellent deliverability rates, a point each! 7-1.
Integrations and Extras
ConvertKit has close to 90 integrations to a wide variety of tools and applications, including all the big names: Wix, WordPress, Shopify, Stripe and so on. It also connects with Zapier, if you need to integrate with a tool that isn't on their list. This may be the case for those wanting to connect their CRM, as ConvertKit doesn't really cover this area, which is quite a surprise.
If you want to build an integration through an API, ConvertKit has plenty of documentation on how.
ActiveCampaign provides integrations with over 250 apps, meaning you'll most likely find what you're looking for. It also integrates with Zapier and makes building an API a simple affair.
Find out why both ActiveCampaign and ConvertKit are listed as two of the best email marketing tools for Shopify.
Winner: At the end of the day, it comes down to quantity and variety. ActiveCampaign bags yet another point, taking the scores to 8-1.
Support
Both ConvertKit and ActiveCampaign have decent support, which you can access via email and live chat, with knowledge bases and tutorials also available.
ActiveCampaign also provides 3 one-on-one training sessions with its Professional plan, and there is a community forum where you can get in touch with other users.
To be honest, this round is pretty neck and neck as I can't fault either of them.
Winner: I think each deserves a point here! 9-2.
Prices
ConvertKit and ActiveCampaign are certainly on the higher end of the spectrum, but which comes out cheaper and are the higher price tags warranted? Let's take a look at their lowest-level plans to compare:
| | ConvertKit | ActiveCampaign |
| --- | --- | --- |
| Free plan | Up to 1,000 subscribers | No free plan available |
| 300 subscribers | $15 monthly | No longer available |
| 1,000 subscribers | $29 monthly | $39 a month |
| 5,000 subscribers | $79 monthly | $99 a month |
| 10,000 subscribers | $119 monthly | $174 a month |
| 50,000 subscribers | $379 monthly | $486 a month |
| 100,000 subscribers | $679 monthly | $505 a month |
As you can see, ActiveCampaign is slightly more expensive than ConvertKit, however, when you consider that ConvertKit has failed to beat ActiveCampaign in a single round, one might say that ConvertKit's service was overpriced and ActiveCampaign's pricing was pretty fair.
Yes, ConvertKit offers a free plan, however, this is very limited as it doesn't include automation, autoresponders or reports.
If your email marketing strategy requires advanced features and can afford to pay a little more for your service then I'd definitely recommend using ActiveCampaign. The automations will save you a ton of time and no doubt help to boost profits.
That said, if you're looking for a more affordable service or would like to start off with a free plan, you might want to look at Brevo or MailerLite.
Winner: Despite Activecampaign's slightly higher prices, the fact that it offers a much better service means that it takes the point for pricing. ConvertKit's poor performance certainly doesn't warrant its high prices.
It's worth noting that ActiveCampaign recently changed its plans and pricing, they now offer Sales and Marketing separately or together as a Bundle.  
Final score: 10-2 to ActiveCampaign
Detailed Features Comparison (Table)
Ease of Use
Editor
Personalization
Email types
Choice and Flexibility of Template Designs
Email Marketing Automation
List Management
Registration Forms/ Opt-in & Opt-out- Process
Deliverability
Reports and Analysis
Languages
Spam- and Design-Testing
Bounce Management
Blocklist
Storage available for data and images
Unlimited
Unlimited
Authentication
Own Domain
Different levels of account access
Integrations
Landing Page Builder
Customer Support
Prices

Up to 1,000: $39/mo

Up to 2,500: $61/mo

Up to 5,000: $99/mo

Up to 10,000: $174/mo

Up to 50,000: $486/mo

Up to 300: $0/mo

Up to 300: $15/mo

Up to 1,000: $29/mo

Up to 3,000: $49/mo

Up to 5,000: $79/mo

Up to 10,000: $119/mo

Up to 25,000: $199/mo

Up to 55,000: $379/mo

Up to 105,000: $679/mo

Overall rating
ConvertKit vs ActiveCampaign: Final Thoughts
Slam dunk? It most certainly is! ConvertKit hardly got a look in, only bagging itself two points, whilst ActiveCampaign secured a nice round 10.
So what's the conclusion for each of these tools?
After extensive testing, I can say that ConvertKit is overpriced for what it offers. Despite the fact that it's marketed towards creatives and bloggers, it's actually pretty difficult to get creative with the features available, unless you're a whiz with HTML. The reporting is very poor and there is no spam and design testing.
ActiveCampaign really hit it out of the park in this ConvertKit vs ActiveCampaign comparison. See how it did in the following comparisons with other popular email marketing services:
Check out all the top ActiveCampaign alternatives here.
If you'd like to try ActiveCampaign out before you commit, you can trial it for 14 days for free.
If you'd like to try ConvertKit out for yourself, you can sign-up for its free plan here.
Leave a comment if you have any questions – I'd be more than happy to help!
Do you want to collect more email subscribers? Check out our guide to email marketing lead generation.
We keep our content up to date
29 Nov 2022: Videos added
27 Apr 2022: Updated deliverability averages 
15 Nov 2021: Added more prices and adjusted the scores 
16 Mar 2021: Updated deliverability section based on the latest round of testing
Our Methodology
This article has been written and researched following our EmailTooltester methodology.
Our Methodology