In the small-to-medium business space, two big names often come up in conversations around the best email marketing automation software: ActiveCampaign and Drip.
ActiveCampaign has steadily built a reputation for itself as a marketing automation leader over the last 20 years, serving over 180,000 customers worldwide. Core offerings include its powerful automation workflow editor and integrated CRM.
Drip, which was launched in 2013, is the relative newcomer of the two. However, that hasn't stopped it from quickly gaining traction with businesses looking to take advantage of its 'ecommerce CRM' features and intuitive automations.
But if you're trying to choose between ActiveCampaign vs Drip, which one should you go for? I've tested both email marketing services out, and have identified the one I think would be better suited to most (but perhaps not all) email marketing strategies.
The answer might surprise you, so keep reading to find out which one takes the marketing automation crown!
TL;DR ActiveCampaign vs Drip: Which is better?
While both are powerful marketing automation platforms, Drip's integrations and automations are particularly suited to ecommerce, while ActiveCampaign's inbuilt CRM allows for better-integrated sales and marketing automation for all types of businesses.
ActiveCampaign is a particularly good option for those with complex sales processes.
Note that you will have to connect your online store in order to be able to use Drip, so ActiveCampaign will be the better choice if you don't have one.
Since they updated their pricing plans, ActiveCampaign's plans now start at $39 for 1000 contacts. whereas with Drip you'll pay $39 for 2500 contacts. It seems as though both platforms are shifting away from smaller businesses.
ActiveCampaign Video Review
Ease of navigation and email editor
Let's kick off by taking a look at how easy it is to get up and running with each tool.
Drip has a vibrant and modern interface, with just a handful of menu options that are easy to familiarize with.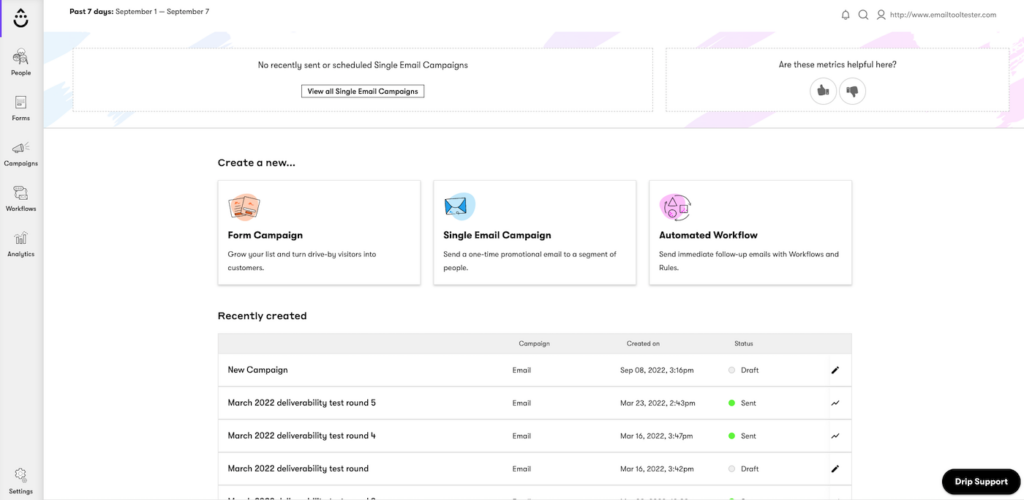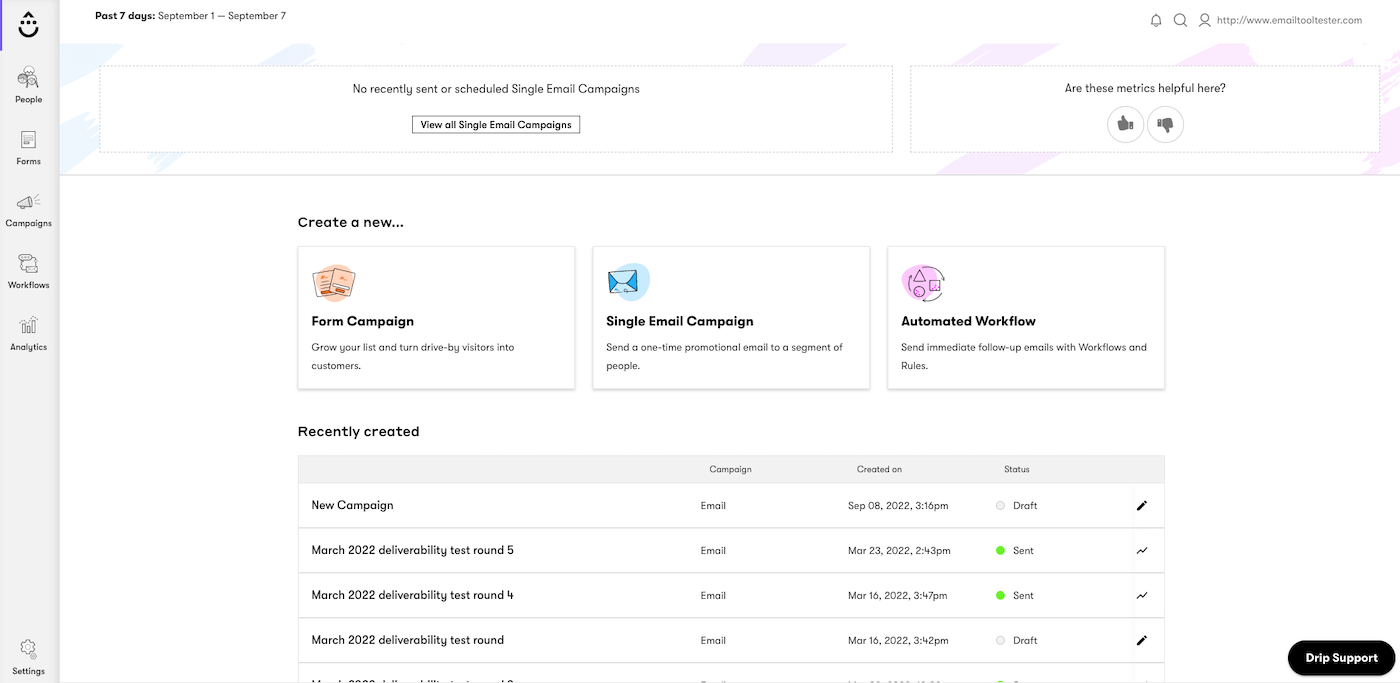 The process of building emails is a little unconventional when compared to other tools' visual editors. Rather than a pure drag-and-drop builder where you can build emails by placing elements wherever you like, Drip takes a section-based approach, where you first need to select the section you want to edit, then choose what content you want to insert (and then, for some reason, choose the section you want to add it to once again). If you're used to using more conventional newsletter builders like Mailchimp's, this might take some getting used to.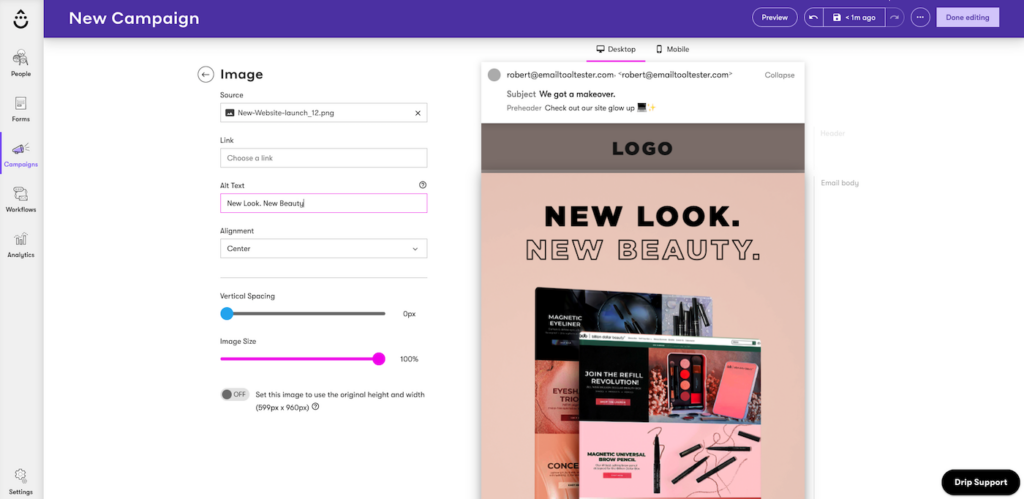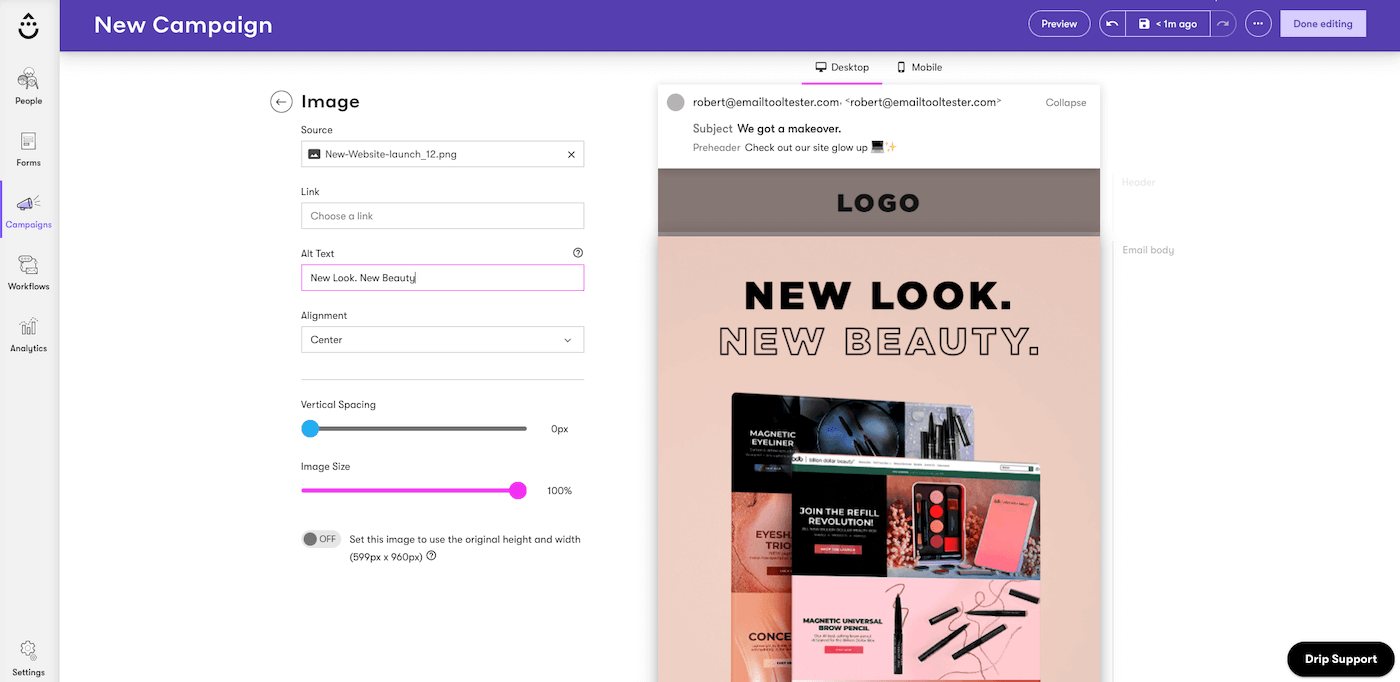 The editor is zippy and dynamic, but perhaps not the most intuitive one out there.
ActiveCampaign's interface isn't quite as colorful or exciting as Drip's – it really feels like a more business-oriented tool. While the Dashboard can look a little overwhelming, you can actually customize it to show a more simplified view, with only the data you need.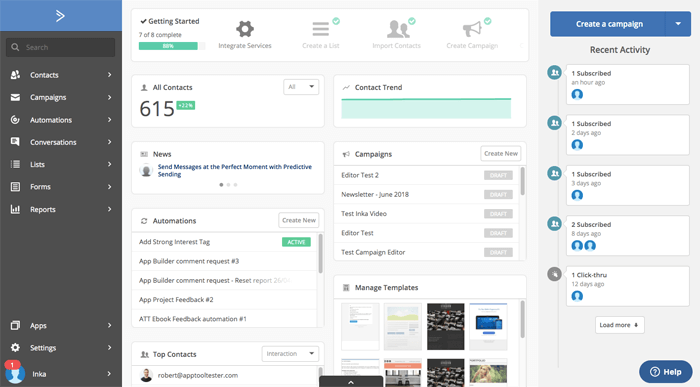 I find building emails a lot easier to do with ActiveCampaign. Their drag-and-drop editor gave me more flexibility over the layout, and to insert a wider variety of content elements (social links, RSS, video links, etc.). It's also possible to insert conditional email content – so, for example, different product offers depending on whether a contact has shown interest in those products previously.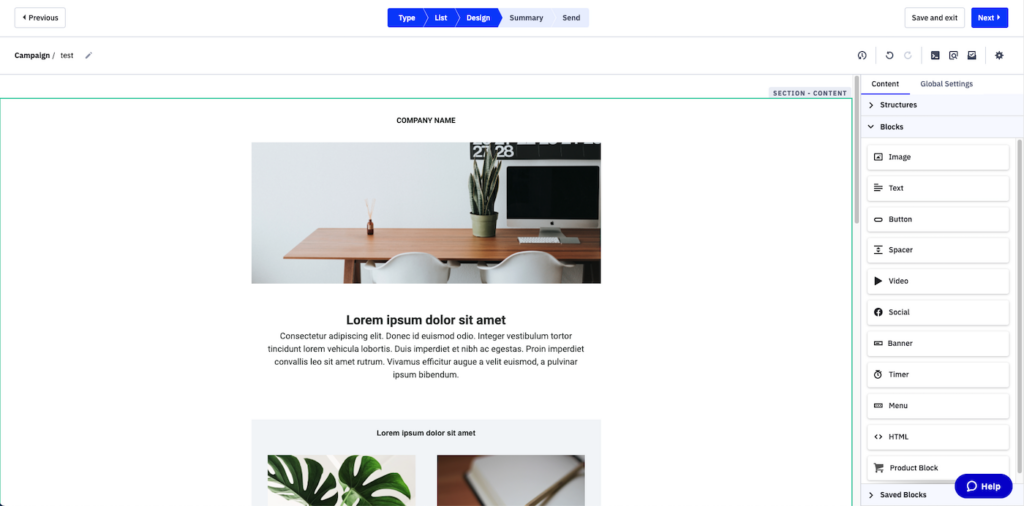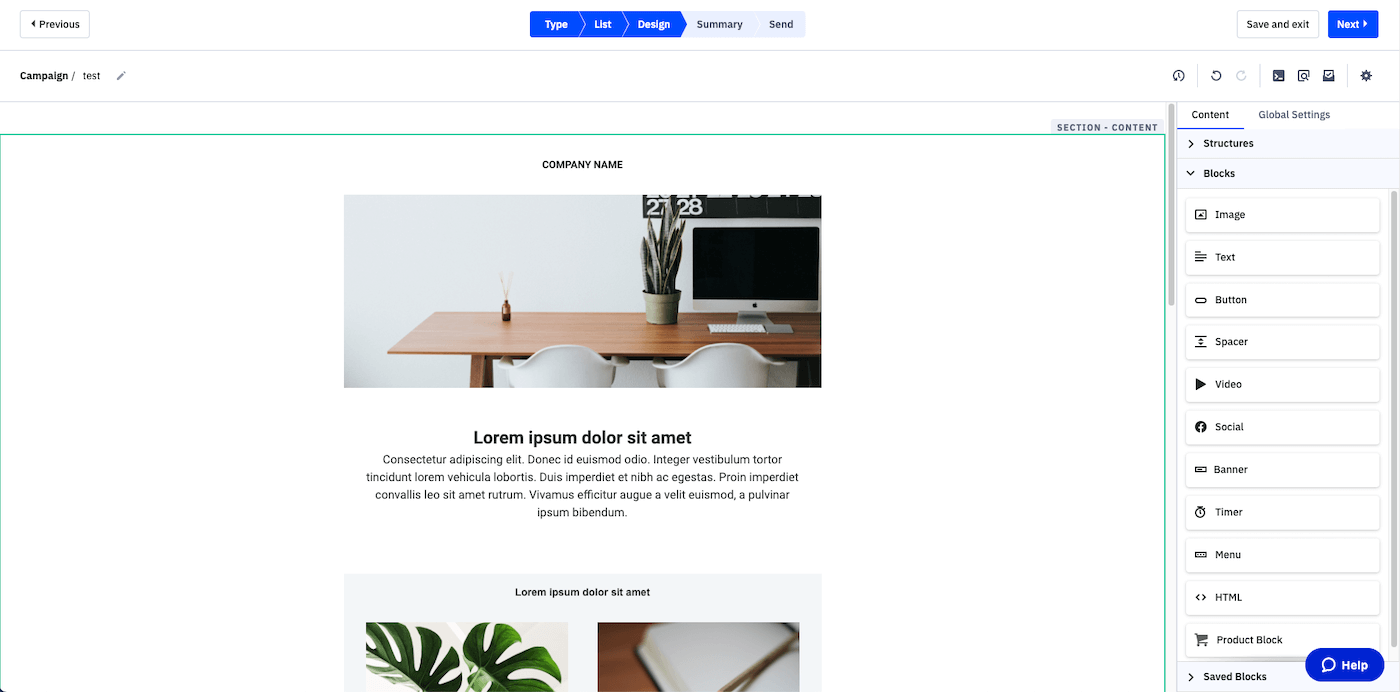 Winner: At first glance, you'd think Drip would be the easier of the two tools to get familiar with, due to its more simplified interface. In actual fact though, I found ActiveCampaign to be more intuitive – so the point goes to ActiveCampaign.
Email designs
What about email templates? Does Drip or ActiveCampaign offer better email designs?
In this case, it comes down to variety, and one of the two offers that little bit more.
Drip has added lots of new colorful email templates, plus you can also import your own HTML.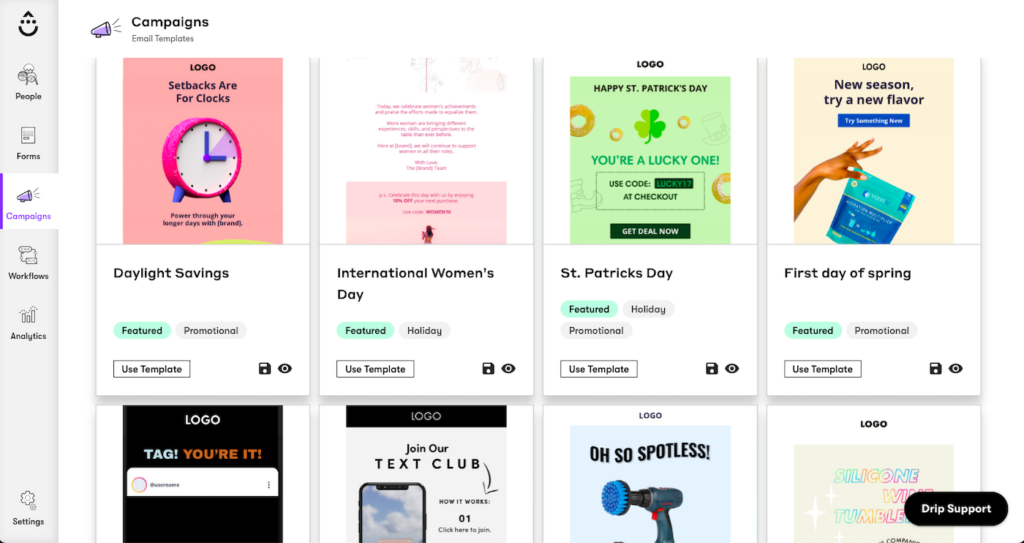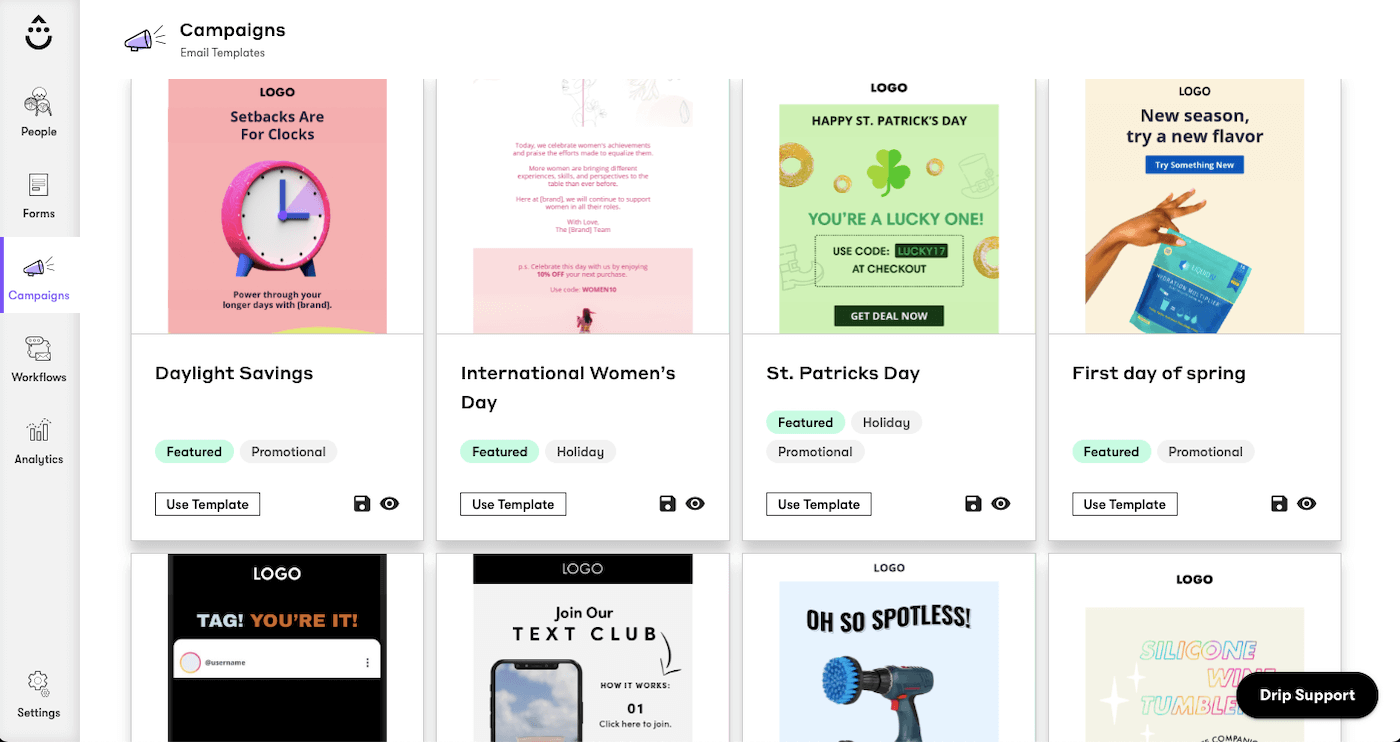 ActiveCampaign offers 250+ fully-designed responsive email templates – much more than Drip. Mostly they're all pretty modern.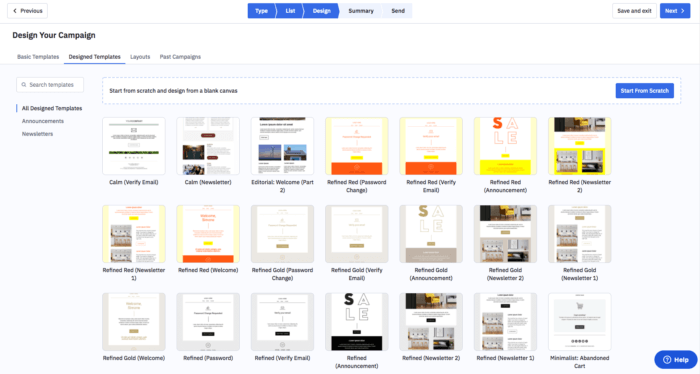 Winner: ActiveCampaign offers more variety, and a larger volume – so it's 2:0 in their favor.
List management
I have to say, Drip's list management and segmentation features are impressive. You can create segments by combining all kinds of criteria, including event-based data. So, for example, you could create a segment of people who have (or haven't) clicked an email in a specific automation, people who haven't clicked the last few emails they received, customers who have placed a certain number of orders, and more.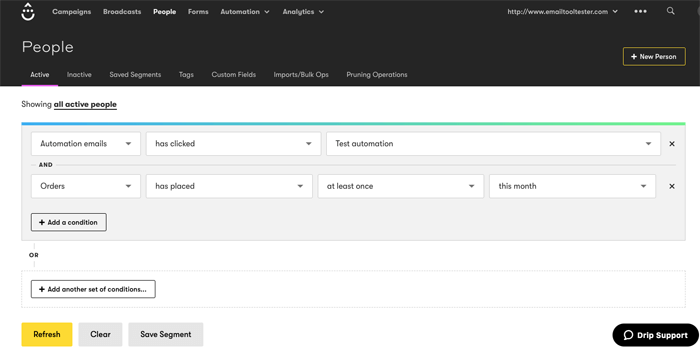 You also have the ability to apply tags to contacts to help categorize them, using characteristics such as source, whether or not they're a customer, or if they've visited a specific page on your site. Tags can be applied through both Drip's universal 'Rules' function, or in an automation workflow (more on that in the 'Automation' section below).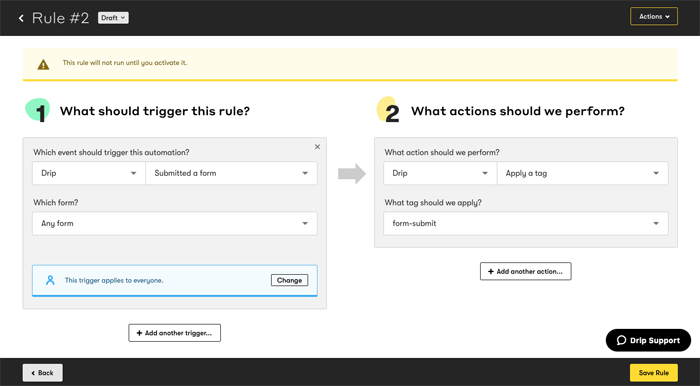 Other than that, Drip also lets you segment using custom fields and by setting up lead scoring to identify hot prospects.
ActiveCampaign isn't actually too different to Drip in what it offers. Like Drip, it also allows you to create segments out of tags, custom fields, contact actions, event data and other criteria (or a combination of these). These can be created manually within lists or using automations if you want to create cross-list segments.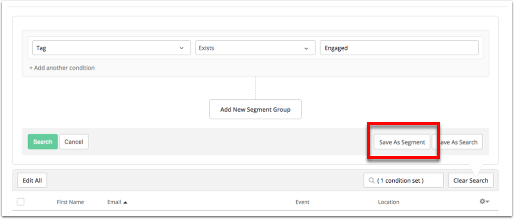 Lead scoring is also available, allowing you to set up some quite complex scoring based on a long list of criteria/actions. You can also manage lists within your email editor by setting up campaign actions, for example, you can add a tag or add a contact to a particular list if they click on an image or link. The fact that this can all be done from within the editor is pretty unique to ActiveCampaign.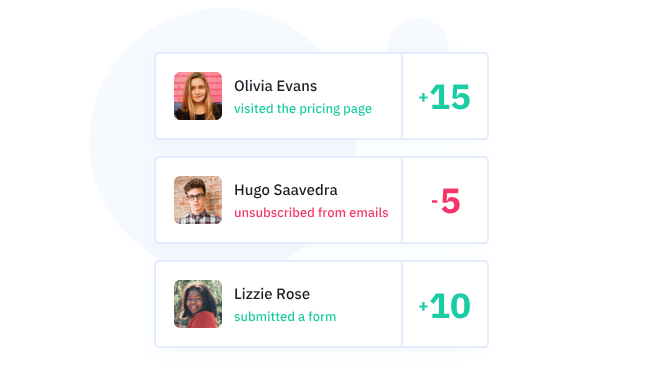 Winner: I'd say that both ActiveCampaign and Drip are equally as powerful when it comes to list management. 3:1
Marketing automation
Of course, this is the question we all came here to get answered – which of these two marketing automation powerhouses actually does a better job of automation?
Let's start with Drip, which I personally think has the cooler automation workflow editor of the two. It's easy to use, well-designed, flexible, and actually kind of fun to use. You have a heap of automation triggers to choose from (link clicks, page views, tags assigned, or even actions in integrated tools, such as a purchase in your Shopify store). From there, you can add workflow steps such as sending campaigns, moving contacts into other campaigns, or even splitting contacts down multiple paths.
Basically, Drip's workflow editor lets you build out any kind of automation you want, in a very intuitive way (and we all know that building automations can get very complex!).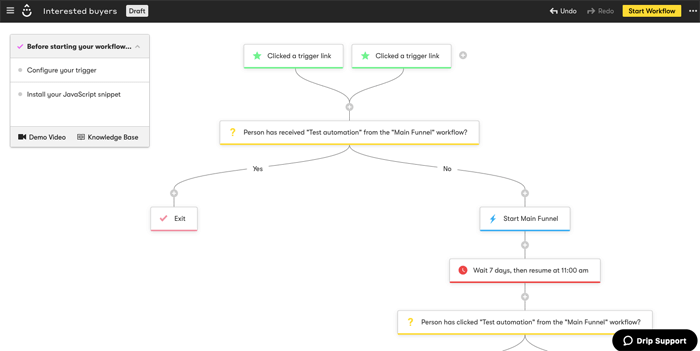 On top of this, you can also set up Automation Rules, which are universal actions that get applied whenever a contact performs a specific action, regardless of whatever campaigns they might have been sent or tags that might be applied to them (although you can set up restrictions to exclude certain contacts). So, for example, if anyone views a particular webpage on your ecommerce site, you can set up a rule to send them a campaign, without having to build out a full workflow in the automation editor.
As you can imagine, such powerful automation features can be hard to beat – but amazingly, ActiveCampaign matches up pretty evenly here. It too offers a visual editor for building automations, and comes with a decent library of pre-built templates to get you started (think abandoned cart automations, post-purchase upsells, tagging contacts who've visited a webpage, and more).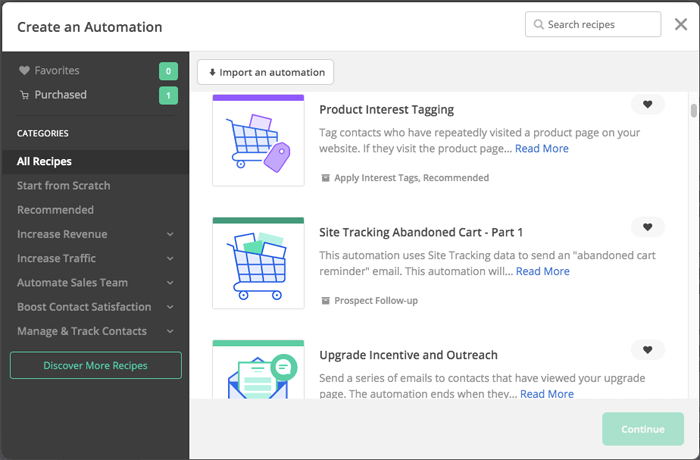 Granted, the visual experience isn't as dazzling as Drip's, but it's intuitive enough to use and equally as flexible, with a long list of triggers and actions to choose from. These can be combined to build complex workflows for sending emails, lead scoring, data segmentation, and more.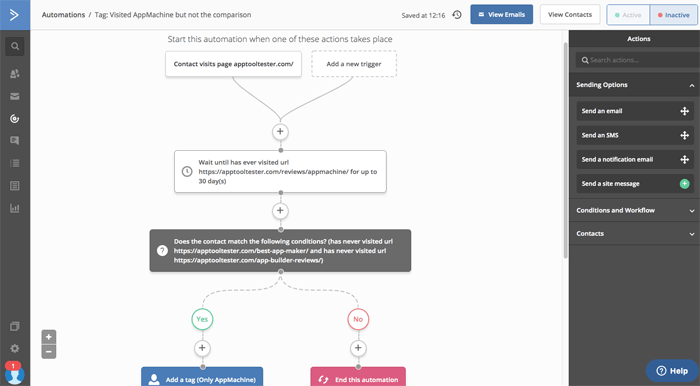 Thanks to its integrated CRM, you can also automate a lot of sales processes too. So, for example, if you wanted any leads generated from your marketing campaigns to automatically enter your pipeline as a deal, you can set up automations to do exactly that. You can also automate any follow-up sales emails to be sent, too.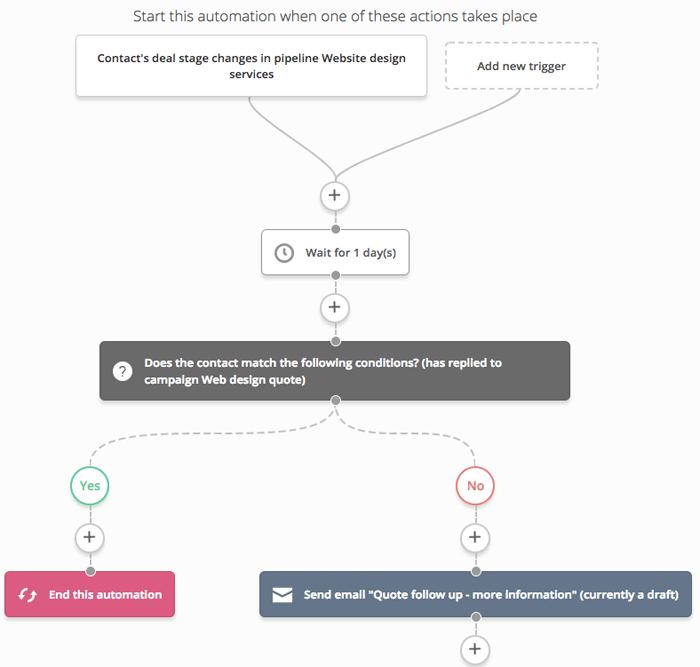 Winner: Both Drip and ActiveCampaign do a fabulous job of marketing automation. Drip is perhaps the easier of the two to master, and is excellent for ecommerce automations. But ActiveCampaign is the better choice if you have a more complex sales process and want to automate a lot of the back and forth between your marketing and sales team. So point to both, bringing us to 4:2!
Registration forms
Drip lets you create a handful of different form types, including widget (popup), embedded and hosted forms (meaning the form sits on its own page within Drip).
Within the visual form editor, you get control over customizing form fields (with a few caveats, which I'll get to in a minute), some basic design elements, confirmation messages and so on. Form submissions can trigger a long list of different actions, including adding a tag to a contact, flagging as a prospect, moving/removing them from a campaign or workflow, or recording a conversion.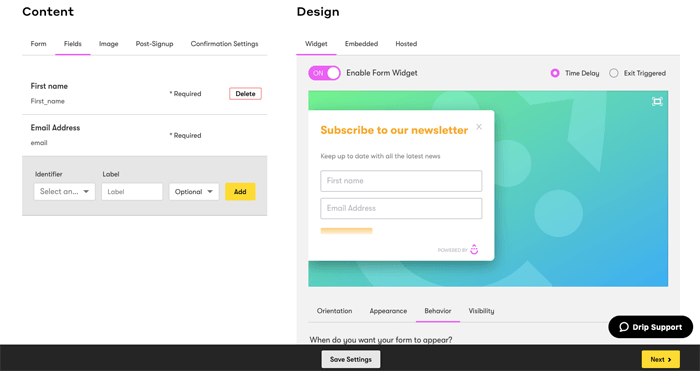 But, be aware – if you're using a widget/popup form, you won't be able to add dropdown, radio button, or checkbox fields. And if you're creating an embedded form, you can only add these field types by customizing the HTML.
It's not ideal, especially not for beginners. Here, ActiveCampaign's visual form builder works a lot better.
ActiveCampaign also allows you to build different kinds of forms (inline, floating bar, floating box, and pop-up). You get more control over the design of your form, but most importantly, are easily able to add different types of form fields (text, dropdown, radio buttons, checkboxes, and even hidden fields). No fiddling around with HTML required here!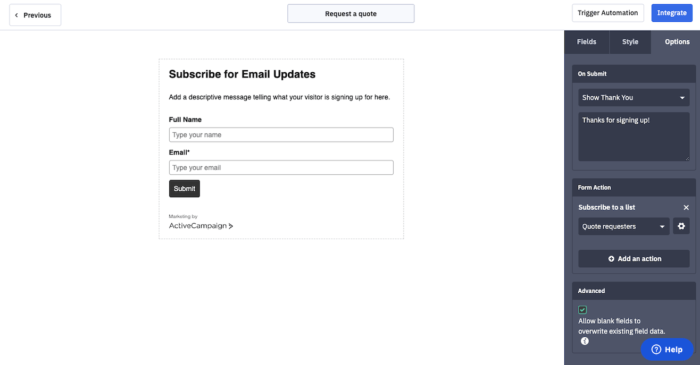 Like with Drip, you can also trigger a number of different actions after a contact submits a form, including adding them to lists, tags, or even deals (and subsequently, to any associated automation workflows).
Winner: ActiveCampaign's form editor provides a little more flexibility, and is generally easier to use too – another point to them! 5:2
Ecommerce integration
Both offer powerful integrations with the biggest ecommerce platforms, allowing you to import store/customer data, and to track revenue generated by emails and campaigns. So if you're running an online store, which one is better for you?
Let's take a look at ActiveCampaign first. ActiveCampaign has deep data integrations with a number of platforms – BigCommerce, WooCommerce, Shopify, PrestaShop, Magento, Sellfy, etc.
What does this mean? Basically, that ActiveCampaign can pull in customer data from your online store – data such as total revenue, orders, and products purchased – and use these to build segments, campaigns and automations (like abandoned cart automations or re-purchase reminders).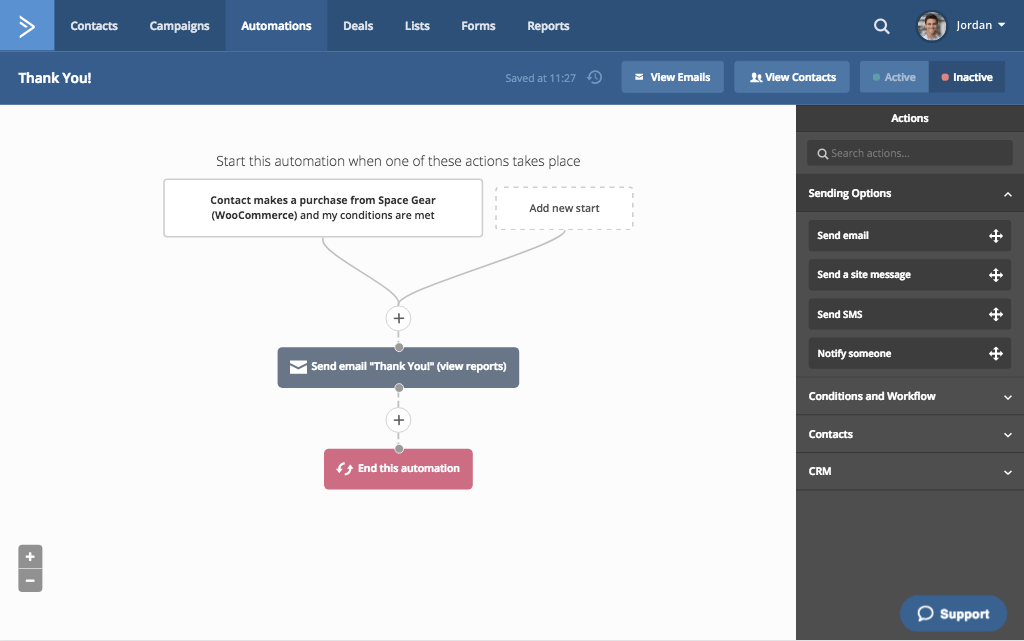 In addition, third-party integration apps like Revenue Conduit and Zapier also let you import data from other ecommerce platforms.
Sounds great, but how does it compare to Drip – the platform that describes itself as 'the world's first ecommerce customer relationship manager?
I have to say, I think Drip comes out on top here. It offers direct integrations to a lot of the same platforms as ActiveCampaign (Shopify, WooCommerce, Magento, etc.), and third-party integrations with the likes of BigCommerce and SamCart. There's also a Shopper Activity API if you don't mind setting this up on your own.
But it goes a little further in a few different areas. Firstly, Drip lets you trigger automations around even the most minute of customer actions – if they viewed a product page, for example, or created a checkout (without necessarily completing it). These are available by default within Drip's automations editor, so there's no need to create special 'events' or API callbacks to be able to set these up. (Note that webpage tracking is also available with ActiveCampaign, although it requires you to insert some tracking code into your Shopify store. This process is much more straightforward with Drip, which does it automatically when you integrate the two tools).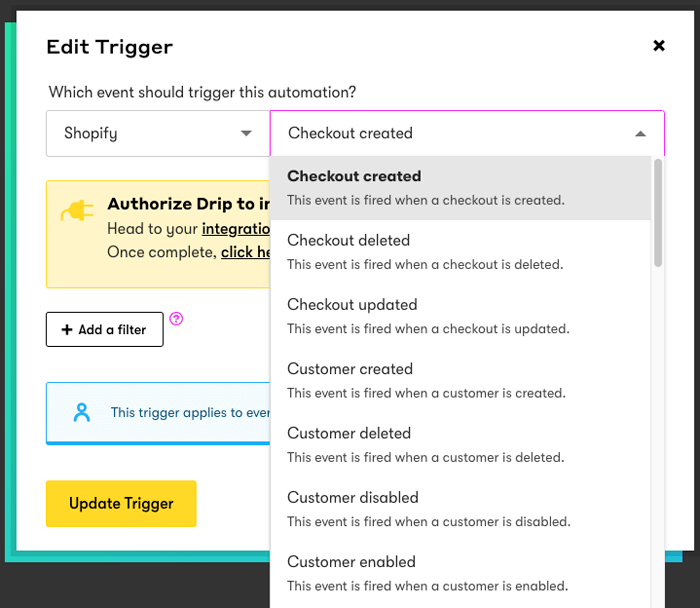 Drip also lets you dynamically add product information into emails, in a couple of different ways. For example, you can send order confirmation emails with information about what products were ordered, and how many items were in the checkout, using a simple system of shortcodes.
But what really gives it the edge over ActiveCampaign is that you can automatically add content like product recommendations and top-selling products straight to your newsletters, using the Visual Email Builder.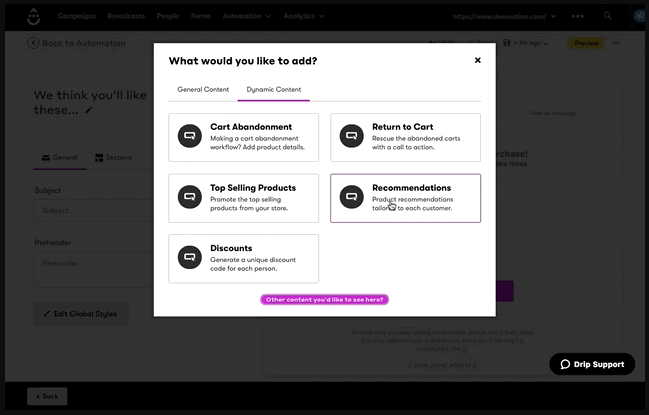 Find out more about why these are some of the best email marketing tools for Shopify.
Winner: Both are ideal solutions if you're looking to amp up your online store's email marketing, but since Drip has been purpose-built for ecommerce, it takes the point this round! And with the current tally at 5:3 (with ActiveCampaign in the lead), it's looking very close!
Spam and design testing
If it's important for you to be able to test your emails before you send them, be aware that Drip doesn't offer any kind of spam or design testing, beyond your standard email previews. So, you'll need to run your emails through other tools to check the likelihood of them being flagged as spam, or how they'll render in various email clients/devices (GlockApps and Litmus are good tools for spam and design testing, respectively).
ActiveCampaign, on the other hand, offers spam testing by way of a SpamAssassin check that will automatically test each email before sending. While email client previews (e.g. viewing how emails would look in Gmail vs Apple Mail) aren't free, you can purchase email credits to be able to access these via ActiveCampaign. These are charged at $5 for 5 tests.
Winner: This is an easy one – ActiveCampaign wins for offering spam testing for free, and email client previews at an extra cost. Neither of these options is available through Drip. 6:3
Reporting
Drip offers a good range of report types. You get some standard overall reports in their Analytics section – subscriber growth reports, unsubscribes, and bounces, just to name a few.
However, you also get some really useful events-based reports, which show you whenever contacts had a tag applied, became prospects, visited a webpage or completed a campaign (among many other available events). You'll get both a graph as well as a list of the contacts that performed these actions. You can also set up custom conversion tracking for events such as ebook downloads or demo requests.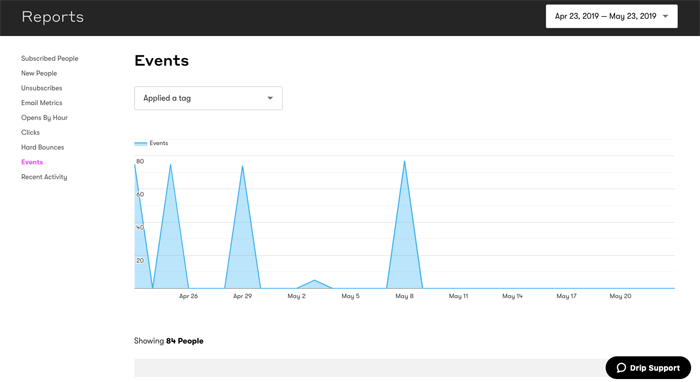 Ecommerce dashboards are available once you integrate Drip with your online store. You can track how much revenue was generated by individual campaigns or automation workflows, as well as seeing revenue per subscriber and average order value per email.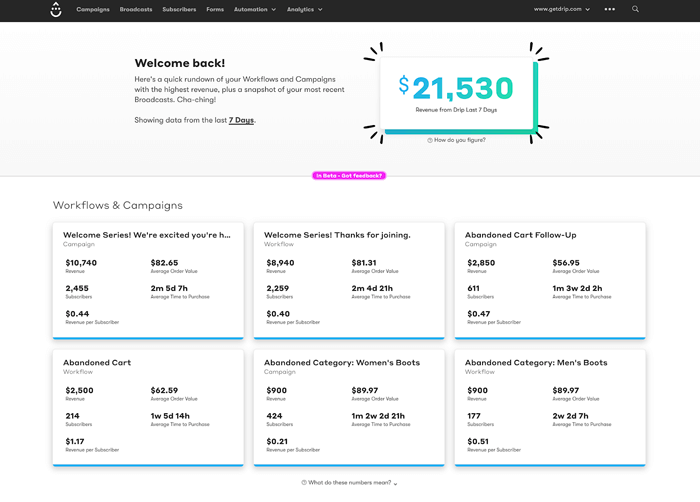 For individual emails (whether sent as a single email or in an automation series), you get opens, clicks, and unsubscribes – although not too much more, unfortunately. So, no click heat maps or geolocation reports, for example.
Also missing are reports showing how each automation performed overall, as well as social engagement stats.
ActiveCampaign's reports are a little more comprehensive. The individual campaign reports are excellent, with opens, clicks, unsubscribes, bounces and forwards. You also get read reports, geolocation, social mentions/shares and which email clients were used (although they lack a visual heat map).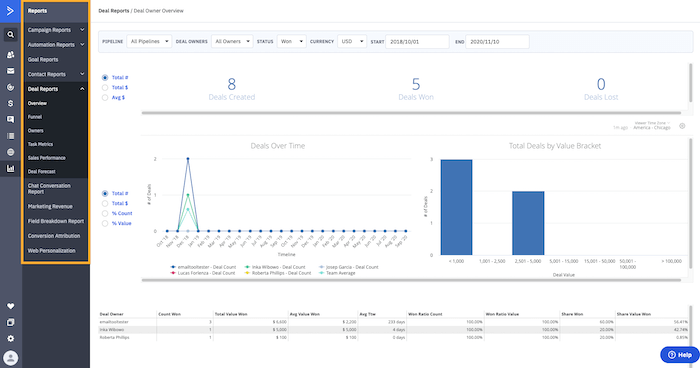 Beyond that, they also have automation reports, contact trend metrics, conversation reports (around ActiveCampaign's add-on live chat and email support feature), and goal-based reports that you can set up yourself. Ecommerce reports are available if you have a Deep Data Integration set up with your ecommerce platform.
Plus, if your plan gives you access to ActiveCampaign's CRM, you'll also get their deal reports, giving you funnel overviews, and detailed deal reports.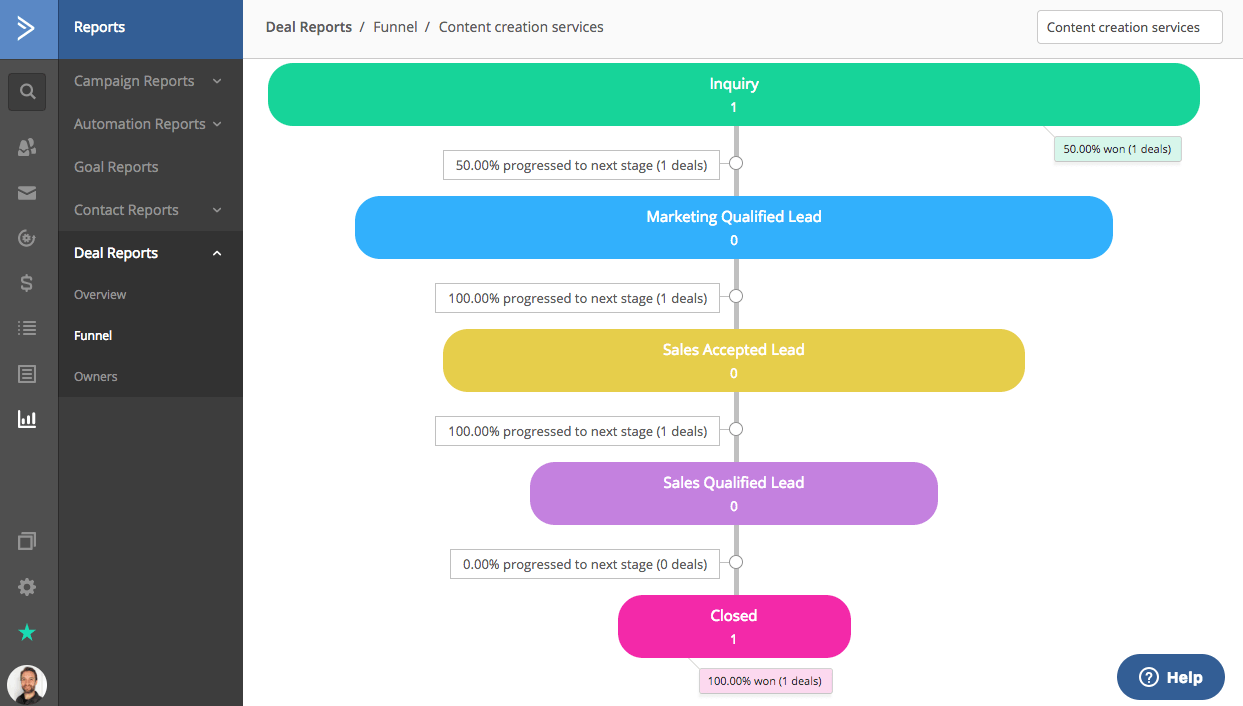 Winner: While I really like Drip's event-based reports, ActiveCampaign offers a greater variety of reports, with more comprehensive data. ActiveCampaign takes a solid 7:3 lead!
Deliverability
Good email deliverability is essential for any email marketing tool. You don't want all your efforts leading up to sending your campaign will have been for nothing, after all.
We've been tracking the email deliverability of the providers we review for a number of years.
Here are the average figures of how they performed in our last 3 rounds of bi-annual deliverability tests:
| | DRIP | ACTIVECAMPAIGN |
| --- | --- | --- |
| Overall Deliverability Rate | 75.56% | 92.03% |
ActiveCampaign tends to score significantly better than Drip in our tests, continuously scoring in the early nineties.
Winner: ActiveCampaign is the clear winner here. 8:3
Integrations
We've talked about ecommerce integrations, but what about integrations with other key tools?
It all comes down to the numbers. ActiveCampaign provides direct integrations with over 890 applications, including the most popular CRMs, analytics tools, CMS/website builders, and social media networks.
Drip offers fewer integrations – around 100 in total, although you'll still be able to integrate directly with apps like Shopify, Paypal, Facebook, Leadpages and more. Curiously, they didn't seem to have any direct integrations under their CRM category, although these can be set up using a third-party integrator like Zapier.
Winner: No surprises here – with a wider range of integrations, ActiveCampaign takes out this round. 9:3
Support
Both ActiveCampaign and Drip provide email and live chat for one-on-one support, and detailed knowledge bases, and community forums (Drip's is on Facebook). Both also offer the option to contract one-on-one training, and ActiveCampaign also makes tutorials and webinars available online.
We've had good experiences with the live support offered by both providers, which we found to be fast, responsive and friendly. However, Drip (amazingly!) offers 24/7 live support, while ActiveCampaign's is limited to business hours (US Central time). Note that you'll need to pay $99 or more to access Drip's live chat support.
Winner: It's close, but having 24/7 support makes a huge difference, especially when you're located in a non-US timezone – so Drip has the one-up when it comes to support! Let's see who takes out the final round…Current score 9:4
Pricing
ActiveCampaign and Drip aren't your average email marketing services, so it comes as no surprise that they'd charge a little extra for their premium features (neither offers a free plan, either, although free trials are available). But which one provides better value? Both charge based on number of contacts, but there are a few key differences to note.
For one thing, ActiveCampaign allows you to choose from four different Marketing plans: Lite, Plus, Professional and Enterprise. While the Marketing Lite plan starts at $39/month and gives you all the basics plus marketing automation, you'll need at least the Sales plan to take advantage of the CRM and the Deep Data Integrations with Shopify, BigCommerce, WooCommerce and Square. To gain access to Marketing and Sales features, you'll need to purchase them as a Bundle.
Drip gives you access to all features, regardless of the plan you're on. Their lowest plan starts at $39/month for 2,500 contacts, which is a pretty big commitment to start off with compared to ActiveCampaign's Lite plan.
But to give you a better idea of how the two really compare, let's take a look at the monthly pricing of Drip vs ActiveCampaign's Plus plan, which is the most similarly-featured plan:
| | ActiveCampaign Plus Plan | Drip |
| --- | --- | --- |
| 2,500 contacts | $59 (discounted yearly plan: $99) | $39* |
| 5,000 contacts | $TBC (discounted yearly plan: $135) | $89* |
| 10,000 contacts | $287 (discounted yearly plan: $199) | $154* |
*Annual plans with Drip are also available, which work on a credit system and provide you with two months' worth of credits for free.
When you're comparing these two plans, ActiveCampaign is the more expensive of the two, although you do get more for the Plus plan than you do with Drip. So it's a little hard to do a straight comparison. Plus, you'll find that ActiveCampaign's Lite plan is cheaper than Drip, although you do miss out on features such as deep ecommerce integrations and CRM.
Winner: This one had me a little stumped! Both ActiveCampaign and Drip require a fair bit of monthly investment, but if you're choosing based on price, you need to consider what features you need:
If you just need automations, ActiveCampaign's Lite plan is the way to go
Drip is the more affordable option if you need automations plus ecommerce integrations
However, it's worth opting for ActiveCampaign if you need the inbuilt CRM too (which Drip doesn't offer)
So, the final round is a tie. However, if you've been keeping score, you'll know that we have a clear winner…10:5 to ActiveCampaign
ActiveCampaign vs Drip: Final thoughts
When it comes to marketing automation, it's hard to go past either ActiveCampaign or Drip. Both offer intuitive yet powerful workflow editors to let you build virtually any kind of automation you want.
But while Drip is particularly strong in ecommerce, ActiveCampaign (who also have solid ecommerce features) goes that little bit further, with a decent CRM and some useful extra features – email templates, spam testing, comprehensive reports, and more.
ActiveCampaign has long been a favorite of ours on EmailToolTester, and though Drip is a strong contender, I really feel that ActiveCampaign is the better all-in-one solution – especially if you want to integrate your sales and marketing processes, and have them managed out of a single platform.
That being said, if you're evaluating different email marketing services, I wouldn't rule out Drip completely – it might be the better solution for you if you run an online store. In fact, this is a prerequisite – hence why ActiveCampaign is the more versatile option.
If you're interested in trying either solution out, both offer a free 14-day trial – you can try ActiveCampaign out here, and Drip here.
See how ActiveCampaign did in the following comparisons with other popular email marketing services:
Check out our detailed ActiveCampaign alternatives guide here.
Had experience with either ActiveCampaign or Drip? Good or bad, let us know about it in the comments below!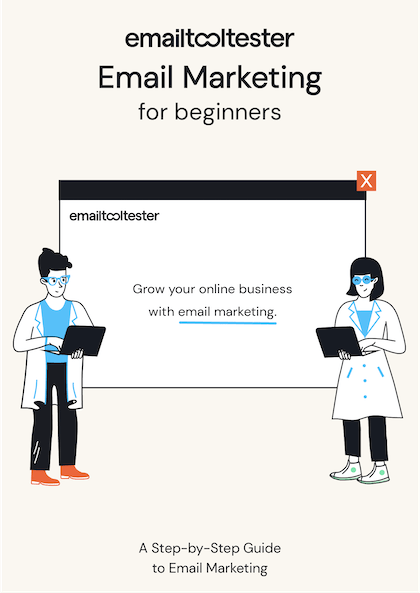 Email Marketing Crash Course: Step-by-Step Guide
Our email marketing course for beginners: ideal for small and medium-sized businesses, online stores and bloggers. It shows you all the steps you need to send your first email campaign. Best of all, it's free!
Sign up to receive your copy immediately!
We keep our content up to date
13 Jul 2023 - Updated deliverability results
28 Feb 2023 - ActiveCampaign pricing updated
29 Nov 2022 - ActiveCampaign video added
08 Sept 2022 - General update
29 Apr 2022 - General update
27 Apr 2022 - Added deliverability averages
19 May 2021 - Updated ActiveCampaign's screenshots
16 Jun 2020 - Updated Drip's prices
Our Methodology
This article has been written and researched following our EmailTooltester methodology.
Our Methodology