I guess by now you've all heard of ChatGPT.
The most advanced AI chatbot currently available is now headline news with 100m users, only two months after launching. And the best thing: you can use it for free.
So if you struggle to come up with new content ideas for your company's monthly newsletter, don't have the time to write your marketing emails from scratch, or aren't sure about how to write a newsletter, ChatGPT could be a fantastic tool to help you implement your newsletter marketing strategy.
To start using it, all you need to do is sign up for a free account on their website. Then you simply enter the tasks (or prompts as they are called) that you need help with and wait for ChatGPT to do all the hard work for you. I'll share plenty of examples further down below.
What is ChatGPT?
ChatGPT is an advanced language model developed by OpenAI. It uses deep learning to understand and generate human-like text.
Among other things, it can be used for:
Generating text, such as creative writing or language translation
Summarizing text
Answering questions
helping with programming tasks (pretty impressive, right?)
What makes it different from other AI language models is that you can interact with it. This means that you can ask follow-up questions or ask it to refine its output until you get the answer you were looking for.
The two main benefits for you are time savings and enhanced creativity. So wave goodbye to writer's block!
I find that when I use it, it often comes up with unexpected concepts that I would never have thought about. Especially when you ask it for 'uncommon ideas'. But we'll get to that in a minute.
With all that in mind, you can see that ChatGPT is an ideal companion for creating website content, newsletters, and email campaigns too. Let's find out how ChatGPT can help with your email marketing efforts, and how you can use it alongside your ESP:
How ChatGPT Helps with Newsletter Creation
Here are the interesting ways that ChatGPT can assist you with your email marketing campaigns.
Let's start with a publishing calendar
I asked ChatGPT for a publishing calendar for a whole year, avoiding public holidays:
"Give me some good dates for publishing schedule for my newsletter for 1 year that avoid US holidays. I want to send out 1 newsletter per month. Tell me the dates of the public holidays."
Ideally, you make this more specific, asking for a concrete year.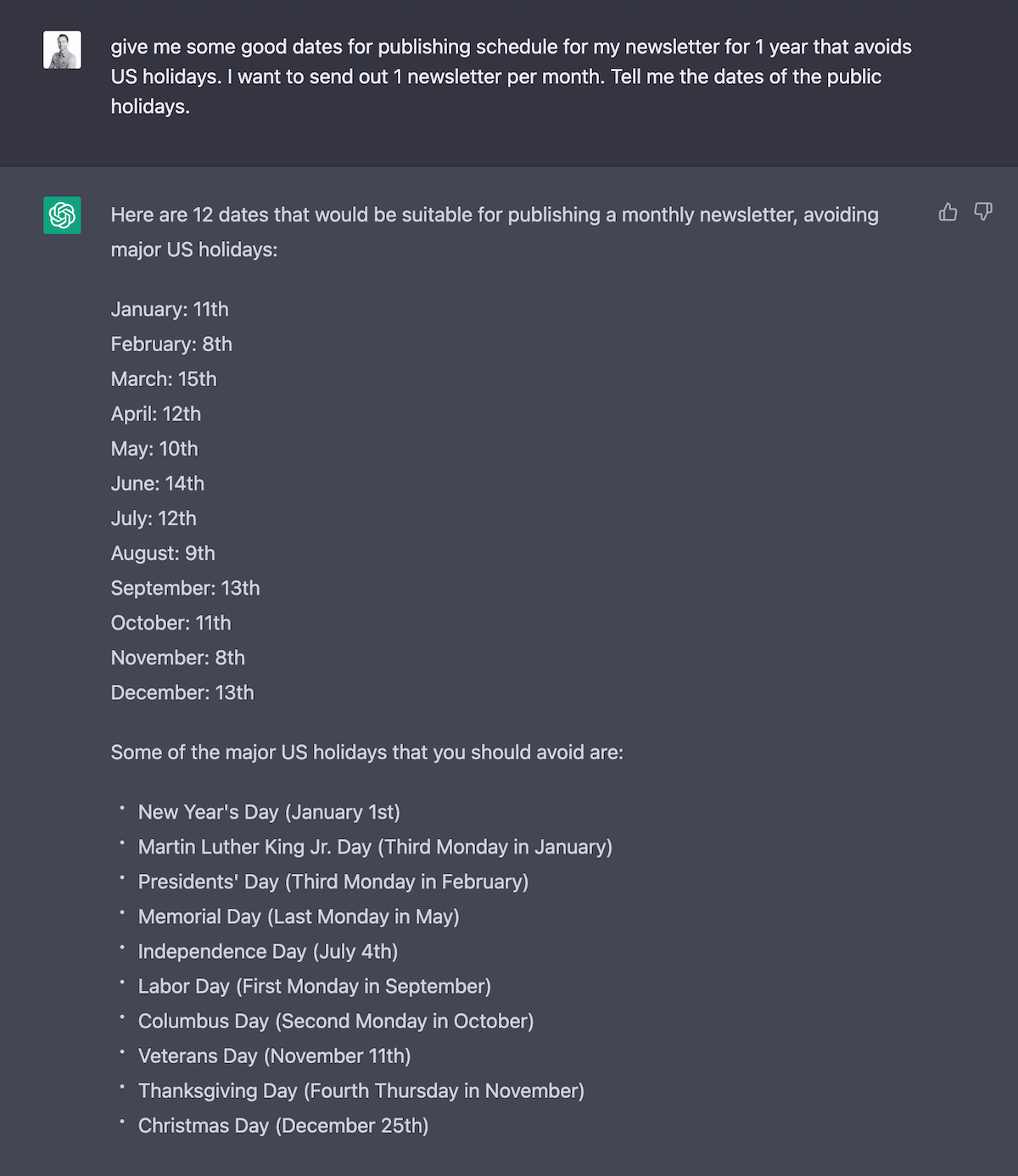 Now that the schedule is sorted, let's continue planning out the content.
Generate ideas for your newsletter content
This is probably the task ChatGPT is most useful for: brainstorming. I gave it this example task:
"I run a small company that creates a software for small business HR management. I need some content ideas for our monthly newsletter. The target group are HR managers and founders."
Be as specific as possible regarding the purpose of your business and the target audience in this case.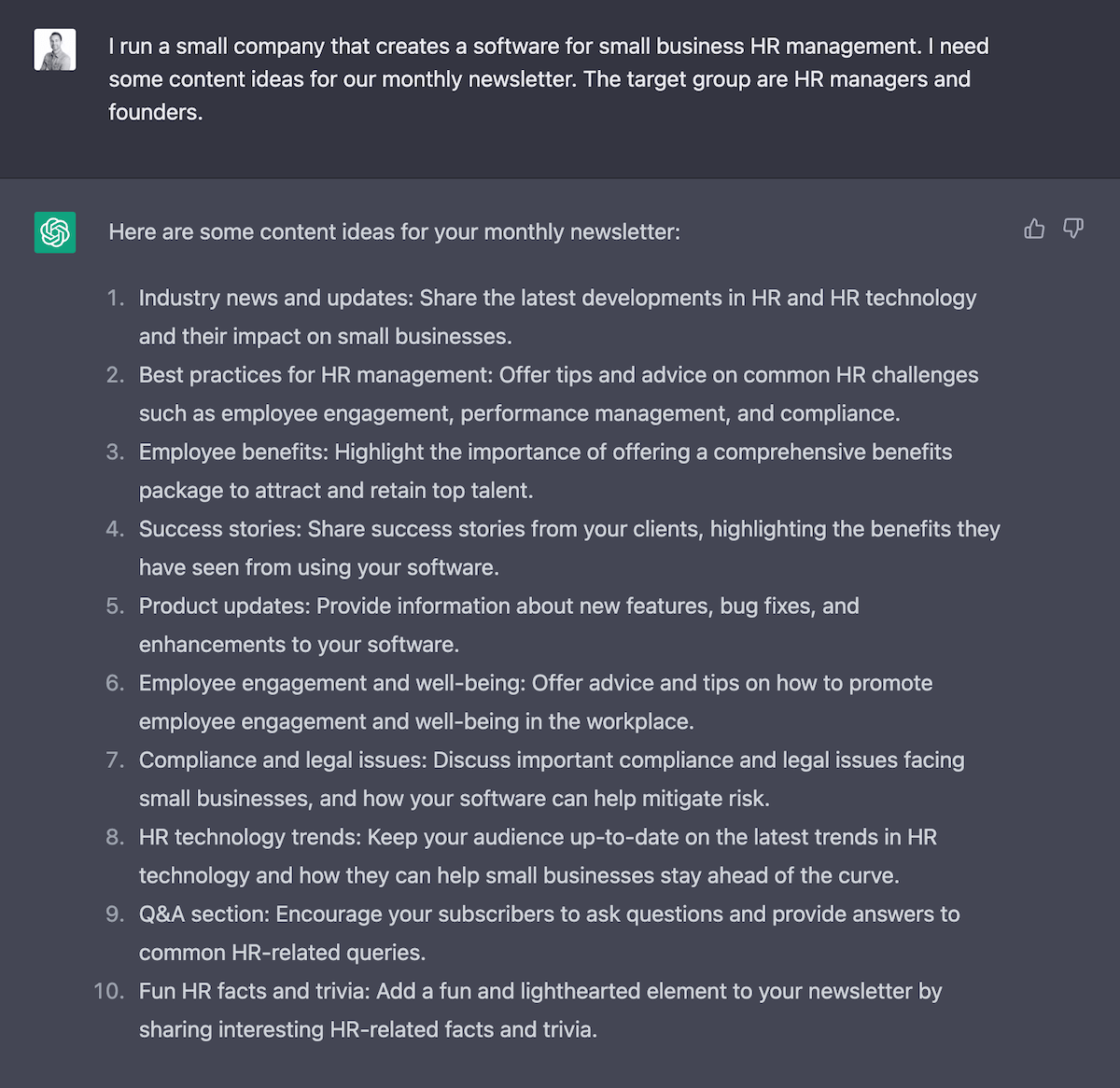 Create the actual newsletter content
The next step is writing the newsletter content. With ChatGPT, you can generate intros, paragraphs or the even the entire newsletter. Following our example from above, let's ask for the intro to our next newsletter:
"We are going to send out the next newsletter talking about 'Best practices for HR: how AI helps improve employee satisfaction' and talk about 'well-being and the importance of mental health'. Please write an intro for that and talk directly to the reader."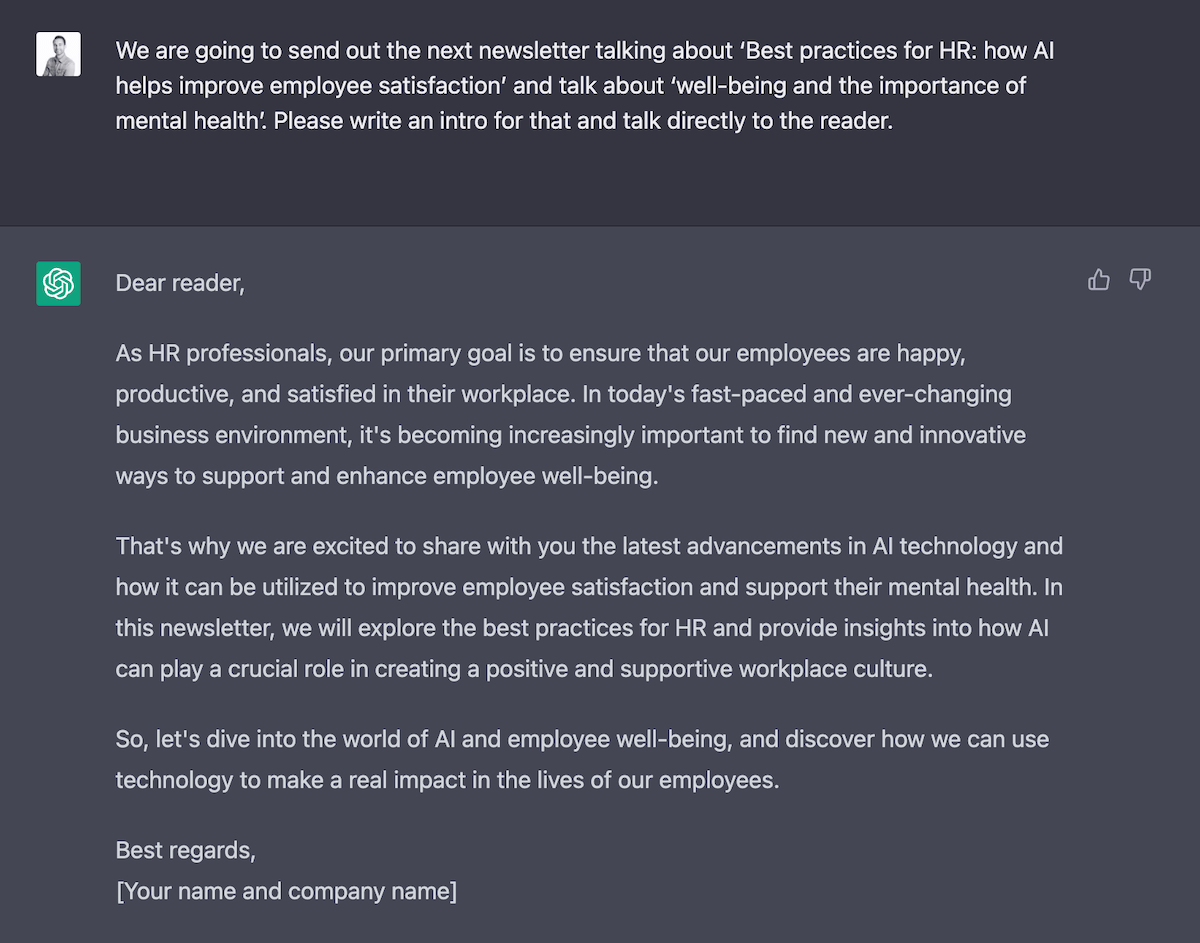 It's not bad, is it? A bit generic and probably too long. But you can always cut it down and give it more personality. You can also ask it to add a 'surprising fact' or a 'common misconception'.
Of course, it can also create the rest of your newsletter's content. Just make sure you give it instructions on the length and structure of your newsletter (headline, text, call to action etc.).
You can even paste an example of a newsletter paragraph of your last edition and tell it to use it as an example.
Come up with subject Lines that encourage high opening rates
Once you have your main content, it's a good moment to work out your subject line.
The subject line is what entices your subscribers to open the email, so it needs to be attention-grabbing and relevant. This is another area where ChatGPT shines. You can just continue the dialogue you started before, so it'll still remember all the details.
This is the prompt I used:
"Create 10 suggestions for subject lines that will achieve a high opening rate". Make sure you keep our advice on the optimal subject line length in mind (which is 50 characters or fewer).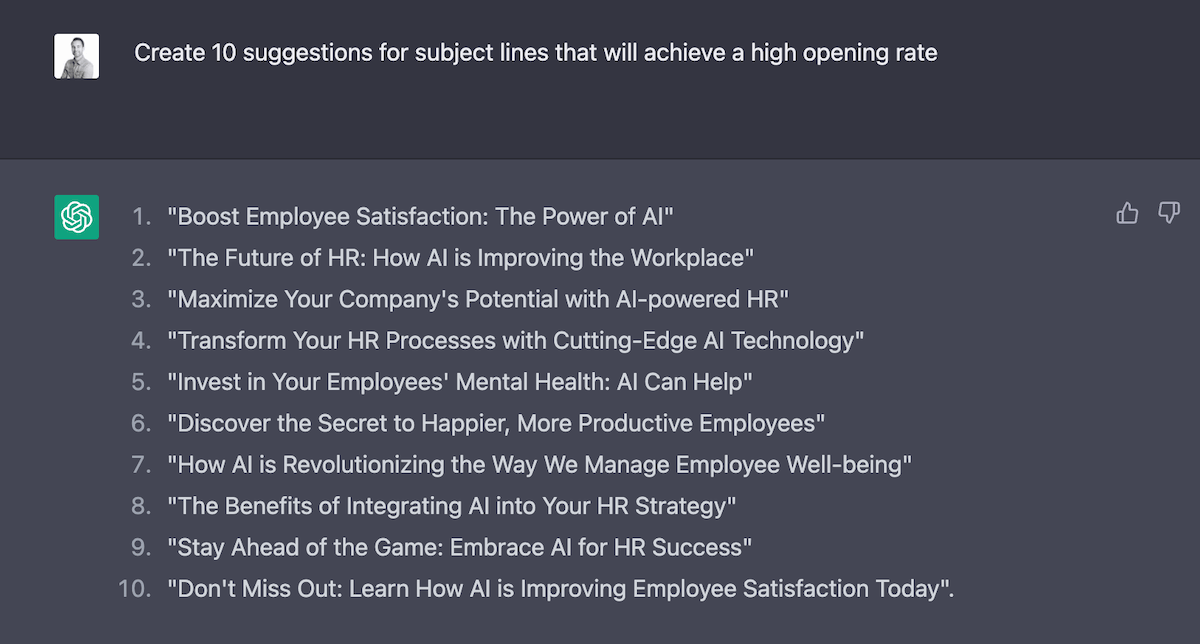 Of course, you can also create headlines for your newsletter in the same way.
Product Descriptions
If you're running an ecommerce store and want to promote one or more products in your email, strong marketing copy is key. It needs to be concise and clearly show what the product is and what it does. Let's see what ChatGPT puts together for a computer mouse.
"Write a compelling product description for the logitech mx vertical mouse, describing its health benefits. Make it sound like it's written by Apple. It will be used in a newsletter so it should be no longer than 75 words."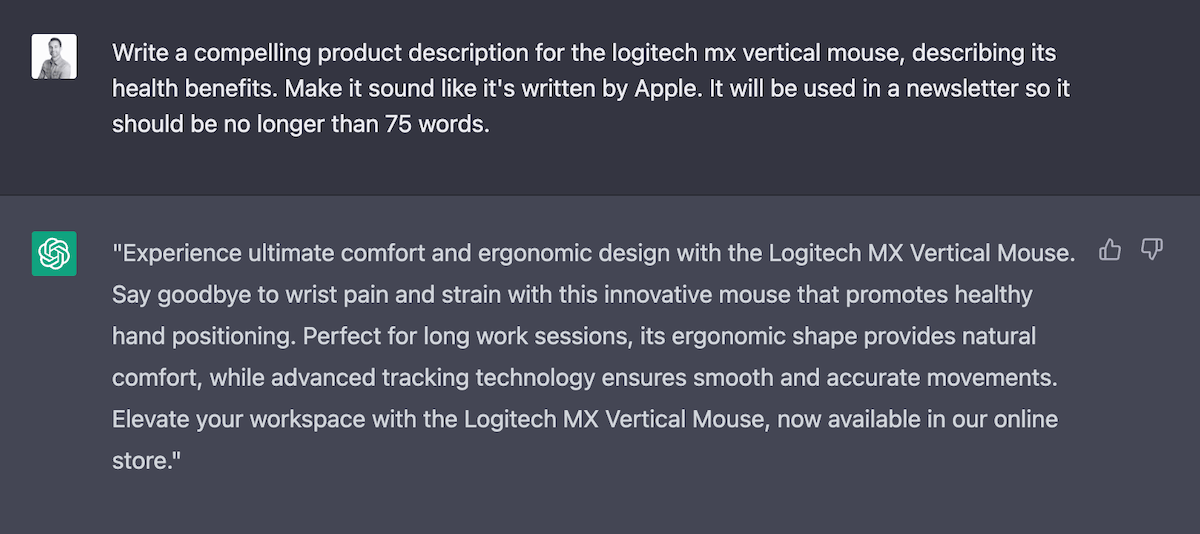 A trick that works well for marketing copy: emulate a writing style of a company with great marketing, Apple or BMW for example.
Call-to-Action
The call-to-action (CTA) is the part of your email where you tell your subscribers what you want them to do next. Whether you want them to make a purchase, sign up for a webinar, or download a resource, the CTA needs to entice people to click the link. Just try creating one with ChatGPT.
Editing and Proofreading
After you have your content, it's time to edit and proofread. Since you have (hopefully) changed some of the AI-generated content and added your own copy, it's a good idea to let ChatGPT help you catch grammatical errors and ensure it's well written. Simply copy and paste your text into the chatbot, and ask it to proofread the copy.
Using ChatGPT for the Best Results
Once you start creating texts with AI, you'll quickly learn what works and what doesn't. Here are some additional tips:
Be Specific, clear and concise
The more specific you are about what you need, the more accurate its response will be. For example, if you're looking for content ideas, be sure to specify the topic, target audience, and tone of the article.
Also, If you are putting too many instructions in the prompt all at once, you may end up confusing the engine.
Add examples
It's a good idea to provide text samples or other descriptions of the content you would like to generate. In our subject lines example, you could give it a previous subject line that worked well for you. Or you mention a writing style you'd like it to follow (e.g. write it like Tony Robbins or Seth Godin).
Request a specific goal
Whether you want a subject line, an intro paragraph for your newsletter or a call to action. Always make sure you tell the AI exactly what you want.
Wrap Up
In conclusion, using ChatGPT for your email newsletter will make your content production a lot faster and more efficient.
It can save you time and come up with fresh ideas. Whether you're generating content, editing, or seeking design inspiration, ChatGPT or an alternative like WriteSonic, Jasper or Content At Scale are definitely worth integrating into your overall email marketing strategy.
Get started today and try out some of the examples I provided. If you come up with useful prompts yourself, please let me know in the comments!
We keep our content up to date
27 Jul 2023 - Small update on subject line character limits
Our Methodology
This article has been written and researched following our EmailTooltester methodology.
Our Methodology