Salesforce CRM was originally built to meet the needs of enterprises and large businesses. It's not surprising, then, that it can feel pretty overwhelming for the little guys.
When I was working for what I'd call a small-to-medium-sized company in Barcelona, we had a dedicated Salesforce expert on the team to help the salespeople with Pardot, Salesforce's marketing automation solution.
And this isn't uncommon.
As such a prolific CRM tool, Salesforce offers its 'Trailblazers' (customers) the opportunity to become certified Salesforce consultants, administrators, marketers, etc., in order to help businesses get started.
But, one has to ask, would it not just be simpler to design a more user-friendly tool, like many of the Salesforce competitors have done?
In this detailed exploration into all that Salesforce has to offer, and where its competitors do it better, you'll be introduced to some excellent Salesforce alternatives for your business.
So let's get stuck in!
Our Top 7 Salesforce Competitors
HubSpot CRM – Good functionality & easy to use
EngageBay – Affordable all-in-one service
Pipedrive – Sales focused
ActiveCampaign CRM – Email marketing + automations
Zoho CRM – SaaS veteran
Microsoft Dynamics 365 for Sales – AI technology
Agile CRM – Cheaper solution
Why Use Salesforce?
Salesforce was founded in 1999 by Marc Benioff, who was previously the vice president at Oracle. Thanks to Salesforce, the idea of a cloud-based platform was popularized, and this SaaS company started making a name for itself in the computer software and information technology and services industries.
Pros
Integrations: Lots of excellent integrations available, e.g. with email marketing platforms, which means that contact profiles are really detailed, including information on which newsletters they've opened, etc.
Lead scoring: This helps you find contacts who are more interested/qualified, who can then be funneled into an integrated automation program
Distinguish between type: It's possible to distinguish between an account, contact, lead, or opportunity, which you can't always do with other providers.
Customization: Lots of customization when it comes to setting up funnels/opportunity stages, as you can adapt it to whatever sales process your company follows. Dashboards can also be fully customized
Reports: Reporting and analytics are top-notch, you can build pretty much any report you want
Trailblazer community: Trailblazers are what Salesforce calls its customers, and they have created quite the community. It's kind of like the WordPress of CRMs, where you can find answers and helpful resources for any issues you run into.
>> Find out which big brands use Salesforce as their email marketing service in our ecommerce email marketing statistics study.
Why Consider Alternatives to Salesforce?
Cons
Overwhelming and complex: Because of the complexity of the tool, many will find they have to do a lot of research, and the occasional training session, to work out how to get the most out of Salesforce. A lot of companies actually hire experts to manage their Salesforce accounts, so it's definitely not designed to be beginner-friendly
Pricing: $25 per user, per month is not an affordable option for small businesses in need of multiple user accounts. The next level available jumps to a massive $75 per user, per month, which is significantly more expensive than the competition. Another disadvantage is that you have to pay for the whole year up front, and with so many products, it's not very clear what's included in the price.
What to Look for in a Great Salesforce Alternative
Bearing all the above in mind, I've identified the key things to look out for when selecting a good Salesforce alternative:
1. Ease of use
2. Good customer support
3. Breadth of well-designed features
4. Free plan available
5. Can pay monthly
6. Affordable paid plans
Salesforce Competitors: A Detailed Analysis of The Tools
1. HubSpot CRM – Free Salesforce alternative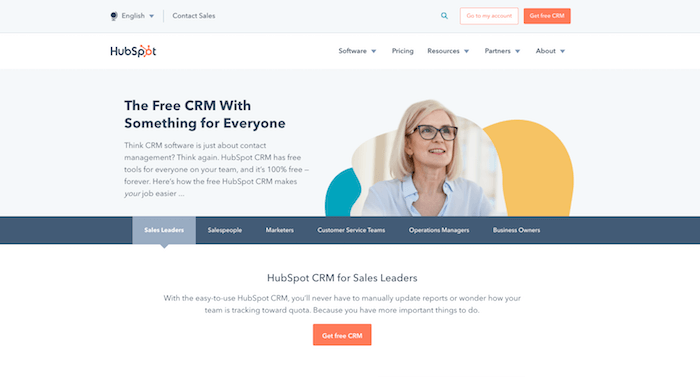 Like Salesforce, HubSpot is a big player in the CRM and automation industry. It really is what you'd call an all-in-one sales and marketing software, with everything from advanced contact relationship management (CRM) features to email marketing, omnichannel features, and even a content management system (CMS).
What makes HubSpot a great Salesforce alternative?
The most important thing to note is that HubSpot offers a feature-rich free plan that comes with 1M contacts and unlimited users – something you're not going to find elsewhere. Considering Salesforce doesn't offer any kind of free plan, HubSpot is quite an attractive competitor.
What's more, despite the degree of functionality you have, HubSpot is still very easy to use, even for the most inexperienced users. The support is top-notch, as well as all the helpful resources on offer.
Its range of sales and marketing features makes it a good sales funnel software, too.
Disadvantages to using HubSpot
Though the free plan is excellent, HubSpot's paid plans don't scale very well. There is a massive jump in cost from the Starter plan ($20/month) to the Professional plan ($890/month), which comes with key features such as omni-channel marketing automation and custom reporting.
Customizable reports and dashboards come with Salesforce's lowest-tier plan, as well as workflow automation.
2. EngageBay – More affordable, easier-to-use Salesforce competitor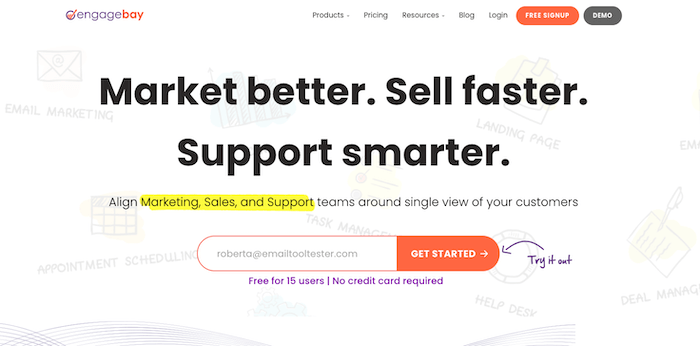 EngageBay is an all-in-one sales and marketing software, packed full of features that will save you time and money.
These features are organized into different categories: marketing, sales, service, or you can opt for the all-in-one pack, which works out to be a great deal.
What makes EngageBay a great Salesforce alternative?
EngageBay makes for a great Salesforce alternative if you're looking for a more affordable, easier-to-use software.
A free plan, which includes 15 users, email marketing, landing pages, autoresponders, helpdesk and live chat, is available, and its Basic plan costs just $12.99/month per user. So it really is one of the most affordable CRM solutions out there right now.
With such a clean interface and excellent functionality, it's easy to get a holistic view of your activity. What's more, your contacts are given a score, which helps you to define your sales and marketing strategy based on how ready to buy your leads are.
Disadvantages to using EngageBay
Integration options are quite thin, you'll have plenty more with Salesforce.
The form and email templates are also few and far between – these could really do with a design update. The landing page templates are slightly better, but there is still room for improvement.
3. Pipedrive – No training needed!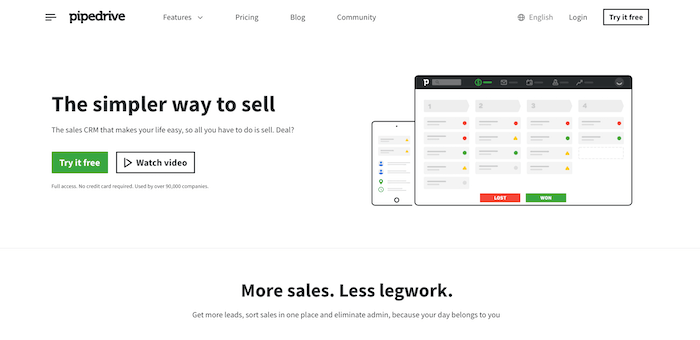 Used by over 90,000 companies worldwide, Pipedrive CRM is fast becoming a very popular Salesforce competitor.
You won't need any training, and you'll find its templates, group emails and workflow automation features will save you some time. But is it missing anything?
Find out more about Pipedrive's features in this video:
What makes Pipedrive a great Salesforce alternative?
Navigating your way around the platform is made easy by a clean design. At no point did it feel overwhelming in any way, and there is a useful 7-step setup process to help you get started quickly and easily.
Excellent customer chat and email support available around the clock.
The best thing is that its prices are very affordable, with its Essential plan coming in at $18/user/month. You can then add any add-ons you need at an extra cost.
Disadvantages to using Pipedrive
Like Salesforce, it doesn't offer a free plan, though you can try out the software for 30 days free of charge.
Because Pipedrive is directed at sales teams, you won't get any marketing features such as email marketing thrown in. This could push up costs slightly more than if you were to go with an all-in-one solution like HubSpot. Surprisingly, there's also no lead scoring.
Another disadvantage is that syncing with your email client is reserved for higher plans (starting at $33/month/user), whereas Salesforce allows you to do so on the $25/user/month plan.
4. ActiveCampaign CRM – Top choice for email marketing and automations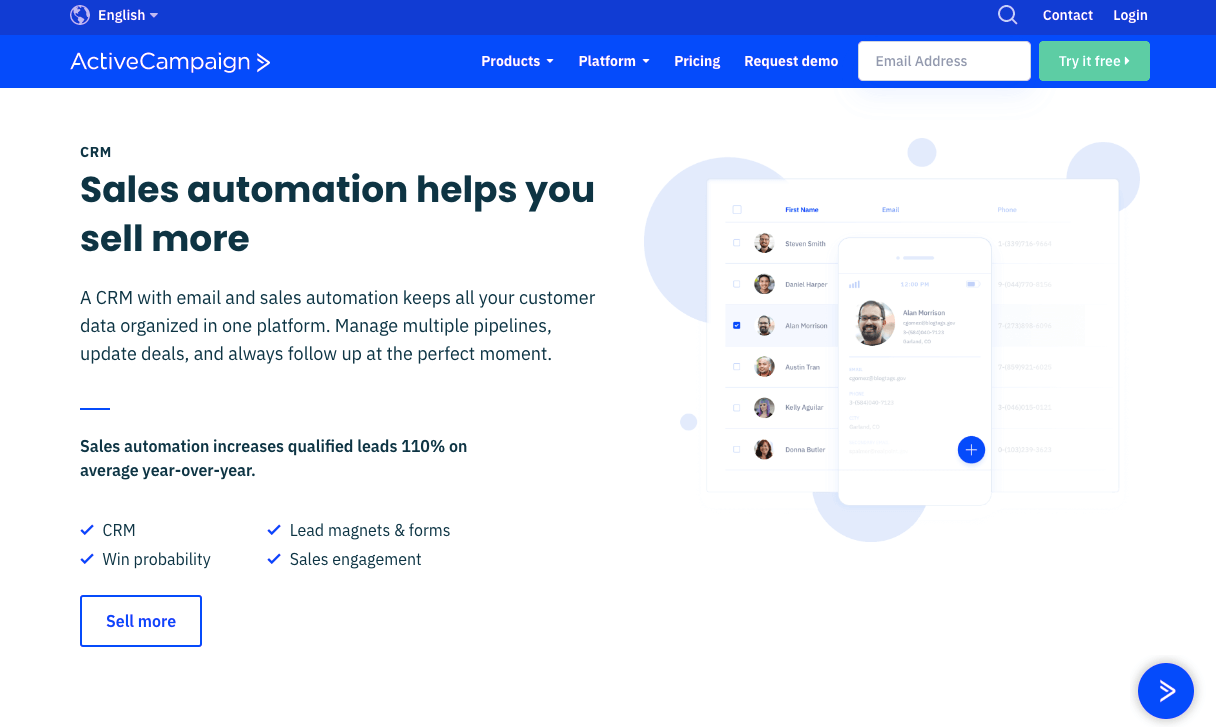 ActiveCampaign offers more than just the email platform it's best known for – it also provides solid CRM features for managing pipelines, tracking deals, and scoring leads. The platform excels in automation, allowing you to automate various sales and marketing tasks.
On the sales side, ActiveCampaign enables you to manage deals effectively – for example, by automatically updating deal status when a lead takes the relevant action. Additionally, it offers powerful automation capabilities for email marketing, including a wide range of triggers and actions for sending targeted and personalized campaigns.
What makes ActiveCampaign a great Salesforce alternative?
ActiveCampaign stands out as a great alternative to Salesforce because it combines CRM, email marketing, and automation in one platform at a more affordable price point. Bundled Sales + Marketing plans start at $93 per month – a huge saving compared to the thousands you'd be paying with Salesforce. (Without the marketing features, ActiveCampaign CRM starts at around $19 per month.)
What's more, ActiveCampaign's flexible automation features allow two-way integration between marketing and sales activities. And despite its wide range of features, ActiveCampaign CRM is remarkably user-friendly compared to Salesforce, with excellent support and resources on hand.
Disadvantages to using ActiveCampaign CRM
The CRM reports in ActiveCampaign lack the level of customization and granularity found in Salesforce. It also recently removed its "Conversations" feature, which unified live chat and email communications in a single inbox.
Overall, ActiveCampaign CRM is ideal for smaller teams whose priority is to automate marketing and sales tasks.
Try ActiveCampaign CRM for free for 14 days
5. Zoho CRM – Long-time Salesforce competitor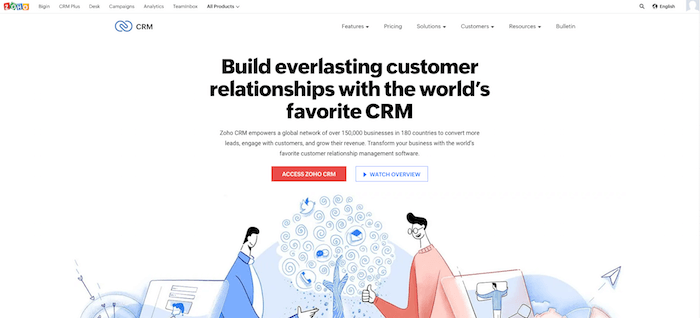 Another big name in the CRM world is Zoho Corporation. This SaaS application was founded in 1996, just three years before Salesforce. But do those three extra years of experience make it a better tool, and what about pricing?
What makes Zoho CRM a great Salesforce alternative?
Zoho does offer a free plan, which comes with up to 3 users. The paid plans are slightly cheaper than Salesforce's, and it's easier to scale, as there's no big price jump between plans (find out more here). You can also pay monthly, which you can't do with Salesforce.
In terms of reporting, you can create custom dashboards and reports, even on the Standard plan ($20).
Disadvantages to using Zoho
The interface isn't particularly modern, and the fact that it has so many apps can sometimes be a bit confusing, as it's not so easy to go between them. Salesforce has a slight upper hand in that regard.
Bear in mind you'll need to pay extra for premium support.
6. Microsoft Dynamics 365 for Sales – AI-powered competitor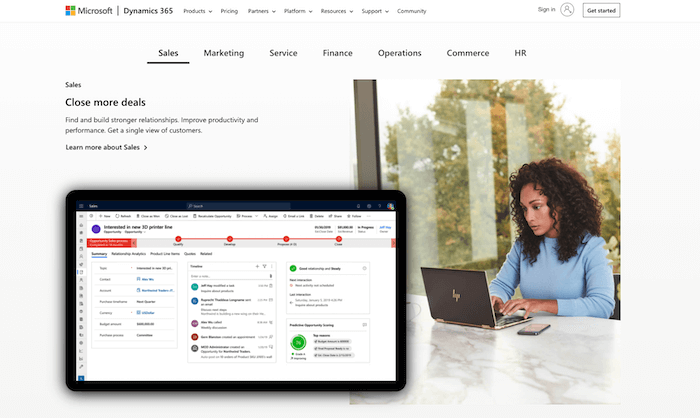 This company needs no introduction. Its product, Microsoft Dynamics 365 for Sales, is an advanced CRM solution with inbuilt artificial intelligence. Those already using the Microsoft Office suite will be glad to know that the native integration works seamlessly between the two.
What makes Microsoft Dynamics 365 a great Salesforce alternative?
AI-powered database that collects data based on customer behavior
With built-in artificial intelligence and advanced automation capabilities, Microsoft Dynamics 365 is a very powerful tool that will help you stay one step ahead (if you can get your head around it). Apparently, it can even detect customer sentiment during calls.
Disadvantages to using Microsoft Dynamics 365
Due to the complexity of the tool, users experience a steep learning curve.
Price is also a factor to consider, as this is the only tool on this list that's more expensive than Salesforce.
The lower-tier sales professional plan costs $65/user/month, and larger organizations are directed towards the enterprise plan, which costs $95/user/month. So, not exactly a cost-effective solution for small businesses.
7. Agile CRM – Free alternative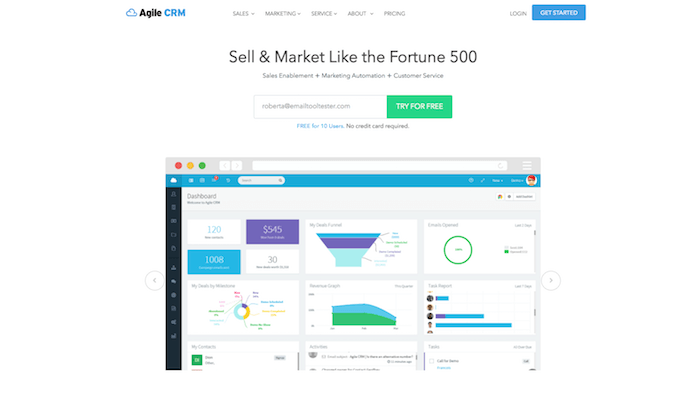 Like other tools on this list, Agile allows users to pay monthly, and, on paper, looks like a well-rounded tool. So what does it offer and how well does it perform?
What makes Agile CRM a great Salesforce alternative?
Agile offers a free plan, which comes with 10 users, a landing page builder, email campaigns and tracking, lead scoring and appointment scheduling. The paid plans are also very affordable, starting at just $8.99/user/month.
Disadvantages to using Agile CRM
The system felt a bit buggy, and there were some instances where the user experience wasn't very friendly (e.g. adding contacts).
Salesforce is certainly a more advanced CRM software, so in the case of Agile, I'd say you get what you pay for.
Other Advanced CRM Solutions
Oracle and SAP are two big Salesforce competitors, however, as a small business owner, you might find yourself with the same issues as Salesforce: a steep learning curve and a hefty price tag.
Both are quote-based solutions, which always means $$$$.
If you have limited CRM experience and are in need of an affordable CRM tool, we suggest looking first at the tools at the top of this list (HubSpot, EngageBay and Pipedrive).
Salesforce Alternatives Free CRMs
If you're specifically looking for a free CRM, I'd recommend either HubSpot or EngageBay. If you'd like to check out all the options, take a look at our detailed review of the best free CRMs.
So, of These Salesforce Competitors, Which One is Right For You?
Well, of course, that totally depends on what your specific needs are. I recommend you use this list as a guide and try out the services on the free trials.
The fact that quite a few of the providers offer forever free plans means that you'll have all the time in the world to get to know the software and decide whether it's right for you or not.
Please let us know how you get on!
I hope you've found this article helpful. If you have any questions, please feel free to drop them in the comments section below.
We keep our content up to date
29 May 2023 - Added ActiveCampaign CRM
25 Apr 2023 - Added HubSpot video review 
01 Dec 2021 - Added Pipedrive video review
Our Methodology
This article has been written and researched following our EmailTooltester methodology.
Our Methodology