Email automation has come a long way since the days of simply sending a welcome email when someone signs up for your newsletter.
Remember when you received an "out of office" email from a colleague when they went on vacation? This is a simple example of how autoresponders work in everyday life.
In email marketing, you can use autoresponders to send relevant and personalized emails to your subscribers and potential customers at the right time. Autoresponders help you stay in touch with your customers and keep them engaged with your brand.
Whether you're just starting with email marketing or looking to improve your existing email campaigns, this blog post will provide you with valuable insights and practical advice on using email autoresponders to boost engagement with your subscribers and grow your business.
We'll dive into what autoresponders are, why they're important, and tips for making the most out of them.
What is an autoresponder?
Definition: An email autoresponder is an automated email that is sent to a subscriber based on predefined rules and time intervals.
Here are a few example scenarios where you can use an autoresponder to benefit your business:
Sending a welcome email when someone signs up for a service.

Fulton's autoresponder email to welcome their new users.
2. Sending a reminder email to engage with your app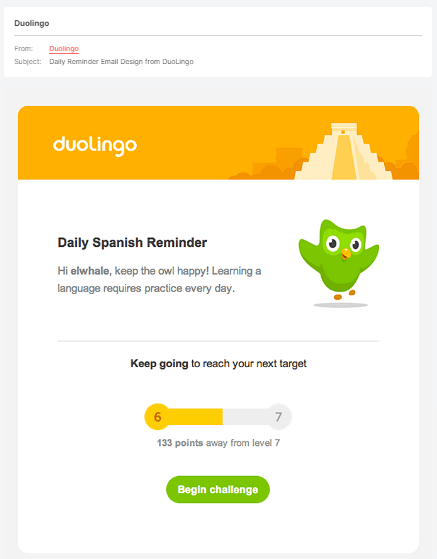 Duolingo's autoresponder email to remind their users of their next target.
3. Sending an email with recommended products, based on your customers' recent purchases or searches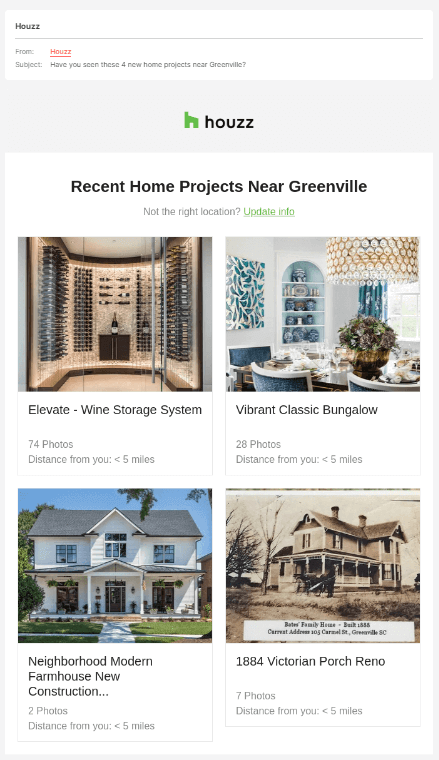 Houzz's autoresponder email to recommend similar homes based on their user's search intent.
4. Sending a survey or feedback form to gather customer insights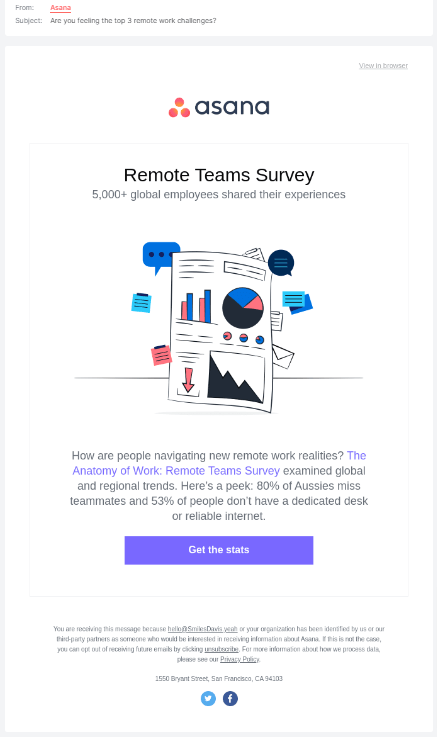 Asana's autoresponder email to conduct a survey about remote work among their users.
Why are autoresponders important?
When users sign up for your mailing list or newsletter, they typically expect to receive emails from you.
Since they have given you permission to send them marketing emails, it's a good decision to collect relevant data from them to send personalized and timely emails to your subscribers.
Unlike a simple 'drip campaign', you can trigger email autoresponders for custom events, such as making a purchase on your website or completing a specific action within your app, to increase revenue and sales.
Here are 5 advantages of using autoresponders:
Time-Saving: Autoresponders save you time and effort by automating repetitive tasks and allowing you to focus on other aspects of your business.
Improving brand credibility: Autoresponders help businesses automatically reply to complaints and support tickets. These emails give reassurance and make the users feel heard. Hence, it builds credibility and loyalty toward the brand.
Nurture long-term relationships with customers: By triggering automated emails at the appropriate time, you can send emails that are useful to your customers. This helps foster trust and increases the likelihood of them purchasing something in the future.
Growing a business with repeat sales: Email autoresponders help marketers upsell and cross-sell their products or services. This leads to repeat sales from existing customers, which helps businesses grow.
Access to measurable results that improve email campaigns: Marketers can gain deeper insights into their customers' needs by utilizing email autoresponders. For instance, they can access information on what types of subject lines are effective, what resources are popular among their subscribers, and more. This information can be used to create better email campaigns in the future.
6 Tips to Make the Most out of Email Autoresponders
Autoresponders have become an essential tool for companies to streamline their email marketing efforts and achieve their email marketing goals efficiently. By automating time-consuming tasks such as sending welcome emails, confirming subscriptions, and sending out freebies like an ebook, businesses can save precious time and resources. However, the key to making the most out of autoresponders lies in proper implementation, so let's get it right.
To help you get started, we have six top tips to help you maximize the potential of your autoresponder campaigns:
1. Don't overdo it by sending too many emails
Sending too many emails in short intervals can easily overwhelm your email subscribers and will likely result in a high unsubscribe rate. To avoid this mistake, ensure the sending intervals between your email autoresponder messages are long enough.
On another note, it's also important to comply with GDPR and CCPA laws and regulations to avoid any unwanted legal issues. You should make sure you have permission to send your contacts emails (ideally as a double opt-in) and also make it easy for them to unsubscribe from your emails.
2. Use data from your CRM to stay relevant
Use the data you have collected in your CRM (contact relationship management software) to send relevant messages, such as product recommendations or offers. This tip will help you send personalized emails to your users, which in turn will improve user engagement every time an email is received from your brand.
3. Use marketing automation
If you want to go beyond autoresponders, there are several advanced email marketing tools available. Take advantage of their marketing automation features to create advanced user journeys that maximize your revenue by using triggers such as opens, clicks, web page visits, and purchases to create sophisticated user journeys.
For example: Send your users a unique discount code for an item that they have recently viewed.
4. Ensure you capture the right data
To send the most personalized marketing emails to your users, you can consider capturing the right data from the start. For example, if you're an e-commerce business, you might want to capture a user's date of birth – although I probably wouldn't make this field mandatory. This will allow you to trigger autoresponders that send special offers and promotional emails on their birthdays.
Keep in mind that you can always add data throughout the lifetime of the customer relationship. This can be collected passively (e.g. by analyzing your customer's browsing data or actively by encouraging them to enter data in a web form).
5. A/B test your autoresponder emails
One of the best features you can take advantage of in creating your email autoresponder messages is A/B testing. You can test the types of subject lines that appeal to your users or you can test the CTA buttons to understand what will bring you conversions.
> Use our email subject line tester to preview the length
6. Track insights to improve future email campaigns
Take your email marketing to the next level by tracking insights gained from email autoresponders. Monitor your open rates, click-through rates, and digital product downloads to personalize your future campaigns based on your readers' specific interests. This will allow you to send out more relevant and personalized emails in the future.
4 Best Tools To Send Email Autoresponders
Now that you have an overview of what an autoresponder is, you can start to use them as part of your email marketing strategy to generate and nurture leads. First things first, it's important to choose the email automation software that best meets your email marketing needs.
In this section, we've reviewed 4 tools that you can use to send email autoresponders:
1. ActiveCampaign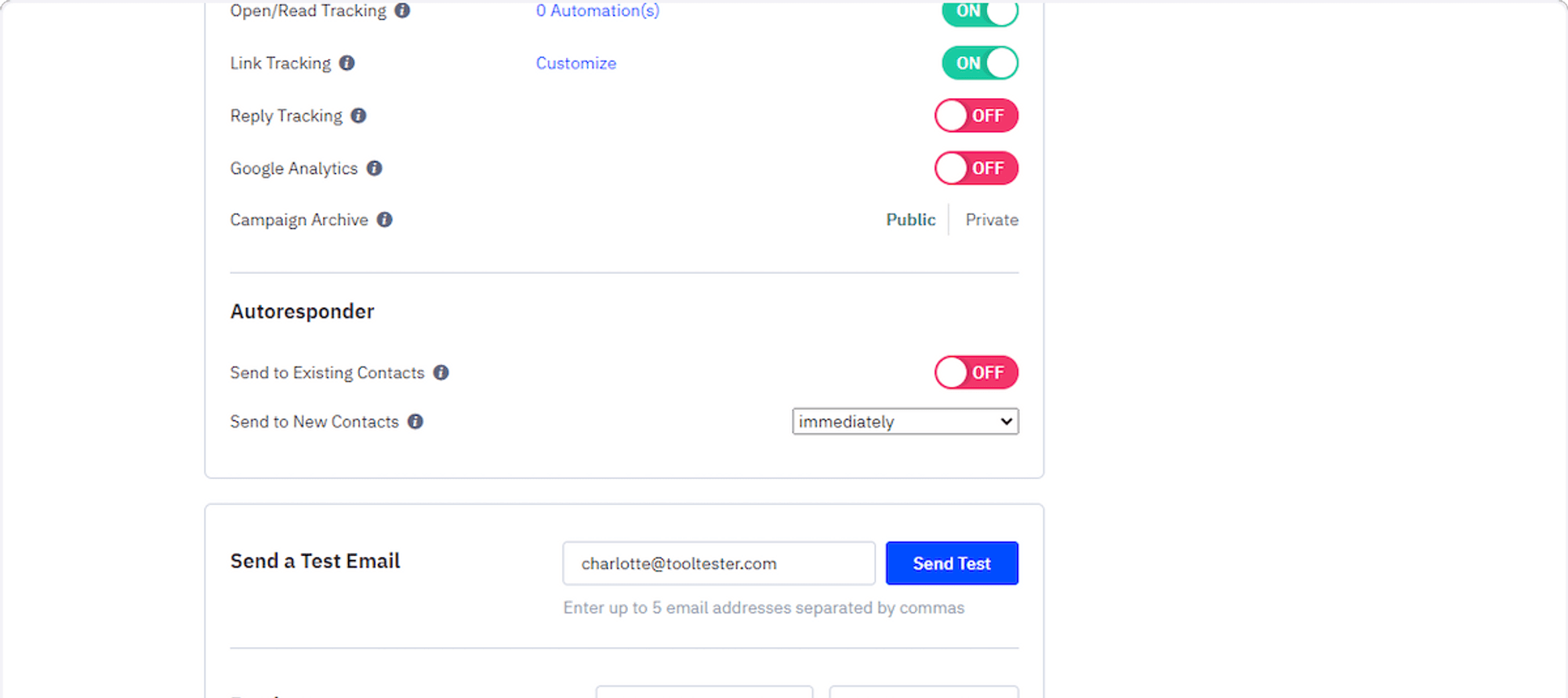 ActiveCampaign is a complete email marketing tool with advanced automation capabilities. Therefore, if you're looking to go beyond just sending simple emails, you might want to take a look at ActiveCampaign's features. We awarded ActiveCampaign our Best Email Marketing Tool for 2023. It also took the #1 spot in our latest email deliverability test.
ActiveCampaign's autoresponder features enable businesses to send automated and personalized emails to their subscribers based on predefined triggers such as signups, purchases, or other user actions. This helps you build and nurture relationships with their customers by sending targeted and relevant messages at the right time.
In addition, ActiveCampaign offers advanced segmentation and targeting options. These options allow businesses to tailor their messages to specific audiences, increasing the effectiveness of their campaigns.
Additional features:
→ Access ActiveCampaign's complete feature list.
Pricing: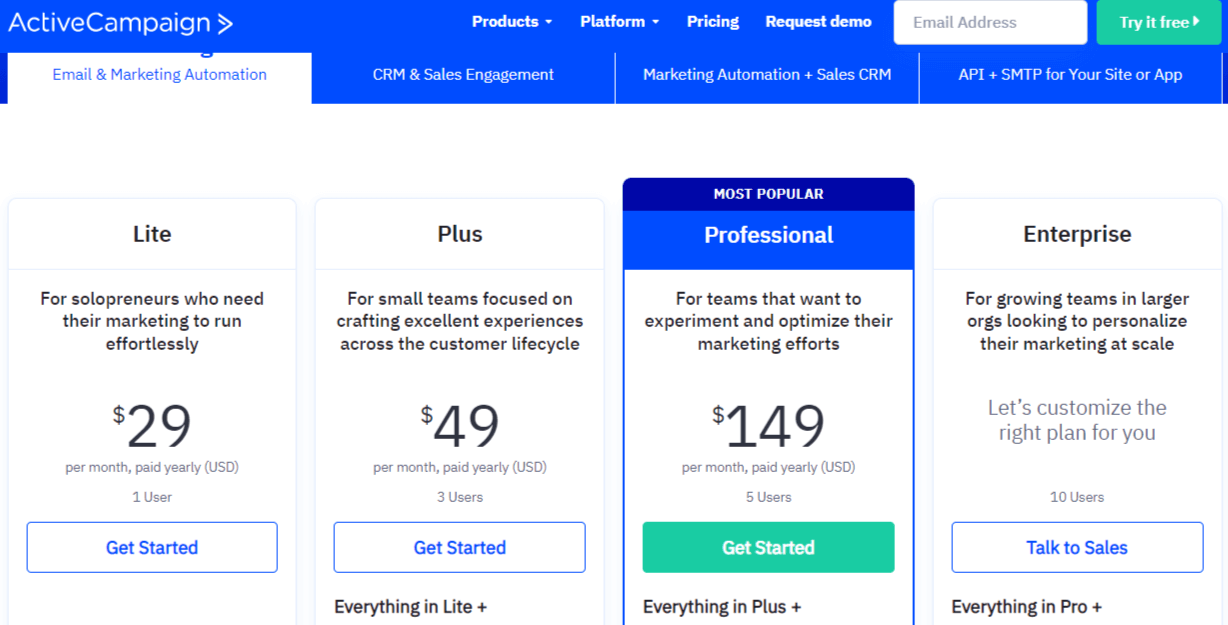 Their most basic plan starts from $39 per month. Check out our ActiveCampaign pricing guide for more information.
2. GetResponse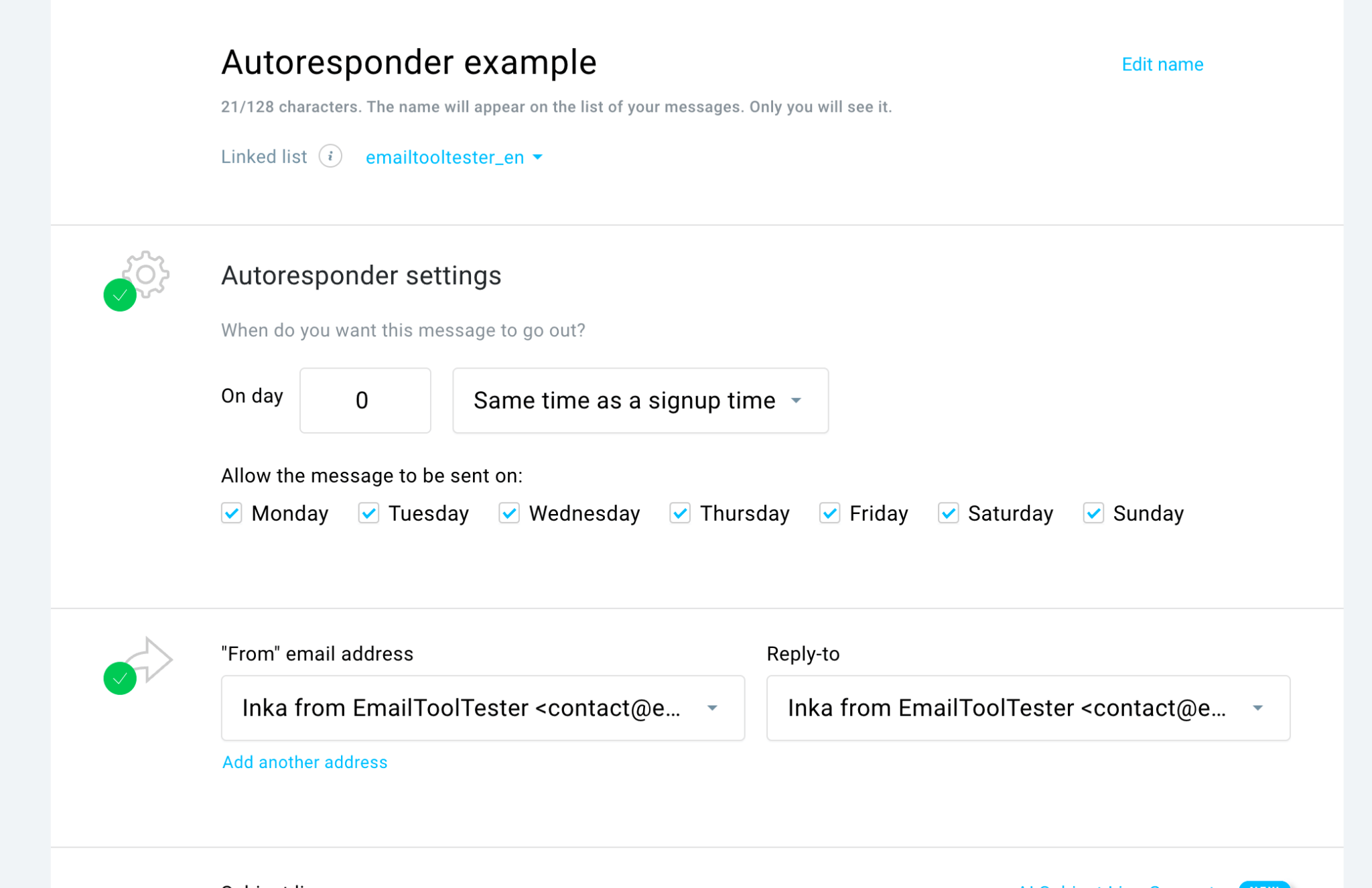 Among the many tools offered by GetResponse, their email automation functionality stands out as a powerful feature. In addition to landing pages and webinars, GetResponse provides users with a suite of features to streamline their marketing and email strategy further.
With its intuitive drag-and-drop editor, businesses can easily create autoresponder emails triggered by either the buyer's behavior or a specified time.
Furthermore, the platform's analytics features provide businesses with valuable insights into the performance of their campaigns and autoresponder emails. This allows them to optimize and improve their email marketing efforts over time.
Additional features:
→ Access GetResponse's complete feature list.
Pricing: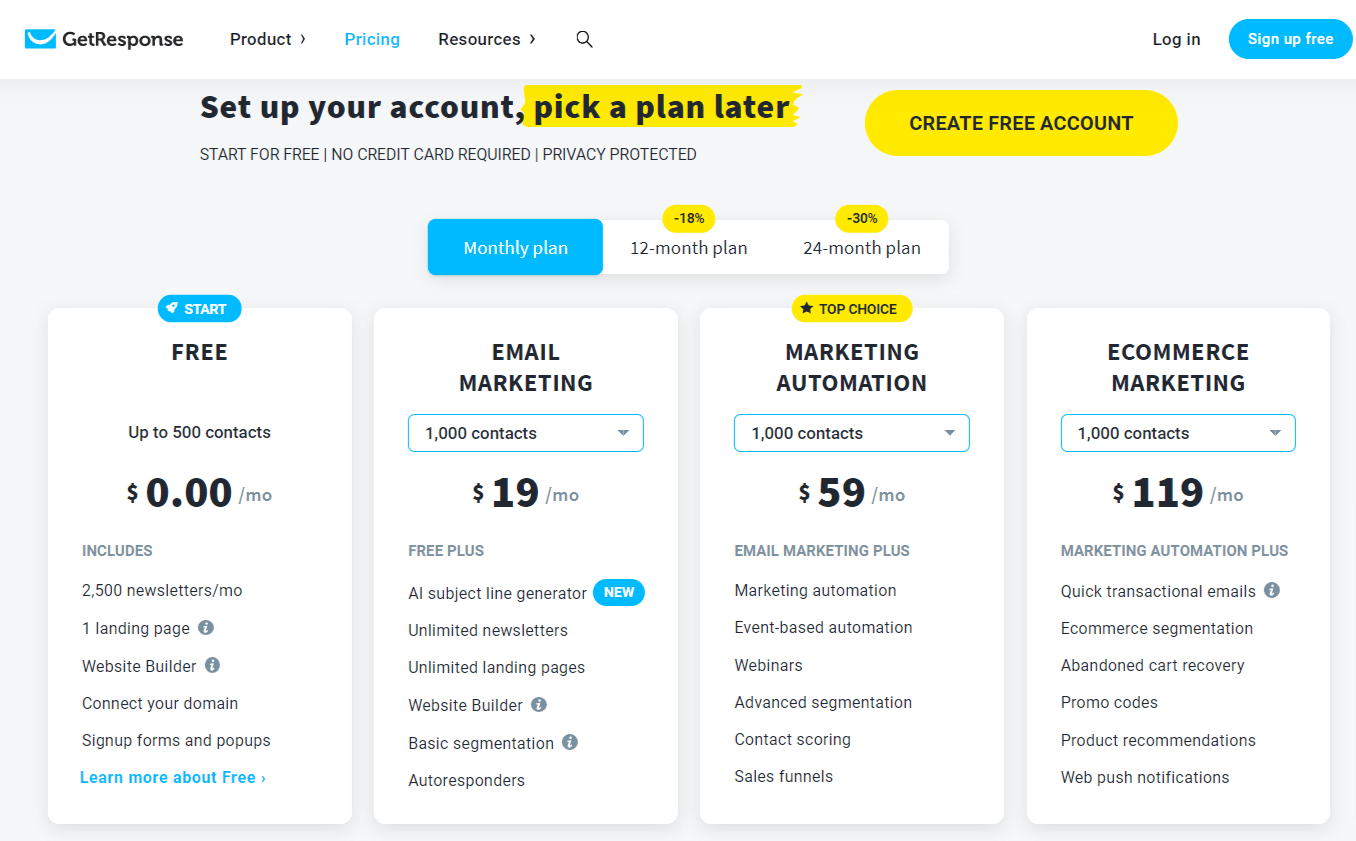 Their monthly plan starts at $19 and prices increase depending on how advanced you want your email marketing to be. Check out our GetResponse pricing guide for more information.
3. Brevo (formerly Sendinblue)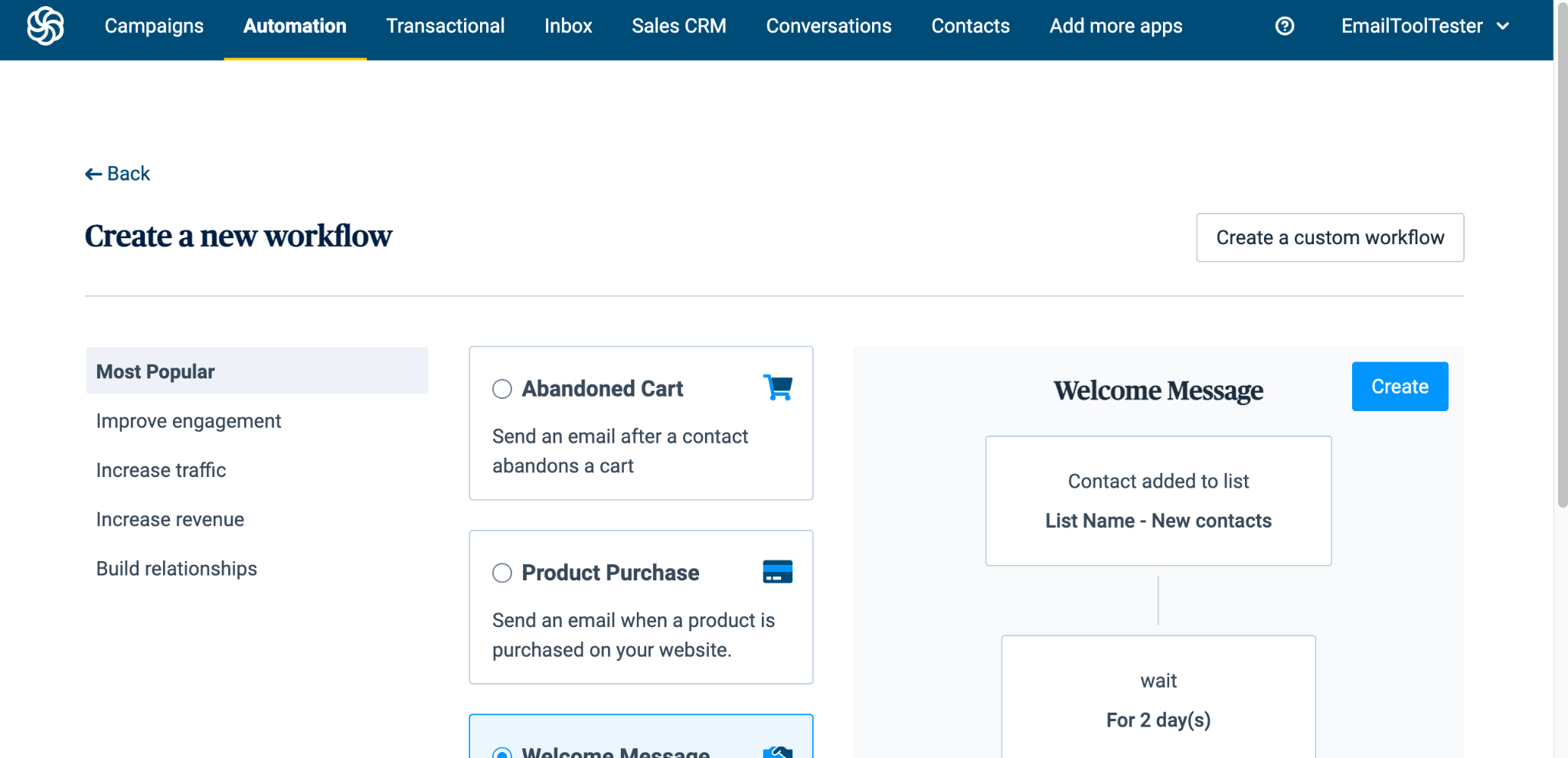 Brevo (formerly Sendinblue) is designed to be an all-in-one tool for your digital marketing needs. It includes some advanced autoresponders as part of its free email marketing plan, including those triggered by events on landing pages, purchases, and abandoned carts.
Brevo's visual autoresponder feature enables businesses to create detailed autoresponder emails that align with their customer's journeys. Additionally, businesses can integrate SMS messages into their autoresponder campaigns for even greater reach and impact.
Additional features:
→ Access Brevo's complete feature list.
Pricing: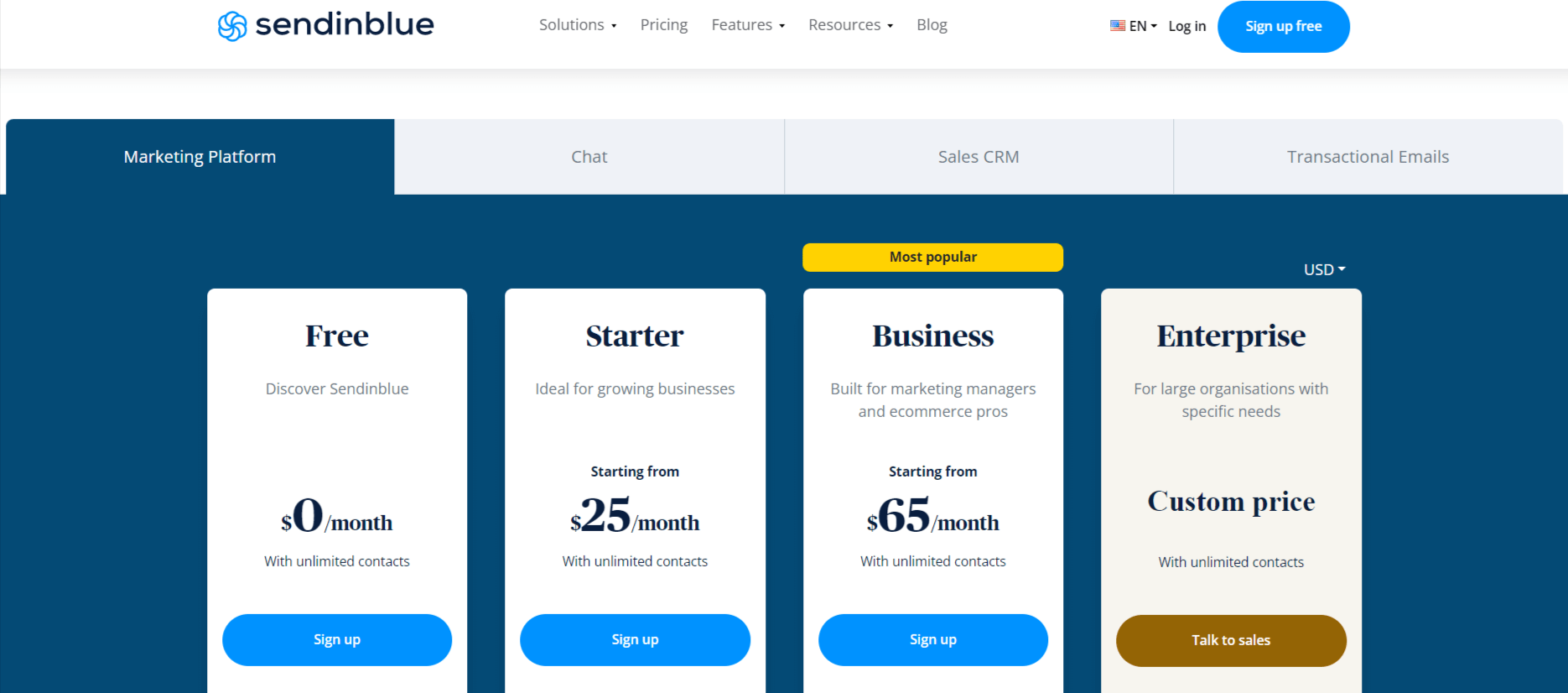 Their monthly plan starts from $25 per month and goes up to $65 depending on your business needs. Check out our Brevo pricing guide for more information.
4. Omnisend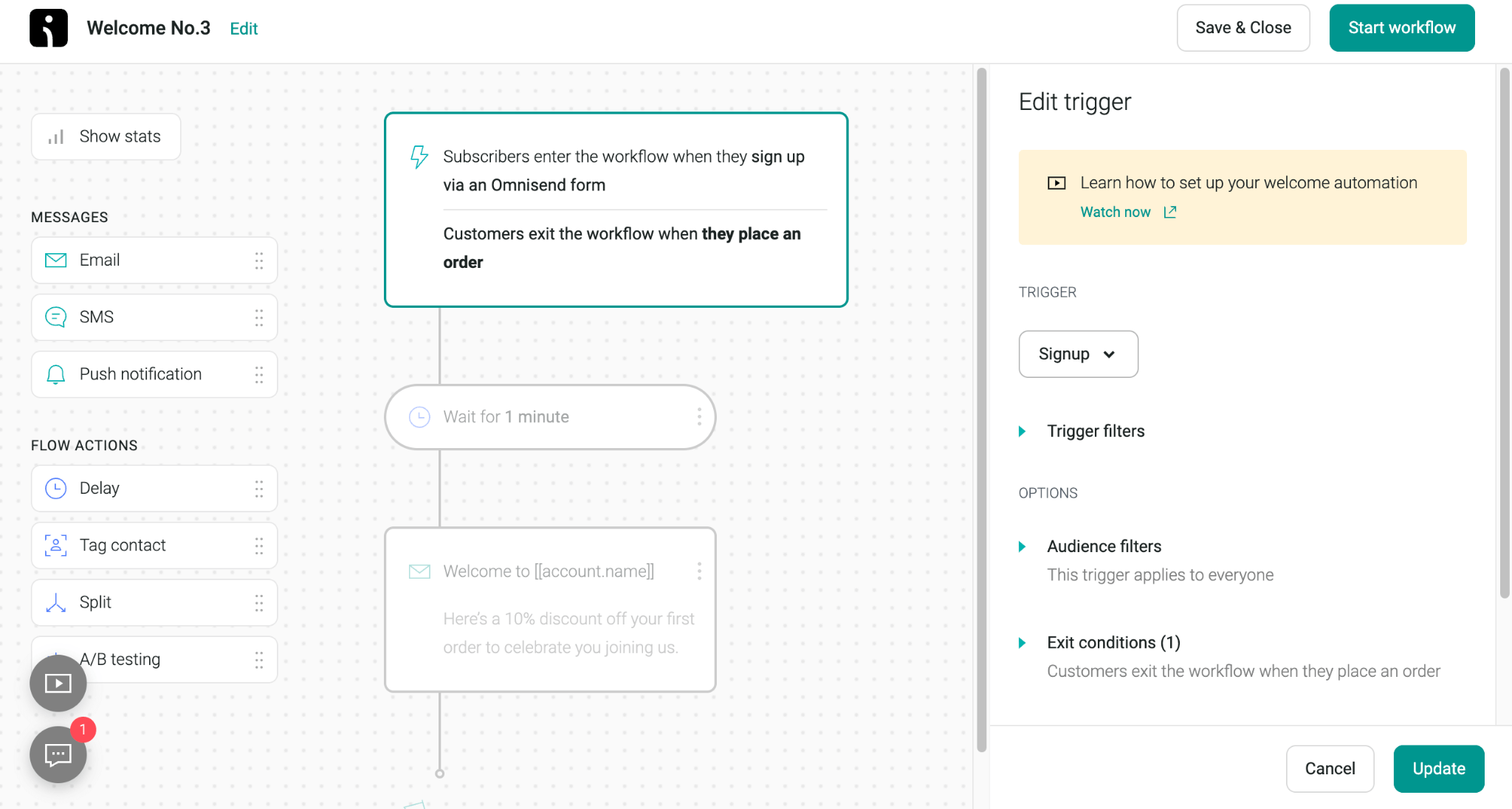 Omnisend is another outstanding email marketing tool for e-commerce businesses looking to send automated emails as part of their email marketing strategy.
Omnisend allows you to add your store's products directly to the email editor, enabling you to use its advanced cross-sell automation workflow to generate more revenue. From a welcome series to cart abandonment, Omnisend can handle all your business needs when it comes to sending personalized autoresponder emails.
Additional features:
→ Access Omnisend's complete feature list.
Pricing: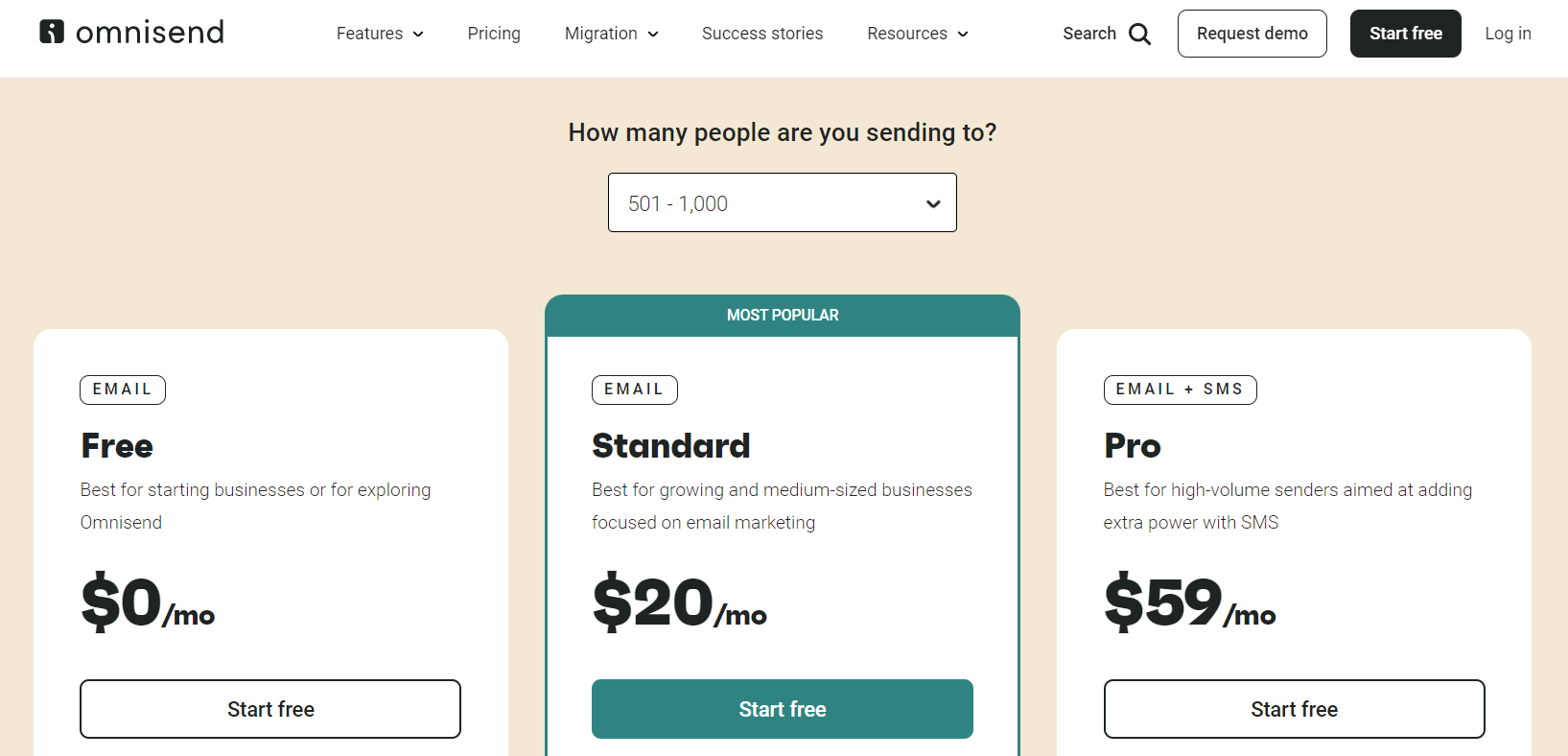 Those looking for a free autoresponder will love Omnisend's free plan. Their standard plan for 1,000 subscribers starts from $20 per month. You will need to upgrade if you want to reach more subscribers. Check out our Omnisend pricing guide for more information.
How to Set up an Email Autoresponder with ActiveCampaign: Step-by-step
Next, let's get you started with your own email autoresponder.
Once you log in to ActiveCampaign's dashboard, click on "Campaigns" on the left menu, then click "Create a Campaign".
Step 1. Give your campaign a name, select "Auto Responder" campaign type, and then click "Next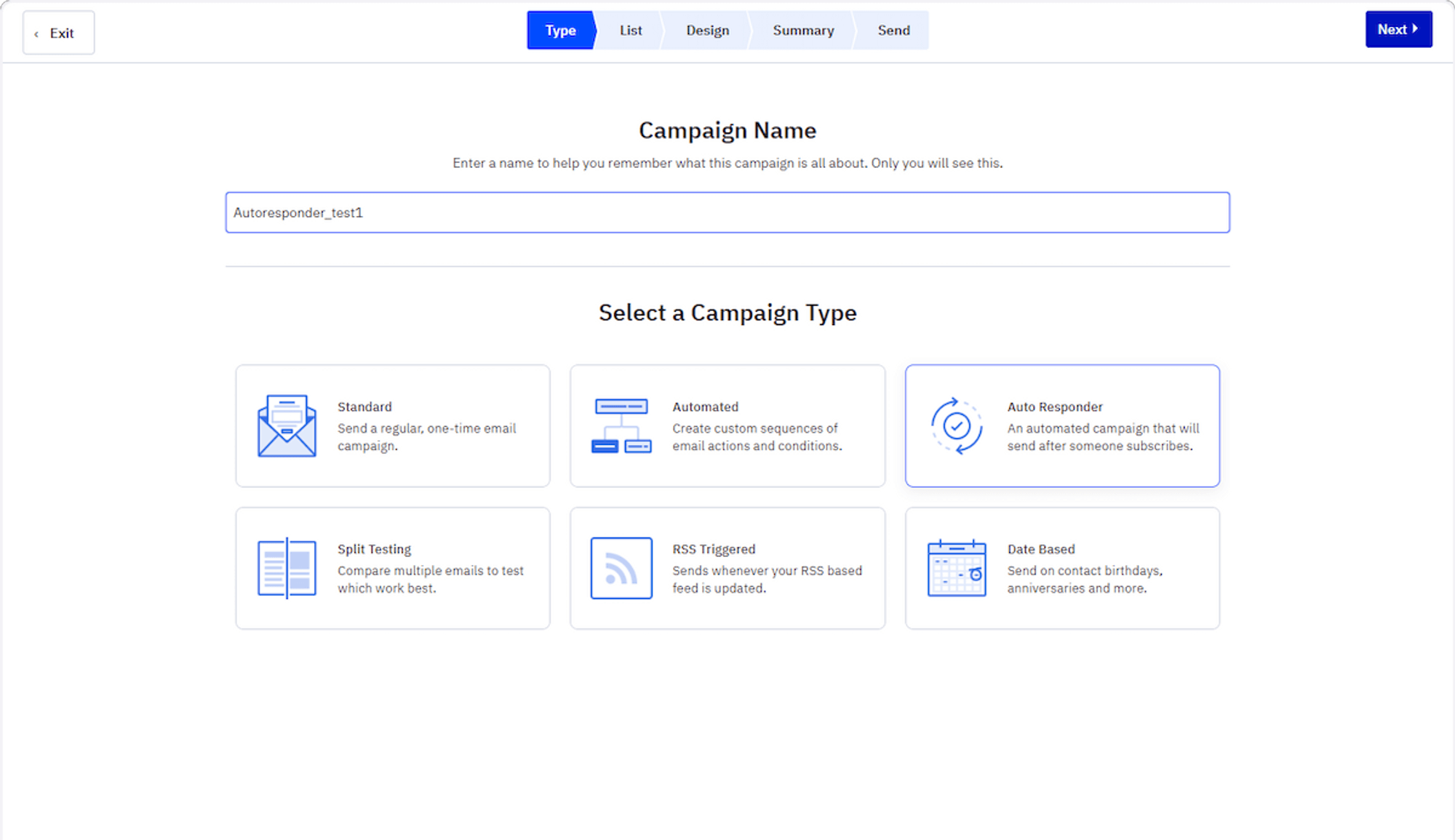 Step 2. Select the email list to send your autoresponder email and click "Next"

Step 3. Choose a "Template Type" and then select one of their Pre-designed Email templates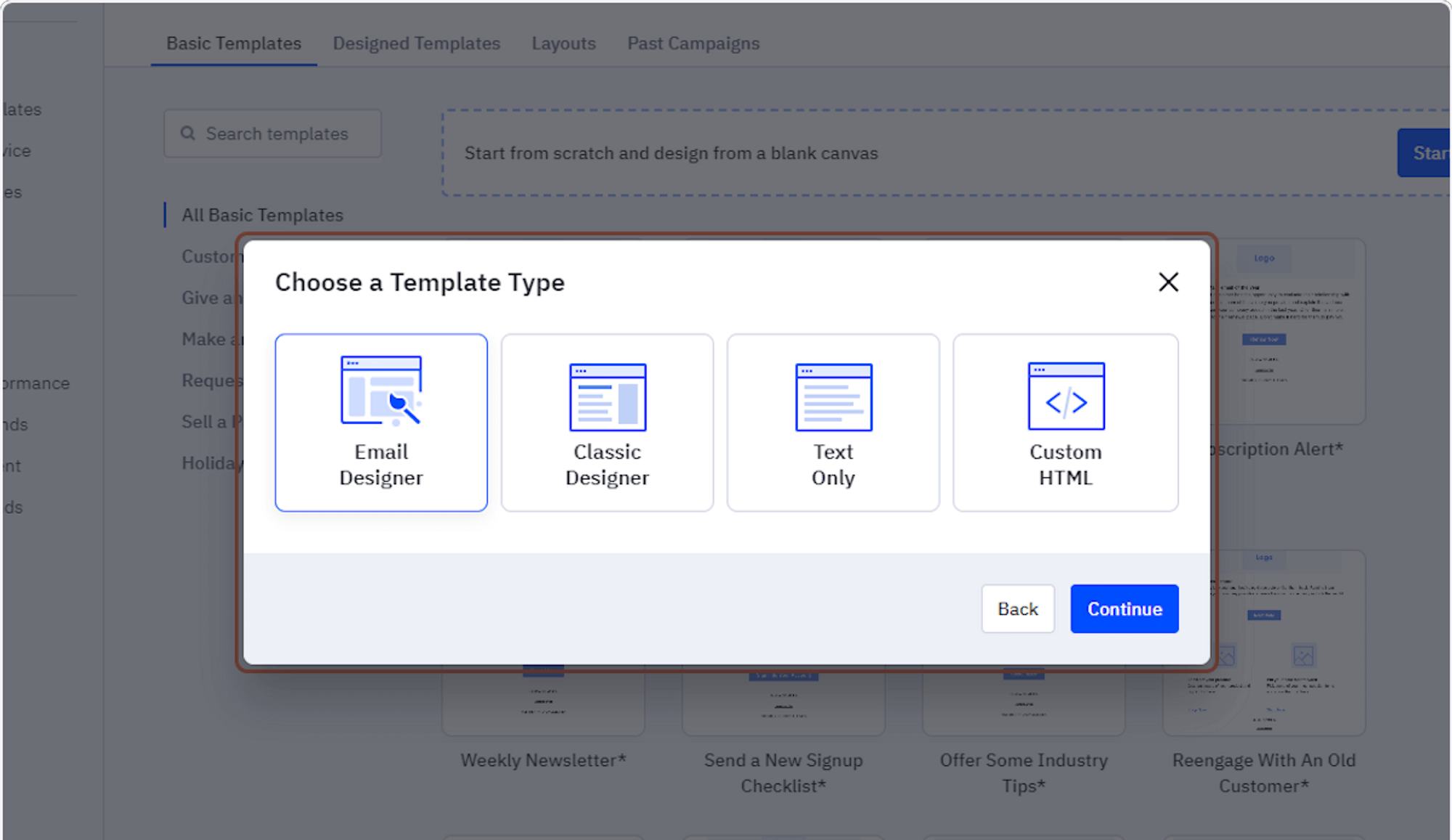 Here, we selected the "Re-engage With An Old Customer" email template.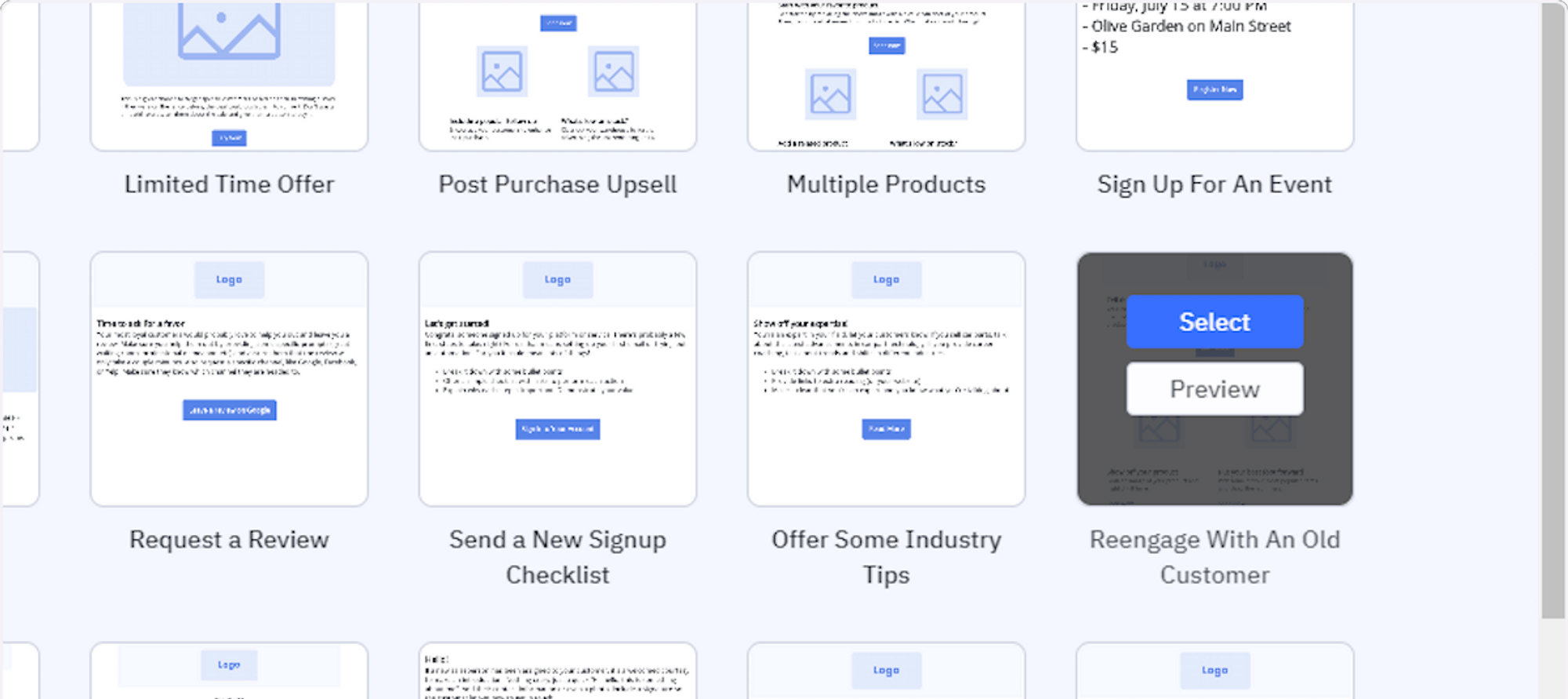 4. Complete the "Sender Details"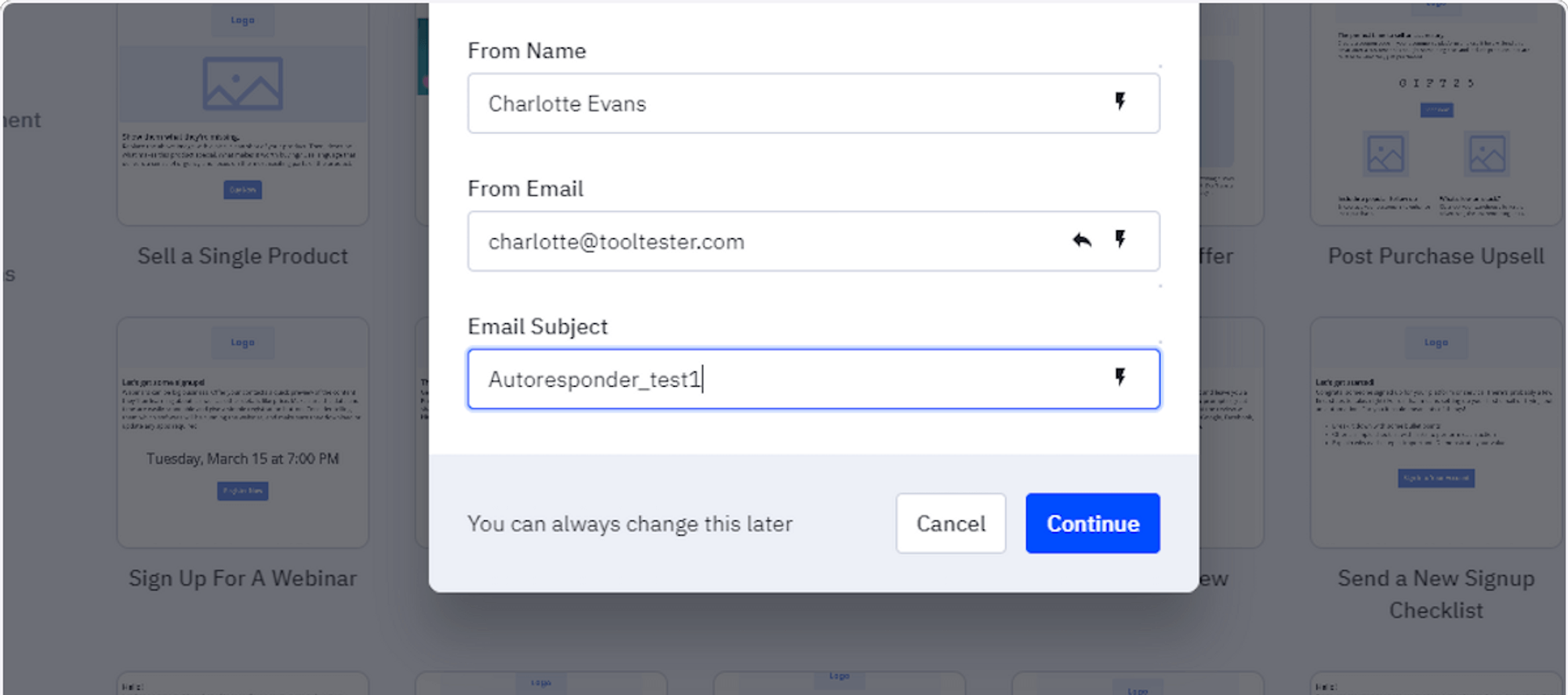 5. Write and design your email template in the "Design" tab
Once you've finalized the content for your email, click on "Next"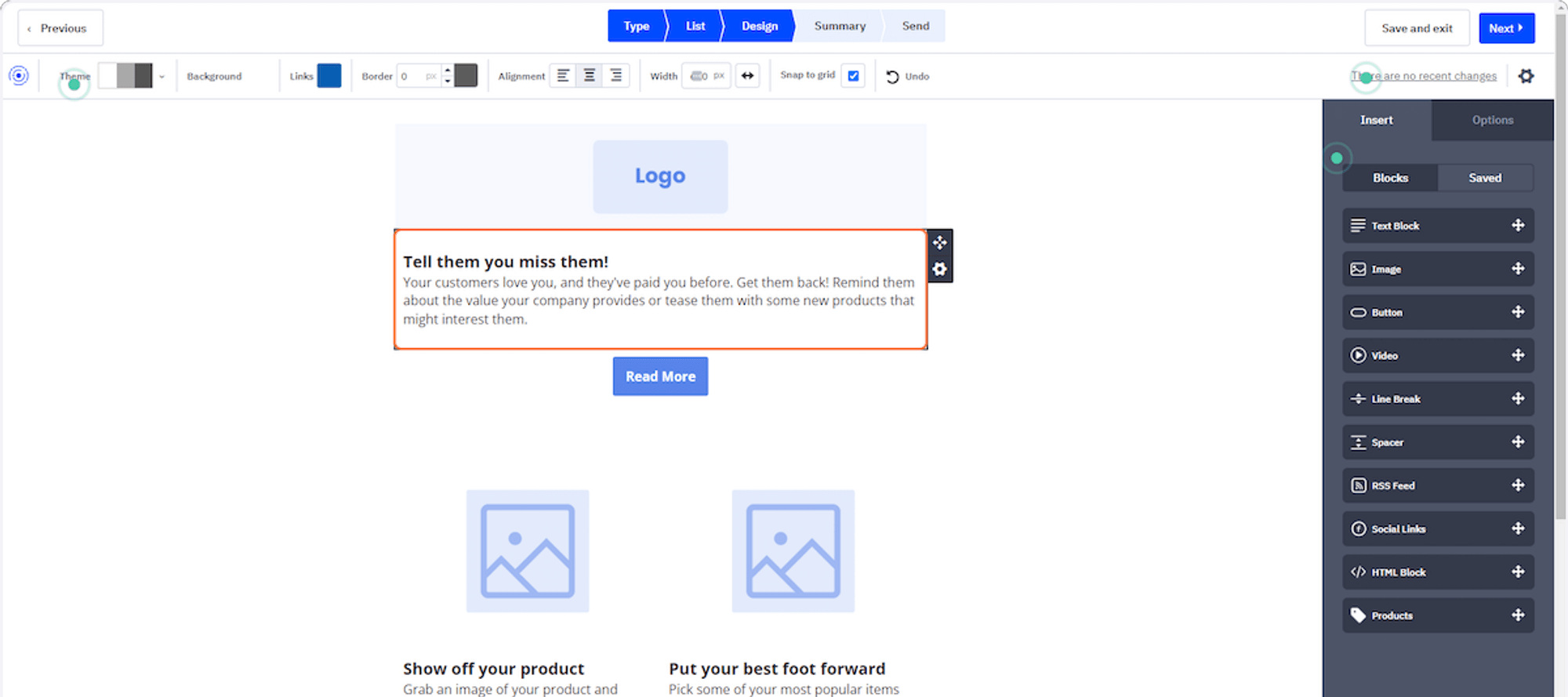 6. Configure the Autoresponder default settings on the next screen
By default, ActiveCampaign disables sending your autoresponder email to existing contacts.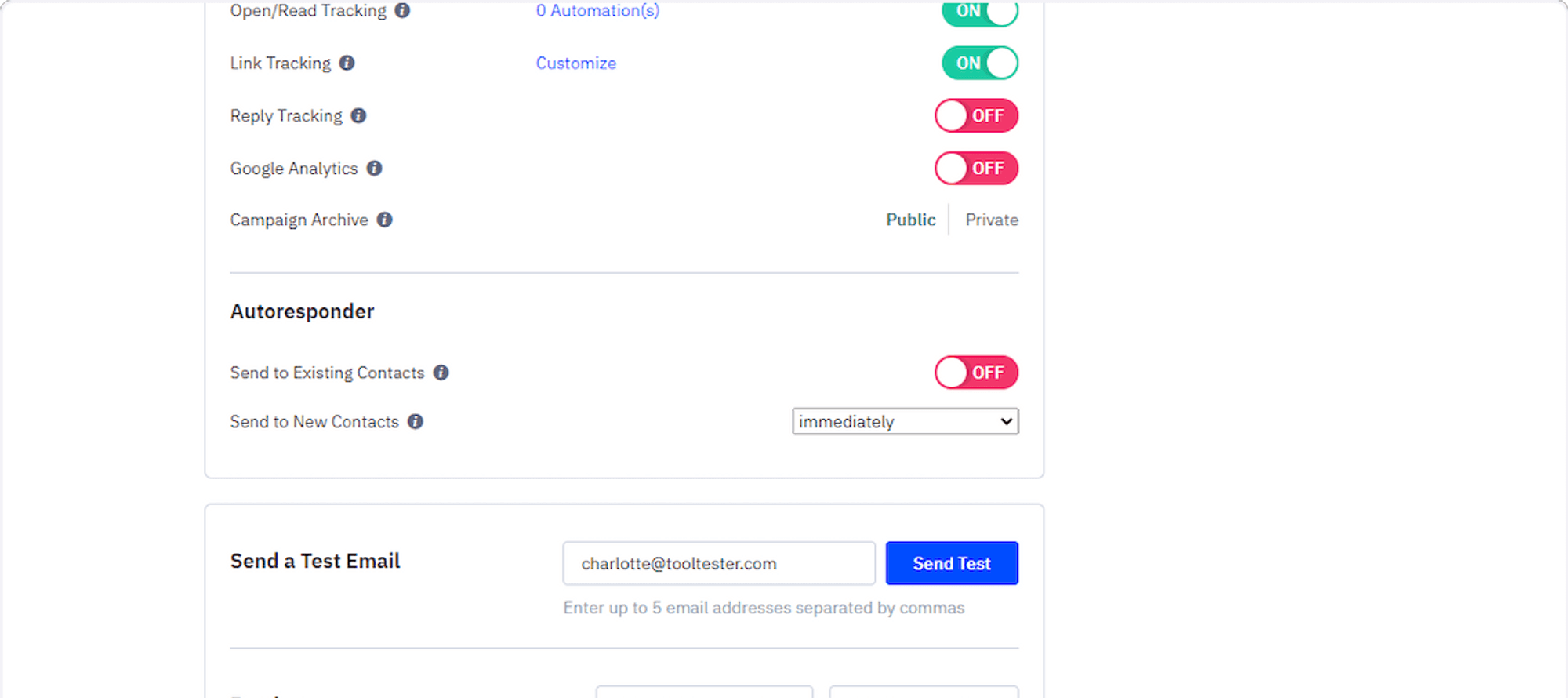 You can also choose to send it to "New Contacts" immediately as soon as they sign up or delay it by several hours or days by selecting "after a specified time frame" from the drop-down menu.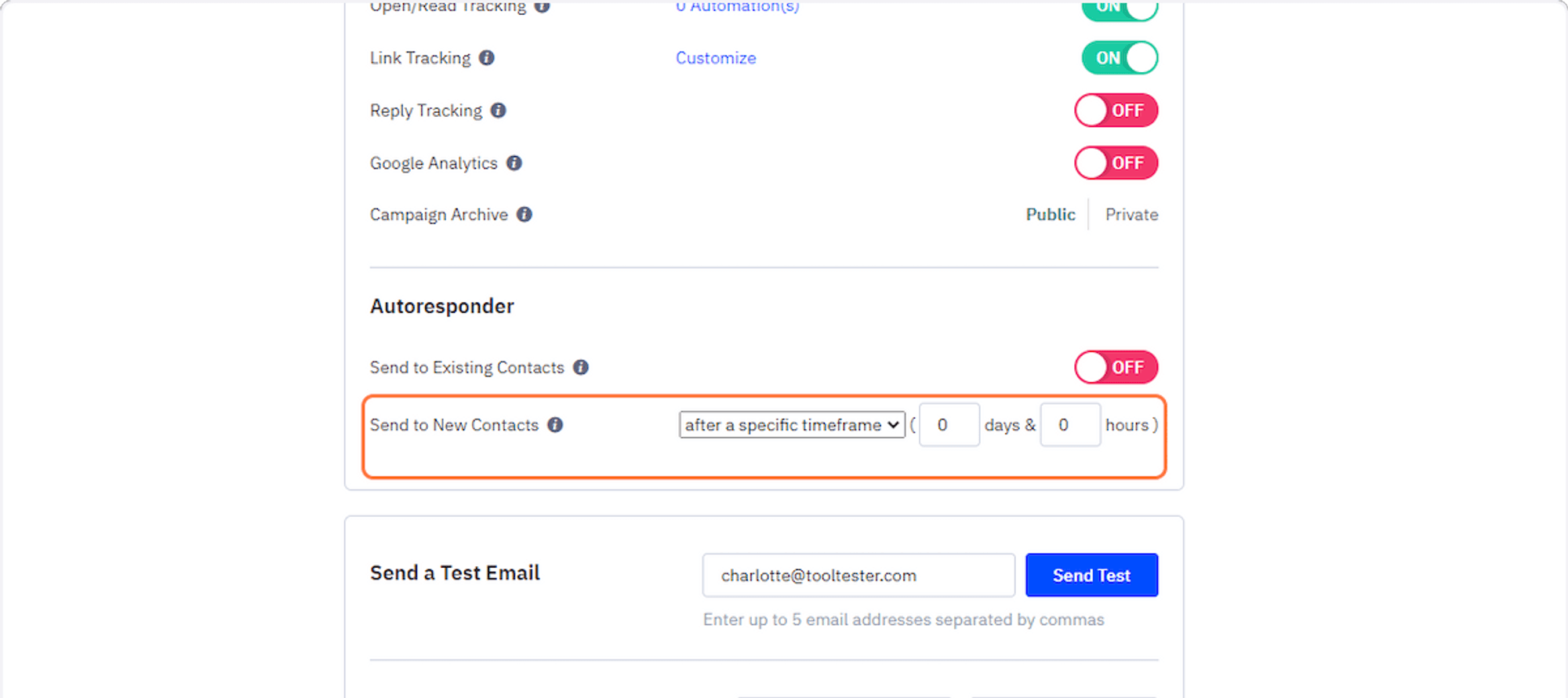 7. Click "Finish" once you're ready to activate your Email Autoresponder.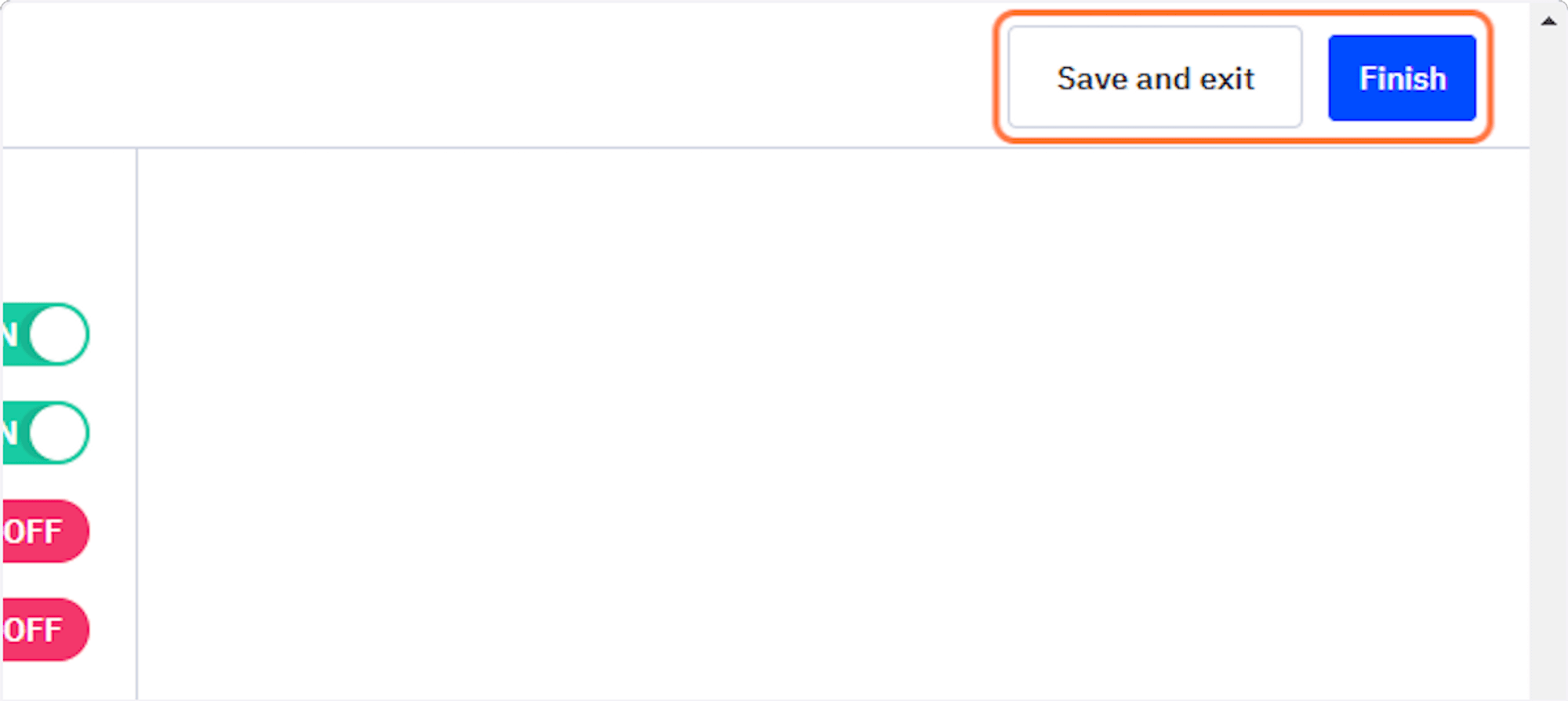 Now, every time a user signs up for your mailing list, they'll receive this autoresponder email from your brand per your configuration settings.
Conclusion
Autoresponders have an open rate of  26.47%, which is higher than a simple newsletter. This is because customers or subscribers have actively subscribed to these emails and they open and engage with them more than other marketing emails.
Now that you have learned what an autoresponder is and how to create one – it's time to review your customer journey and take note of all the places where an autoresponder email can provide value.
By using autoresponders, you can communicate more effectively with customers, increase engagement with your brand, and upsell to grow your business.
So what are you waiting for? Try out one of the autoresponder tools listed above, or check out these free autoresponder tools.
Our Methodology
This article has been written and researched following our EmailTooltester methodology.
Our Methodology