What was the last newsletter email you opened and read? I bet the subject line wasn't "July Newsletter." An email with such a subject line sounds incredibly dull, and you would most likely ignore it.
So it's not enough to create and send engaging email newsletters, your subject line must be attractive and intriguing to get contacts to click on them. You want your contacts to think:
"I need this information/product right now"
"Wow! That's interesting. I want to learn more"
"I really need to grab this before time runs out"
And then immediately click to open!
But, how do you write newsletter subject lines that elicit such reactions and get contacts to open your email?
Continue reading to learn expert newsletter and email subject line best practices that work. You'll also find examples of attractive subject lines straight from our inbox to illustrate each best practice.
But first:
Why is a good newsletter email subject line important?
The subject line of a newsletter (and any other type of email) is the first line of text an email recipient sees after the sender's name.


A good email subject line is an important way to encourage more contacts to open your newsletter. They help your email stand out and compel contacts to click on them, thereby increasing your open rate.
Additionally, a good subject line gives contacts a clue about what to expect from your email. It also helps you avoid trigger words that may cause your newsletter to be filtered as spam.
Moreover, consistently writing good subject lines and delivering valuable content improves your reputation, and your contacts will open your emails even when you're having a lousy subject line day.
Now that you know why you need to craft good newsletter and email subject lines, let's get into the how.
How to write a winning newsletter email subject line (12 best practices)
Your newsletter email subject line has a single goal – to capture attention and provoke enough curiosity or desire to get your contact to open your email. Here are the 12 top newsletter subject line best practices you should use.
1. Write the newsletter first
Sure, you might know what you're going to write about even before writing the newsletter. But you should still write the subject line last to ensure that the subject line is completely relevant to your finished content.
Also, you'll get valuable insight or find a new angle that will help you craft a more intriguing subject line. Take this Selfish Forever Newsletter by Ash Ambirge.

If the subject line was written first, it'd likely have been, "Reasons digital creators shouldn't build a team."
The subject couldn't have been "Digital Creators Shouldn't Build a Team Unless They Like Babysitting……A Lot." if it was written first. More intriguing, isn't it?
However, writing the newsletter first doesn't mean you should write your subject line at the last minute. It isn't something you should scribble 5 minutes before hitting send.
Rather, you should take the time to brainstorm and craft your subject line after writing the newsletter content. I like to write 5 to 10 subject line options before selecting the right one.
2. Be original and creative
Avoid copying others' subject lines. For example, if you're using the subject line "Book your dream vacation with us", like everyone else in the travel industry, you're less likely to stand out in your contact's inbox.
Being original and creative will help you stand out from your competitors and grab attention. For instance, the example above can be rewritten as, "Escape from the ordinary: Book a vacay beyond your imagination."
So, use subject line formulas to brainstorm and create original and creative newsletter subject lines. This will also save you time creating email subject lines from scratch. Here are some subject line formulas you can use:
Formula #1: [Something That Happened] – You Won't Believe What Happened Next
Example: Lost Passport Drama – You Won't Believe What Happened Next
Formula #2: [# of Words] [Unusual Effect of These Words]
Example: 5 Words That Can Drastically Impact Your Financial Future
Formula #3: [Something] Every [Type of Person] Should [Have/Know]
Example: Content Creation Tips Every Marketer Should Know
Formula #4: Try Not to Lose It When You See [This Unbelievable/Ridiculous Thing]
Example: Try Not to Lose It When You See This Unbelievable Fitness Fail
Formula #5: [#] [Hacks] [to Do Something Interesting]
Example: 5 Homebuying Hacks to Make Your Dream Home a Reality
You can also swipe from the thousands of catchy headlines online and rewrite them to create attractive subject lines for your newsletter.
For instance, this BuzzFeed headline can be rewritten as: "7 hacks for those little embarrassing things that happen in the gym (because you're only human)."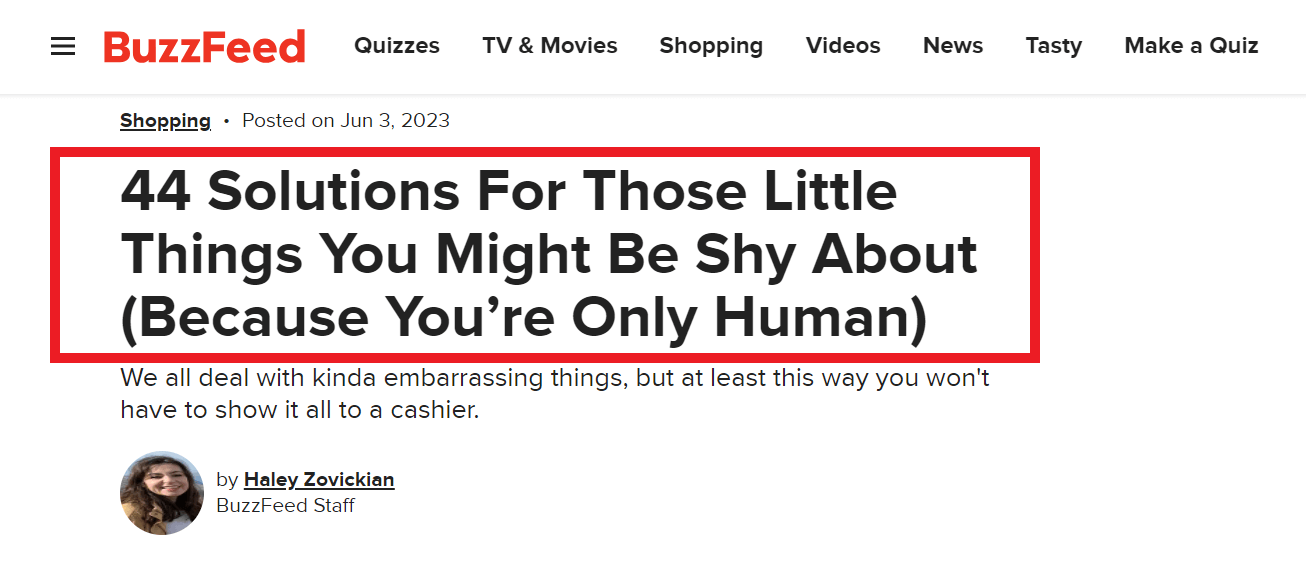 Email subject line formulas can be useful, but, understand they aren't magic potions. A formula that worked well for one business might flop when you use it, so be sure to test them out (which we talk about in step 12)!
3. Be consistent
Use a consistent tone and style in your newsletter subject lines that matches your brand voice. This will help establish your brand identity and enable your contacts to recognize your distinct voice and connect with your emails.
Also, being consistent ensures that your subject lines and emails align with your overall brand and marketing strategy. And it'll attract the attention of contacts who connect with your brand.
For instance, using emojis and puns in your subject line would be great if your brand voice is humorous. On the other hand, it wouldn't be a good fit for a business with a serious or formal brand.
4. Appeal to your contact's emotions and characteristics
One of the best ways to get your contacts to click open your emails is to create subject lines that appeal to their emotions and traits. Here's how you can do this.
Use FOMO
The fear of missing out (FOMO) is real. A FOMO subject line will make contacts feel like they'll miss out on something if they don't open your newsletter, and compel them to click.
The popular scarcity FOMO, "Only X Spots Left," is a good subject line if that's all the spots you have left for real. However, there are other ways to create FOMO besides scarcity.
You could offer exclusive access using a subject line like, "Be the first to explore our new collection." Or, share that others are grabbing your offer using a subject line like, "500+ subscribers in 24 hours."
Take this email asking contacts to join an online community, for instance. The fear that they may not get another chance to get in will propel them to open the email.

Add a sense of urgency
"Expires Tonight," "24 Hours Flash Sale," "3 Days Left" – these are limited-time offer subject lines that create a sense of urgency and push contacts to open your email.
Other ways to incorporate a sense of urgency include calling for immediate action with subject lines like "secure your spot today," and "get yours before they are gone."
You should also use action-oriented words such as act, now, get, hurry, today, etc. The subject line of this WordPress email uses the words "hurry," "today," and "flash sale" to add a sense of urgency.

Create curiosity
Creating curiosity in your subject line involves hinting at something your contacts would get answers or access to only if they open your email.
You can make your contacts curious enough to open your email by asking intriguing questions, making unusual statements, and creating suspense with cliffhangers. Open loops and ellipses also create curiosity.
This Marie Forleo email, for example, piques curiosity by hinting at something that will change the reader's life.
Make sure the subject line isn't too vague that it doesn't pique their curiosity. And, use words like secret, hidden, unpopular, little-known, revealed, shocking truth, etc.
Infuse humor
Humor is entertaining and can be attractive. Who doesn't like something that makes them laugh?
You can use puns and wordplay to add humor to your subject line, such as "Time to espresso yourself: Brewtiful deals inside."
Also, infusing a playful tone, describing an unexpected scenario, and even light self-deprecation can add humor to your subject line and attract attention.
But, always remember that humor is subjective, and using it in your subject line may not be appropriate for your audience!
Leverage vanity
People like to stand out and be the center of attention. They want to be respected, feel special, associate with big shots, and show off to others.
You can tap into this by writing subject lines that leverage vanity. Share something that will upgrade their status. Offer exclusive VIP invitations, send them insider tips, and associate your offer with a celeb they know.

Begin a story
Writing a subject line with an intriguing story opening will captivate your contacts. It provides a glimpse into the engaging story they would read if they opened your email.
For instance, this Emilia Tanase email got me wondering what happened in Spain and interested in her story.

Other ways to begin a story in your subject line include introducing a character or case study (e.g., How Emma paid off her student loan in 15 months) and leaving a cliffhanger (e.g., the night that changed everything).
5. Get the length right
Most people open their emails on their mobile phones. So, getting the right subject line length is vital, as a subject line that is too long will get cut off on mobile. Which can give a wrong impression if the cut-off happens on the wrong word!
So, keep your newsletter or email subject line length short. But, how short is short enough?
Our own research on subject line character lengths shows that most mobile devices cut the subject line short. Apple Mail on the current iPhone shows just the first 48 characters in the inbox overview. For that reason, our advice is to never exceed 50 characters unless the majority of your readers open their emails on a desktop computer. The main point of your message needs to appear in the first 33 characters as that's all that will be shown on Google's Pixel phone, a popular choice for Android users.
Nevertheless, long subject lines are sometimes good too. They stand out from all the different short subject lines. And, they can be used to create curiosity when they get cut off on a word that piques curiosity.
You can use our subject line testing tool to determine if your email subject line is the right length. You'll see a live preview of how your subject line will show on various mobile devices.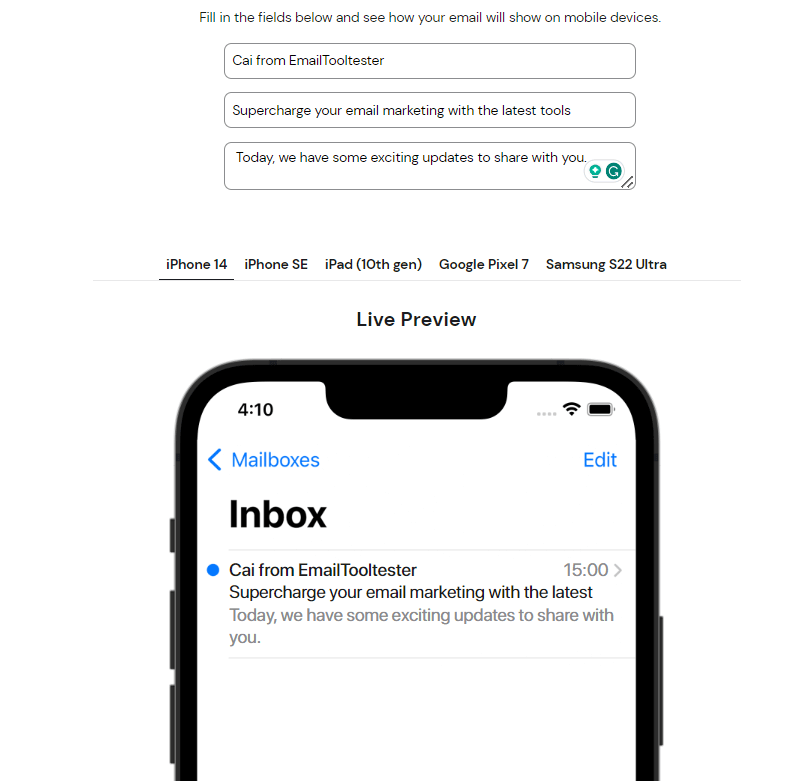 6. Personalize your subject line
The most popular type of email personalization is probably adding contacts' names to subject lines. Personalizing your subject lines with your contact's detail help draw attention to your newsletter email.

Beyond that, you can send targeted emails with personalized subject lines to different contact segments. For instance, adding a location to a subject line when sending a newsletter to a segment of contacts in the same city.
You may also do this indirectly, by calling attention to your segment's interests or pain points. Say you have a segment of artists. You can attract their attention with a subject line like, "How to sell more artwork in 3 easy steps" or "Say goodbye to the struggling artist."
7. Try emojis (but not too many)
Emoji use is now a part of our daily digital interaction. Adding an emoji to your subject line will make your email stand out from the plain text subject lines in your contact's inbox.
However, make sure the emoji is relevant to the subject line/email content. And, be careful not to go overboard with emojis. One, max two, is just enough. Or, use them strategically, as Neville Medhora did in this email to welcome his contacts to a new quarter.

Also, ensure you use emojis with a clear meaning that your audience understands. I once had to argue with a friend that this emoji 😒 meant "displeasure" and not "enjoyment."
8. Use numbers
Like emojis, numbers help your subject line stand out. However, using numbers isn't just about making it look different from all the other plain text subject lines.
You can use numbers to show relevance, quantify benefits, and demonstrate power. For instance, the subject line of this finance newsletter used a percentage to express how much benefit (discount) contacts will get.

9. Don't use spammy words & characters
"Free," "Profit" "fast cash" "earn $" and "#" are examples of spammy words and characters that may trigger a red flag that would cause your email to land in spam. HubSpot has a massive list of spammy words to avoid that you should probably bookmark.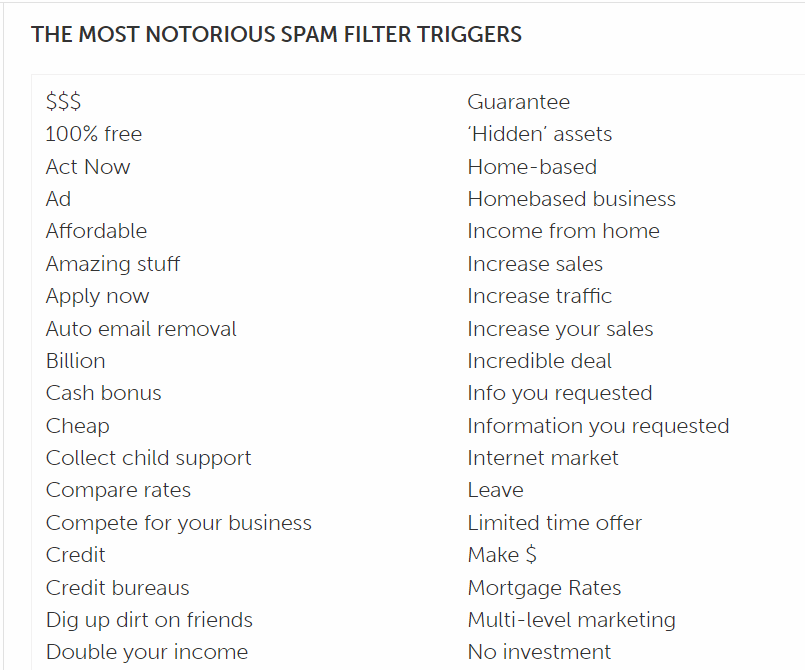 Of course, this doesn't mean you should never use any of these words. For instance, the word "free" is one ecommerce businesses will often need to use. But, don't exaggerate or use them in a scammy way.
Similarly, characters like the square brackets [ ], can be used in newsletter subject lines to attract attention to a special offer. You can use them for subject lines like [new update], [discount code], [free report], etc.
Speaking of words, you can use power words to capture your contact's attention without being spammy. Some of the most powerful words in subject lines, according to CampaignMonitor, include the contact's name, "you", "introducing", "update", and "sale".
10. Don't SHOUT
IF YOU RECEIVE AN EMAIL LIKE THIS, WILL YOU OPEN IT?
Feels like I'm shouting, right? So, never write your newsletter subject line in all caps. Your contacts would feel like you're screaming at them.

The title case, in which you capitalize the first letter of each word, is fine. But, sentence case (only the first letter of the first word is capitalized) is the best because it looks less formal and more like an email from a friend.
Depending on your business niche and the type of email content, you may alternate using both.
For example, it might make sense to use title case when sharing formal emails and emails with product names, such as "Important Update Regarding Your Account." And you could use sentence case for informal or conversational emails, such as "I am never showing my face in Spain after this."
11. Don't forget the preview text
Many people skip or don't know about the preview text of an email. This text is like a subtitle of the subject line, that you can use to give contacts a preview of your email content.
Although contacts can configure their inbox to show or not show inbox previews, it's better to write a preview text. Adding it will help you provide more context to your subject line, build intrigue and get contacts more interested in your email content.
See how Marketing Brew uses preview text to support the subject line and provide more information about their email newsletter.

Without a preview text, email service providers will pull content from the first line of your email to show as a preview. This may have an adverse effect if the first line used for the preview isn't catchy enough.
12. Use A/B testing
No matter how attractive you think a subject line is, or how many expert marketers swear by a subject line formula, you really can't say for sure how well it would work.
But with A/B Testing, you can find out which newsletter subject lines and lengths get the most contacts to open your emails.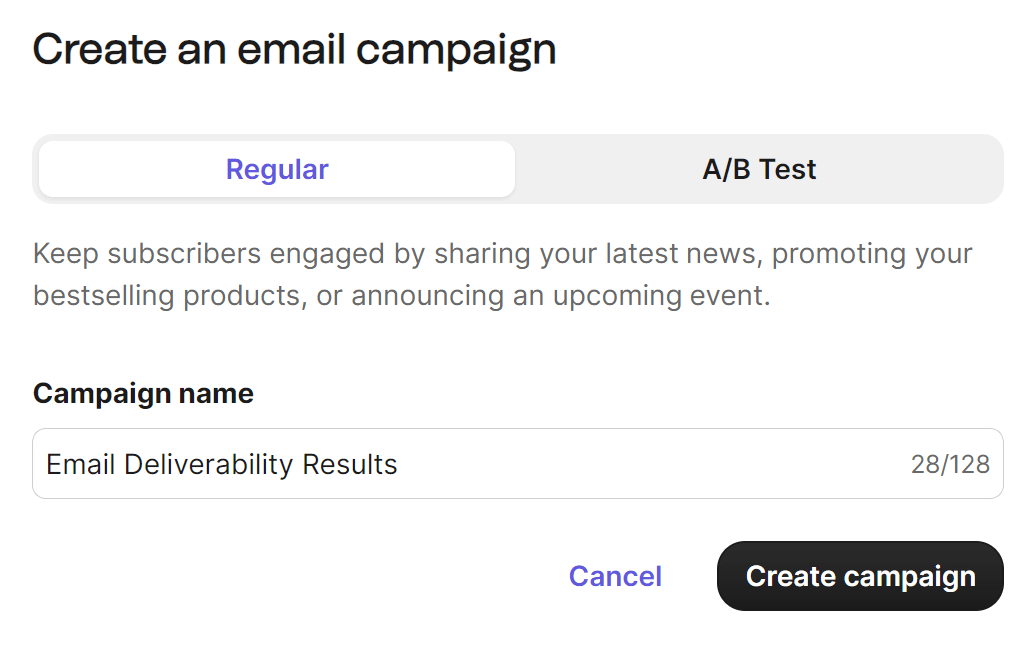 The best email marketing services, such as ActiveCampaign and MailChimp, enable you to perform A/B testing with a small portion of your contact list, and then send the best to the rest of your contacts.
Newsletter and Email Subject Line Best Practices Conclusion
A good email or newsletter subject line does more than attract attention. It also compels contacts to click open the newsletter email.
With the email and newsletter subject line best practices shared in this article, you can create attractive and compelling email subject lines. But, remember that just because your subject line got contacts to open your newsletter email, doesn't mean they'll click on your CTA.
Check out our detailed guides on email newsletter best practices and the best newsletter examples to learn how to create an all-around great newsletter that will be both opened and clicked through to your website.
Your newsletter email subject line's only goal is to get contacts to open. You still have to create an engaging newsletter or email to convert your contacts.
Now tell me, what's your most successful newsletter subject line? Feel free to share in the comment.
We keep our content up to date
27 Jul 2023 - Added more information about subject line character lenghts
Our Methodology
This article has been written and researched following our EmailTooltester methodology.
Our Methodology