We get it: choosing an email marketing software can be overwhelming. You've got a business to run, deadlines to meet, and a budget to stick to. The last thing you need is to spend hours wading through features, pricing, and reviews to figure out which platform will serve you best.
That's where this comparison comes in. We're pitting two of the best – MailerLite vs ActiveCampaign – against each other. Both have aced our tests, offering an impressive suite of features and superb email deliverability.
But as you well know, the devil is in the details. It's no secret that MailerLite is the more affordable service, while ActiveCampaign's premium features carry a higher price tag.
Whether you're steering a small-to-medium business, managing an e-commerce store, freelancing, or creating content, your specific needs – and your budget – will ultimately dictate which platform is the better fit for you.
So, let's find out whether MailerLite or ActiveCampaign is the best email marketing tool for your unique needs.
MailerLite vs ActiveCampaign: The Main Differences
MailerLite's user-friendly design and straightforward pricing makes it a go-to for small businesses, or anyone new to email marketing. It provides all the basic features you'd need without overwhelming you, plus some handy extras such as landing pages, a website builder, and the ability to sell products.
On the other hand, ActiveCampaign specializes in advanced automation and customer experience. It's ideal for medium-sized businesses or those with more complex marketing strategies looking to send finely targeted campaigns.
While both offer excellent deliverability and essential email marketing functions, your choice between the two will depend on your specific needs for complexity – and how much you're prepared to pay.
Now, let's compare MailerLite and ActiveCampaign's features in more detail.
Round 1: Ease of Use and Editor
Here's an easy round with a very obvious winner! Getting started with MailerLite is a breeze, especially for those who are new to email marketing. The signup process is straightforward and the steps are simple and quick, designed to get you up and running without any hiccups.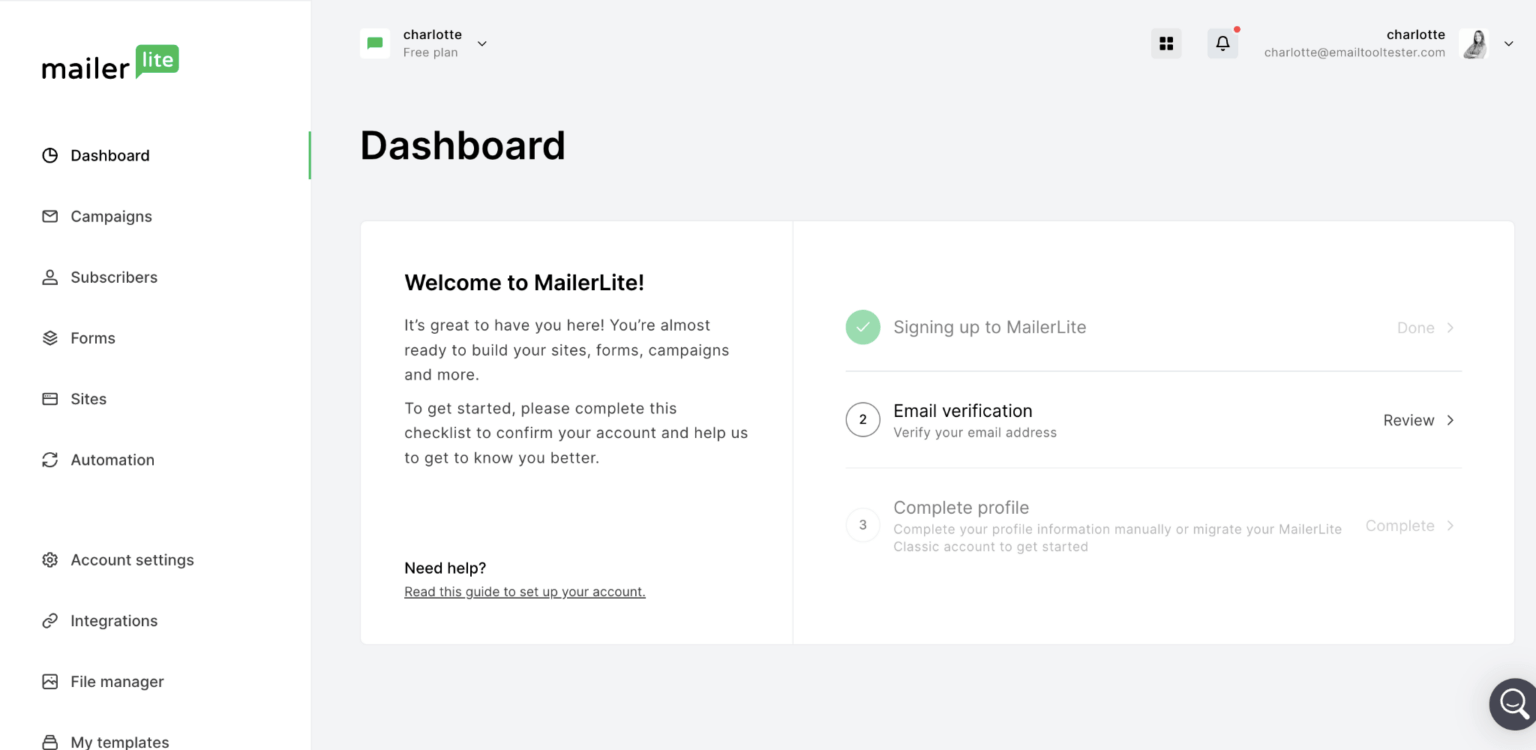 Once your account is set up, MailerLite guides you through customizing your preferences, letting you enable the features (e.g. campaigns, websites, automations, transactional emails) most relevant to your business.
Overall, we find its dashboard to be very user-friendly, serving as a control center to manage all your email marketing needs.
We're also big fans of its intuitive email editor, which lets you add images, text, buttons, and other "blocks" using drag-and-drop functionality.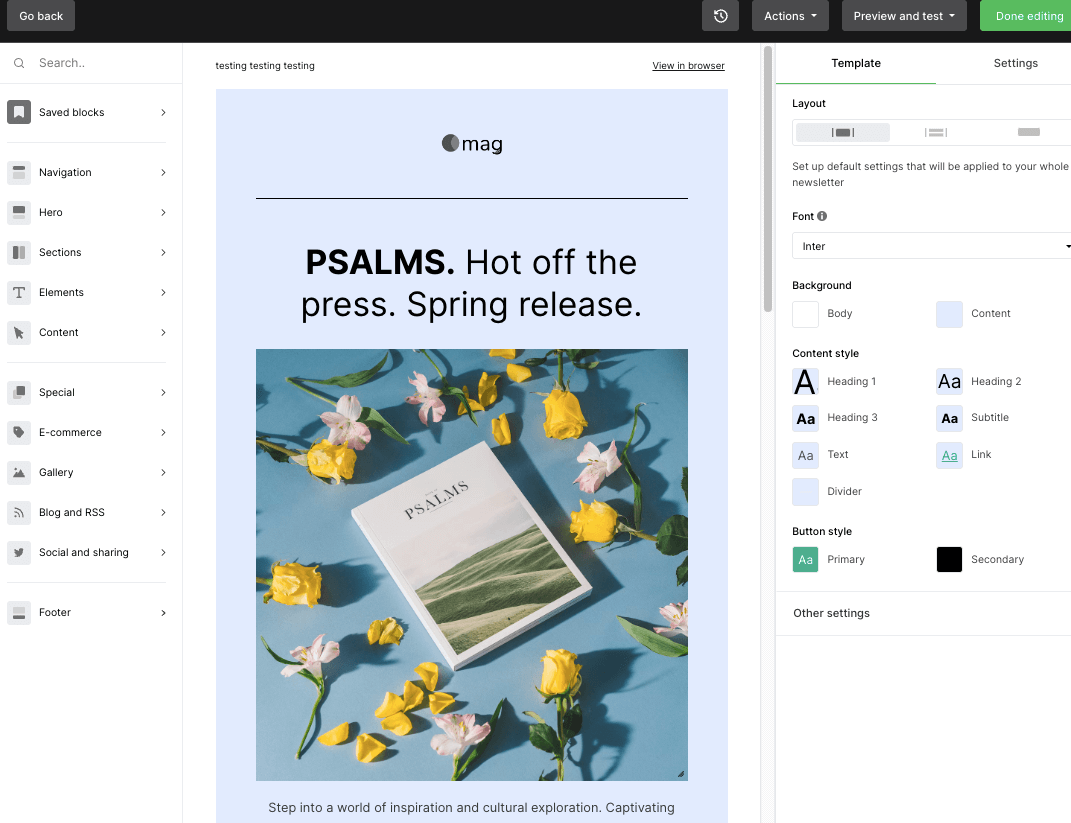 The signup process with ActiveCampaign is just as straightforward, and it also offers a drag-and-drop email editor. However, there are two main differences:
Unlike MailerLite, ActiveCampaign doesn't offer a free plan. So when you sign up, you'll be signing up to a 14-day trial (although you don't need to handover credit card details at this stage). You will lose access to your account if you don't pay by the end of this period.
Secondly, navigating the backend of ActiveCampaign can be a bit more challenging than MailerLite. The platform packs a ton of features, which is great for customization but can make the initial learning curve steeper. So while it might take a bit more time to get accustomed to, those extra features could be worth the effort for more complex email marketing strategies.
If you need a bit of extra help with ActiveCampaign, we'd recommend checking out our ActiveCampaign tutorial.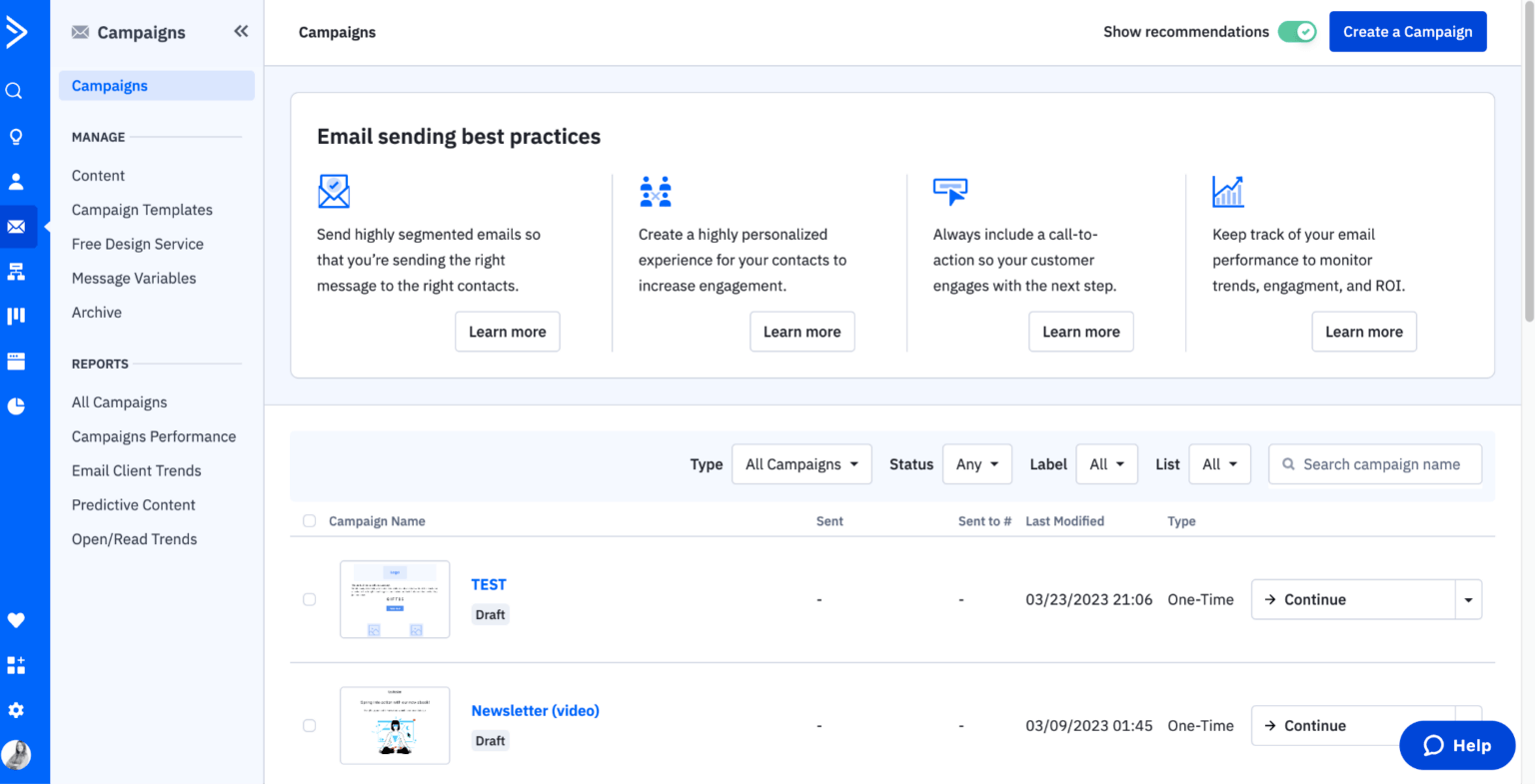 Winner: If ease of use is a top priority, MailerLite makes the overall journey very accommodating. That's one point to MailerLite!
Round 2: Design and Flexibility
When it comes to design features and flexibility, both MailerLite and ActiveCampaign offer solid options, but they do have their differences.
MailerLite has around 50 email templates that are mobile-responsive, ensuring your emails look good on any device. However, these templates are a part of the paid plans, not the free one.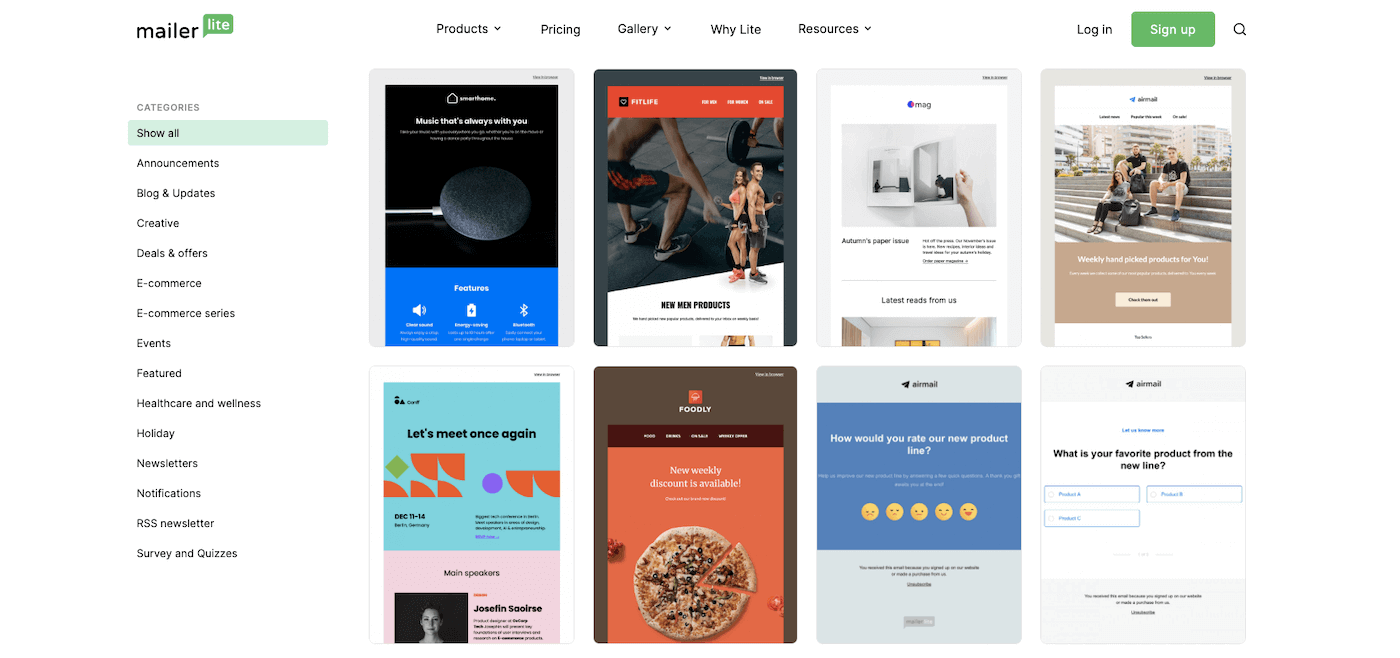 We also find its editor to be user-friendly, with a variety of content blocks and customization options available. You can tweak layouts, colors, and fonts until your email looks just right.
ActiveCampaign, on the other hand, ups the ante with over 250 modern email templates. Its drag-and-drop editor is intuitive, much like MailerLite's, but you also have the added option to create your own templates from scratch using plain layouts or even custom HTML code (something MailerLite also allows).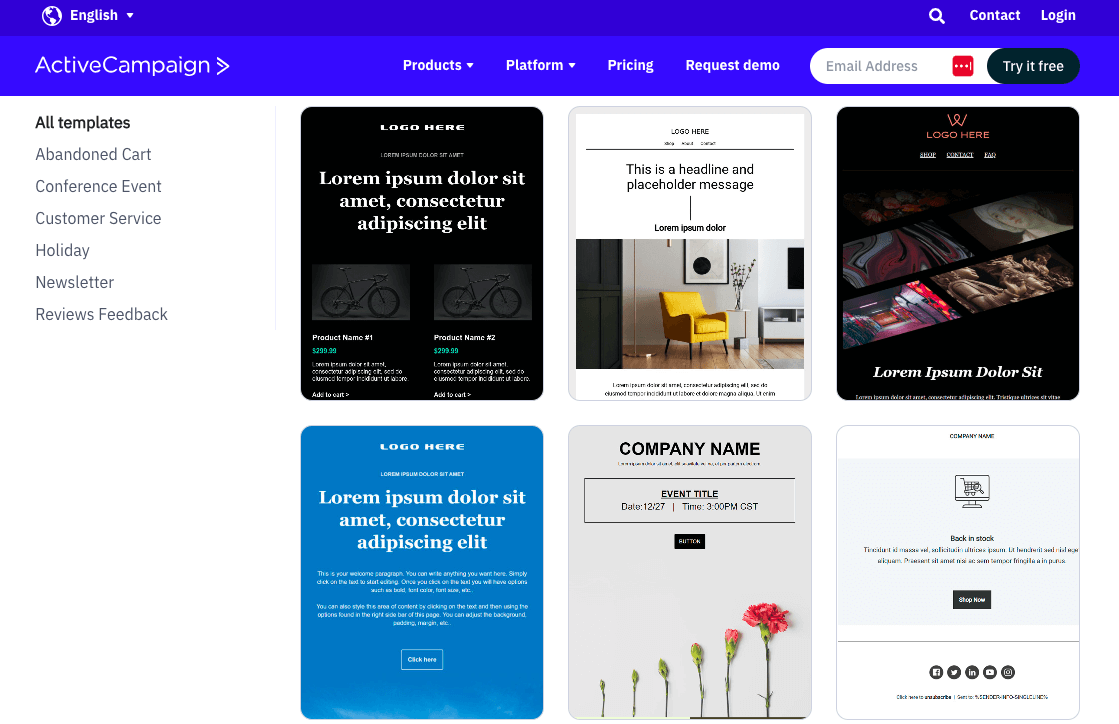 Another feature we appreciate in both platforms is the capability to A/B test your emails right from the start, letting you optimize for the best performance.
Winner: Although both offer a lot in terms of design, ActiveCampaign might be the better option if you're looking for more templates and a bit more flexibility. So far, both have a point each!
Round 3: Email Marketing Automation
In our view, ActiveCampaign really shines when it comes to marketing automations, offering a rich array of workflows you can set up. Whether it's sending emails to people who've abandoned their carts or following up with customers after a purchase, ActiveCampaign has ready-to-use templates, known as "automation recipes." You can tailor these with your own content, custom fields, and tags, or start a new automation entirely from scratch.
The platform allows for multiple triggers in each automation, and you can even run split tests to find out which automated pathways work best. However, more advanced e-commerce and lead scoring automations are only available on the pricier Plus plan.
MailerLite, on the other hand, also offers marketing automation but in a more simplified manner. Using its visual builder, you can set up multi-step workflows based on specific campaign actions like email opens or link clicks. These can also be tailored to custom fields and segments.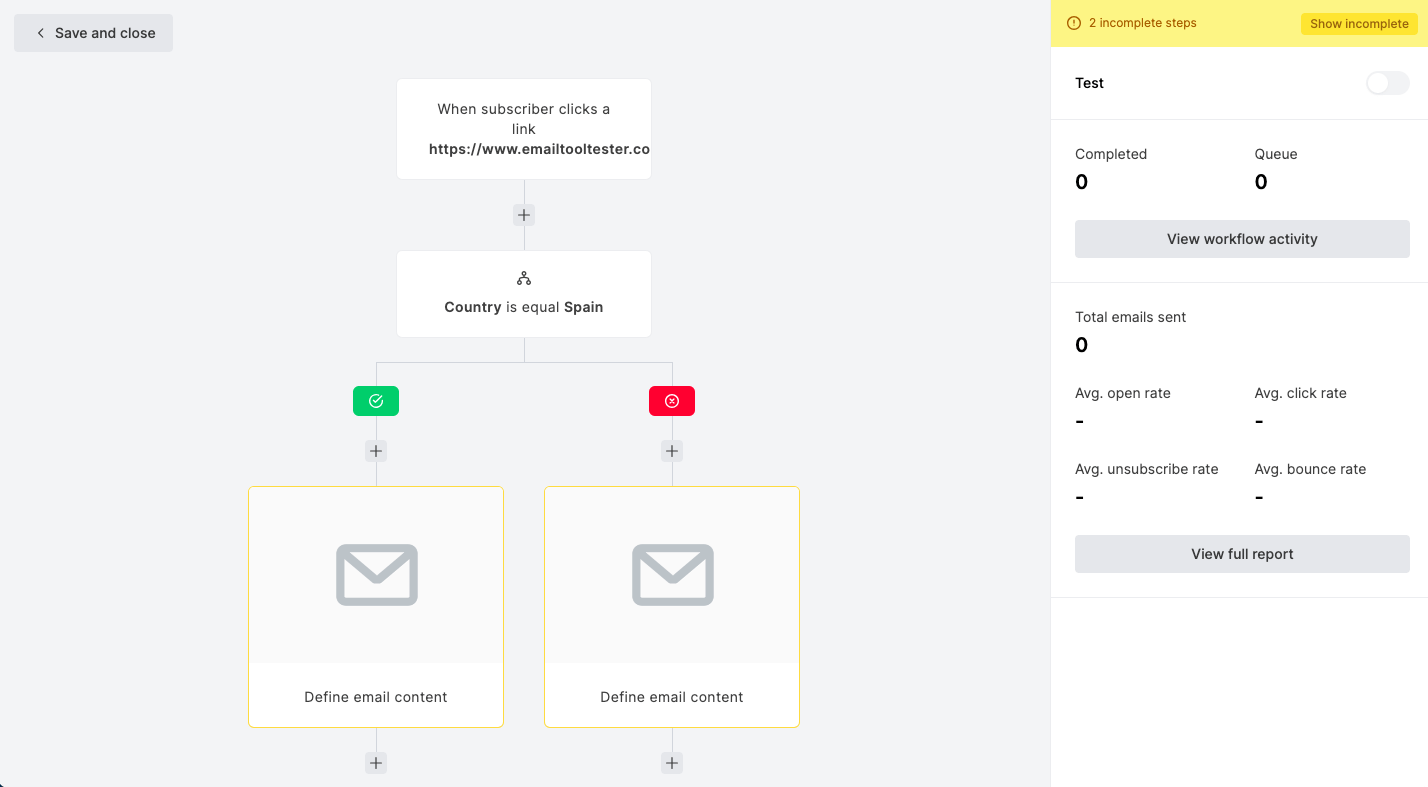 While it's user-friendly, it doesn't quite match the breadth and flexibility of ActiveCampaign. We've found that MailerLite lacks some advanced triggers, like initiating an automation based on page views or specific product interactions, as well as specialized e-commerce triggers.
Winner: When it comes to the breadth and depth of automation features, ActiveCampaign clearly takes the cake in this round! ActiveCampaign inches ahead with 2 points against MailerLite's single point.
Round 4: List Management and Segmentation
Segmentation is key for personalized email marketing, and both ActiveCampaign and MailerLite offer tools to help you group your contacts. ActiveCampaign stands out with its Segment Builder, letting you slice and dice your list based on various conditions like tags, actions, and even event data. The platform is versatile, letting you use up to 20 conditions for each segment.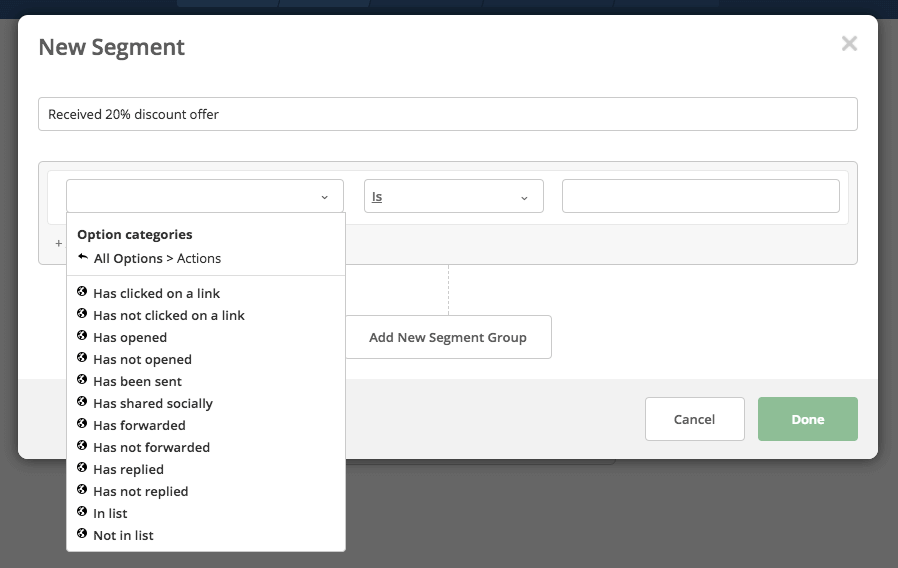 Additionally, you get advanced lead scoring to rank your contacts based on a variety of actions and criteria. Another thing that sets ActiveCampaign apart is the ability to create these segments while you're crafting your email campaign, which is not a common feature in many platforms.
MailerLite's approach to segmentation is simpler, but it still works for basic needs. You can categorize your subscribers into "groups" based on several variables and automated actions. For instance, you can set automations to move a subscriber from one group (e.g. "New customers") to another (e.g. "Repeat customers") based on certain triggers.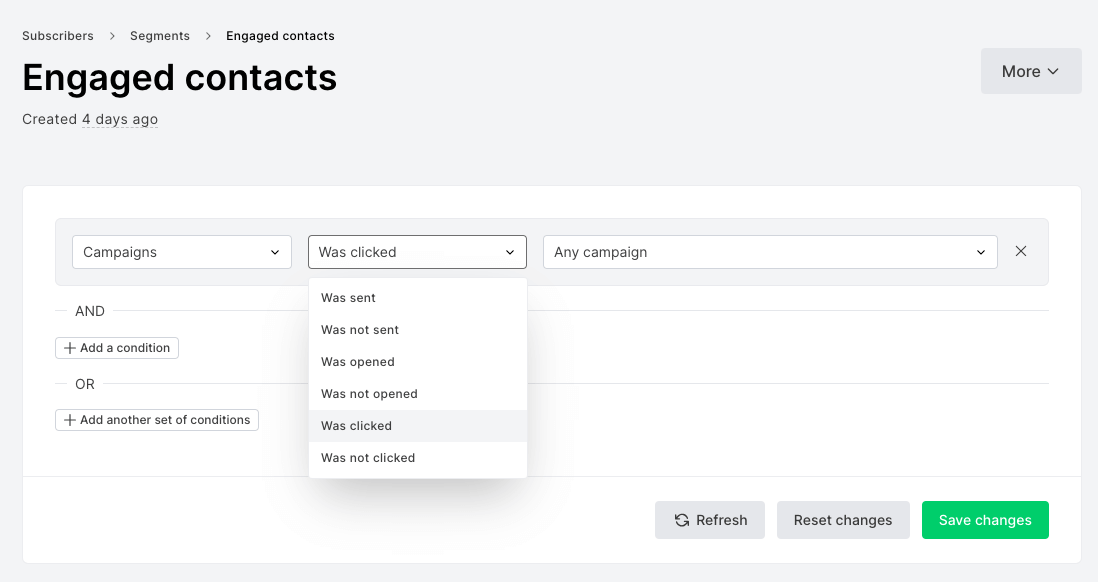 Like ActiveCampaign, MailerLite also allows you to set up preference centers to let subscribers manage their subscription preferences (e.g. which newsletters they want to subscribe to, and how often they want to receive emails.)
However, MailerLite falls short in a few areas compared to ActiveCampaign. It lacks a comprehensive tagging system and doesn't offer the granular control over segmentation that ActiveCampaign does. It also doesn't provide lead scoring capabilities.
Winner: While both platforms offer flexible segmentation features, ActiveCampaign pulls ahead with its more detailed and customizable options, ideal for businesses that require intricate segmentation and lead management. We're at MailerLite: 1, ActiveCampaign: 3.
Round 5: Registration Forms and Landing Pages
Building an email list is crucial for any successful email marketing strategy, and both MailerLite and ActiveCampaign offer ways to capture subscriptions from your website visitors.
With MailerLite, you've got two main options: pop-up forms or embedded forms. Plus, they provide a variety of form templates to kickstart your design.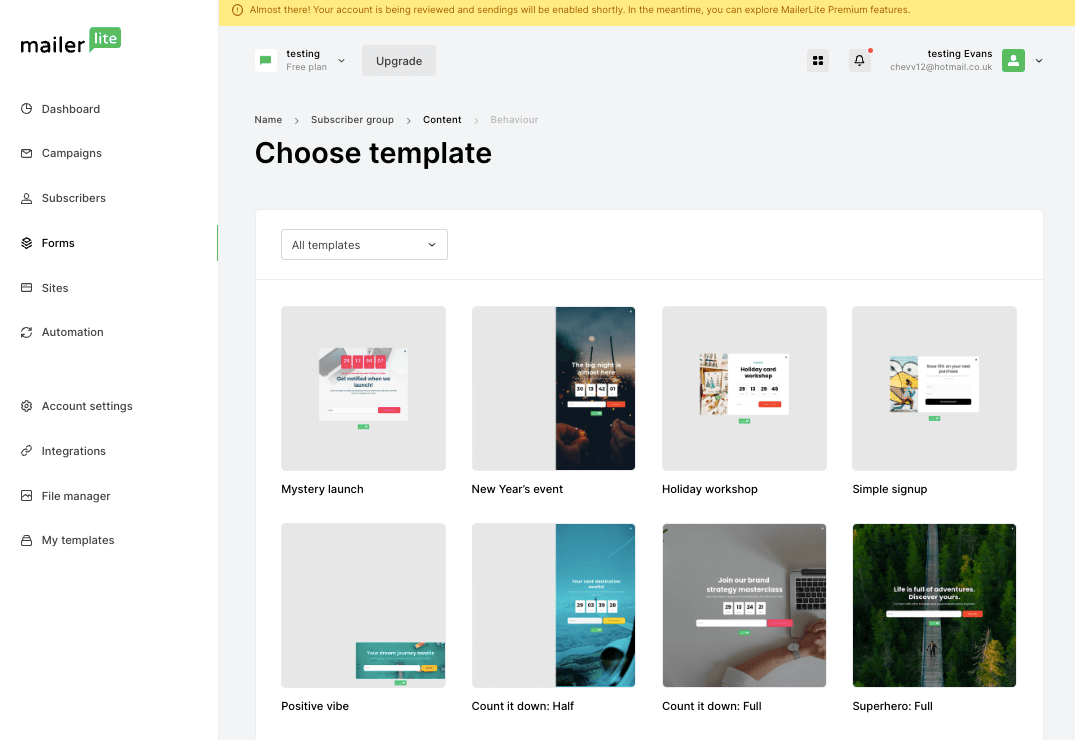 You can also set rules for when these forms appear, like after a set time or when the user scrolls down the page. On top of that, MailerLite lets you easily create landing pages, with the option to add videos, quizzes, testimonials and image carousels.
ActiveCampaign, on the other hand, doesn't offer ready-made designs for forms, although it does let you choose from different form types, such as floating forms and pop-ups. And landing pages are a feature you'll only get with the more expensive Marketing Plus plan or higher.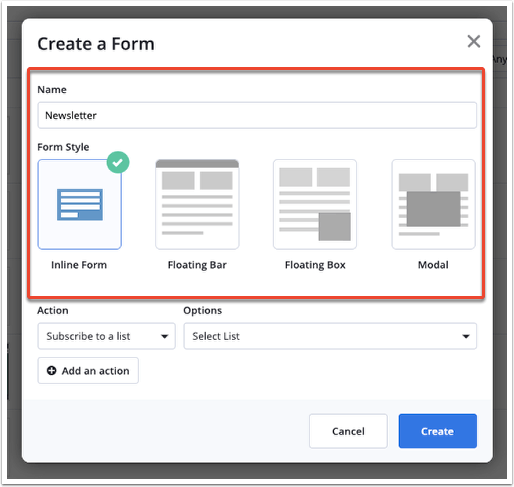 Winner: Thanks to its templates, setting up signup forms is much simpler with MailerLite. And unlike ActiveCampaign, you don't have to pay a premium to access the landing page builder. That takes the score to MailerLite: 2, ActiveCampaign: 3.
Round 6: Reporting
ActiveCampaign really goes the extra mile when it comes to analytics, offering a comprehensive suite of reports to help you stay on top of your email marketing KPIs. Whether you're looking to dive into campaign performance, marketing automation metrics, contact engagement, or even CRM and e-commerce stats, it's all there.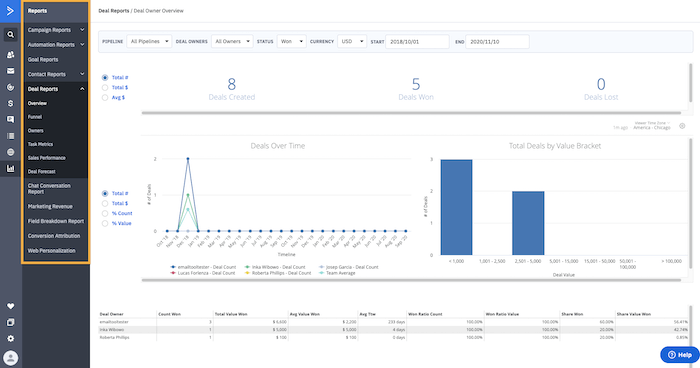 We also like that ActiveCampaign gives you the option to exclude the tracking of 'Apple Privacy opens', which is handy given Apple's recent privacy changes that automatically 'open' emails (and can skew your open rate stats).
In contrast, MailerLite offers a more straightforward set of analytics. You'll get the basics like email opens, clicks, and unsubscribe rates, but it's not as extensive. For e-commerce owners, it's worth noting that purchase tracking is limited to Shopify and WooCommerce stores.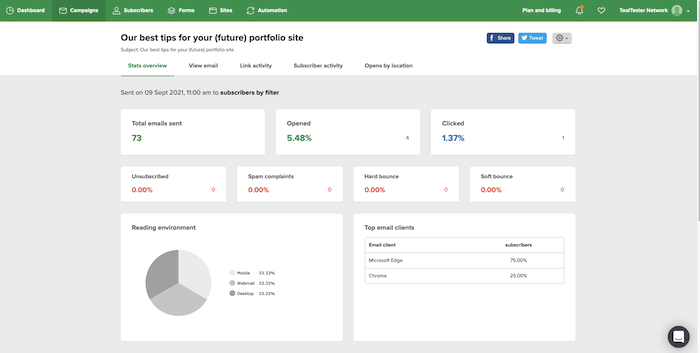 Unlike ActiveCampaign, MailerLite doesn't offer specialized insights into social media performance or specific email client usage.
Winner: While MailerLite covers the basics well, ActiveCampaign is the better choice if you need a detailed, nuanced understanding of your email marketing performance. ActiveCampaign stays in the lead, with MailerLite: 2, ActiveCampaign: 4.
Round 7: Deliverability
Our twice-a-year email deliverability tests have shown what a lot of marketers suspect: Not all email marketing services are created equal when it comes to actually getting your emails into inboxes. Some of the differences can be pretty surprising, with some providers having a much higher likelihood of sending emails that end up in the Spam folder.
Good news though – if you're choosing between MailerLite and ActiveCampaign, you're already on solid ground. Thanks to reputable email servers and state-of-the-art authentication methods, both platforms consistently perform well in our deliverability tests. This means you can trust them to get your emails where they need to go. That said, one of these platforms does have a slight edge, as you can see by how they performed in our last 3 rounds of tests:
| | MailerLite | ActiveCampaign |
| --- | --- | --- |
| Overall Deliverability Rate | 95.41% | 92.03% |
A factor that could be contributing to MailerLite's strong email deliverability is its strict approval process. Sometimes, users might have to wait up to 24 hours before they can start sending out emails. While this rigorous vetting can help ensure higher deliverability, it can also be a downside if you're eager to hit the ground running immediately.
Winner: Although both offer high deliverability rates, MailerLite consistently comes out on top in our tests, taking the score to MailerLite: 3, ActiveCampaign: 4.
Round 8: Integrations
Email marketing platforms work best when they can seamlessly slot into your existing marketing ecosystem, and both MailerLite and ActiveCampaign offer direct integrations with a wide range of external tools.
MailerLite offers around 140 integrations with website builders, ecommerce platforms, social media, CRMs, and more. There are also integrations with Zapier and LeadsBridge to expand these even further.
But these pale in comparison to ActiveCampaign's library of integrations, which (at the time or writing) totaled to a whopping 930! Not only can ActiveCampaign integrate with your key website and marketing apps – you can also link it up to business software (including your accounting, analytics, human resources, and project management tools). Like MailerLite, a Zapier integration is available too.
Winner: This round comes down to numbers, and ActiveCampaign's close-to-1,000 integrations beat out MailerLite's more modest range. If you're keeping score, that's MailerLite: 3, ActiveCampaign: 5.
Round 9: Support
How well do MailerLite vs ActiveCampaign deliver in terms of customer support? Let's quickly compare the support options available:
| | MailerLite | ActiveCampaign |
| --- | --- | --- |
| Live chat support | Only with highest plan (and in 30-day trial for lower plans). Available 24/7 | Available Mon-Fri |
| Email support | With paid plans only. Available 24/7 | Available (hours unknown) |
| Phone support | Not available | Available depending on query |
| Hire an expert | With all plans (including Free) | Not available through ActiveCampaign |
| One-on-one training | Not available | With Plus, Professional and Enterprise plans |
| Community | With all plans (including Free) | With all plans |
| Resource / self-service center | With all plans (including Free) | With all plans |
ActiveCampaign and MailChimp both have a variety of support options like email, live chat, and educational resources. But because ActiveCampaign can be trickier to get the hang of, they offer one-on-one training as an extra helping hand. The catch is that their knowledge base is packed with long lists of articles, making it a bit of a hunt to find the one you need.
On the other hand, MailerLite's live chat support is quick and on-point. We usually get a reply within just a few minutes of contacting them. Plus, it's usually the same few agents responding, and they give thoughtful, detailed answers.
Winner: It's a close one, but MailerLite's knowledge base is a little easier to navigate, plus they offer 24/7 support (which ActiveCampaign doesn't). That brings us to MailerLite: 4, ActiveCampaign: 5!
Round 10: Pricing
As you've seen so far, MailerLite and ActiveCampaign are very different email marketing services, so it will probably come as no shock that their price tags differ, too.
First, let's do a straight-up comparison of what you're paying for each one for the same-sized lists, on their lowest plans (not counting Free plans – remember, ActiveCampaign doesn't offer one):
| | MailerLite Growing Business plan | ActiveCampaign Lite plan |
| --- | --- | --- |
| 1,000 subscribers (unlimited emails) | $15 a month | $39 a month |
| 2,500 subscribers (unlimited emails) | $25 a month | $61 a month |
| 5,000 subscribers (unlimited emails) | $39 a month | $99 a month |
| 10,000 subscribers (unlimited emails) | $73 a month | $174 a month |
| 50,000 subscribers (unlimited emails) | $289 a month | $486 a month |
| 100,000 subscribers (unlimited emails) | $440 a month | $505 a month |
Based on this simplified view, it's clear that MailerLite is the cheaper email marketing service. But this doesn't paint the full picture.
For one thing, MailerLite's Growing Business plan includes landing pages and a website builder, but doesn't include promotional popups, access to the HTML email editor, preference centers, the ability to add multiple triggers in an automation, or even the full range of automation templates. To access these features, you'd need to upgrade to their Advanced plan, which can represent quite a significant price jump (especially for smaller lists). Learn more about MailerLite pricing in our guide.
ActiveCampaign's Lite plan also misses out on key features such as landing pages, SMS, plus any kind of ecommerce integration or automation. For all these, you'd need to upgrade to the Plus plan, which starts at $49/month. And to access ActiveCampaign's CRM, you'd need to purchase its bundled Sales and Marketing plan, starting at $93/month. Learn more about ActiveCampaign pricing here.
Winner: Even taking into account the fact that their lowest plans don't include all the features, MailerLite's prices are much cheaper in general, so this final round goes to them! But, it can be argued that you're getting a lot more for your money with ActiveCampaign. Whether it's worth paying the premium comes down to your individual needs. That means we end up with a tie – MailerLite: 5, ActiveCampaign: 5!
MailerLite vs ActiveCampaign: Detailed Features Comparison (Table)
Ease of Use
Editor
Personalization
Email types
Choice and Flexibility of Template Designs
Email Marketing Automation
List Management
Registration Forms/ Opt-in & Opt-out- Process
Deliverability
Reports and Analysis
Languages
Spam- and Design-Testing
Bounce Management
Blocklist
Storage available for data and images
Unlimited
Unlimited
Authentication
Own Domain
Different levels of account access
Integrations
Landing Page Builder
Customer Support
Prices

Up to 1,000: $39/mo

Up to 2,500: $61/mo

Up to 5,000: $99/mo

Up to 10,000: $174/mo

Up to 50,000: $486/mo

Up to 1,000: $0/mo

Up to 2,500: $25/mo

Up to 5,000: $39/mo

Up to 10,000: $73/mo

Up to 20,000: $139/mo

Up to 30,000: $189/mo

Up to 40,000: $249/mo

Up to 50,000: $289/mo

Overall rating
MailerLite vs ActiveCampaign: Final Thoughts
We've ended up with a tie, which might not exactly be useful in helping you decide whether MailerLite or ActiveCampaign is a better choice! The fact that they scored equally just goes to show why they are the two highest-rated email marketing services on our website.
It's therefore more useful to take a closer look at the features that matter most to you. For example, if you're a B2B business, ActiveCampaign's advanced automations, lead scoring, and CRM features will probably stand out to you.
Similarly, if you run an online store, ActiveCampaign's wider range of ecommerce integrations and automations might give it an edge over MailerLite's more simplistic features.
On the other hand, if you're new to email marketing, you'll probably appreciate MailerLite's gentler learning curve. And if you're looking to run lead generation campaigns or capture newsletter signups on a budget, MailerLite's form templates and built-in landing page builder can help you get up and running with very little investment.
Ready to get started? Choose from one of the options below:
> Try ActiveCampaign for free (for 14 days)
Still not sure whether to pick MailerLite vs ActiveCampaign? Let us know in the comments below and we'll help you out!
Our Methodology
This article has been written and researched following our EmailTooltester methodology.
Our Methodology