WooCommerce offers built-in email features for sending transactional emails. These are emails sent after users take actions on your store, and include emails to:
Confirm completed orders,
Notify users about account creation, or
Send customers their invoices.
But as you'll read below, WooCommerce's email features are quite basic. They limit your ability to market to customers — and hence your potential to earn more sales.
To overcome these constraints, you'd need to invest in a separate email marketing solution for WooCommerce.
There are many excellent options on the market, packed with powerful features that help you grow your list with attractive email forms, increase store revenue with targeted campaigns, put your marketing on autopilot, and track your email marketing's return on investment (ROI).
Keep reading as I share the 10 best email marketing tools for WooCommerce worth checking out 🛒 (pun not intended).
Why Not Just Use WooCommerce's Built-in Email Solution?
Relying on WooCommerce's free built-in email features may not be ideal for your ecommerce email marketing strategy in the long run. That's because:
You can't send marketing emails: Marketing emails are a different type of email marketing campaign from transactional emails. They're emails you proactively send to promote your store, such as newsletter emails, promotional emails, and seasonal emails. WooCommerce currently doesn't have built-in features for sending marketing emails, so you'll need a separate email marketing platform for this.
WooCommerce has low email-sending limits: You can't send more than 500 emails per month, which isn't a lot. WooCommerce doesn't offer a way of increasing this limit either.
Customizing your email templates can be complicated: There aren't many settings for customizing your email templates' designs — you're mostly restricted to updating their colors. To edit other aspects of your templates, you'll have to rework their HTML templates and then upload their customized versions to your website's backend. Doing so may be daunting if you aren't a web developer.
Using a standalone email marketing solution that integrates with WooCommerce can help you get around these limitations as they are typically designed for sending marketing emails. (The WooCommerce Email Customizer is a notable exception here.)
These platforms can also scale for sending as many emails as you need, subject only to your plan's sending limits. Lastly, they generally offer user-friendly builders for designing emails (Except for AutomateWoo, which I cover in more detail later).
Let's look at other features a good WooCommerce email marketing tool will have next.
What to Look Out for When Choosing a WooCommerce Email Marketing Tool
☑ An integration with WooCommerce (obviously!)
Aside from providing a direct connection between the platform and your WooCommerce store, the integration process should also be hassle-free. Typically, you'll install the email platform's WordPress plugin or WooCommerce extension on your WordPress site, then connect the former to your account on the platform.
Doing so should involve just a few clicks, with the plugin or extension guiding you every step of the way. You shouldn't need to fiddle with any code either.
From my research, all the tools I'll discuss in this guide make WooCommerce integration a breeze!
☑ A wide range of beautiful email templates
Using modern, professional-looking templates for your email marketing campaigns will help improve customer perception of your brand's credibility.
And since not everyone is an ace graphic designer, the email platform should provide a wide range of appealing email templates. You should also be able to easily customize these with your brand colors, logo, and content.
☑ A user-friendly and feature-rich email editor
The email editor is where you'll write and design your emails. Check that it's easy to use, especially since you'll be using it often.
The editor should also offer ecommerce features for marketing your store. For example, you should be able to insert product blocks to display your products in your emails.
☑ Strong email automation capabilities
Manually emailing your customers is time-consuming, especially if you have hundreds or thousands of customers. So, your email platform should help you automate common ecommerce emails such as:
(P.S. For especially powerful email automation features, check out ActiveCampaign.)
☑ Reliable email deliverability
Deliverability refers to an email platform's ability to deliver emails to their intended recipients. It isn't something to take for granted, because not all email marketing tools fare well in this department. And you don't want to craft perfect emails that never reach your customers!
From our regular email deliverability tests, MailerLite, Mailchimp, and ActiveCampaign tend to produce consistently high deliverability scores over time.
☑ Value-for-money pricing plans
Even if you're willing to splurge on email marketing, go for an email platform that provides the best balance between features and cost.
For example, it may not make sense to waste money on a more expensive plan — or even a more premium email provider — if another platform's pricing plan offers the exact features you need at the right price.
Many email platforms, such as Omnisend and Brevo, also offer free plans. Take full advantage of these to test their platforms before paying for them, or if you have low to no budget for email marketing!
What Are the Best Email Marketing Platforms for WooCommerce?
The 10 best tools for email marketing for WooCommerce are:
Omnisend for WooCommerce
Klaviyo
ActiveCampaign
Brevo for WooCommerce
MailerLite
Mailchimp for WooCommerce
HubSpot for WooCommerce
MailPoet
AutomateWoo
WooCommerce Email Customizer
Omnisend, Klaviyo, and ActiveCampaign are some of the best email marketing tools for WooCommerce. With them, you can create attention-grabbing signup forms, promote relevant offers via targeted emails, rescue abandoned carts — and ultimately boost your revenue. They also provide useful reports for measuring the success of your email marketing efforts.
1. Omnisend for WooCommerce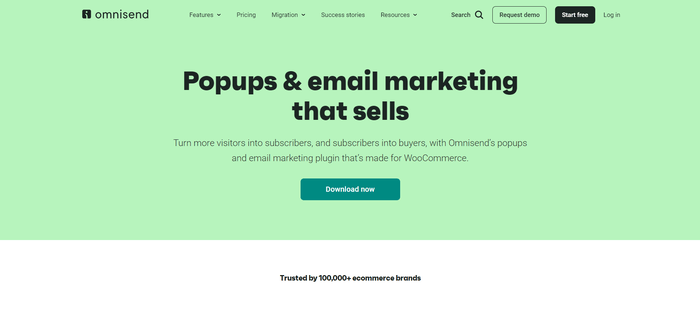 There's so much to love about Omnisend. For one, I love the platform's aesthetically pleasing design and how it loads lightning-fast. But more importantly, it's packed with all the features you'll need to market your store with email.
Omnisend offers stunning email forms to grab your store visitors' attention and convert them into subscribers. You can then send these subscribers newsletter campaigns to nurture them into customers. Or, if they've abandoned checkout, nudge them to complete the process by sending automated emails.
Once you've installed Omnisend's WordPress email plugin, it'll start syncing your store data to its platform. This way, you can track which emails are converting the best, and the amount of revenue they're bringing in.
And Omnisend is an omnichannel platform, too. It helps you send not just emails, but also SMSes and push notifications. All these make Omnisend one of the best email marketing platforms for ecommerce in general.
What we liked about Omnisend for WooCommerce
Omnisend offers some unique form types, such as multi-step and wheel of fortune forms. I didn't find many other email platforms with similar form functionality.
There is a powerful automation builder with a wide range of triggers, filters, and exit conditions. You can even conduct split tests.
The platform automatically categorizes your customers based on customer lifecycle stages, such as recent customers, loyalists, and customers you're about to lose. This is helpful for sending targeted emails to retain customers in each category.
Check out our video review:
What Omnisend could improve
WooCommerce order statuses don't exactly map to those Omnisend uses for automations. This isn't a big deal, but you'll still need to get the hang of the differences to set up your automations correctly.
Omnisend can't connect to your WooCommerce store if you're limiting access to it via "site under construction" plugins or password protection. If you're still building your store, you'll have to launch it (and make it publicly accessible) before you can connect Omnisend to it.
Omnisend pricing (Standard plan)
500 emails to 250 contacts: $0
2,000 contacts (24,000 emails per month): $30/mo
5,000 contacts (60,000 emails per month): $65/mo
10,000 contacts (120,000 emails per month): $115/mo
50,000 contacts (600,000 emails per month): $330/mo
Learn more about Omnisend pricing here.
Who is Omnisend best suited to?
Use Omnisend if you want a comprehensive ecommerce marketing solution — and especially if you intend to also market to customers via SMS and push notifications.
> Read our full Omnisend review
2. Klaviyo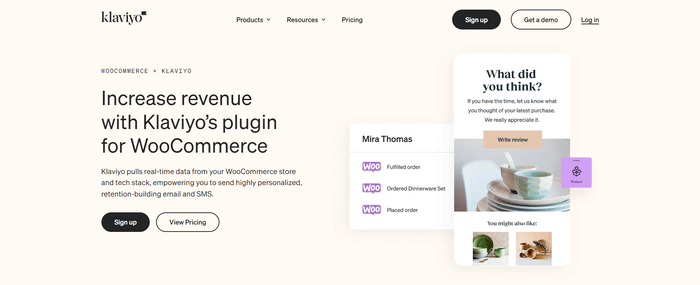 Klaviyo is another email marketing platform geared toward online store owners. When you install its WooCommerce extension and connect your store, it will immediately start syncing your store data.
This data sync will continue in real time, too, so Klaviyo will always display the latest data on new subscribers and campaign conversions.
Designing email forms in Klaviyo is simple, as is displaying them on your store pages. Popup and flyout forms will appear on your store once you've published them, while adding embed forms just requires pasting some simple embed code.
Uniquely, Klaviyo offers a built-in customer data platform (CDP) for building detailed profiles of your customers. Not many other email platforms I've reviewed include the same.
Similar to Omnisend, Klaviyo can also help send marketing SMSes and push notifications. Wondering how the two platforms compare? Learn more in our Omnisend vs Klaviyo review.
What we liked about Klaviyo
You can A/B-test your email campaign content, subject line, sender name, send times, and more. It's not every day you find this level of A/B-testing flexibility in WooCommerce email marketing tools!
Set up rules to personalize your emails' recommended products. You can populate your emails with your best-selling products or the products your customers have recently viewed or added to their cart, among other options.
If a customer abandons their cart on one device, their cart will usually be empty if they revisit your store from a different device. But Klaviyo can use your WooCommerce data to rebuild your customers' abandoned carts when they return to your store, regardless of what device they're using, via an abandoned cart email.
Klaviyo displays your email campaigns in a built-in calendar, which is helpful for viewing your upcoming campaigns at a glance. I didn't find this feature in many other email platforms I tested.
See how Klaviyo compares to Omnisend:
What Klaviyo could improve
Your Klaviyo automations (called "flows") can have only one trigger. There's also no easy way of swapping your trigger once you've set it up. You'll have to start a new flow and rebuild your automation from scratch.
If you're a free user, you can get support only via email — and for only the first 60 days after signing up.
Klaviyo pricing (Email plan)
500 emails to 500 contacts: $20/month
10,000 emails to 1,000 contacts: $30/month
50,000 emails to 5,000 contacts: $100/month
105,000 emails/month to 10,000+ contacts: $175/mo
Who is Klaviyo best suited to?
Use Klaviyo if you want to manage your customer data in one place, then leverage these to send targeted campaigns on multiple channels. The fact that you can optimize your store campaigns via flexible A/B tests doesn't hurt either.
3. ActiveCampaign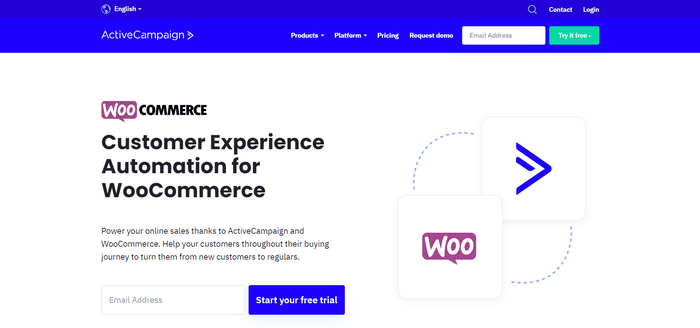 Setting up ActiveCampaign with your WooCommerce store may take a few extra steps. Because apart from the usual WordPress plugin installation, you'll also need to activate the WooCommerce integration in the ActiveCampaign platform.
But trust me, friends, the effort is worth it!
Once you've done so, you'll get access to a full arsenal of marketing features. Think email forms, campaigns, landing pages, contact segmentation, site tracking, and more.
The highlight, though, is the sheer extent of ActiveCampaign's email marketing automation capabilities. You'll be spoiled for choice as to the available automation triggers, actions, and conditions — and, subsequently, the ecommerce tasks and emails you can automate.
What we liked about ActiveCampaign
Thanks to ActiveCampaign's deep-data WooCommerce integration, you can segment your customers based on various ecommerce conditions. These include having completed an order in a certain currency, checking out their previously abandoned cart, or even using a specific discount code.
The platform excels at automation, offering possibly the widest range of triggers and actions I've seen in the market. Even if you want to build more uncommon automations, like sending follow-up emails to customers who dismiss a site message, chances are you'll be able to do so in ActiveCampaign.
ActiveCampaign can attribute revenue to your campaigns, so you aren't left guessing as to which emails are generating sales.
Check out our video review:
What ActiveCampaign could improve
WooCommerce integration isn't available on ActiveCampaign's cheapest Marketing Lite plan. You'll need to sign up for at least the Marketing Plus plan, which can be expensive. Especially since many other platforms let you integrate your store on their free plan.
While you can send transactional emails using ActiveCampaign's Postmark app, you'll be charged separate fees for doing so. Expect your email bill to go up even more.
ActiveCampaign pricing (Lite plan)
1,000 contacts: $39/mo
2,500 contacts: $61/mo
5,000 contacts: $99/mo
10,000 contacts: $174/mo
50,000 contacts: $486/mo
Learn more about ActiveCampaign pricing here.
Who is ActiveCampaign best suited to?
Automation enthusiasts with higher store marketing budgets should head straight for ActiveCampaign. You won't regret it!
> Try ActiveCampaign in a free trial
> Read our full ActiveCampaign review
4. Brevo for WooCommerce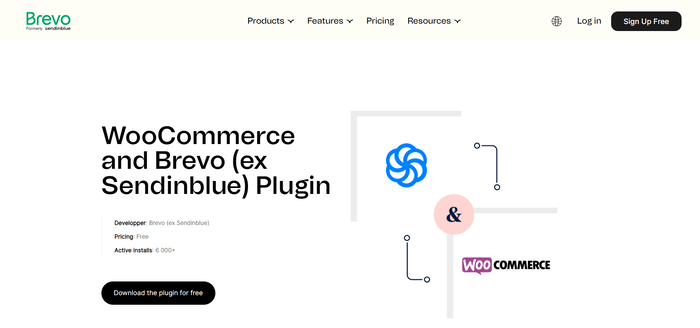 Previously known as Sendinblue, Brevo is an all-in-one platform for marketing to customers via email, SMS, WhatsApp, and other channels. You can even manage sales using Brevo's built-in customer relationship management (CRM) software. And for free, too, as long as you don't send more than 300 marketing and transactional emails per day via their free SMTP servers.
Install Brevo's email marketing plugin for WooCommerce to sync your store contacts to the platform. The plugin also helps you track your contacts' store behavior so you can enhance their experience with personalized product recommendation and abandoned cart emails.
Brevo will also sync your contacts' orders and keep a running total of the:
Number of orders each contact has placed
Amount each contact has spent with you (both over the last 30 days and ever since they became a customer)
Use this valuable data to segment your contacts and target them with marketing campaigns tailored to their spending activity.
What we liked about Brevo for WooCommerce
Get started with marketing emails, SMSes, WhatsApp messages, live chat, a sales CRM platform, and transactional emails for free.
You can enable behavior tracking in your WooCommerce integration settings to send automated emails based on your contacts' store activity.
It's possible to choose the types of WooCommerce attributes you want (or don't want) to sync to Brevo. Some other email marketing software we've tested will simply sync all data without letting you exclude some data beforehand.
Check out our video review:
What Brevo could improve
The platform uses different placeholders for personalizing order confirmation emails depending on whether you're sending these via WooCommerce or a Brevo workflow. Be careful not to insert the wrong placeholders into your emails.
Brevo scored dismally in our recent email deliverability tests. It placed second from the bottom when we tested it against 14 other providers.
Brevo pricing (Marketing Starter plan)
300 emails/day: $0/mo
40,000 emails: $35/mo
60,000: $49/mo
100,000: $115/mo
Learn more about Brevo pricing here.
Who is Brevo best suited to?
If you're on a budget and don't need to send that many marketing messages every day, you may find Brevo's free plan perfect.
5. MailerLite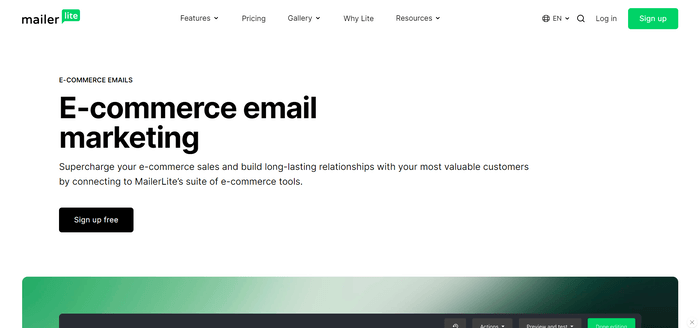 MailerLite is another platform to consider if you're eyeing a free email marketing service for your WooCommerce store.
Its free plan offers access to a drag-and-drop email builder, forms and pop-ups, email automations, and more at no cost. You're just limited to one user seat and a send cap of 12,000 monthly emails, which is pretty generous.
MailerLite's WooCommerce plugin is easy to install and will sync your customers and orders to the email platform. It'll also let you use product blocks for displaying your products in emails, and set up ecommerce automations.
Since MailerLite focuses solely on email marketing, you won't be able to manage SMS or social media marketing campaigns with it. This is unlike what some other platforms, such as Mailchimp, can do. That said, you can send transactional emails using MailerLite's sister service, MailerSend.
(We'll discuss Mailchimp next, and you can also read our MailerLite vs Mailchimp review for a detailed comparison of the two.)
What we liked about MailerLite
The tool's email editor can pull in your latest product data from WooCommerce automatically. This makes showing off your products in your emails easy. No manual uploading of product images needed!
You can create and send survey emails to learn your customers' feedback on your products. I didn't see this in many other WooCommerce email marketing plugins I tested.
Like ActiveCampaign, MailerLite has fantastic email deliverability. It came in tops in our latest email deliverability tests.
Check out our video review:
What MailerLite could improve
Email templates and dynamic email content aren't available on the free plan. You'll also get email and live chat support for only the first 30 days of signup.
The email marketing service supports only a handful of ecommerce workflows. You can build workflows related to cart abandonment and store purchases, but not when customers view a specific product for example.
MailerLite pricing (Growing Business plan)
1,000 contacts: $0/mo
2,500 contacts: $25/mo
5,000 contacts: $39/mo
10,000 contacts: $73/mo
15,000 contacts: $109/mo
Learn more about MailerLite pricing here.
Who is MailerLite best suited to?
MailerLite is a good choice for store owners who want to send a modest number of marketing emails and set up simple ecommerce automations for free. You're unlikely to exceed the free plan's monthly email cap as long as you don't send more than 400 emails per day.
> Read our full MailerLite review
6. Mailchimp for WooCommerce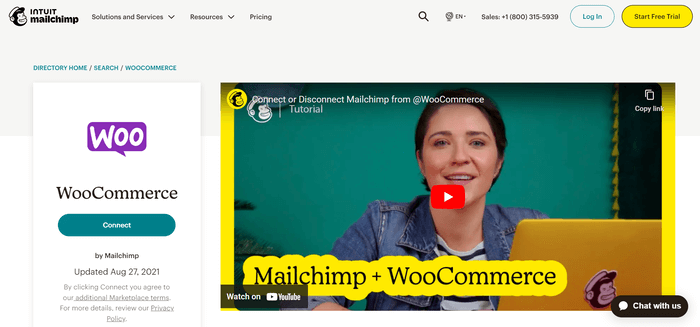 Mailchimp is popularly used for its free email marketing features. But the platform has a whole suite of other offerings such as transactional emails, SMS marketing, landing pages, social media marketing, and even an AI email content generator.
Integrate Mailchimp with WooCommerce using the free Mailchimp for WooCommerce plugin to start sending your store and customer data to Mailchimp. After that, you can:
Design sign-up forms in Mailchimp and display them on your store for email marketing lead generation
Set up automations for abandoned carts, order notifications, special birthday offers, and more
Deliver targeted campaigns to customers using your preferred marketing channels
Just be aware Mailchimp can get rather pricey if you're syncing over many contacts. Likewise if you need marketing automations, because they're largely a paid feature. More info on Mailchimp pricing below.
What we liked about Mailchimp for WooCommerce
Mailchimp offers pre-built ecommerce segments for categorizing your contacts based on purchase activity. This makes it easy to send WooCommerce email marketing campaigns to different customer groups, such as those who haven't purchased in the last 30 days.
You can create social media retargeting ads in Mailchimp to re-engage customers who visited your store, and nudge them toward placing orders.
The platform has excellent email deliverability. It was the runner-up in our deliverability tests for 15 competing providers.
Check out our video review:
What Mailchimp could improve
Marketing automations (called "customer journeys") aren't available on Mailchimp's free plan.
Mailchimp will sync WooCommerce customers to its platform even if they haven't opted in to receive marketing emails. It will also increase your contact count accordingly. So, unless you intend to send these customers transactional emails or show them social media retargeting ads, you might end up paying extra for Mailchimp contacts you can't market to.
Mailchimp pricing (Essentials plan)
500 contacts: $13/mo
2,500 contacts: $39.50/mo
10,000 contacts: $100/mo
30,000 contacts: $295/mo
50,000 contacts: $350/mo
Learn more about Mailchimp pricing here.
Who is Mailchimp best suited to?
Not many email platforms I've tested offer social media marketing features, so I'd recommend Mailchimp if you're keen on managing your email campaigns and social ads from one platform.
> Read our full Mailchimp review
7. HubSpot for WooCommerce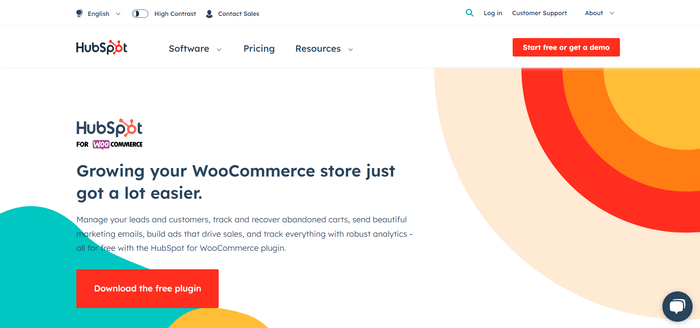 HubSpot is well known for its free CRM, which is great for storing data on up to 1M contacts (no exaggeration here) and sending up to 2,000 marketing emails per month. It also integrates with WooCommerce via a free plugin to help you populate your CRM with store data, set up marketing automations, and generate ecommerce reports.
But HubSpot does suffer from some drawbacks, with pricing being a big one. You can't automate much of your marketing unless you opt for the Marketing Professional plan or higher. This plan costs at least $890 per month on monthly billing (again, no exaggeration here).
Going with such an expensive plan doesn't improve your email deliverability either, which is a problem when HubSpot's deliverability seems less-than-stellar. As a whole, you can probably get better value elsewhere.
(Apart from its CRM features, HubSpot also offers a content management system or CMS. Learn more in our separate HubSpot CMS guide.)
What we liked about HubSpot for WooCommerce
You can create comprehensive profiles of your customers, and track sales, in HubSpot's flagship CRM. Mapping WooCommerce order statuses to HubSpot deal stages is also straightforward.
There is a good range of ecommerce automation templates to choose from. This includes more uncommon ones, like one for sending a thank-you email to customers who have placed at least three orders with you.
Unlike some other email platforms I've tested, HubSpot can sync multicurrency data from WooCommerce. It's a great feature if you sell in multiple currencies.
Check out our video review:
What HubSpot could improve
If you're on HubSpot's free plan, you'll be restricted to only one automated action per email or form automation. Upgrading to a paid plan to remove this limitation may be prohibitively expensive, though.
HubSpot's email deliverability isn't impressive. The platform placed 12th when we tested its deliverability against that of 14 other email marketing providers.
HubSpot pricing
2,000 emails per month: Free
1,000 contacts (5 emails per contact): $18/mo (Marketing Hub Starter plan)
2,000 contacts (10 emails per contact): $800/month (Marketing Hub Professional plan)
Learn more about HubSpot pricing here.
Who is HubSpot best suited to?
Online stores that want to closely track the sales pipeline for every customer, and can back up their efforts with a large marketing budget, may find HubSpot a good choice.
> Read our full HubSpot CRM review
8. MailPoet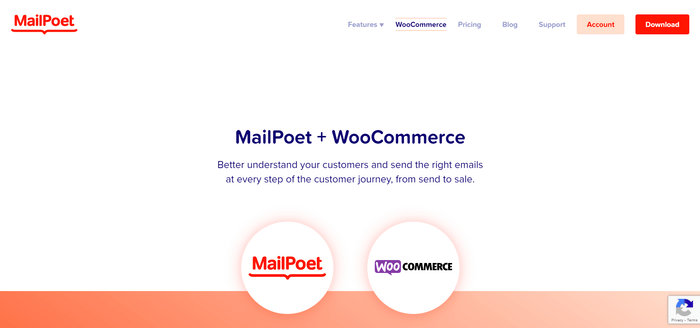 So far, the email marketing solutions we've covered in this guide require you to log into their platform to design your emails, create contact segments, build your automations, and so on. But if you find this inconvenient, try the MailPoet WooCommerce email plugin.
After connecting your WooCommerce store to MailPoet, you'll manage your email marketing from your WordPress admin dashboard itself. The platform's interface and settings are all modeled after WordPress's, so you shouldn't face much difficulty navigating them.
From form and email editors to lists and segments, all the key features you'll need for email marketing are available. This includes a simple automation builder. But since MailPoet stores your subscriber data on your server (instead of theirs), you'll need to take steps to secure it.
For example, look into setting up a WordPress security plugin and multi-factor authentication if you haven't already. Keeping your WordPress software and plugins up to date is also a must.
What we liked about MailPoet
MailPoet's interface lives directly in your WordPress site dashboard, so you don't have to navigate to a separate platform to manage your email marketing.
You'll find the email editor easy to use if you're familiar with WordPress' Gutenberg block editor.
Automatically feature WooCommerce discount coupons and products in your emails by adding relevant content blocks to the latter.
What MailPoet could improve
The platform's WooCommerce email automation feature lacks advanced functionality such as multiple automation triggers and conditional split paths. The team has been steadily upgrading this feature since its November 2022 launch though, so fingers crossed!
You'll have to invest more time and resources into securing your subscriber data.
MailPoet pricing (Business plan)
1,000 contacts (5,000 emails per month): free
500 contacts: $10/mo
1,500 contacts: $20/mo
5,000 contacts: $55/mo
10,000 contacts: $80/mo
Who is MailPoet best suited to?
Pick MailPoet if you want the convenience of managing your email marketing from your WordPress dashboard — and are prepared to implement extra measures to keep your subscriber data safe.
9. AutomateWoo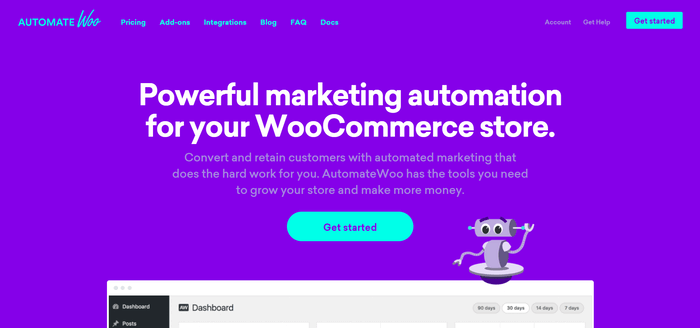 Like MailPoet, AutomateWoo is a dedicated WooCommerce email marketing plugin that embeds its features into your WordPress dashboard. With it, you can send and automate emails, and track your campaigns' performance.
AutomateWoo also integrates with other WooCommerce plugins for enhancing your marketing emails. By integrating AutomateWoo with WooCommerce Wishlists, for example, you can automatically inform customers when their wishlisted items are back in stock or on sale.
If you run a multilingual store using the WPML plugin, you'll also love how AutomateWoo lets you send emails in your customers' preferred language.
That said, AutomateWoo's email builder can be a letdown. You can't drag and drop content blocks like how you can with many other platforms. The tool also bucks the trend by not providing any free plans or trials at all. Only a 30-day refund policy is available, at best.
What we liked about AutomateWoo
Flexibly integrate AutomateWoo with other WooCommerce plugins to send customers a greater variety of marketing emails.
AutomateWoo is compatible with the WPML multilingual website plugin for detecting your customers' selected store language, and then sending them emails in that language.
You can create custom automation workflow triggers and actions (coding knowledge required).
What AutomateWoo could improve
There is no built-in drag-and-drop email builder for designing your AutomateWoo emails. They use the default WooCommerce transactional email template, which can be tricky to customize. AutomateWoo recommends using MailPoet if you want more email design functionality. Alternatively, add on the WooCommerce Email Customizer (more info about it in the next section).
Unlike the typical automation flowchart interface found in many other email platforms, AutomateWoo uses a WordPress classic editor-style interface for building automated workflows. Trying to understand your workflow's steps in this format can be difficult.
AutomateWoo pricing
$9.92/mo (billed annually)
Who is AutomateWoo best suited to?
AutomateWoo can provide complementary email functionality for ecommerce businesses that have extended their stores' marketing features with various WooCommerce plugins.
10. WooCommerce Email Customizer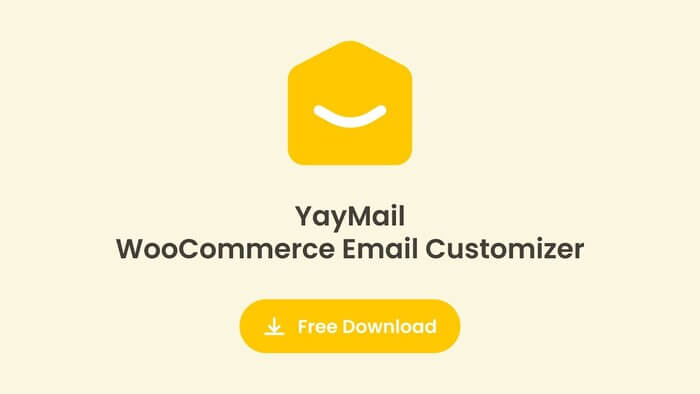 Also known as YayMail, WooCommerce Email Customizer is a WooCommerce plugin for designing transactional emails. It works out of the box with 10+ WooCommerce email templates, including emails for new orders and account creation.
Using a drag-and-drop email builder, you can customize your transactional emails with your store logo, images, call-to-action buttons, social icons, and even videos. The tool can also embed dynamic WooCommerce store content or data from supported WooCommerce plugins in your emails.
But WooCommerce Email Customizer is just, well, an email customizer. It doesn't offer features for designing signup forms, segmenting your contacts, or building automations. For these, you'll need a full-fledged email platform (like many of the platforms I've covered in this guide).
What we liked about WooCommerce Email Customizer
It's easy to design emails in WooCommerce Email Customizer. Just drag and drop content elements into your emails using the tool's email editor.
You can add dynamic product content to your emails and set up conditions to control which customers will see it.
Enrich your emails with data from other popular WooCommerce plugins that WooCommerce Email Customizer supports, such as Shipment Tracking by WooCommerce.
What WooCommerce Email Customizer could improve
WooCommerce Email Customizer only helps you customize your transactional emails. You can't use it to design or send marketing emails.
You can't set up email automations either.
WooCommerce Email Customizer pricing
$5.75/month (billed annually)
Who is WooCommerce Email Customizer best suited to?
WooCommerce Email Customizer is a useful niche tool if you want to customize your store's transactional emails and nothing more.
> Try WooCommerce Email Customizer's live demo
Picking the Best Email Marketing Tool for Your WooCommerce Store
The 15 email marketing solutions we've spotlighted in this guide are all great in their own ways, so let's end off by recapping their strengths.
The best email marketing platforms for WooCommerce are:
Got a question or two about any of these platforms? Leave a comment below and I'll get back to you!
Our Methodology
This article has been written and researched following our EmailTooltester methodology.
Our Methodology