As winter approaches, it's likely that you'll be getting ready for one of the most significant holiday shopping seasons of the year, and more importantly, the Black Friday weekend.
Black Friday isn't just about offering discounts; it's about engaging your audience, building a community, and creating memorable experiences for your customers, which will hopefully turn them into returning customers.
If you are struggling with putting together a Black Friday email marketing strategy, don't worry – we've got some top tips to help you get the most out of your 2023 Black Friday email marketing campaigns.
We've also added a whole section on free Black Friday email templates at the bottom, with links to the best templates on offer, so don't miss that!
12 Tips for a Winning Black Friday Email Marketing Strategy
In this article, we will provide you with 11 tips to create an effective Black Friday email strategy. So let's see how you can get your online sales flying through the roof this year.
1. Focus on List-Building
Your email list is one of your most important marketing assets. Black Friday is a great way to grow your list, so why not try something new:
Engaging Opt-in Forms: Revamp your email opt-in forms with compelling Black Friday deals such as VIP-only promo codes or exclusive access to a community. Make these forms visible on your website and social media channels.
Countdown to Black Friday: Start your Black Friday campaign at least two weeks in advance. The earlier you begin, the more time you have to attract and engage potential subscribers.
2. Increase Ad Budget and Targeted Campaigns
During the Black Friday event, more people will be searching the internet for a bargain, so why not make your budget a little bit more flexible during these times and try the following:
Strategic Ad Campaigns: Allocate a portion of your digital marketing budget to targeted ad campaigns. Focus on acquiring new customers and growing your email list by promoting exclusive Black Friday offers or giveaway competitions.
3. Re-engage Past Customers
With so many special offers being launched during the Black Friday weekend, it's the perfect opportunity to reengage old customers by implementing some exciting new marketing strategies:
Win-Back Email Sequences: Craft win-back email sequences to re-engage customers who last interacted with your brand a while ago. Personalize these Black Friday emails based on their past purchases from your online store and offer tailored recommendations for new products.
VIP-Only Black Friday: Inform past customers about your upcoming VIP-only Black Friday sale. Highlight the exclusivity and that they'll receive early access to your sale.
4. Create a VIP Group and Foster Exclusivity
Creating a VIP group is a great way to gather your most loyal customers. You can immediately create a sense of exclusivity for them by introducing the following campaigns:
VIP Waitlist Offers: Send newsletters to your subscribers, offering them exclusive access to a waitlist for your VIP Black Friday Event. Clearly communicate the benefits of being on the waitlist, such as limited-time discounts and early access to products.
Personalized Follow-up Emails: Follow up with waitlist members, expressing your appreciation for their loyalty. Offer sneak peeks into the Black Friday deals to get the excitement going!
5. Test Your Email Campaigns
By testing your Black Friday campaigns you can improve your metrics (e.g. the deliverability and open rate), increase conversions, and most importantly, find out what's generating sales.
A/B Testing: Conduct A/B tests for your email campaigns to enhance performance. Evaluate the key metrics of two different emails using a small sample of your email subscribers, and later send the better-performing version to your entire email list.
Device Testing: Use responsive email templates to ensure that your email campaigns are compatible across various devices. With so many customers using their mobile devices to shop online, it's important to ensure that your emails look good on these devices.
6. Implement Upsells and Cross-Sells
Upselling and cross-selling is not only a great way of enticing your customers into spending more money during your Black Friday sale, it also provides your customers with a better, more personal shopping experience. Consider the following techniques:
Product Bundles: Create attractive product bundles and offer them at a discounted price. Encourage customers to upgrade their purchases by showcasing the value of bundled items. For example, a company selling knitted hats might want to create a bundle that also includes gloves and a scarf.
Cross-Sell Recommendations: Utilize customer purchase history data to recommend related products, to which they can apply a Black Friday discount.
7. Show a Range of Discounts
We know that offering a huge Black Friday discount on everything might not be feasible for your brand. However, if you choose to have a small selection of items with larger discounts, it's a good idea to promote a variety of discounts instead of a single percentage.
Tiered Discounts: Choosing to have a small selection of items with larger discounts, and a variety of lower discounts on other items, helps to create a sense of variety and choice for your target audience.
8. Create Urgency with Countdowns and Limited Stock Alerts
As your Black Friday sale is such a time-sensitive event, it's important to remind your customers that these offers are only available for a limited time. You can persuade your customers to take immediate action when it comes to buying by using the following methods:
Countdown Timers: Incorporate countdown timers in your emails and website banners. Set timers for specific deals and emphasize the limited time remaining until you reveal the Black Friday discounts.
Low Stock Alerts: Implement low stock alerts for popular products. Notify customers when a product is running out of stock, encouraging them to make a purchase before it's sold out. Of course, this should always be based on the truth and not simply employed to manipulate users into buying.
9. Utilize Abandoned Cart Sequences
Unfortunately, things can get in the way between the buyer and the Pay Now button, so when this happens, make sure you follow up with your audience:
Engaging Abandonment Emails: Craft engaging and playful cart abandonment emails. Use creative copy and visuals to remind customers of their abandoned items and highlight the benefits of completing the purchase.
Exclusive Recovery Offers: Include exclusive recovery offers, such as additional discounts or free shipping, to incentivize customers to return and complete their purchases.
10. Offer Value Instead of Deep Discounts
Sometimes e-commerce customers find freebies more interesting and tempting than a discount, quite literally because of the use of the word "free". Try to increase your consumers' spending activity by highlighting the following incentives:
Freebies with Purchases: Offer free gifts, free shipping, or limited-edition items with qualifying Black Friday purchases. Clearly communicate the conditions for receiving the gift, creating a sense of value and exclusivity to your customers.
Value-Added Services: Provide value-added services, such as free customization, extended warranties, or free consultations, to enhance the value of purchases during the Black Friday event.
11. Make Buying Decisions Easier
Customers expect a seamless and enjoyable online shopping experience, which is especially important during the Black Friday weekend, as you'll be competing more than ever for their attention. Make their buying decisions easier with the following tactics:
Customer Favorites: Showcase best-selling and customer-favorite products. Create a curated list of products that are highly reviewed by other customers, making Black Friday buying decisions easier for online shoppers.
Simplified Categories: Simplify product categories during the Black Friday sale. Group products into clear and distinct categories, allowing customers to navigate the sale easily and find relevant items without feeling overwhelmed.
12. Black Friday Follow-ups and Exclusive Promos
Maximize the potential of your Black Friday email strategy by following up immediately after the sale. This helps to nurture customer relationships and maximize the long-term value of your online store.
Post-Event Thank You: Send a thank-you email to all customers, expressing gratitude for their support during the Black Friday email sale. Include a personalized message and a token of appreciation, such as a discount code for their next purchase.
Exclusive Post-Event Promo: Offer an exclusive post-Black Friday email promo to your VIP customers as a gesture of appreciation. If you work in the tech industry, then Cyber Monday would be an obvious event to promote. Provide them with a limited-time offer or access to a unique product selection, reinforcing the value of their loyalty.
So there you have it, 11 Black Friday email marketing ideas you can work into your 2023 strategy. Of course, you're going to need some well-designed, engaging email templates to use in your campaigns!
Free Black Friday Email Templates
We've gathered our favorite Black Friday email templates from some of our top email marketing providers. The best part is, that many are free to use! Check them out below:
Omnisend Black Friday Templates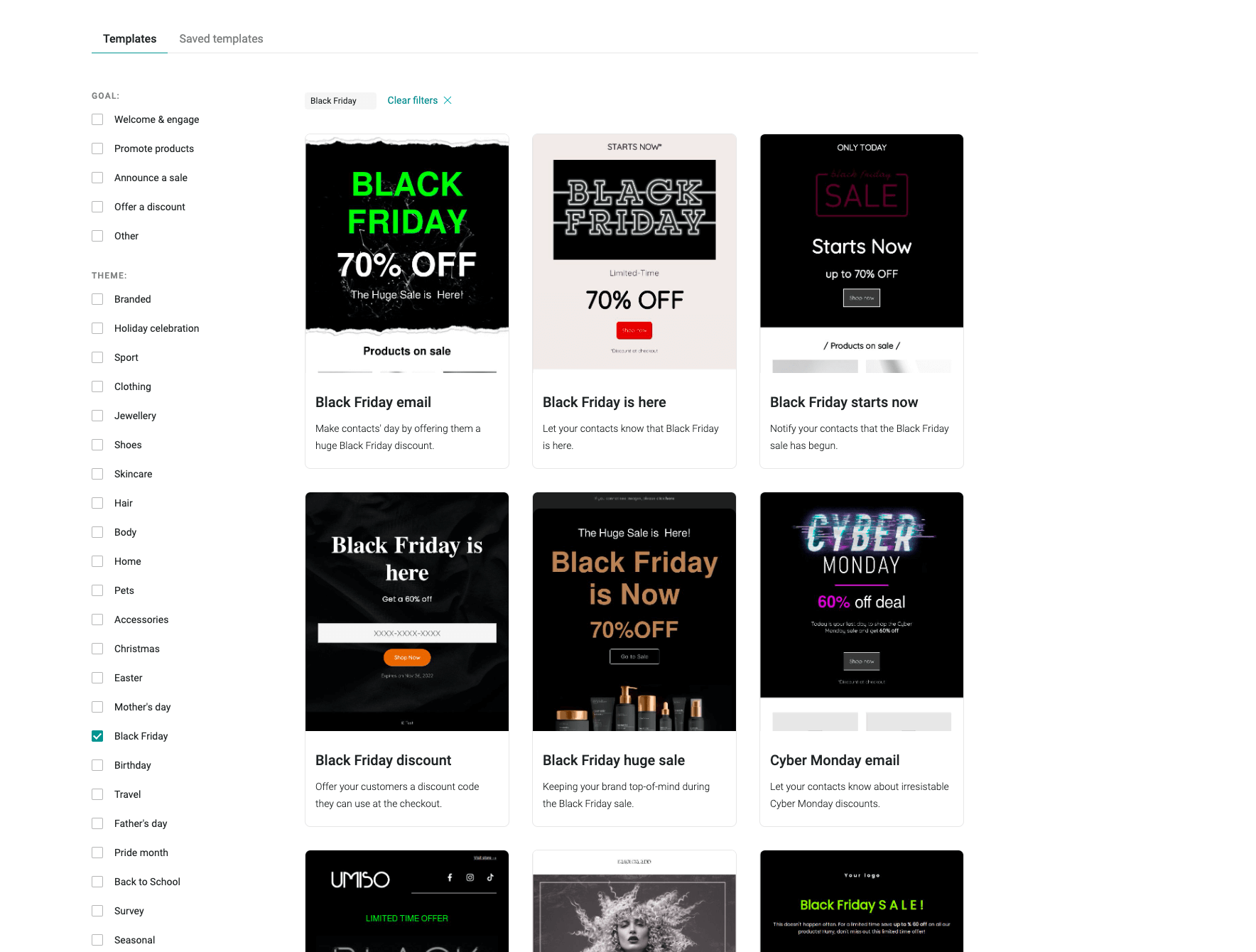 Omnisend is such a key player in the e-commerce world, so there's no wonder that it offers such a strong selection of Black Friday email templates. There are 20 available, and they even dedicate a whole section to Black Friday within their template library. With such a broad selection of sleek designs, it was hard, but we managed to select a couple of our favorite designs.
Omnisend Black Friday Email Template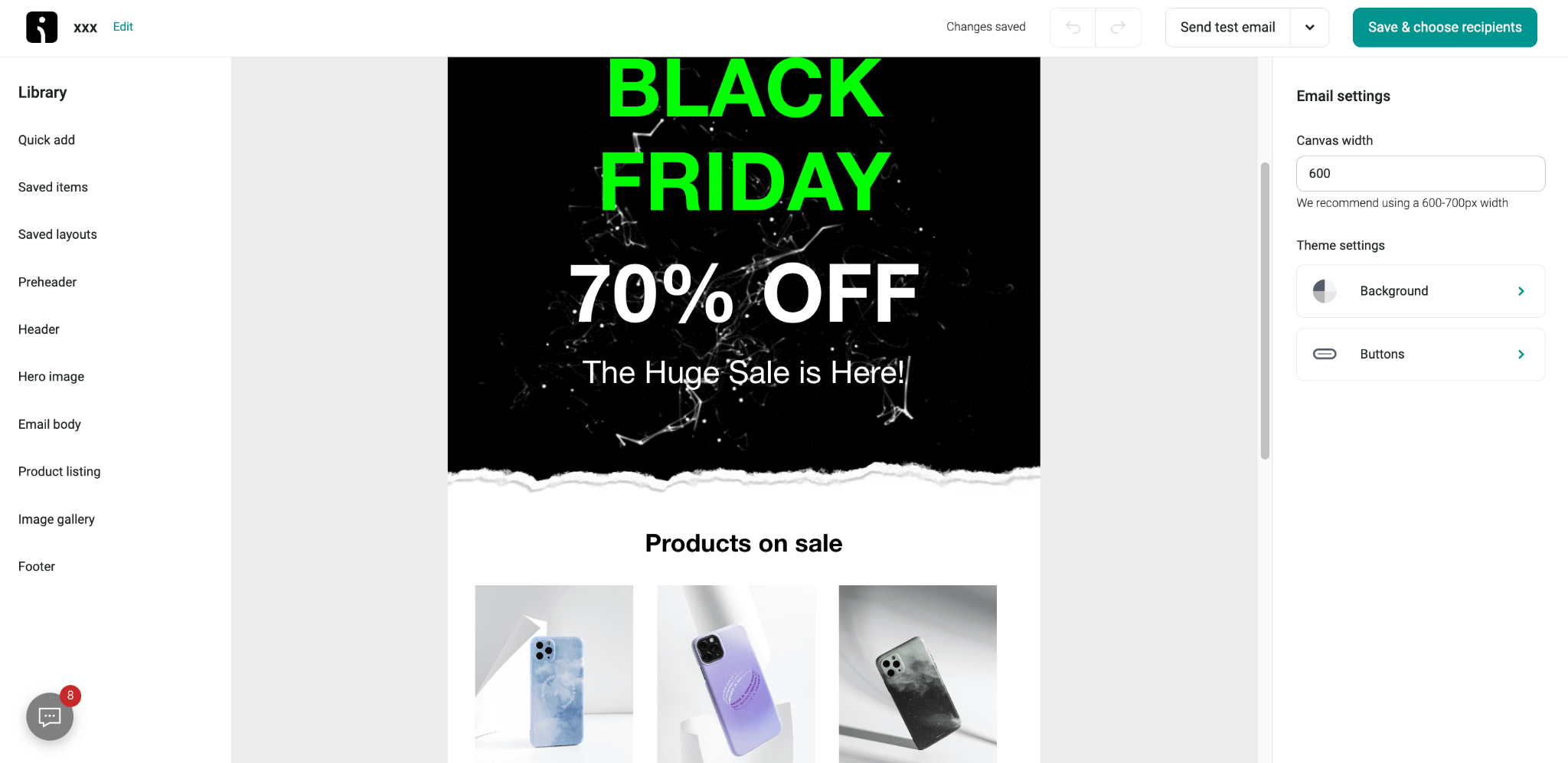 This Black Friday email design is simple and minimalistic. It uses eye-catching colors, such as bright green lettering and white-on-black contrast, to draw attention to the huge discounts on offer. By choosing to showcase some of the products on sale, you can let the products speak for themselves. This should be more enticing to your audience rather than a simple CTA.
Omnisend Black Friday and Cyber Monday Email Template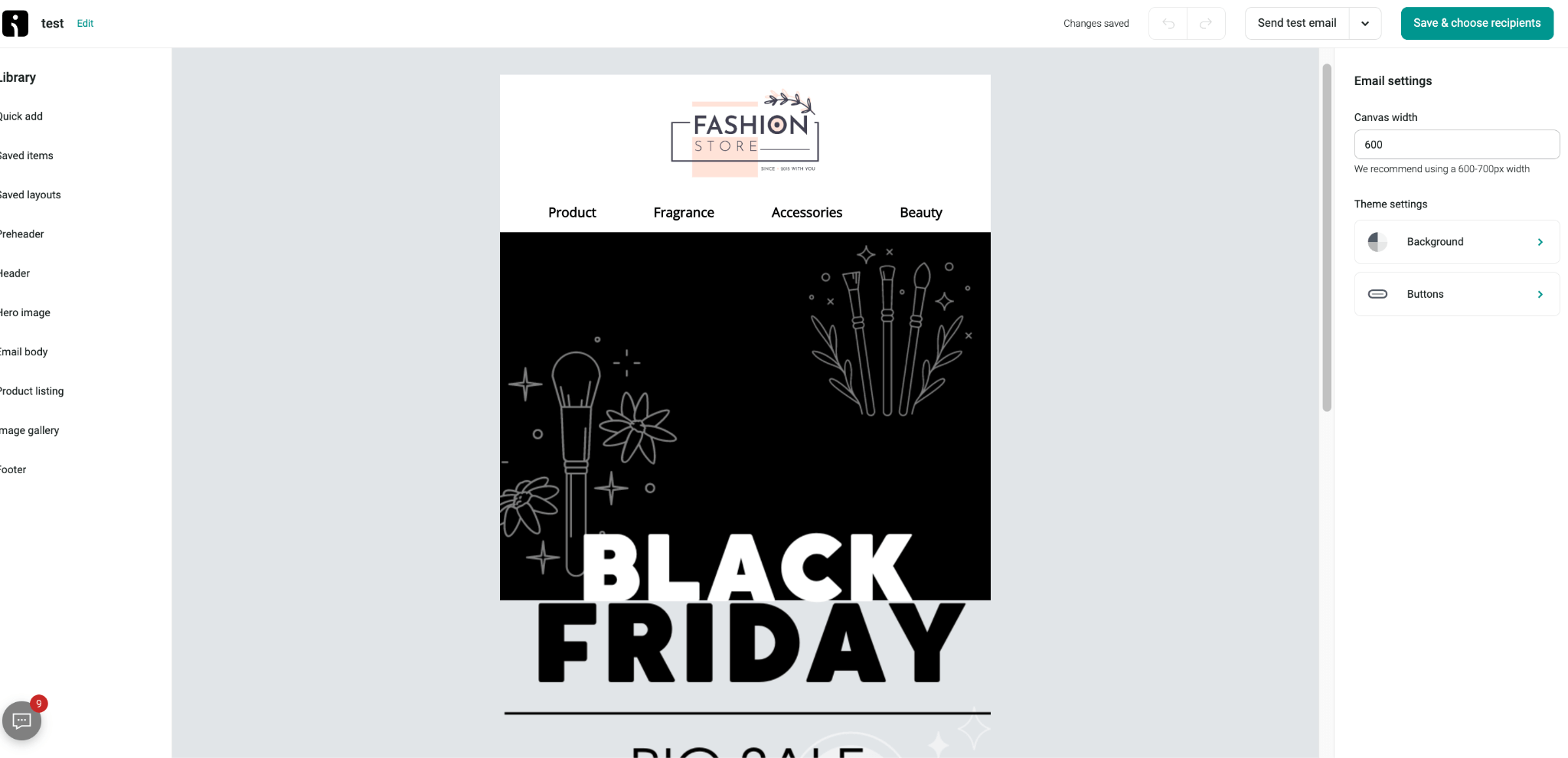 This template by Omnisend is minimalistic and shows off the Black Friday sale in an editorial, stylish way. You could personalize this template to look exactly like your website. The product category CTAs help to create a user-friendly experience for your audience.
Moosend Black Friday Templates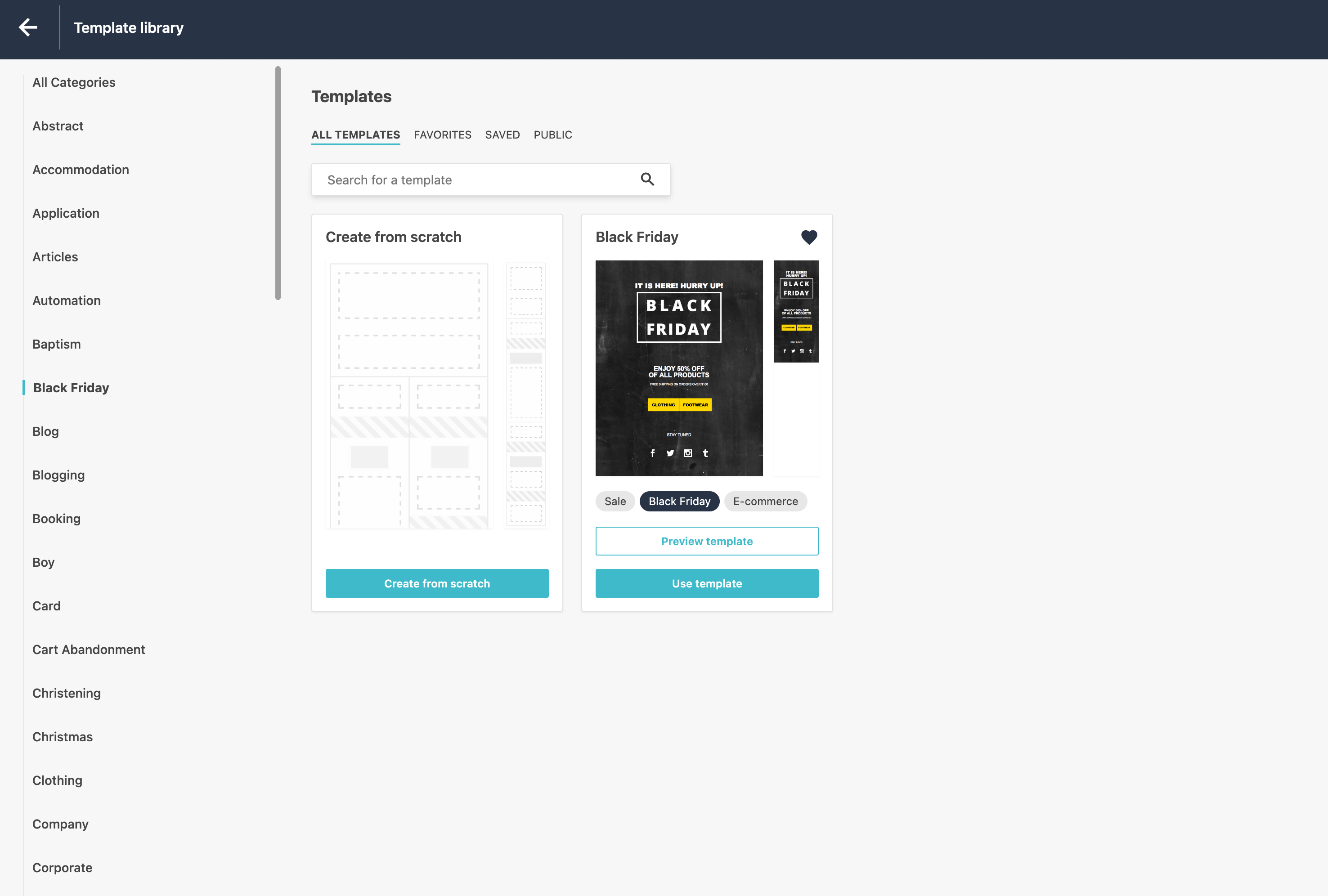 Moosend offers a great selection of e-commerce email templates. From basic designs to more complex email newsletter templates, they offer a pretty good selection. Let's take a peek:
Basic Black Friday Template: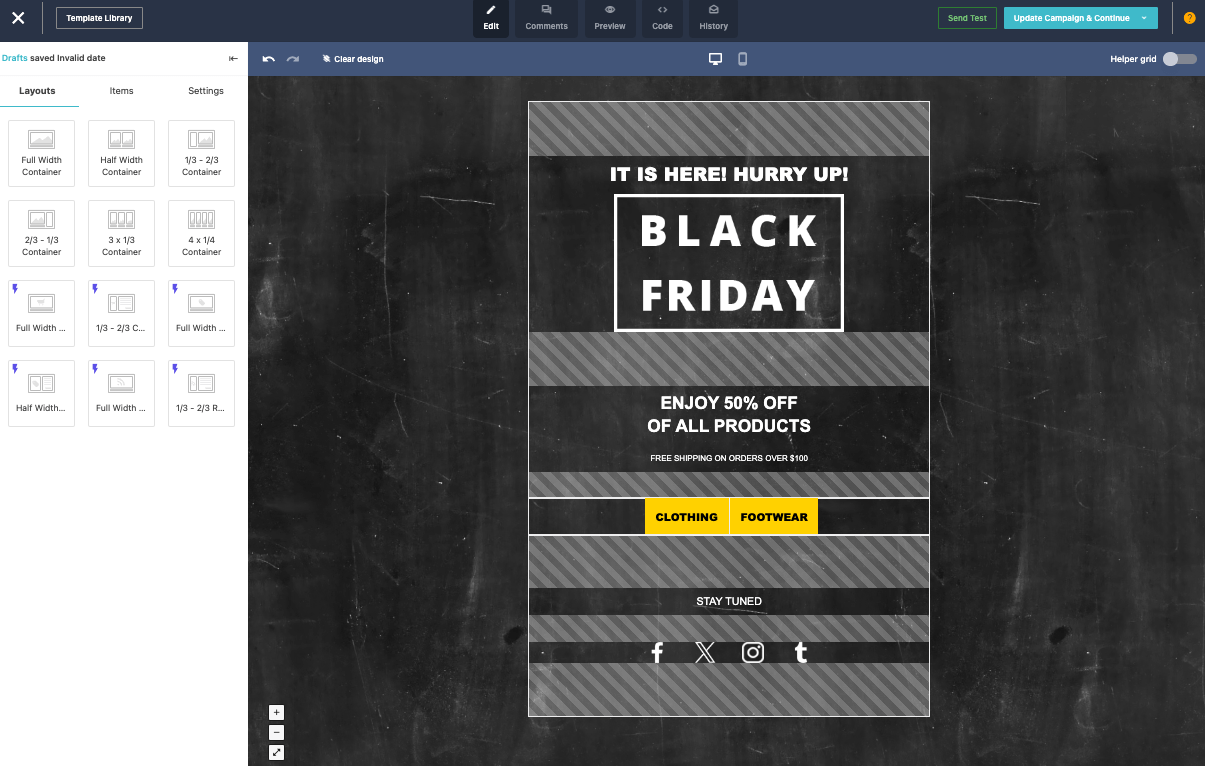 This template is an excellent choice if you are looking to create an effective Black Friday email campaign. Its sleek, responsive design and customization options make it a valuable tool for maximizing your Black Friday sales. With its user-friendly email editor, you can easily edit discount codes, CTAs, and more.
Single Product Promotion Email Template: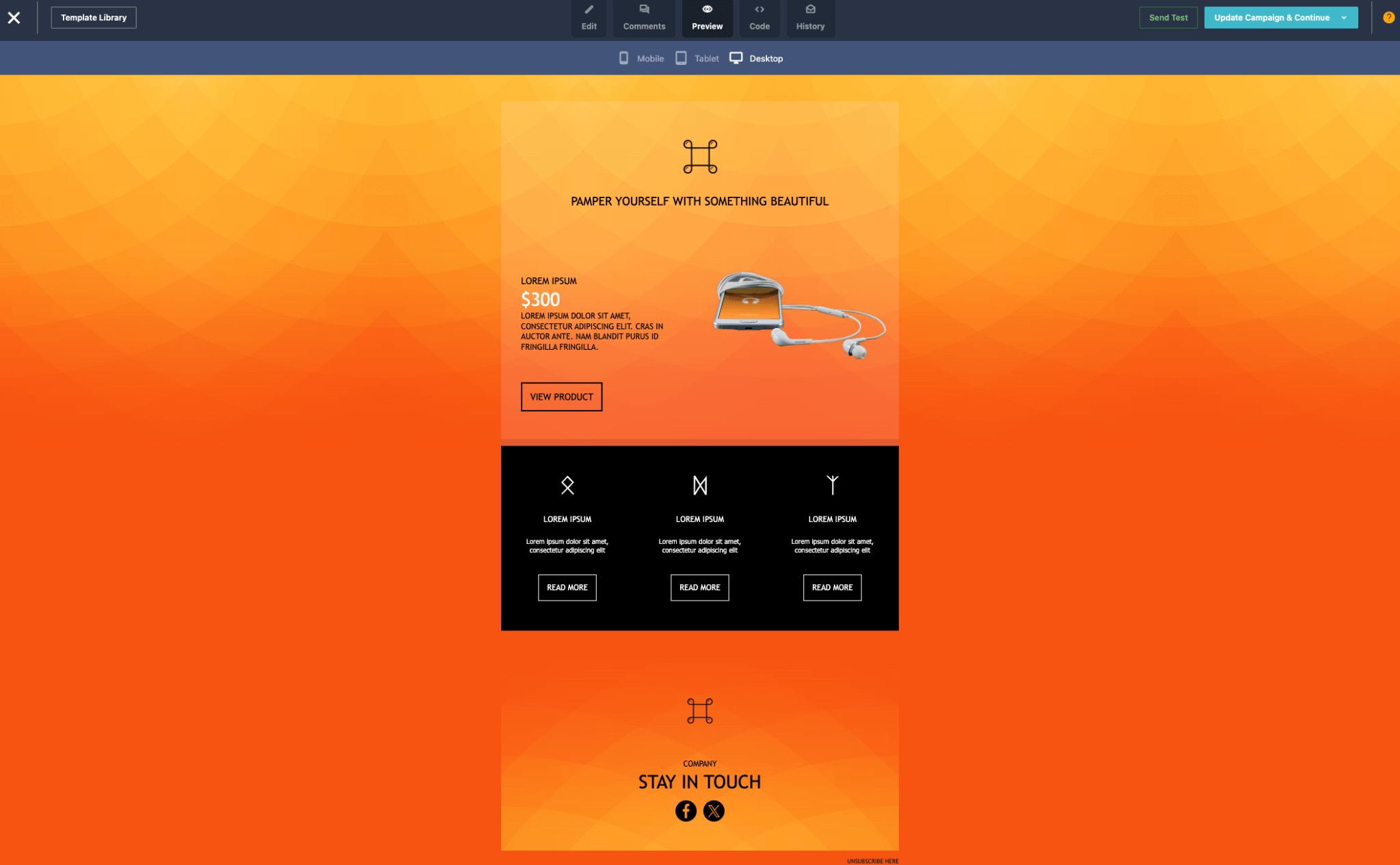 This email template is meticulously designed to focus on one standout product, making it perfect for highlighting your latest or best-selling item during Black Friday weekend. With a clean and well-organized layout, it ensures that your product takes center stage. The result is an email that not only looks great, but also encourages recipients to go ahead and make that purchase.
Brevo Black Friday Templates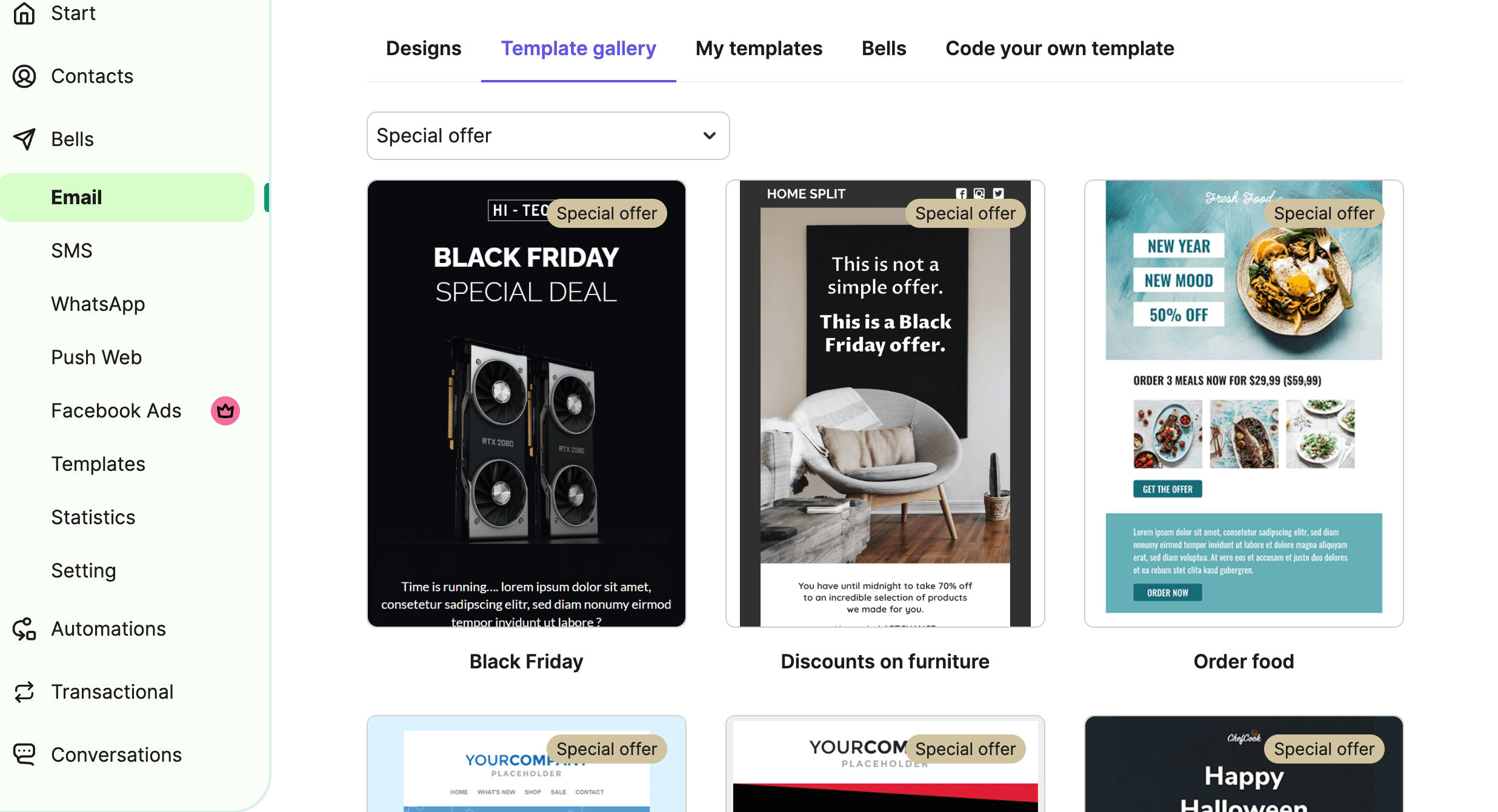 We rate Brevo pretty highly, due to its excellent value for money. So it's no surprise that Brevo offers an impressive array of e-commerce email templates perfectly suited to your Black Friday campaigns. So let's dive in and explore what Brevo has in store for you…
Brevo Cyber Monday Email Template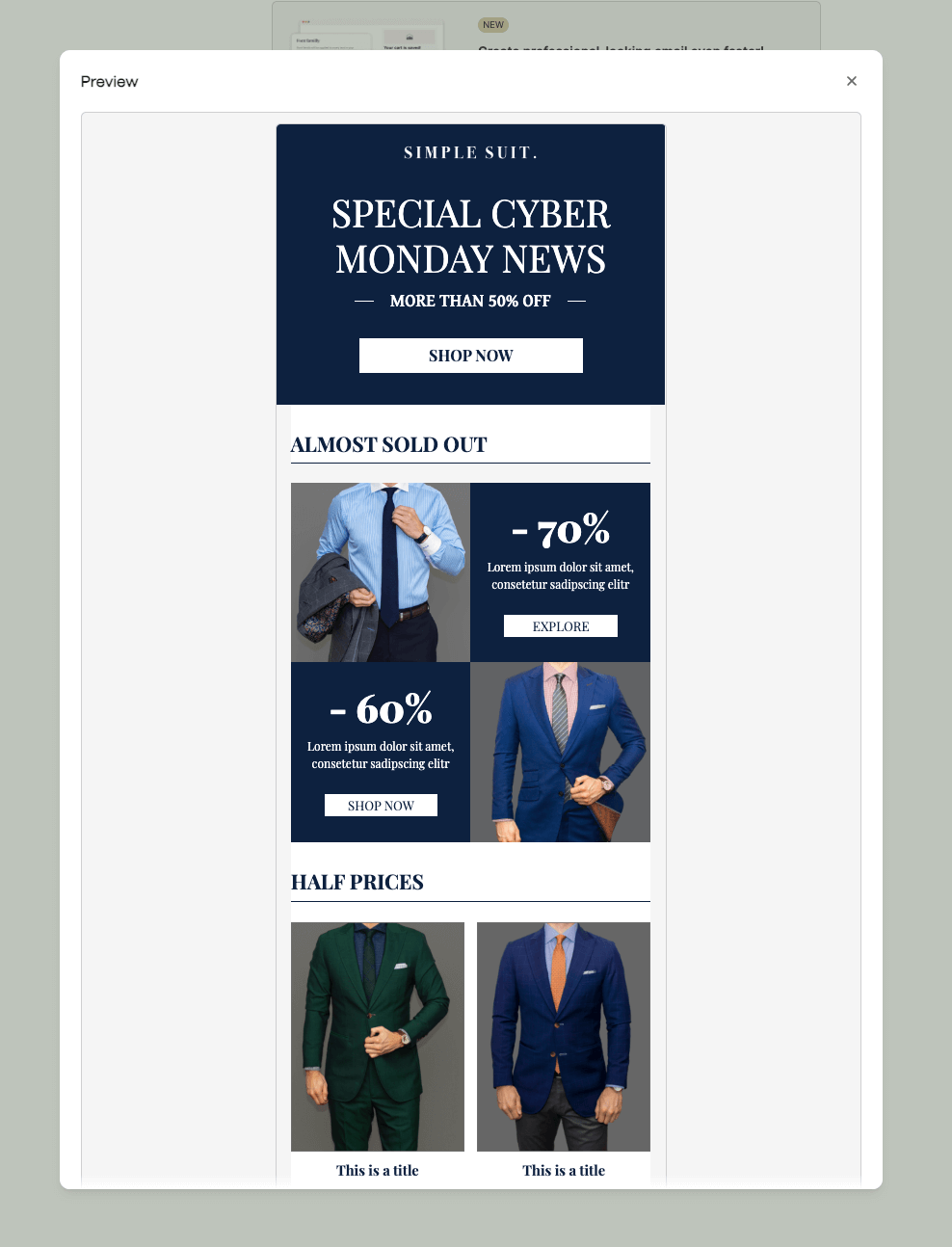 The Brevo Cyber Monday sale template features an eye-catching design with a strong layout and clear typography to highlight exclusive Cyber Monday deals and promotions. Discounts and CTAs are displayed clearly, making this a great email template for showcasing popular and relevant Black Friday or Cyber Monday deals.
Brevo Black Friday Template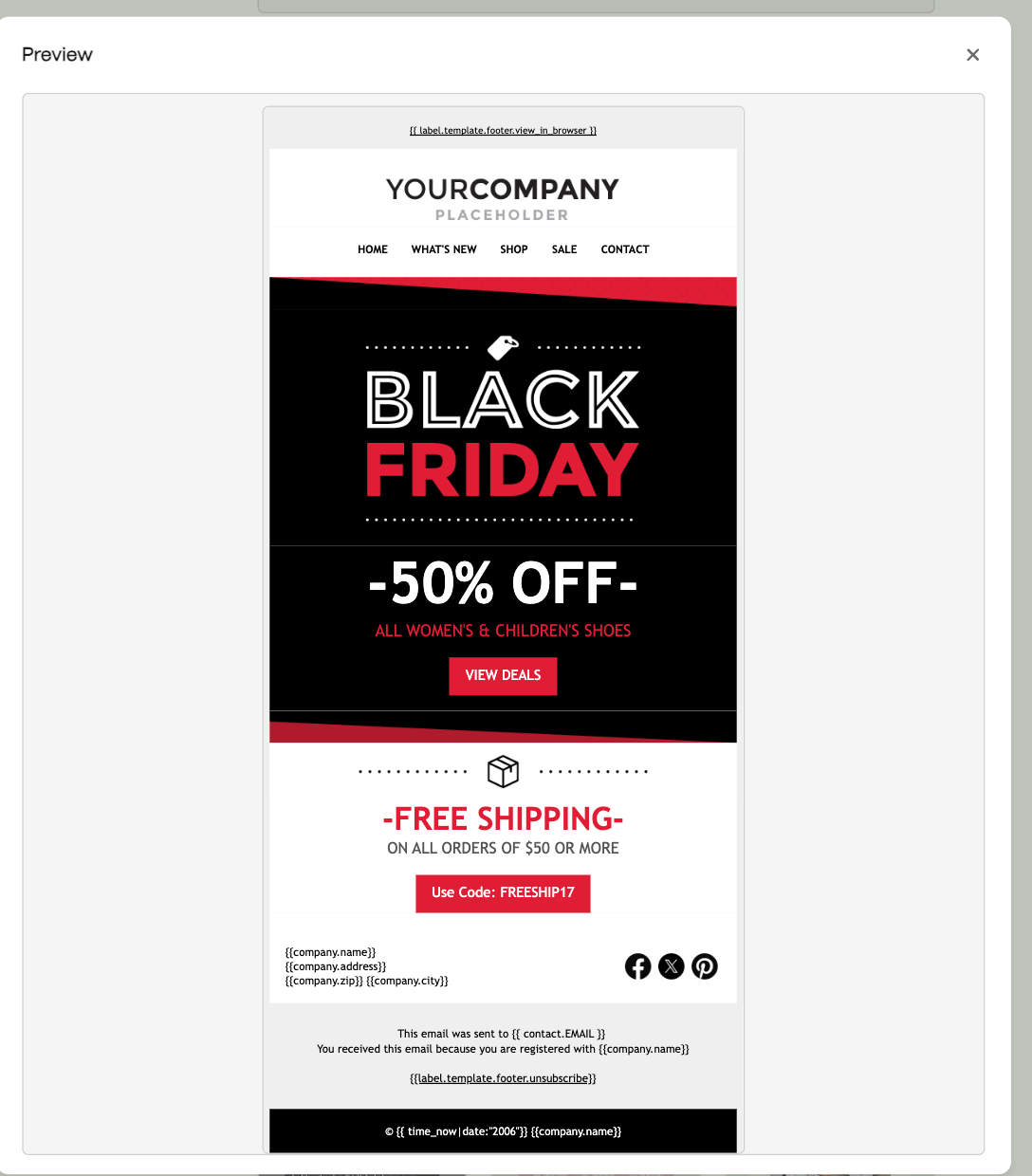 The Brevo Black Friday template has a captivating visual layout, promoting the Black Friday discount. The bold typography, strategically positioned call-to-action buttons, and overall modern-looking design make this an awesome Black Friday email template for enticing and engaging customers.
GetResponse Black Friday Templates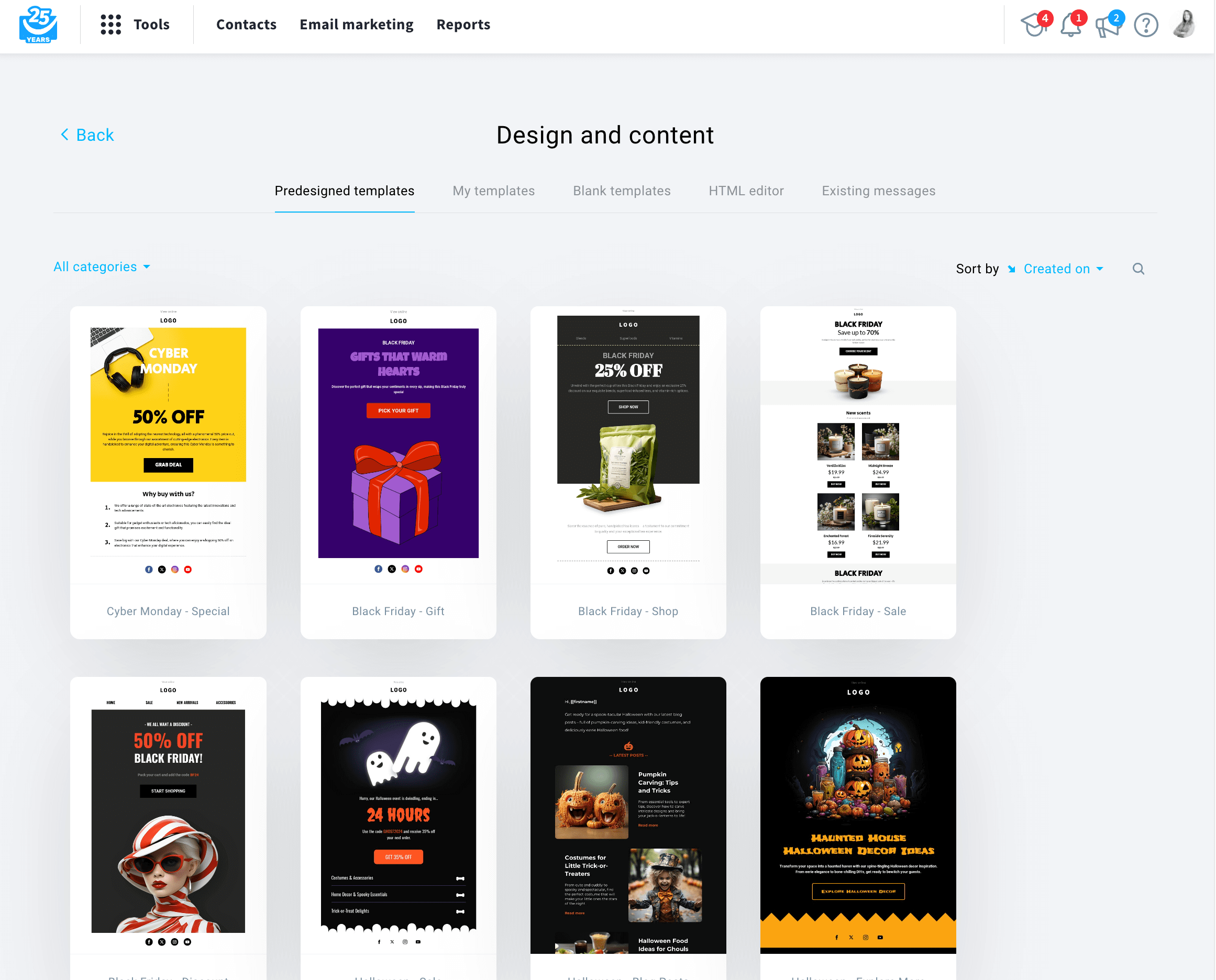 GetResponse is another excellent email marketing provider for e-commerce. It offers a nice selection of simple yet effective designs to showcase your Black Friday products and discounts. Let's see which templates GetResponse has on offer this Black Friday…
GetResponses's Black Friday: Super Sale Template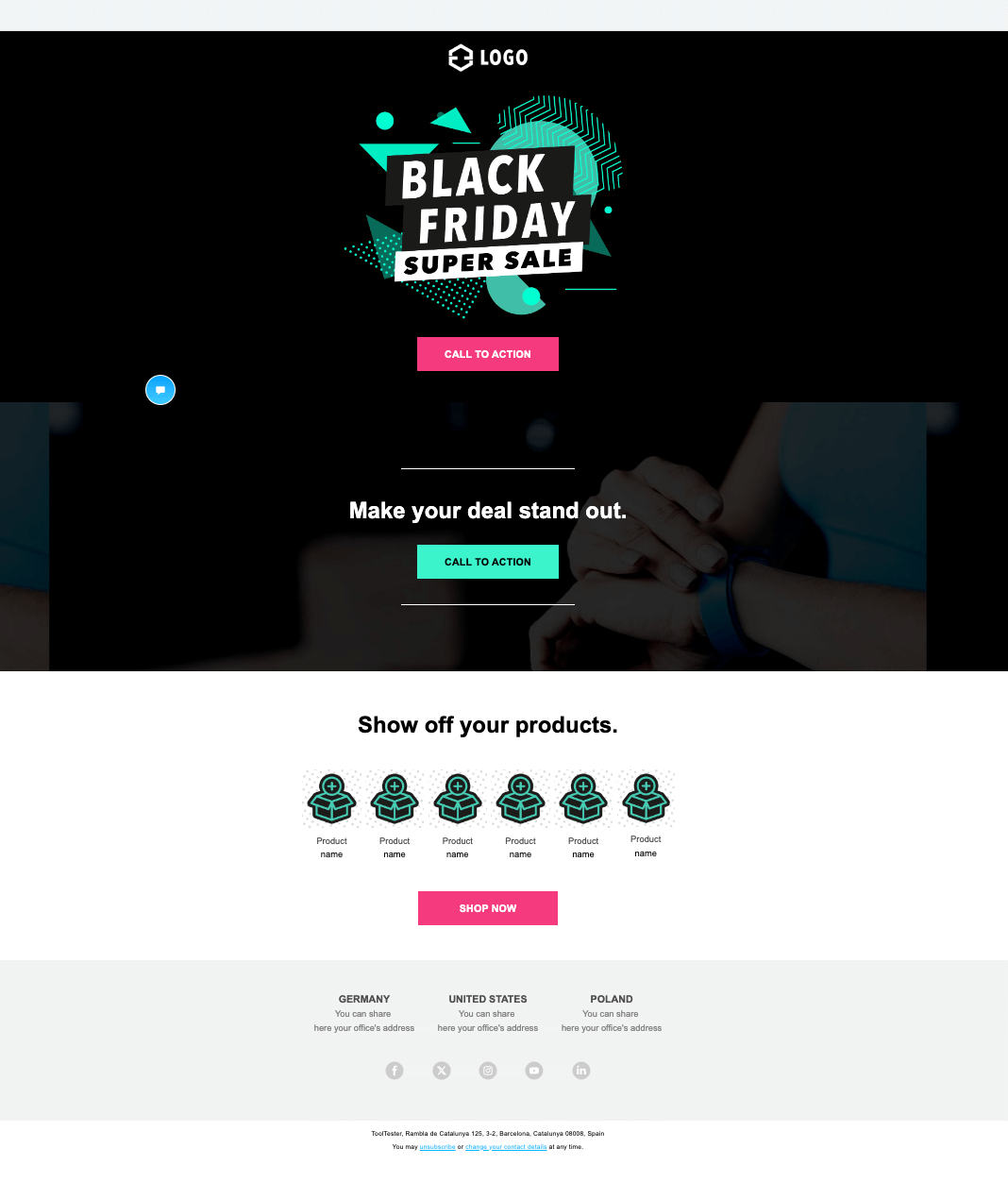 This Black Friday template by GetResponse features bold, attention-grabbing visuals, strategically placed call-to-action elements, and space to showcase your products. This template effectively spotlights exclusive Black Friday promotions for your company.
GetResponse Black Friday Promo Template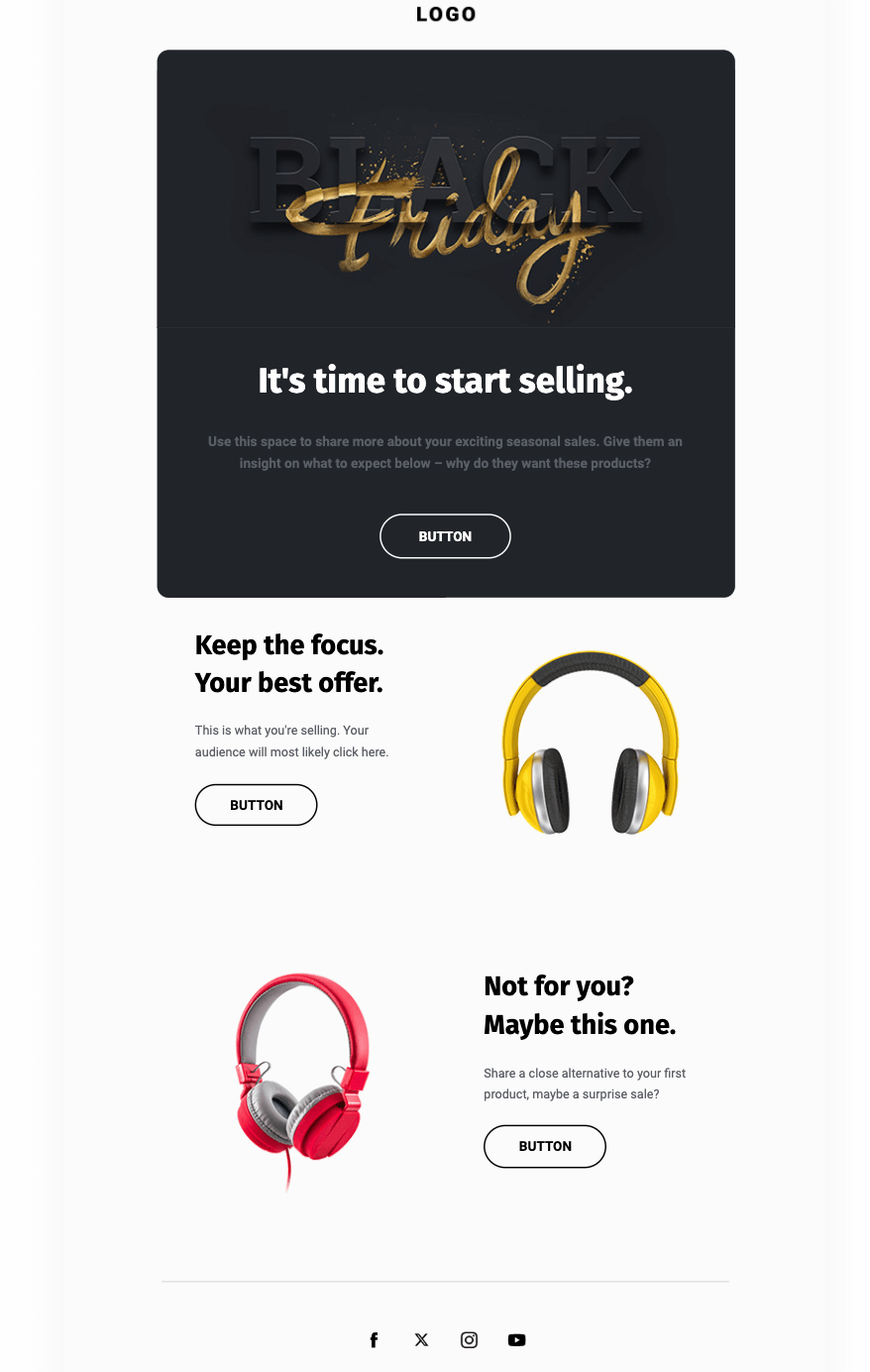 The "Black Friday Promo" template stands out as a marketing gem, combining a sleek and modern design with effective product showcasing to make Black Friday promotions truly pop. This template provides an ideal backdrop for product presentation, allowing businesses to spotlight their Black Friday offerings effectively.
ActiveCampaign Black Friday Templates
ActiveCampaign provides a diverse selection of email templates, catering to various needs. Its selection ranges from sleek and straightforward designs to intricate newsletter-style layouts. Check out these effective Black Friday templates from ActiveCampaign.
ActiveCampaign Black Friday Template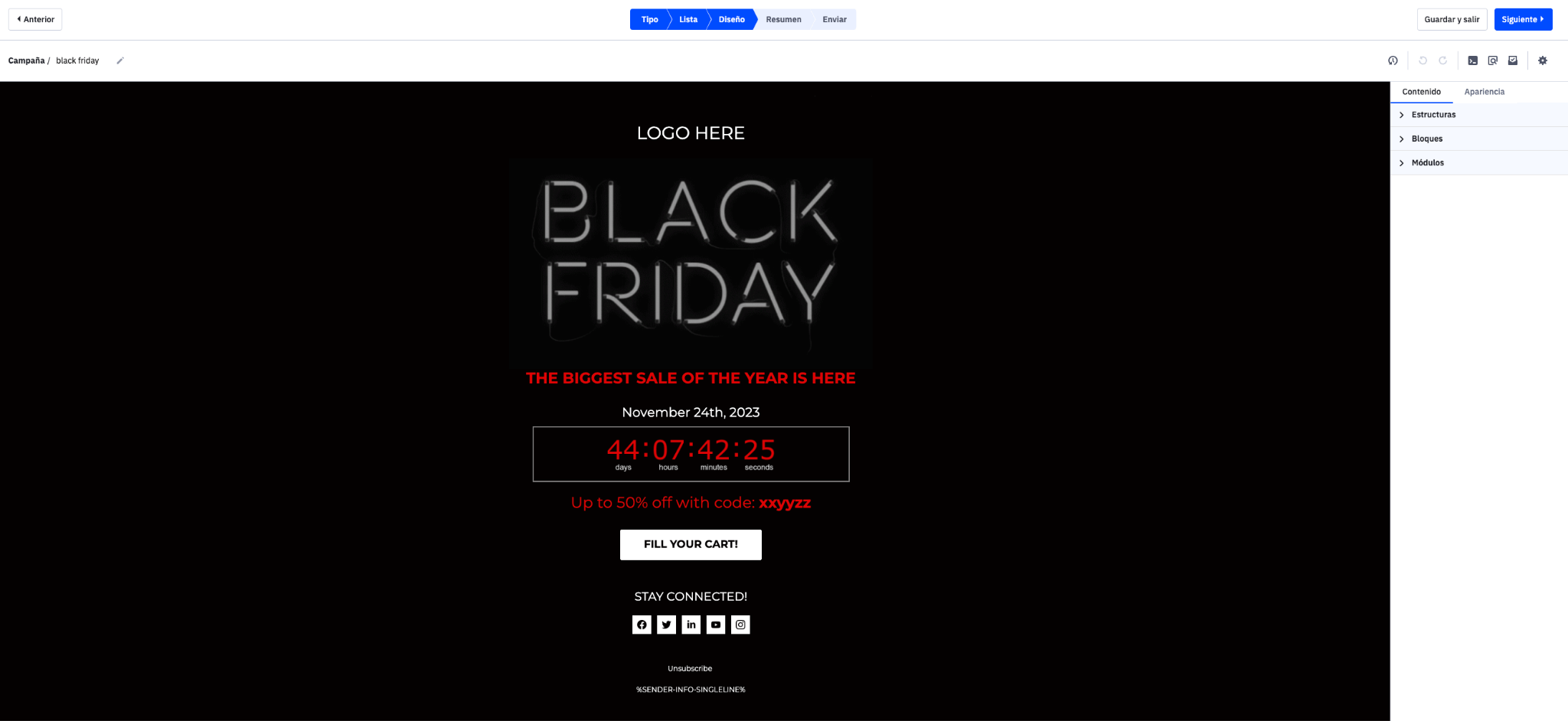 With its bold design, this template serves as a powerful tool to drive traffic to your online store, increase conversions, and help you make the most out of your Black Friday campaigns. The countdown timer creates urgency, and the well-placed call-to-action button is used to entice users to go ahead and make a purchase.
ActiveCampaign Black Friday: Product Template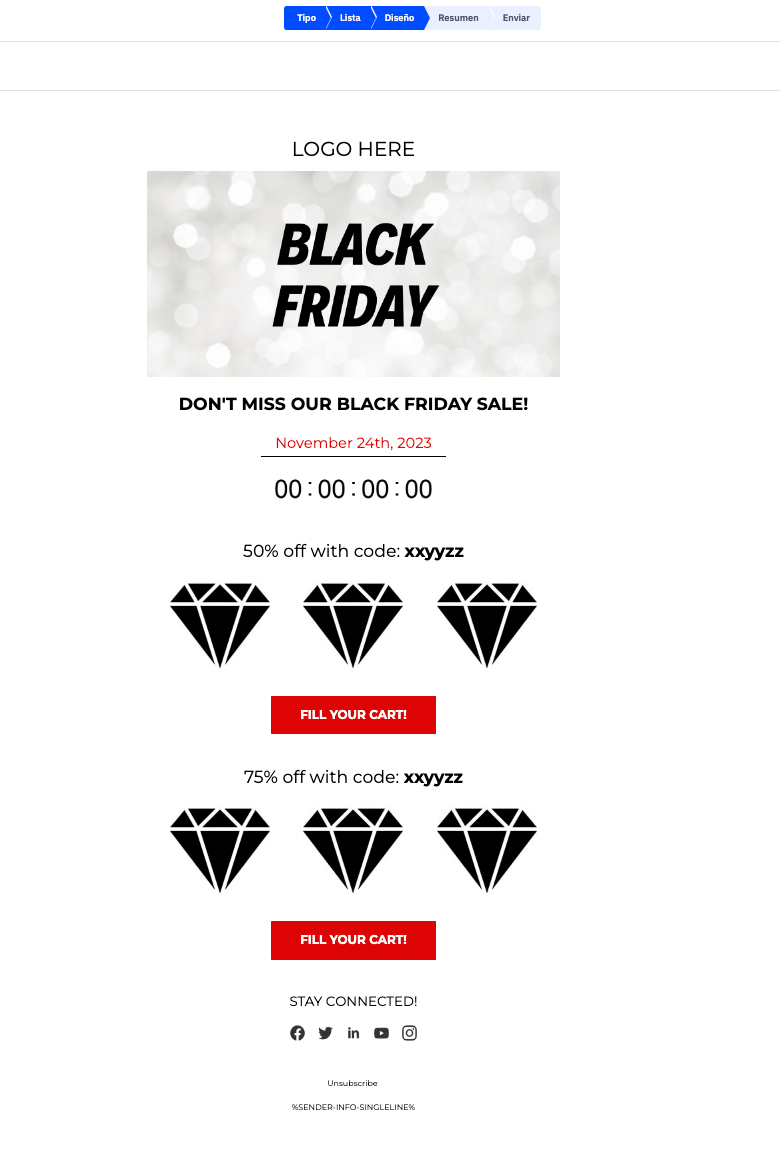 This ActiveCampaign Black Friday template helps you to effectively showcase your products. The template features a discount code, an eye-catching banner, and a well-structured selection of CTAs to persuade your subscribers to make a purchase.
Our Top 5 Black Friday Email Marketing Examples
We've gathered some excellent Black Friday email examples to boost your competitiveness during this busy shopping weekend. Keep reading to find out what makes these emails stand out.
Holland and Barret – Last Chance Email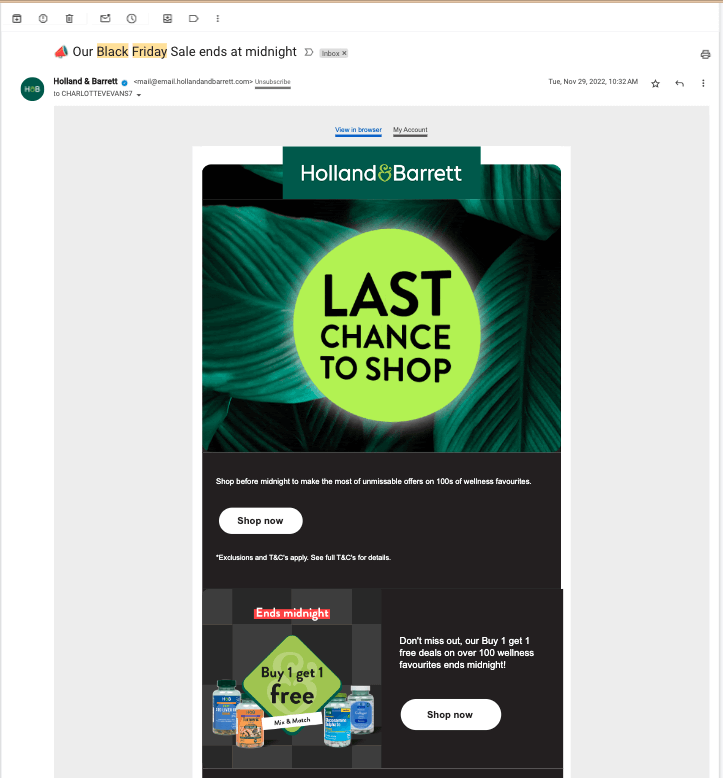 We really like this design, it's a cool and inspiring Black Friday email example. The font colors are bright and eye-catching, and the overall design is super-clean.
The message is simple, but it gets right to the point: hurry up and shop now because this is your last chance! They also display a selection of discounts, from freebies to half-price items, providing a nice variety of deals for their audience.
Superdrug – Countdown Timer and Discount Code Email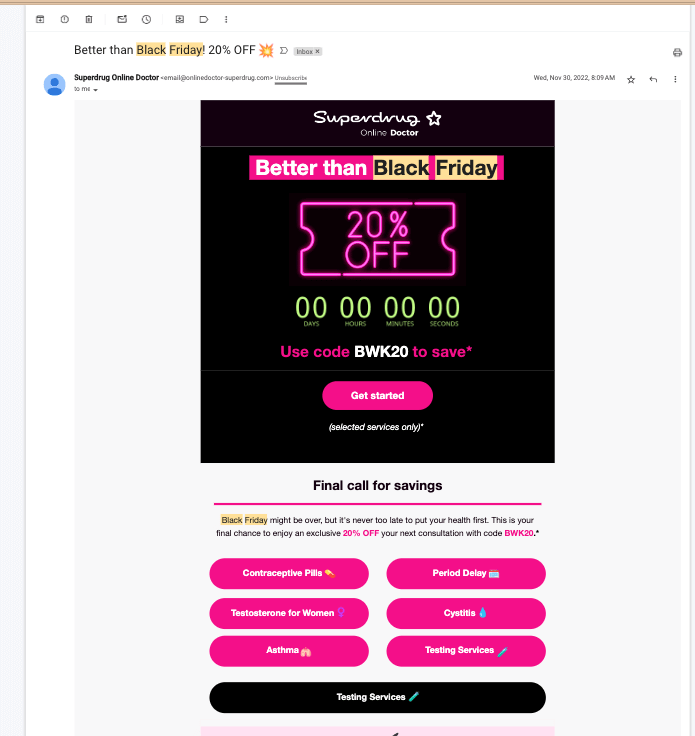 As we mentioned, it's a good idea to extend your Black Friday sale for your customers, as this gives anyone who missed out on the opportunity previously, to come back and spend, spend, spend. In this Black Friday email campaign, Superdrug is offering 20% off to their customers almost a week after the initial sale, which is a pretty generous deal.
The various CTAs are helpful as the different categories guide customers to the right place and make their online shopping easier.
Virgin Experience Days – Cyber Monday Best Deals Email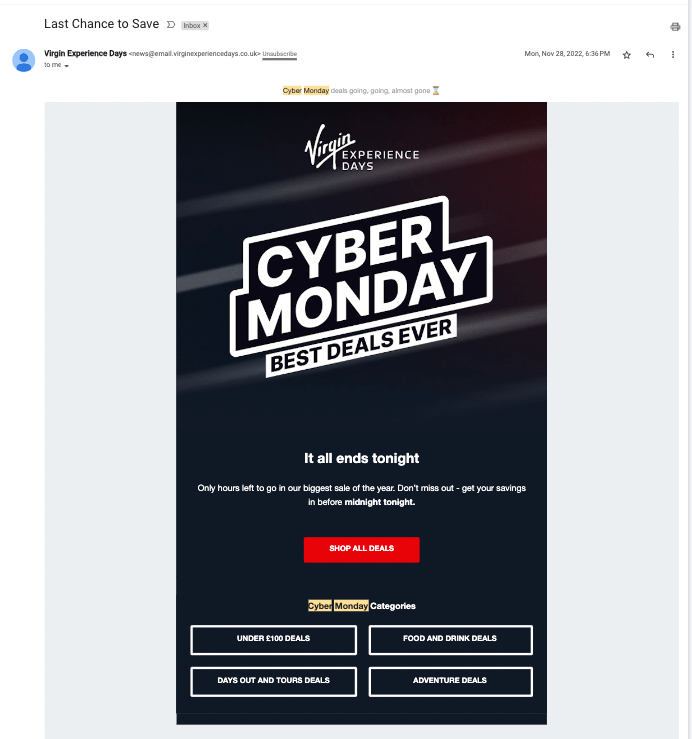 This sleek design by Virgin is simple yet effective. In this Black Friday/Cyber Monday announcement, they've used a minimalist approach that highlights that their "best deals ever" are ending tonight, pushing customers to act now.
Instead of using any imagery, they've chosen a classic black-and-white palette with a tempting red CTA. The email design is remarkably simplified, but it accomplishes its goal – making the audience want to shop the deals before they end!
Carhartt – Early Access Email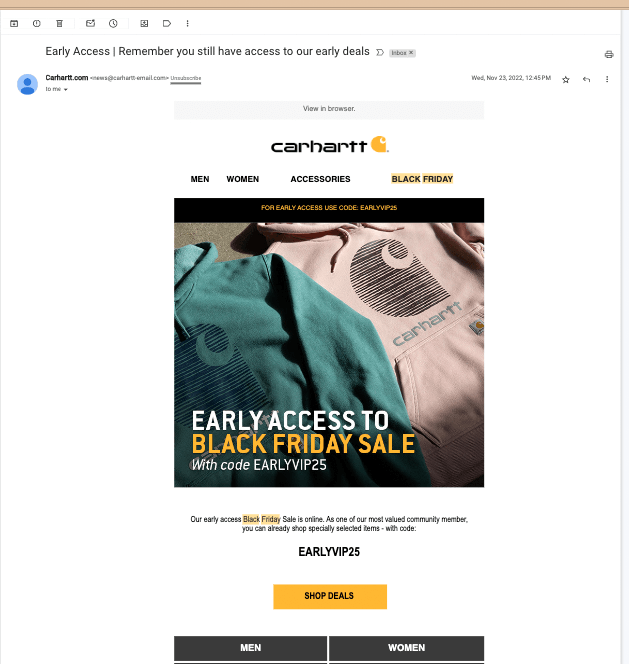 An effective Black Friday email marketing technique involves giving your loyal customers an exclusive preview of your sale. This feeling of early "VIP" exclusivity not only distinguishes this email from other Black Friday messages, but also helps your customers to feel valued. This leads them to immediately click and see what's on offer.
Forever21 – Scratchcard Email Campaign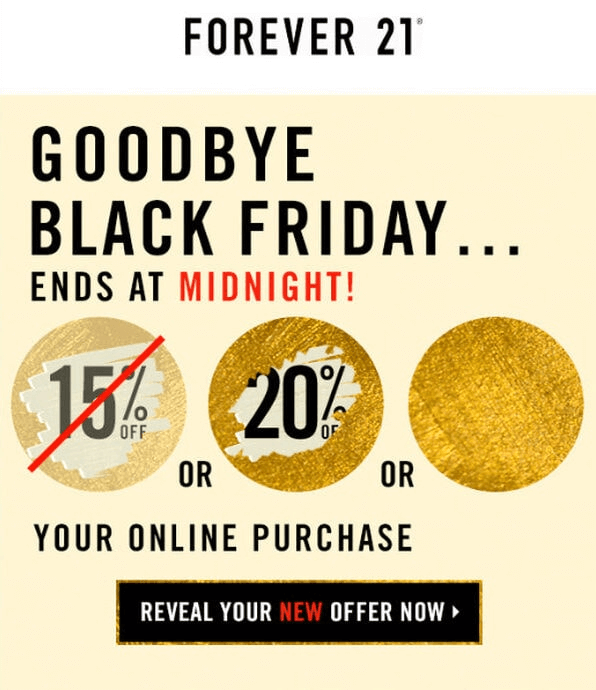 We've saved our favorite design for last…
This Forever 21 Black Friday scratchcard campaign is a definite winner. People have a fascination with finding hidden surprises on scratch cards, and that's exactly why Forever 21's email design is so clever and out of the box.
By creating the urge for their audience to scratch these cards, they've made sure that their recipients will click through to reveal the additional offer. They also add the urgency of "ends at midnight".
Final Thoughts: Black Friday Email Marketing
By following the above strategies, you can create an engaging Black Friday email marketing strategy that boosts sales and strengthens customer relationships and loyalty. Remember, efforts should be made before and after Black Friday to ensure that you can get the most out of this unique shopping date.
By using an email marketing platform, your Black Friday email marketing efforts can really take off, and you can save time by automating email sequences and tasks. What's more, as we've seen above, you'll have access to cool templates to keep your branding on point!
We hope this advice helps you to feel confident in executing a successful Black Friday email marketing strategy. Good luck!
Feel free to share how you get on in the comments below.
Our Methodology
This article has been written and researched following our EmailTooltester methodology.
Our Methodology