Did you know that, back in the day, 90% of the Obama campaign's online donations were made through email? That's almost $690 million generated over a two-year period.
Clearly, electorates read emails and respond positively to them. Many are often eager to hear your campaign's message. Research shows that government and political emails open at a rate of 28.77%. It's considerably higher than the average open rate, which is 21.33%.
But getting them to open the message is only half the battle. To win, or at least, retain their confidence and trust, you need a strong political email marketing strategy.
In this article, we'll go over the best practices for engaging subscribers and gaining their support through email marketing. But before we get into that, let's look at why this platform works so well for political campaigns.
Why Run A Political Email Marketing Campaign
Generic political messages can easily get lost in the shuffle. Email marketing offers a solution to this challenge. Here's why it's worth the investment.
Boosts Fundraising. As the Obama campaign demonstrated, sending emails regularly inspires donors worldwide to support fundraisers. The key is to tap into your subscribers' generosity and belief in your cause.
Locates Target Audience. Potential voters are already among the 4.26 billion global email users. There's no need to look far and wide. You only need to put political email marketing best practices in action to get results–which we'll discuss below.
Enables Personalized Messaging. Email marketing lets you tailor your mass emails for a more personal impact. Craft the right message for segmented groups based on voting history, age group, and geographic location.
Allows Direct, Immediate Response. A political email campaign offers direct communication that other platforms can't provide. Consider a politician responding to a recent controversy. Unlike public ads or website banners, emails deliver timely, nuanced messages straight to the voters' inboxes.
Builds Brand Credibility. With transparent and reliable messages, political campaigns build and fortify trust.
Fosters Interactivity. 60% of people are likely to engage with an interactive email. It's a handy approach to increase engagement and foster a sense of inclusivity. You'll learn more about it in one of the tips below.
These benefits depend on how optimized your political campaigns are. Optimizing your campaigns involves strategic planning, data analysis, and a keen audience understanding.
9 Best Practices For Running A Political Email Campaign
The following best practices can help fine-tune your political email marketing initiatives:
1. Create a High Quality Mailing List
Unlike vote counts, your mailing list should focus on quality (not quantity). Purchasing a collection of email addresses has many disadvantages. Your emails are likely to end up in someone's spam folders. Even worse, people who didn't sign up for them might get put off by this sneaky tactic, which could end up harming your reputation and credibility.
Fortunately, attracting a high-quality audience only requires you to play by the rules. The first step is to set up a subscription form on your website. Many political campaign websites place a small one at the footer of the homepage. You could even feature one more prominently on the homepage, as in the following example: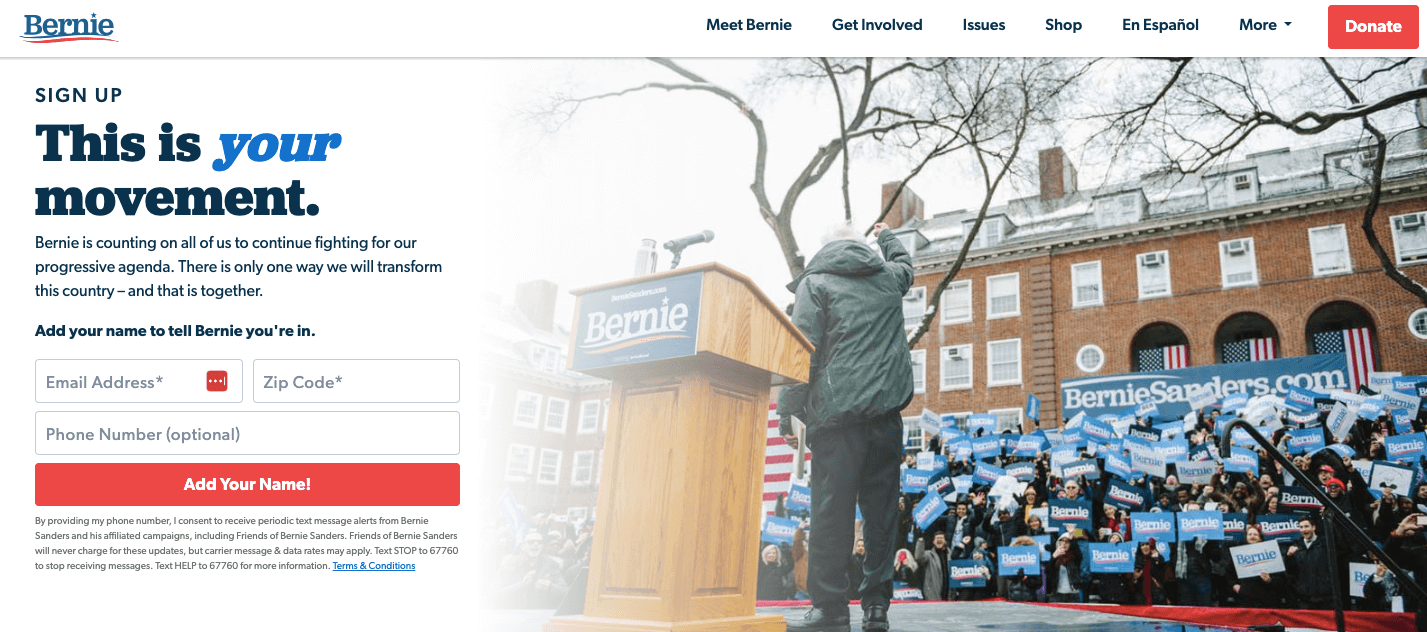 You can also allocate a full page dedicated to newsletter sign-up. Whichever you choose, use a reasonable number of form fields. Just enough so you can gather sufficient info about the subscribers. But not so much that it becomes tedious for them to fill out. Generally, 3 to 5 fields work best.
Gaining subscribers' permission and providing them with an opt-out or unsubscribe option keeps your list focused on engaged readers. Unengaged subscribers may flag emails as spam or ignore them, negatively impacting the sender's reputation and deliverability rates. Make the option easy to spot in your emails.
Email gathering works offline as well. Add a booth in your in-person events, such as rallies, townhall meetings, and community outreaches. Most newsletter services offer mobile apps that can be installed on a tablet, so you can subscribe them electronically. Make sure to indicate that you will be using their email addresses for communication.
For more ways to build a healthy email list, read our blog post.
2. Segment Your Audience Well
Voters come from different backgrounds and have different sets of needs. The messages you send to them should reflect that. Segmentation enables you to send audience-relevant emails without exerting too much effort.
Create small, specific segments to create well-targeted email communications. Base them on relevant criteria, such as:
Age group
Location
Political affiliation
Voting behavior
Engagement level
Needs
Interests
Donations
Make your supporters feel valued by showing you recognize their needs and interests. Segmentation is simple and quick with the help of automation. You can learn more about segmentation here.
3. Personalize Your Messages
Segmentation only organizes contacts based on the information they provide. Email personalization creates customized content based on that information. This is why it's the number one strategy email marketers use to increase engagement.
Using recipients' first names in emails is a classic example. It makes readers feel like the letter is addressed exclusively to them.
Location is another powerful data point. You can use it to identify a recipient's timezone so that you can send them emails at the time that is most convenient for them. Having their location also enables you to send them info on local issues and policy changes, events, and news. The gesture lets them know you care about their experiences and needs.
You can also show recipients gratitude and appreciation by referring to their previous actions, such as their donations, volunteering, or past engagement, in your email.
For more email personalization techniques, read this article.
It's also a great idea to "get personal" with political marketing content. You can improve public support for your candidate by explaining their causes and why they are running for office. In the next tip, you'll see how this plays out.
4. Set Up A Political Email Series
Political email marketing is about connecting with the audience and providing compelling reasons for them to get behind your candidate.
Create a political email marketing campaign that aligns with your goals–from sharing insights that appeal to the voters to encouraging them to be part of your candidate's journey,
During the run-up to the election, explore sending messages such as:
Candidate Introduction: The best way to start the series is by describing the candidate's history, qualifications, and motivations. You don't have to go into detail. This example demonstrates how to direct them to more information: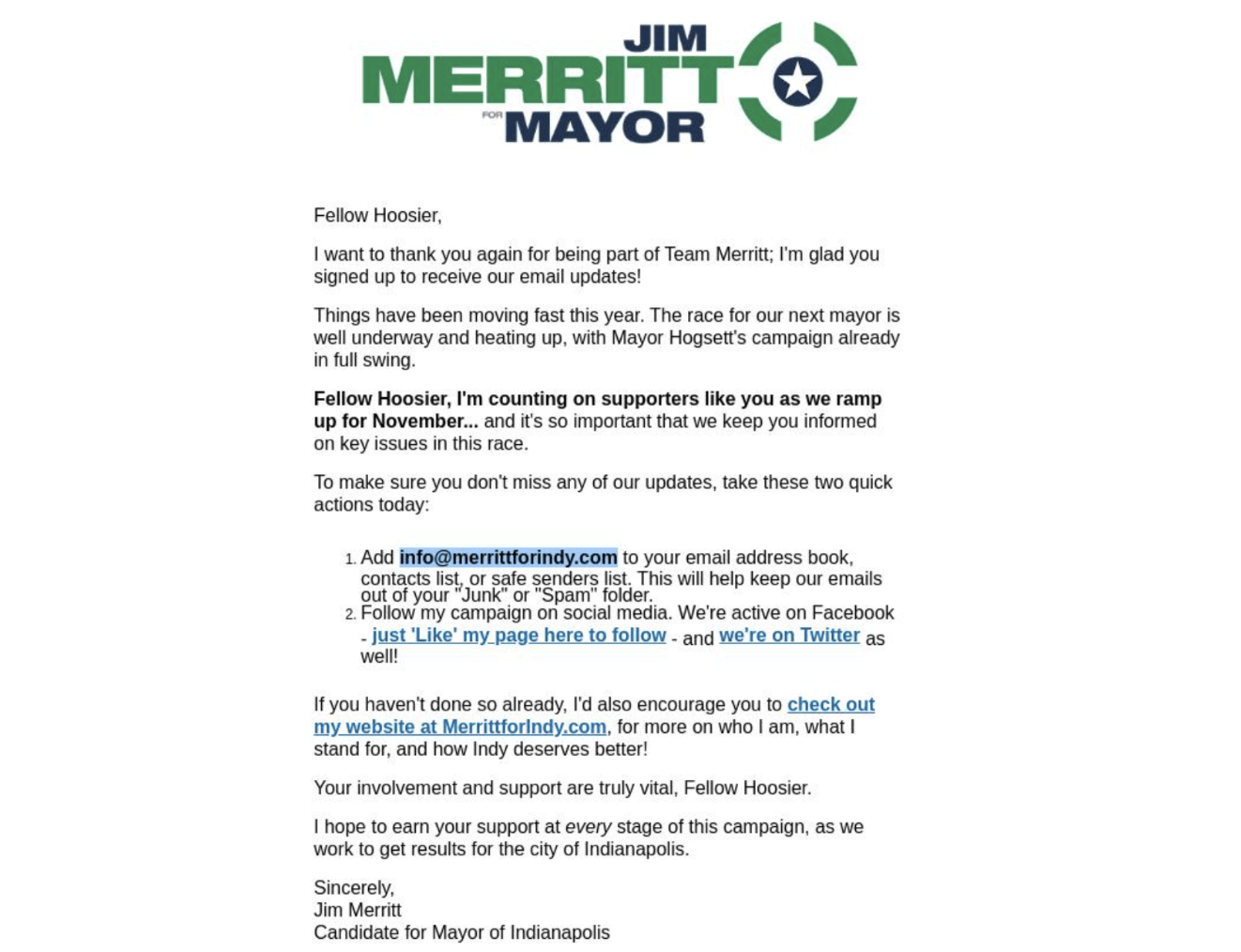 Campaign Updates and Milestones: Send regular updates on campaign events, achievements, and progress to keep subscribers engaged and informed.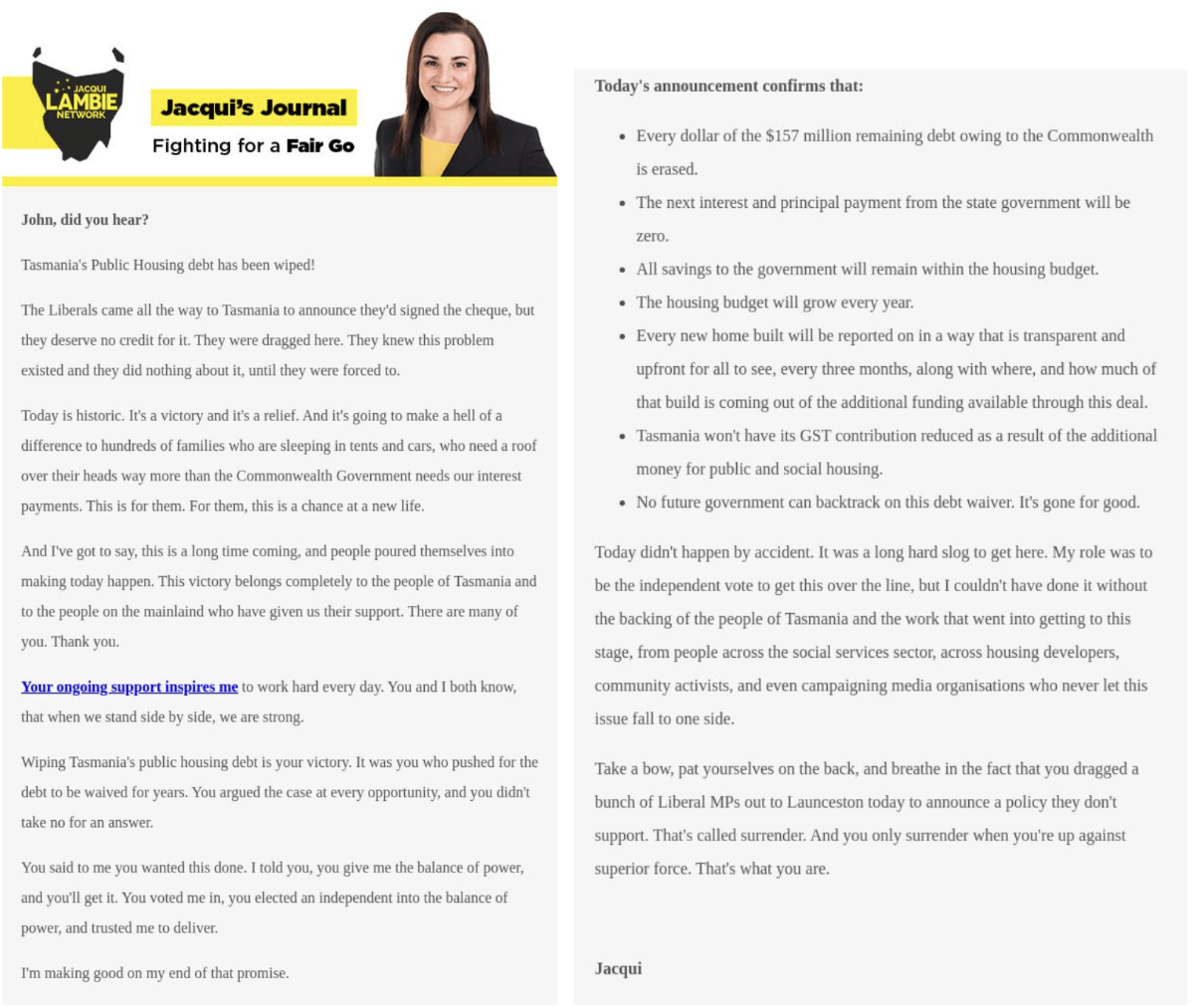 Issue Discussions: Discuss what your campaign stands for on key policy issues and their impact. Share plans and proposals that could bolster them, and see how they stack up against your opponents' stance and solutions. Adding a video clip to the email will keep issue discussions short and engaging: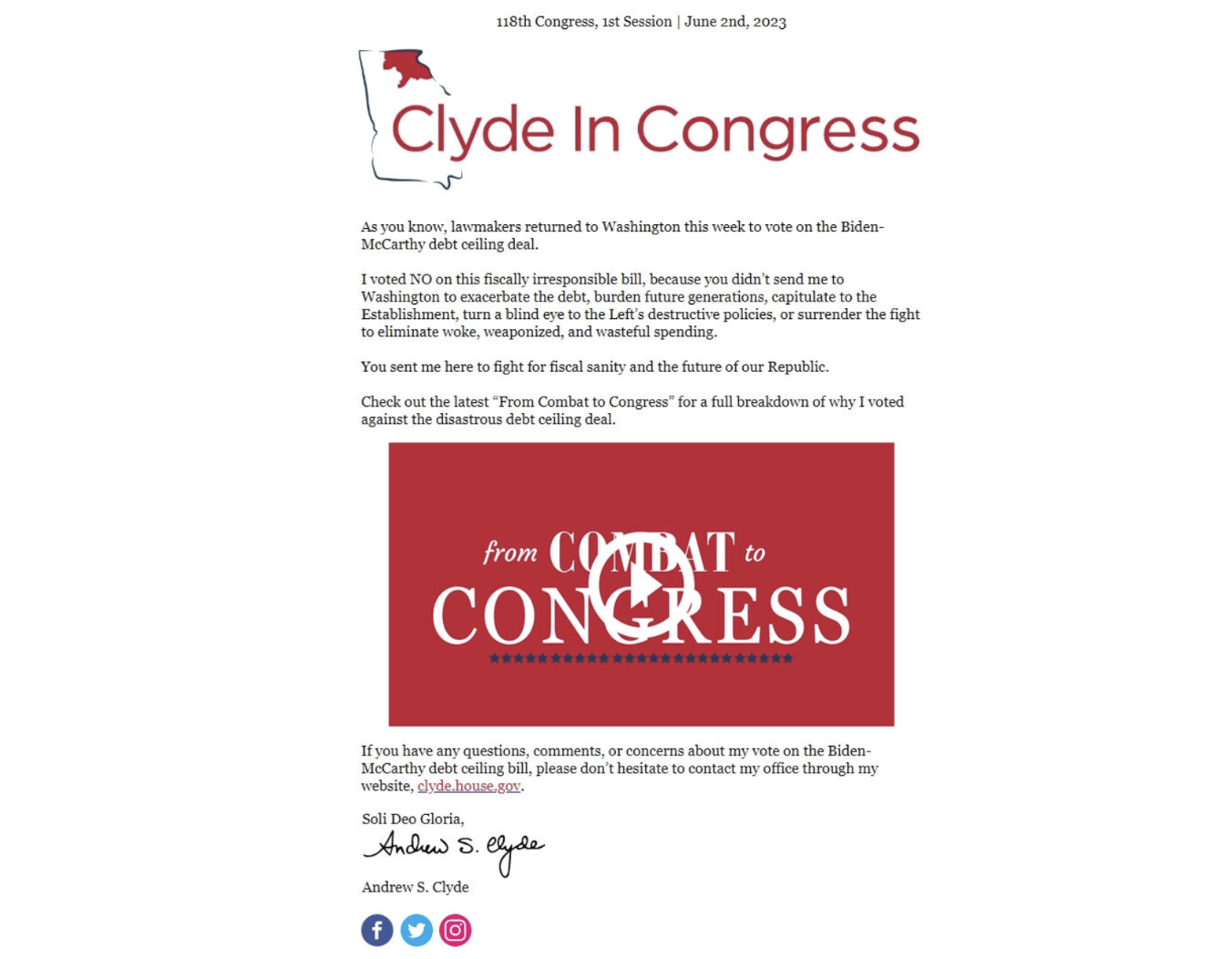 Fundraising Drive: Sending out campaign donation requests to your subscribers is pretty common. When doing so, highlight where their contributions are going and why grassroot support matters. Give monetary donation options like this email: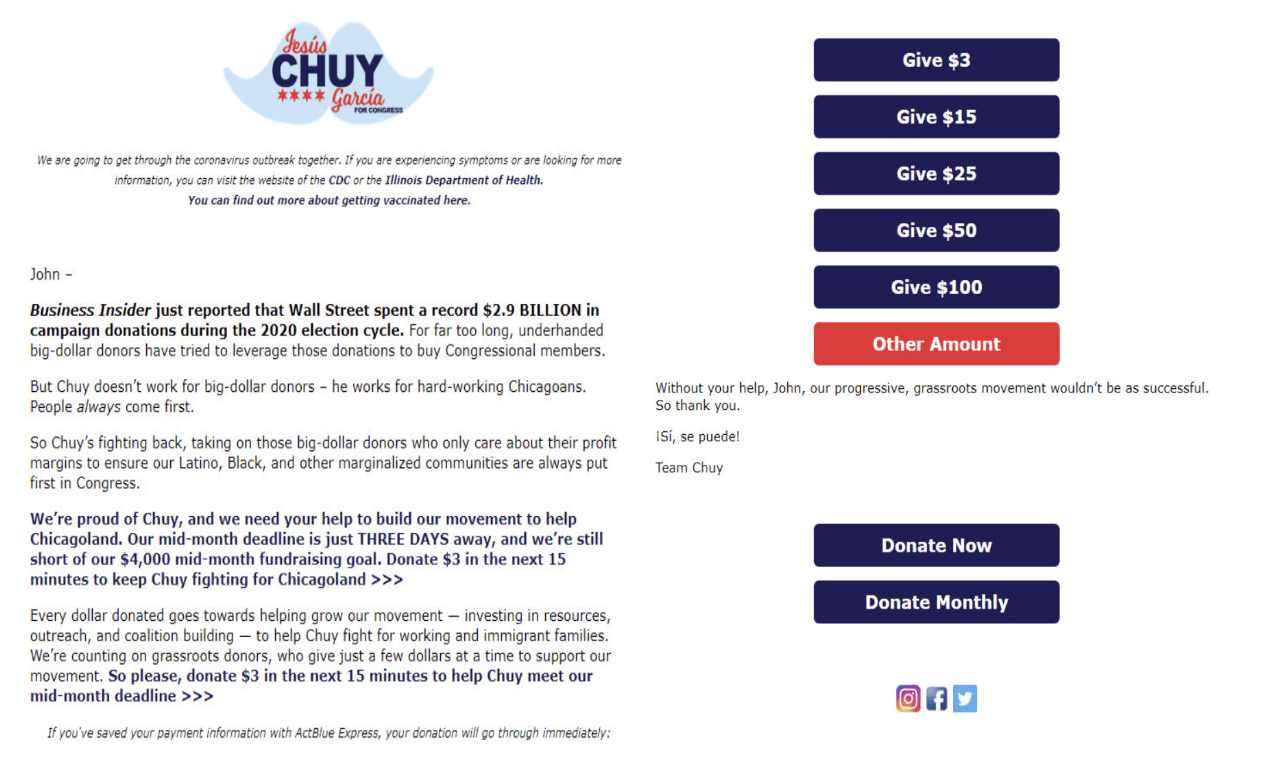 Volunteer Opportunities: Apart from monetary support, you can ask voters to make a difference through volunteering. Share the details of the opportunity, including why and how long it will take.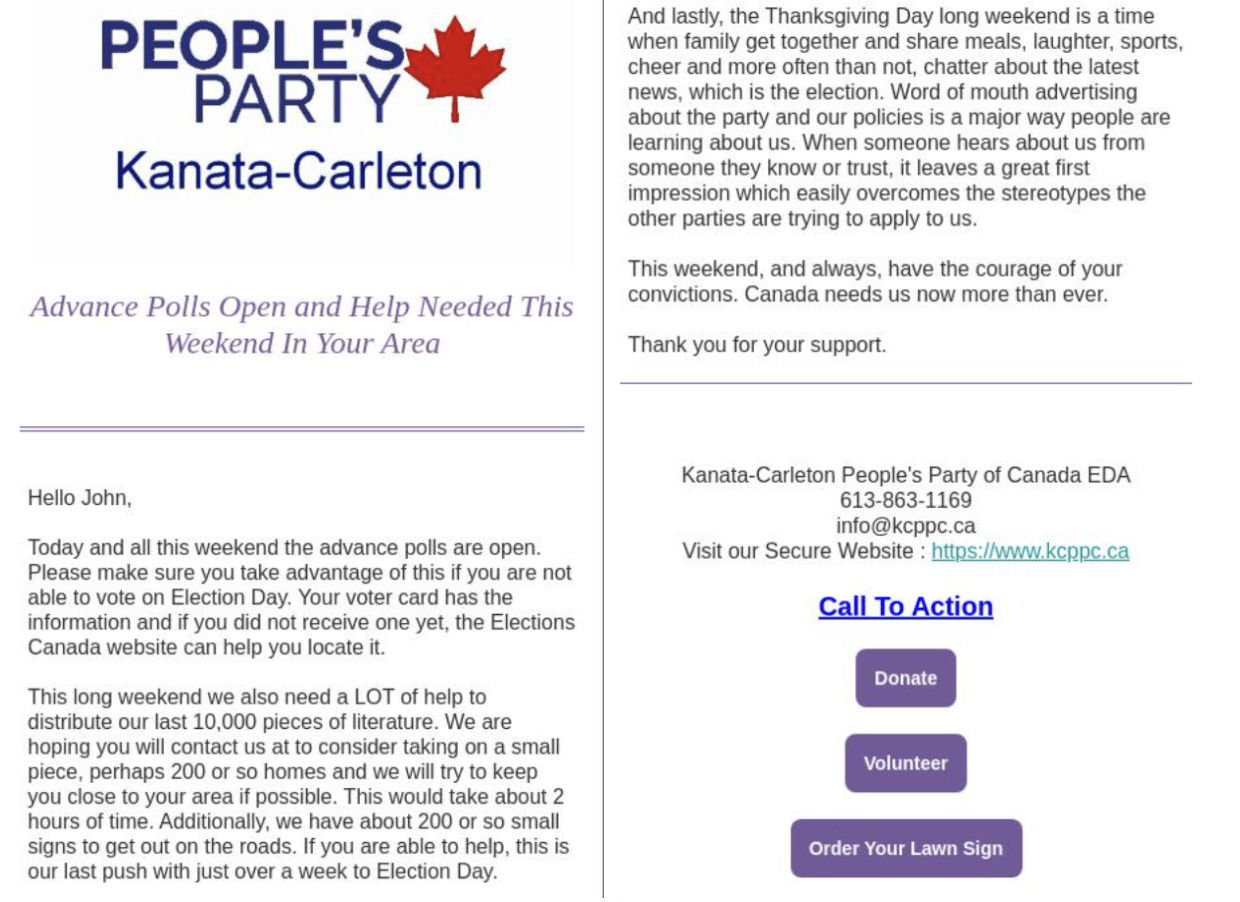 Event Invitations: Ask your subscribers to attend the events, rallies, town halls, and fundraisers your campaign hosts. Provide event information, a registration link, and an RSVP form.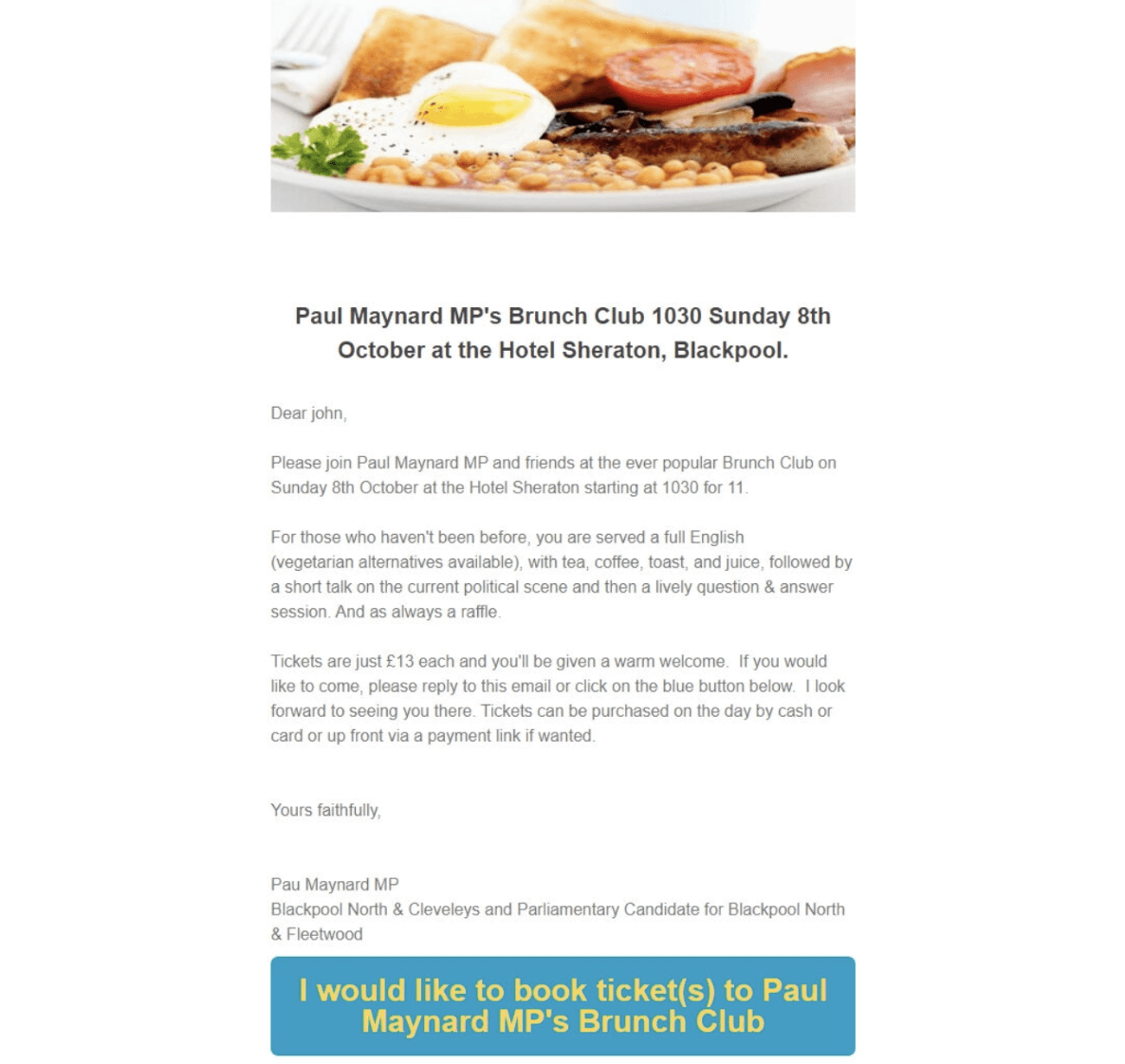 Local Engagement: Demonstrate your support for the community. Share your stance on campaign-relevant initiatives and issues in the area.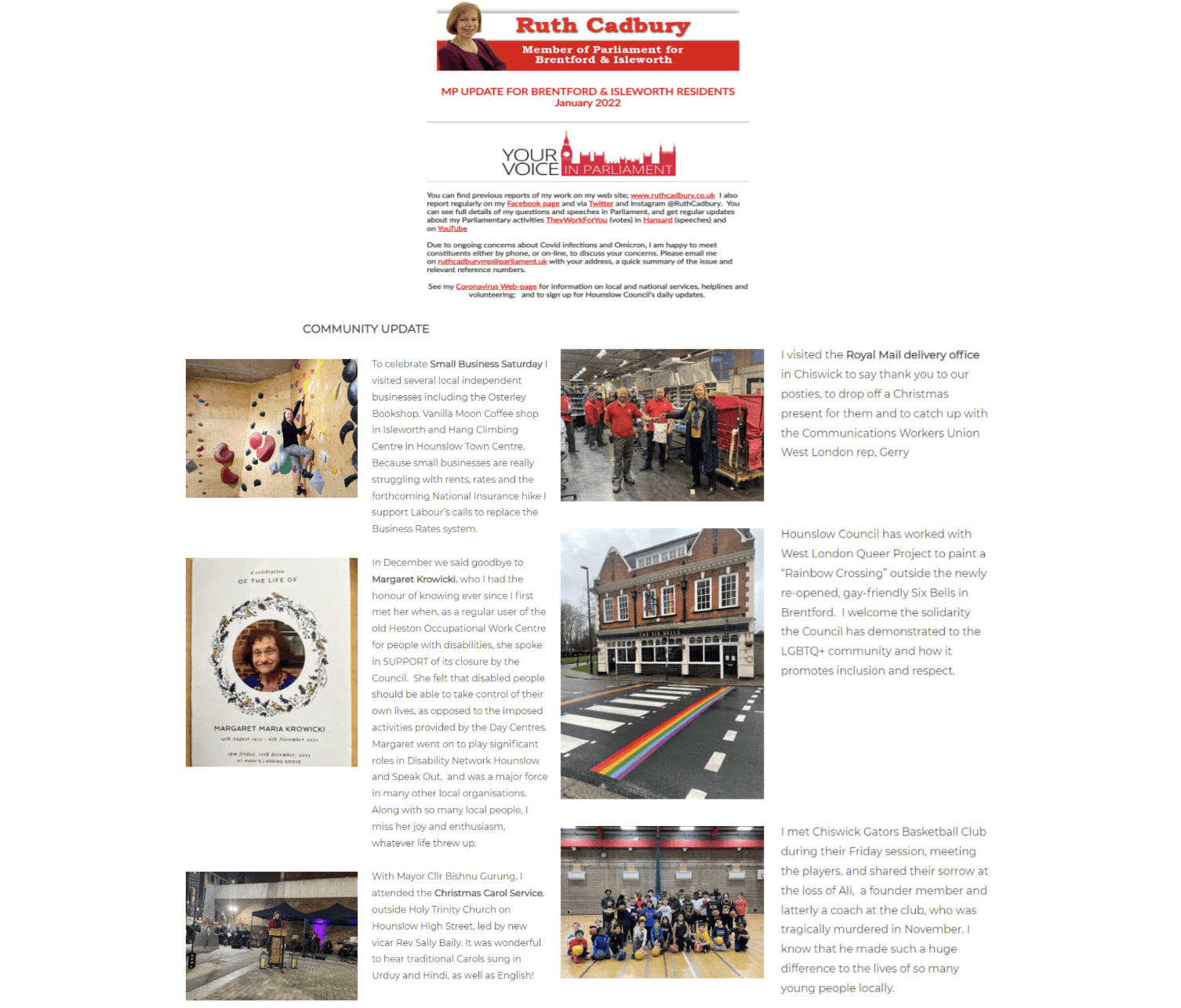 Crisis Responses: In case of emergency or unforeseen events, let voters know you've got their back. Use email as a channel to provide updates on the campaign's solutions and actions in response.
Candidate's Story: To amplify the candidate's introduction, share stories about their values, aspirations, and journey to public office. Candidate's stories make them more relatable and approachable.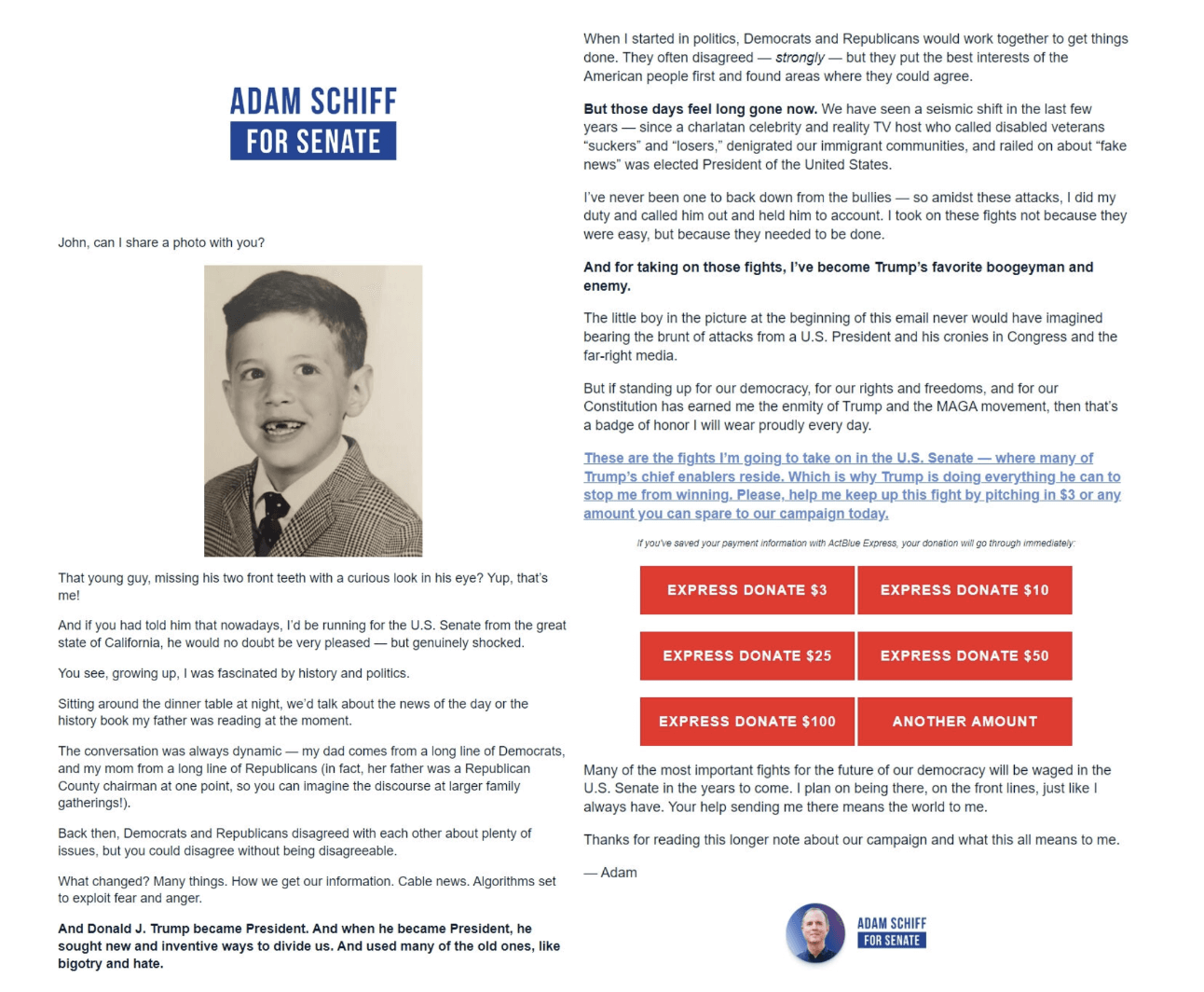 Endorsements: Let subscribers know that respected individuals and organizations believe in your candidate and their cause. You can even let them run the show by writing a personal note directly to your readers–see example below: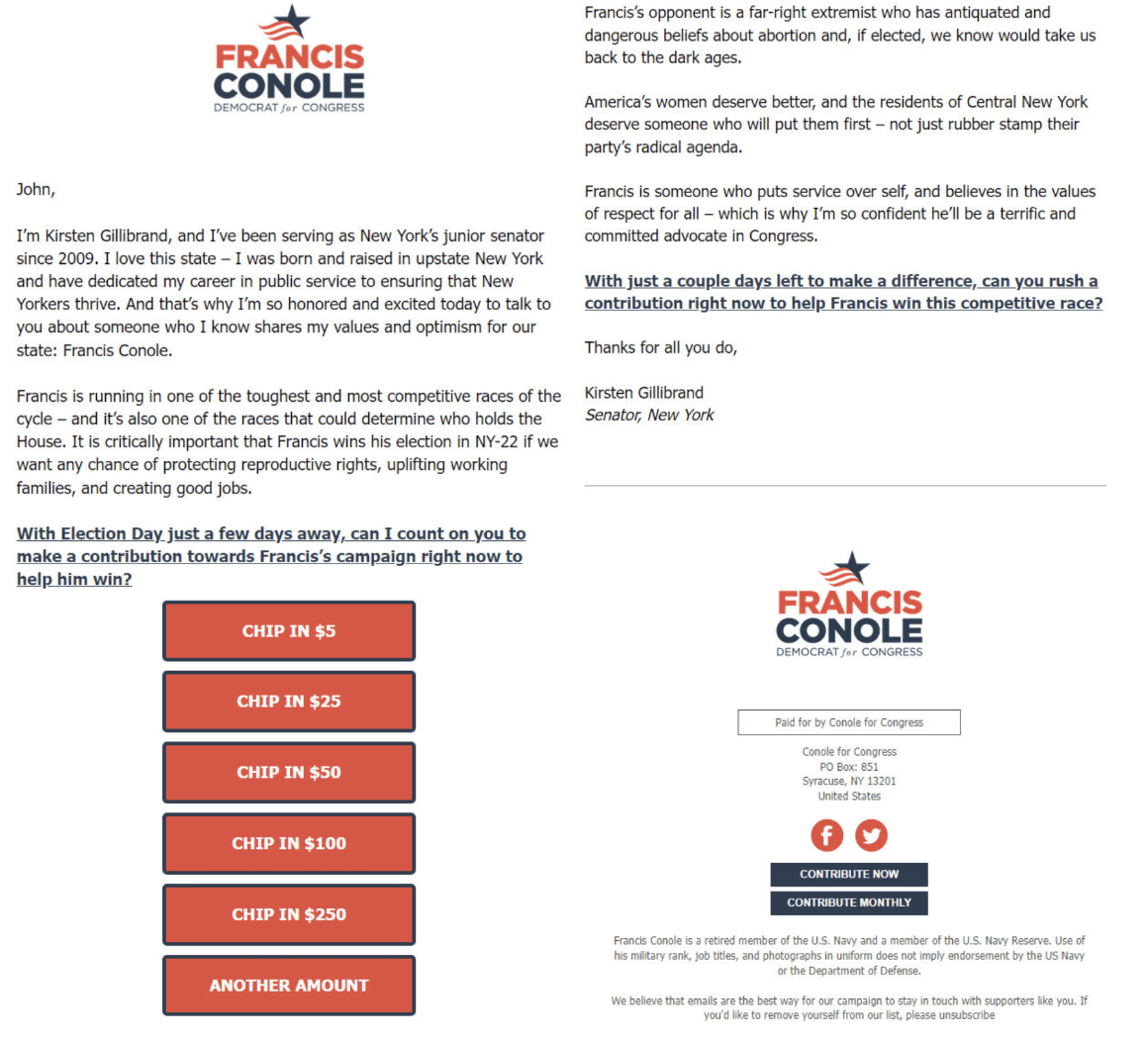 Testimonials: Provide examples of how your candidate's policies have benefited individuals or communities.
Get Out the Vote (GOTV)/Voter Mobilization: Educate supporters on voting information and motivate them to participate. Send them information on polling locations near them and early voting options.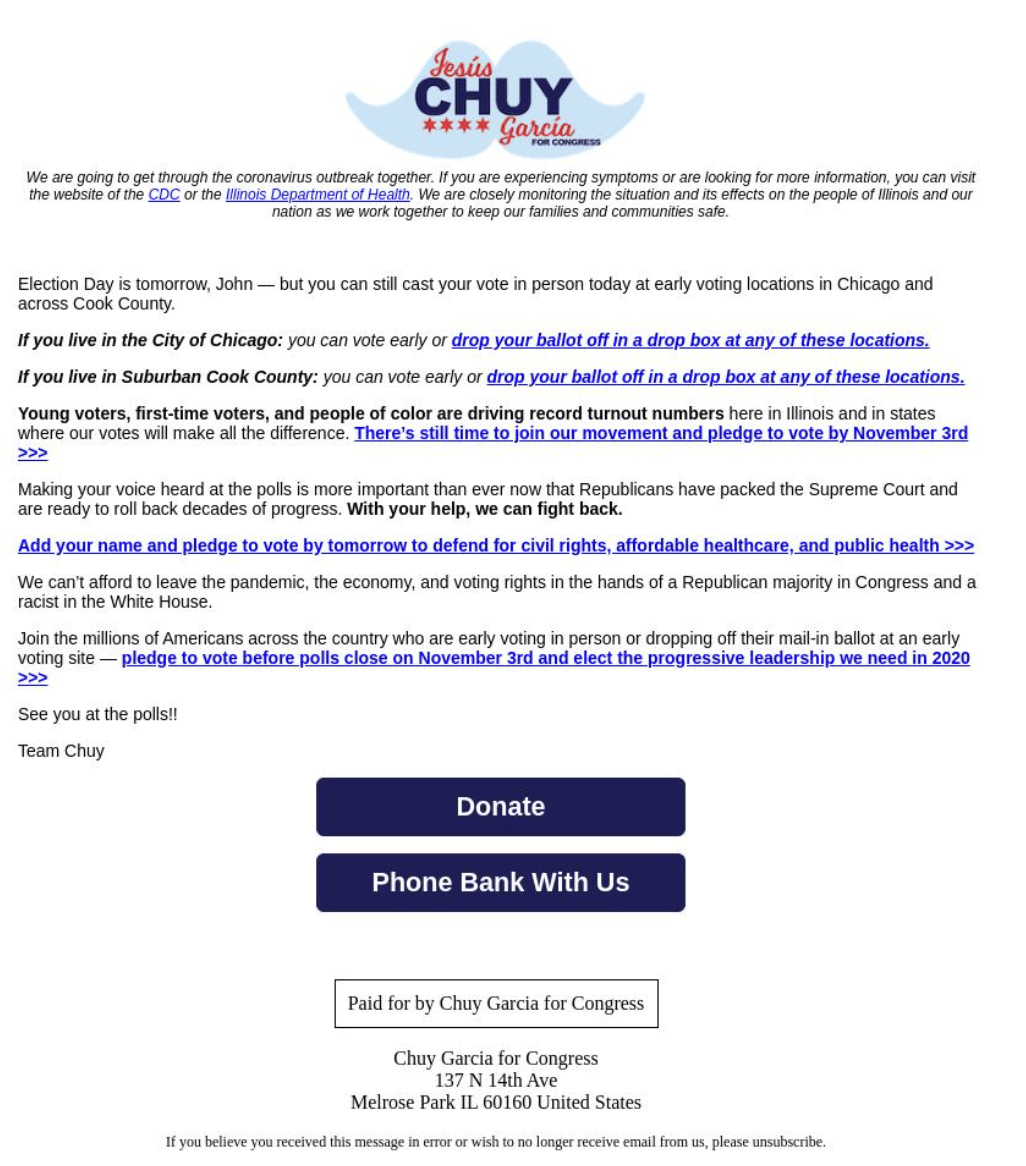 Important Deadlines: Get subscribers to take action by pointing out important dates, such as voter registration. State the urgency in the email subject line.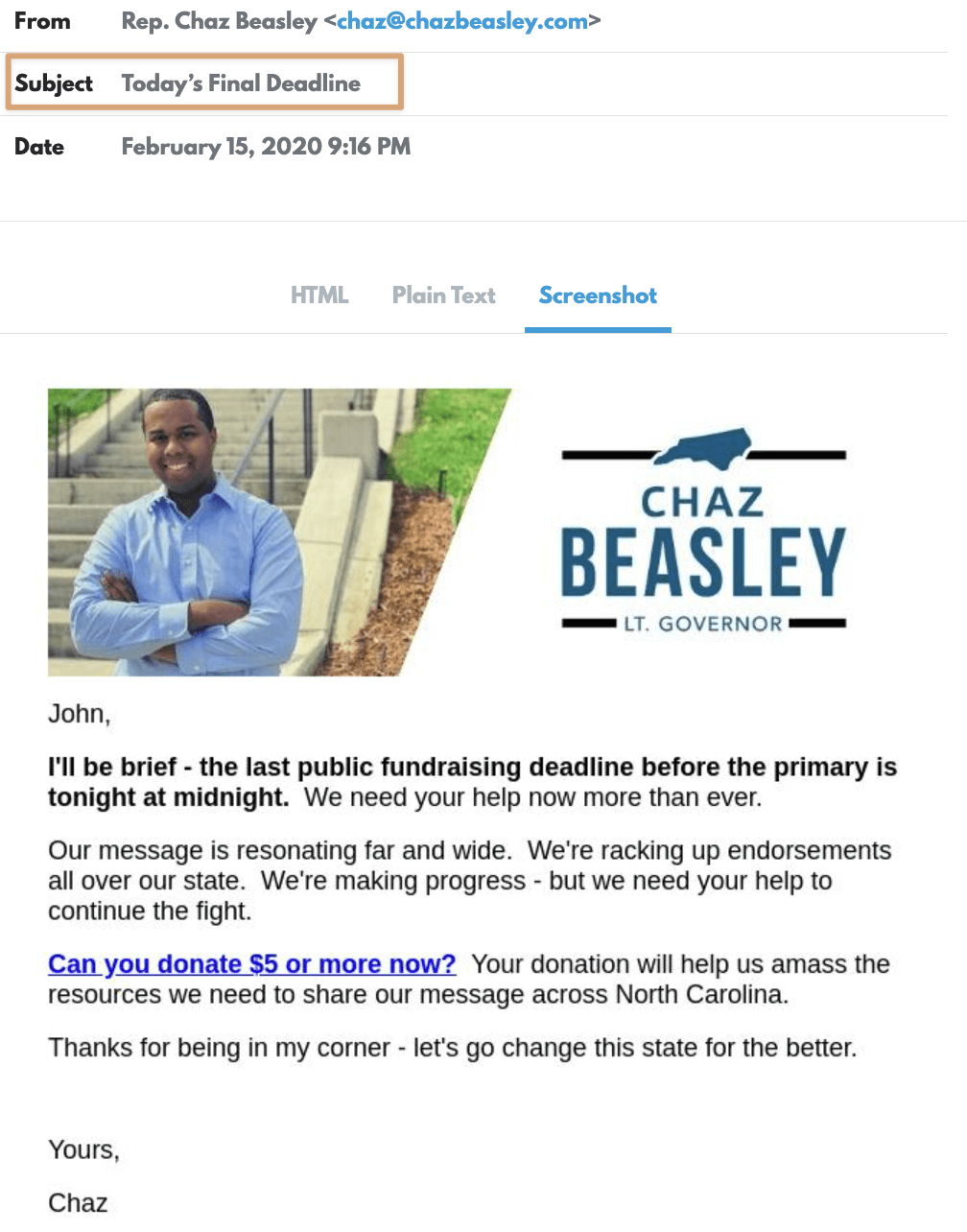 Polling and Surveys: Back up your campaign's success by informing readers about the results of different surveys and polls. You can also solicit feedback from subscribers on different issues, giving them a chance to be involved.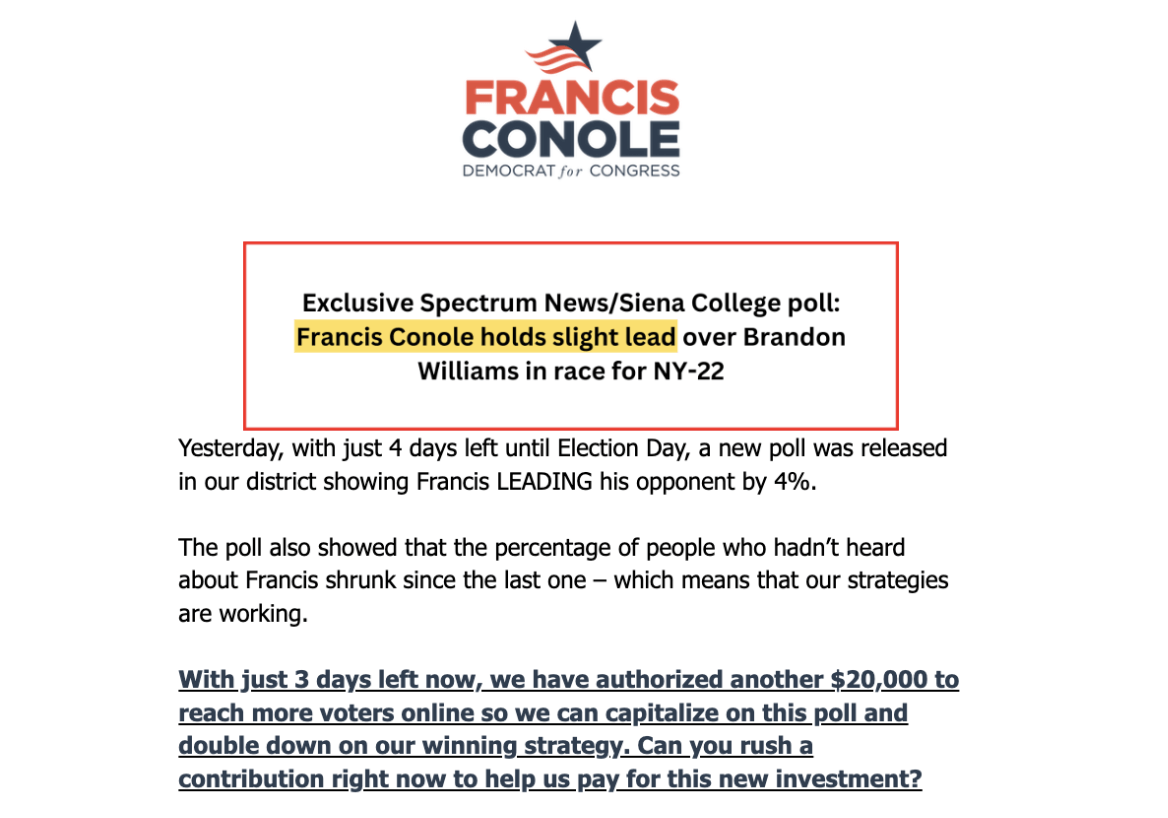 Legislation Updates and Work: Make subscribers aware of legislation and policy changes relevant to your campaign. Share your campaign's progress or response to these changes.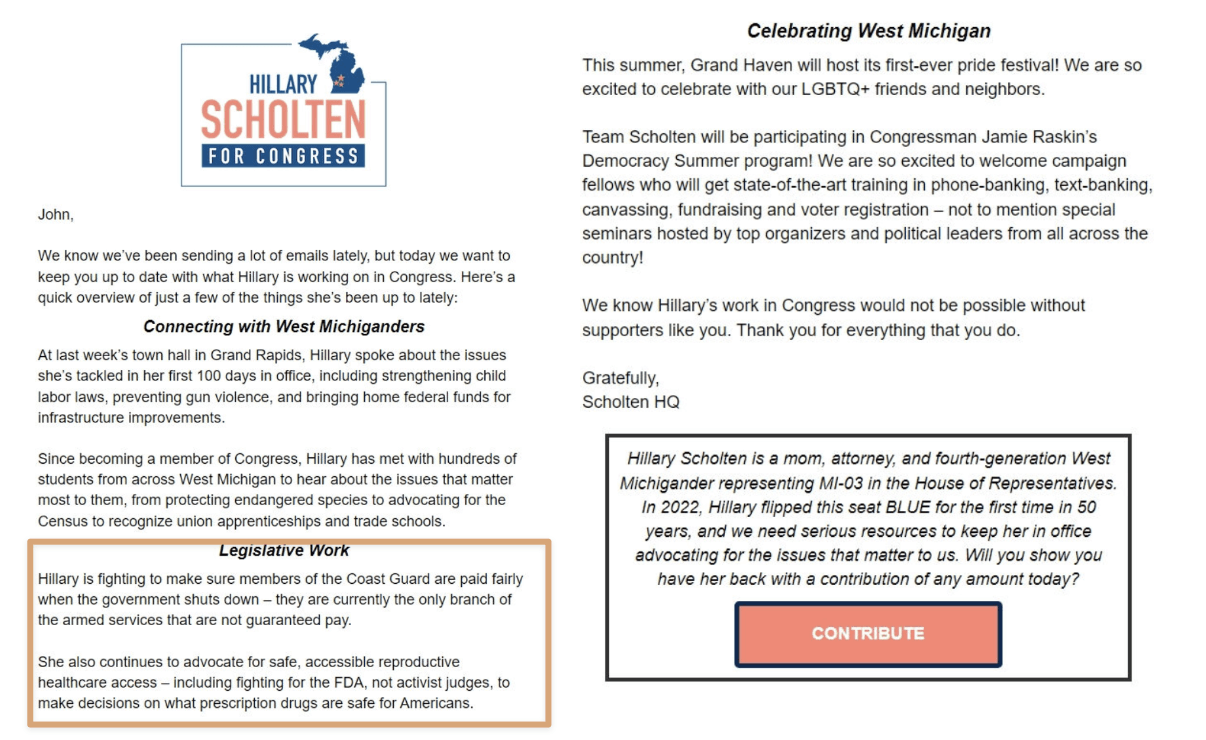 Q&A: Create a dialogue between your readers and your political candidate. Encourage them to ask questions. This way, they can get more information and you can address their hesitations.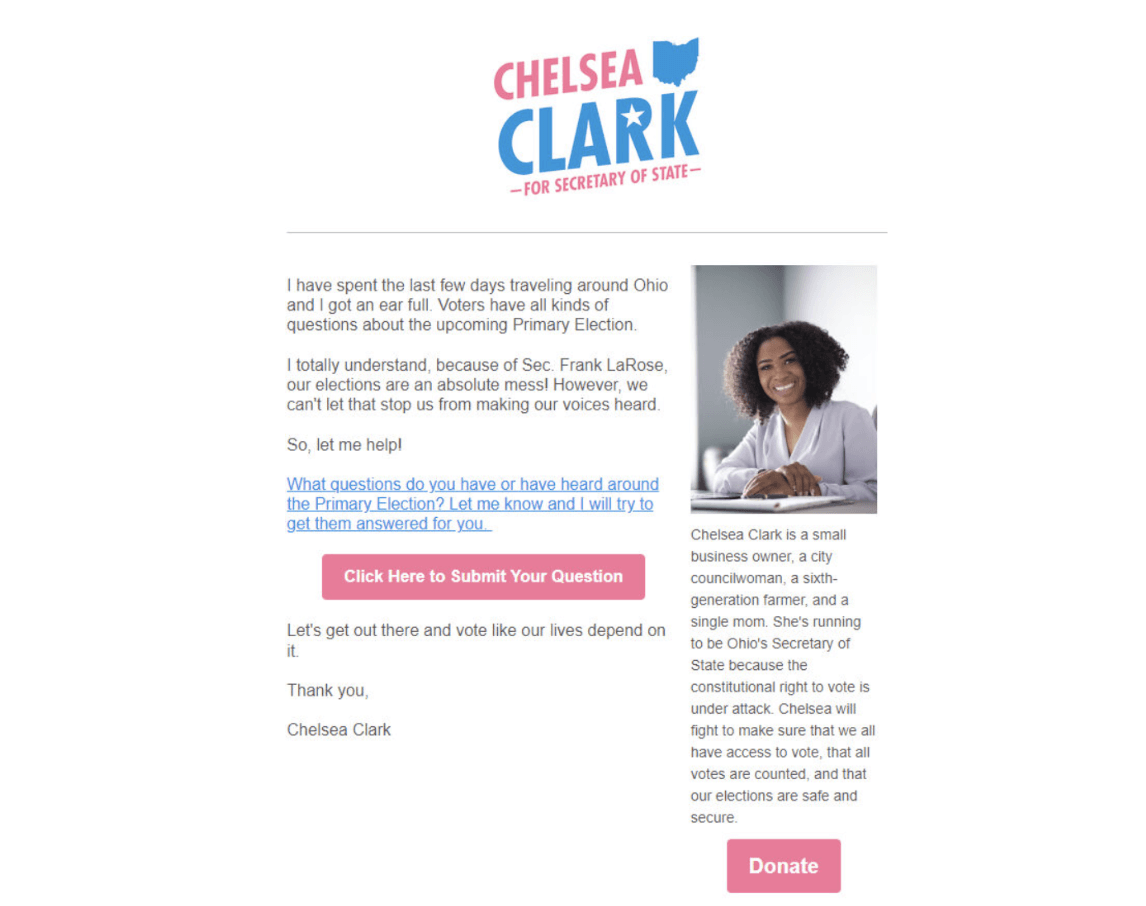 Once you have a comprehensive list of ideas, organize them into a content calendar. Coordinate the campaign cycle with milestones and voting schedules.
5. Design Mobile-friendly Emails
Mobile-friendliness is a must for email marketing–especially since 61% of recipients check their email on their mobile devices. If you optimize campaigns for all screen sizes, it's easier to get in front of the right audience anywhere, anytime.
Email format and design need to be user-friendly as well. When crafting mobile-friendly political emails, consider:
A single-column layout: It's easier to read and scroll than multi-column designs. You can organize content into stacked blocks to create distinctions or sections.
Legible fonts: Opt for readable fonts and font sizes. The font size should be 14 to 16 points for body text and larger for headings.
Tappable buttons and links: Part of designing finger-friendly navigation is to make sure there is enough space for clicking.
Appropriately-sized visual elements: Large file sizes tend to take longer to load. However, don't use images to convey essential information. Some recipients may have blocked or disabled images in their email services, so they won't be able to read them.
Ample white space: Long walls of text create a wall between you and the audience. Format your content with enough spacing to make it readable and understand.
If you don't follow any of this, your emails can be eye-straining and hard to read. The following example illustrates how overwhelming poorly structured emails are on mobile: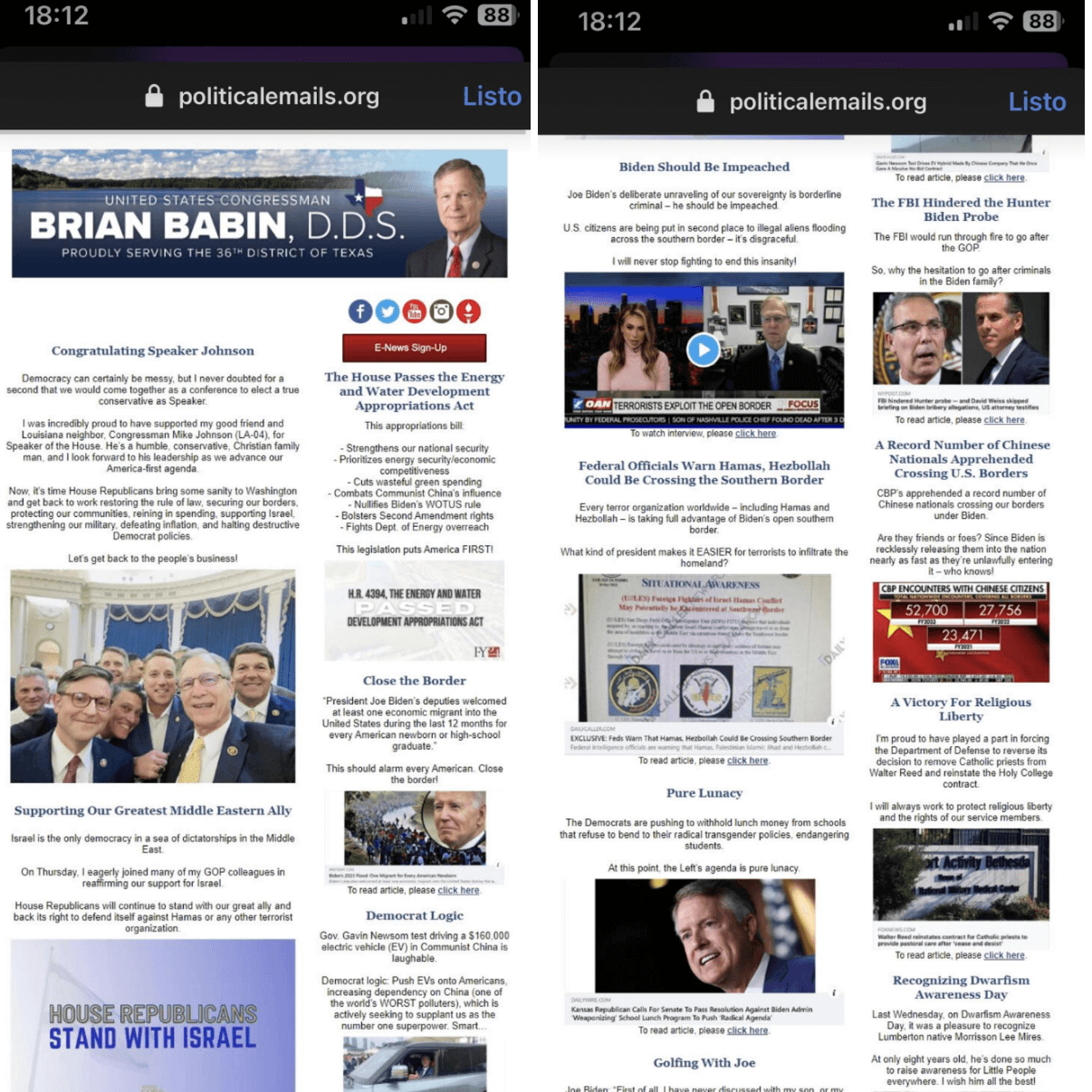 6. Adapt Email Cadence to Engagement Levels
Email frequency is a tricky topic because there are no clear-cut rules. While political emails are not subject to CAN SPAM regulations, sending too many–especially donation requests–might get you on the voters' wrong side.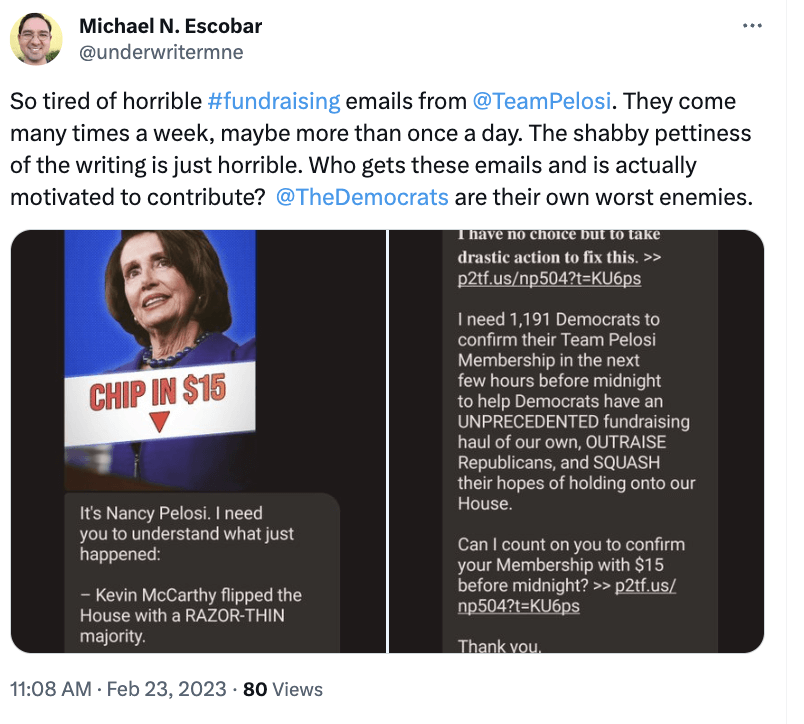 Aside from complaining about the deluge of emails on social media, subscribers can easily opt out of your messages or, worse, report them as spam. Conversely, dialing the volume way down might cause them to lose interest in your campaign.
Great news: The recipients will tell you their desired number of interactions through their activity and engagement level. Look at your email marketing platform's analytics to determine the most suitable frequency. You won't get it right the first time, so continue to observe and adjust email cadence as you go.
Even better, ask them upfront. Subscribers can select the frequency at which they would like to receive emails from some email marketing services. Your signup form can also include a question asking about preferred email frequency.
7. Send Short and Engaging Emails
Although it might feel counterintuitive, the trick with political emails is to keep them short and focused. Instead of rambling on about your campaign success, just highlight the key points of your message. Provide links or buttons to a webpage that contains the rest of the information for those interested in reading more.
Another way to make political emails more dynamic is to add interactive elements, like polls and surveys. This facilitates open communication, driving readers to engage and allowing your team to learn about their needs.
Lastly, style your texts by italicizing, bolding, or underlining/highlighting the fonts. However, don't use them all at once and don't do it often. Reserve this tip for sections you want to draw eyes to. This simple method can break up walls of text.
8. A/B Test Your Emails For Political Campaigns
A/B testing is part of running any email marketing campaign. It will help your team find out which political email marketing campaigns land well with your audience.
This isn't just about the messages you send. A/B testing extends to various details, such as email subject line, sender name, CTA, opening line, email design, and email length. Remember the Obama campaign? Obama's staff tested up to 18 variations of different subject lines and drafts before sending out mass emails of the winning version.
It takes effort to conduct A/B tests because you need to measure one variable at a time to ensure accuracy. But it works. Track the results and use them to polish your future political campaign email marketing strategies.
9. Choose The Right Email Marketing Software
There are many email marketing services in the market. To find the best one for your political email marketing efforts, look for these vital features:
Email Deliverability. Ensure your email marketing platform supports authentication protocols like DKIM (DomainKeys Identified Mail) and SPF (Sender Policy Framework). These protocols help verify your emails' authenticity to boost deliverability. The ESP's real-time email performance analytics must also include deliverability insights.
Diverse Marketing Services. Equipping your political campaign with a multifaceted toolkit allows you to reach different segments and respond to political landscape changes. Examples include mobile optimization, geo-targeting, A/B testing, and list segmentation.
User-Friendly Interface. An intuitive platform has ready-made email templates that can be easily edited, and can simplify tasks like scheduling, tracking, and analyzing political campaigns. It reduces your learning curve, allowing you to adapt to the system and streamline your workflow.
Affordable Pricing Models. Prioritize an email service provider (ESP) with affordable pricing structures to guarantee sustained, strategic engagement without excessive financial burden. Set your budget and compare pricing plans. If possible, look for free trials before committing to a long-term plan.
Campaign Automation. Campaign automation lets you schedule and automate predefined activities based on your subscriber's behavior or a set of triggers. The right one should help you set up all types of political email campaigns you're planning to run.
Now that you know how to distinguish the cream of the email marketing software crop, let's compare the best providers out there.
Best Email Marketing Platforms For Political Campaigns
Not all providers allow political campaigning (e.g., ActiveCampaign), so be sure to verify it first with your ESP. If you're still looking for options, check out these top-rated platforms that can help ace your political campaigns.
1. MailerLite
MailerLite's drag-and-drop editor, built-in templates, list segmentation, and workflow automation make it simple to create and publish political email campaigns. It's very accessible even if you have minimal design and technical skills. You can send out emails, conduct surveys, and monetize voter engagement all in one place.
Moreover, its subscriber management tools ensure adherence to data protection regulations, and it also happens to offer high deliverability rates (as we've discovered in our tests). MailerLite is an all-in-one platform perfect for both novice and experienced email marketers.
> Here's our unbiased MailerLite review.
> Try Mailerlite for free for up to 1,000 contacts.
2. Brevo
If you're setting the groundwork for a responsive political outreach, Brevo's features prove invaluable. It helps grow your email list and send personalized messages based on voter attributes (i.e., first name, email address, phone number).
This cost-effective solution charges based on email volume and boasts free unlimited contacts without extra cost, so there's no financial barrier to expanding your reach. You can maximize your subscriber base by encouraging more voters to sign up. You'll also get access to real-time analytics to monitor and sustain optimal email deliverability.
> Here's our unbiased Brevo review.
3. Mailchimp
One of the leading ESPs, MailChimp is well-suited to robust political email activities such as fundraising, voter surveys, and campaign updates. You can leverage its generative AI and built-in tools to compose tailored political messages.
MailChimp integrates with over 300 third-party apps. By integrating it with QuickBooks Online, for instance, you can track campaign budgeting in real-time. It also extends with tools for lead generation (Typeform, Jotform), video content (Vimeo), graphic design (Canva, Adobe Photoshop), and data analytics (Mixpanel, Firebase).
Here's our unbiased MailChimp review.
4. Constant Contact
Constant Contact simplifies the user experience by segmenting subscribers at sign-up. This process not only streamlines engagement but also reduces your administrative burden. It also attracts new voters with advanced features like built-in surveys, polls, and SMS capabilities. The platform also accepts payments for events.
Note that the ESPs listed above provide free access to a limited number of contacts or emails per month. Constant Contact, on the other hand, only offers paid services.
> Here's our unbiased Constant Contact review.
> Try Constant Contact for free for 30 days.
Getting Started With Email Marketing For Political Campaigns
When developing your political email marketing campaign, find ways to bring emotional engagement to complex and controversial subject matters. Your message will stand out if you get readers to feel passionate towards your cause. It's also essential to time your emails, analyze data, segment contacts and customize messages. Fortunately, your team can streamline these tasks with the right email marketing service.
Doing all these will bolster your credibility, fundraising initiatives, and messaging in a more personal way. Not sure where to begin? Read reviews of the top providers in the industry, or take advantage of a free trial today.
Our Methodology
This article has been written and researched following our EmailTooltester methodology.
Our Methodology