Affiliate marketing is a great way for bloggers and creators to earn a few extra bucks on the side of their main gig.
In the past, I've made some cash promoting affiliate links to hotel booking sites, products on Amazon, and courses by fellow creators. Basically, I earned a slice of commission when someone clicked my unique affiliate link and made a purchase.
You'll often see creators and influencers sharing their promo codes (a.k.a. affiliate links) on social media, but I had more success with email. In fact, affiliate email marketing tends to garner better results because you've already fostered a connection with subscribers who trust you enough to let you into their inboxes.
But, be careful—not all email marketing platforms are on board with the practice. While most allow affiliate links baked into your existing emails and newsletters, there are a few that draw a hard line on affiliate promotions. This is partly due to the number of promotional emails that get flagged as spam, which can threaten the reputation of the email provider.
Not all is lost, though. There are plenty of affiliate-friendly email service providers out there that make it easy to grow your list, nurture subscribers, and make some affiliate side income.
Here's our pick of the best. At the end of the article, I also share some tried-and-tested tips on how to build an email list for affiliate marketing.
Features to look out for in an affiliate email marketing platform
Ease of use
If you're looking to get started with affiliate email marketing ASAP, there's a good chance you don't want a huge learning curve. Look for ESPs with no-code templates and an intuitive interface so you can get set up quickly.
Affordability
Are you just starting out? Look for an email platform that's affordable for your needs but also includes features that you might need to run an affiliate program, like segmentation and detailed analytics. There are a few ESPs with free plans, but these will often limit the amount of emails you can send or the number of subscribers you can have on your list.
Affiliate-friendly
If you're planning on making money from your affiliate marketing efforts, you'll need to choose an email marketing platform that is affiliate-friendly. We'll cover some of the most affiliate-friendly platforms in more detail below.
Automation
Affiliate marketing is an excellent way to make money on autopilot. Automation capabilities make it easy to set up your emails to go out automatically while you're busy working on other parts of your business.
Segmentation
Affiliate marketing works best when you send the right affiliate links to the right people. Look for an email marketing provider with powerful segmentation features so you can group together like-minded subscribers and add affiliate links based on their unique interests and needs.
Integration with other tools
Ideally, your chosen email marketing platform will integrate with your affiliate program. This means you can connect up your affiliate account and email marketing provider to automatically record sales.
Landing page and form builder
Choose an email marketing software that helps you grow your subscriber list with built-in landing page and form builders. If you're not code-savvy, opt for one that has no-code templates and that you can customize to fit your own branding.
9 best affiliate email marketing platforms
Affiliate marketing is a contentious subject and there are a few popular email providers that prohibit any kind of affiliate marketing from their users. Avoid using MailChimp, MailerLite, ConvertKit, HubSpot, and Constant Contact if you're an affiliate marketer or plan on making the majority of your income through affiliate marketing.
Caveat: We use MailerLite for EmailTooltester and haven't had any issues with sending affiliate links, so depending on your industry, you *might* be okay. If you really want to try the above tools, feel free to do so (at your own risk!)…
We've compiled a list of email marketing platforms that do allow affiliate marketing in some capacity, along with their pros, cons, and most useful features.
1. GetResponse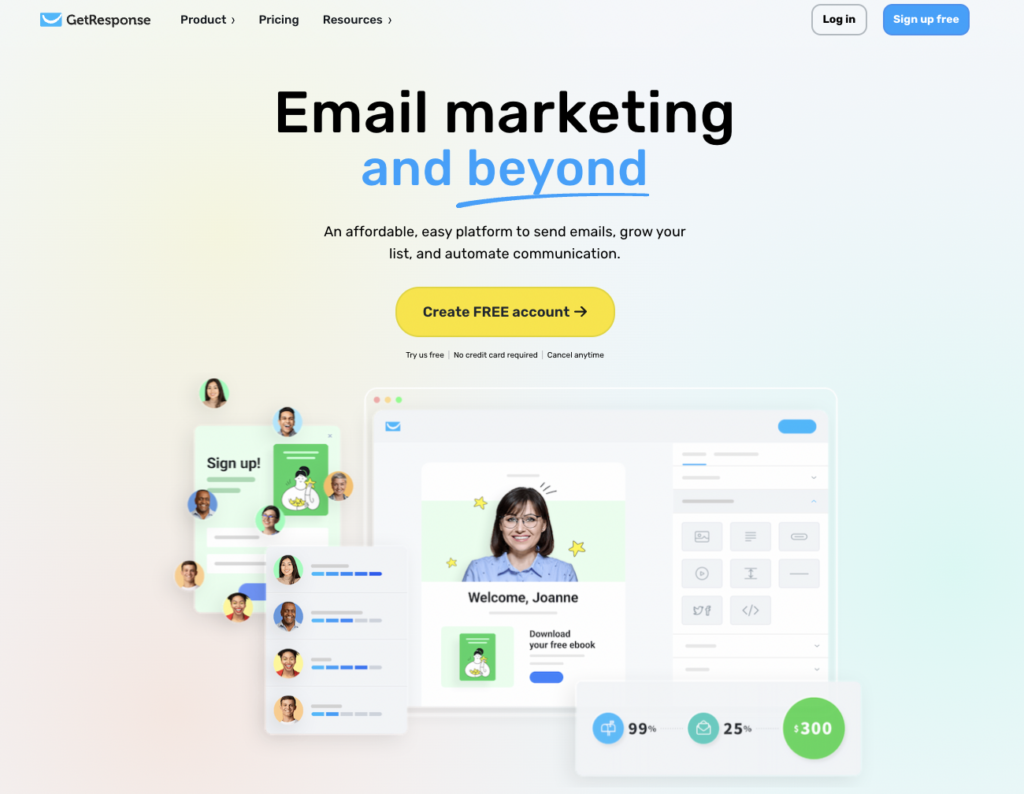 GetResponse is one of the most pro-affiliate email marketing platforms out there. The on-site blog has multiple guides to affiliate marketing, so it's safe to assume it's a good bet for any kind of affiliate activity (it's also pretty handy for resources to help grow an affiliate email marketing campaign).
Because of this, GetResponse has a lot of features that are geared towards affiliate marketing. The flexible workflow editor makes it easy to build out complex automations, which means you can create email sequences based on subscriber behavior and interests. For example, you can tag all subscribers who click on an affiliate link and use that information to send them similar links in the future.
Perhaps the most promising GetResponse feature for affiliates is its affiliate website builder. This lets you build out your entire affiliate marketing machine from start to finish all in one place. You can create a landing page from one of the many templates, offer lead magnets through pop forms, promote webinars, and sell products through targeted email sequences.
Pros of GetResponse for affiliate marketing:
All-in-one affiliate marketing website builder
Positively promotes affiliate marketing through its blog
Powerful segmentation capabilities
Cons of GetResponse for affiliate marketing:
Automation workflows require the expensive Marketing Automation plan
Pricing:
Free for up to 500 subscribers
From $19 a month for 1,000 subscribers on the Email Marketing plan
Read our full GetResponse review or try it for free.
2. ActiveCampaign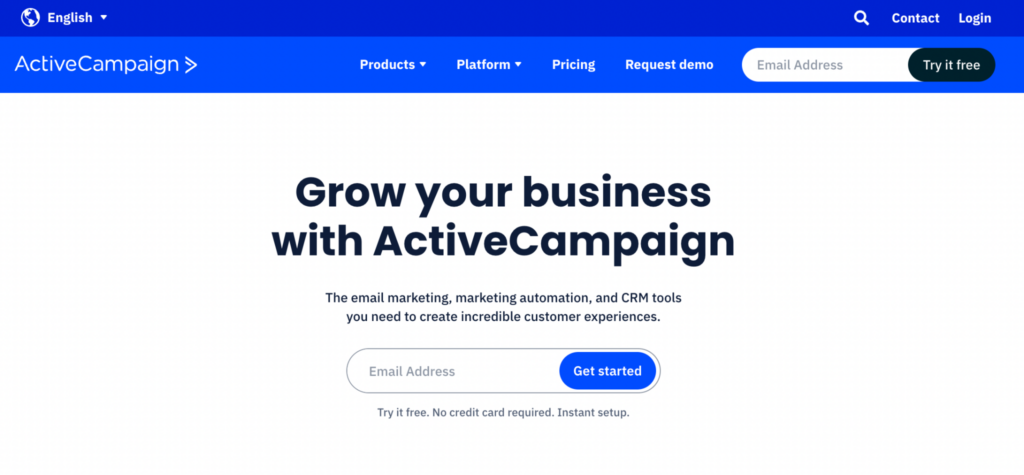 While ActiveCampaign does allow affiliate marketing, it's a little more strict than GetResponse. You can add affiliate links to your email campaigns, but they shouldn't be the primary focus of the email. On top of this, you can't promote affiliate marketing or send emails about getting rich and making money from home. If you're not doing these things, you're all good.
ActiveCampaign counters its semi-strict rules with some great affiliate-friendly features. It has robust automation capabilities that make it easy to create a personalized affiliate email marketing campaign, customizable templates for sprucing up your emails, and detailed analytics so you can see which subscribers clicked on which affiliate links.
This is critical for monitoring the success of your affiliate email marketing campaigns and the added bonus of real-time data helps you make quick decisions.
Pros of ActiveCampaign for affiliate marketing:
Powerful automation capabilities
Easy segmentation for personalized campaigns
Comprehensive reporting and analytics
Cons of ActiveCampaign for affiliate marketing:
Stricter than other platforms for affiliate marketing
On the pricey side and there's no free plan
A steeper learning curve than other platforms
Pricing:
Starts at $39 per month for 1,000 subscribers on the Lite plan
Read our full review of Active Campaign or try it for free.
3. Brevo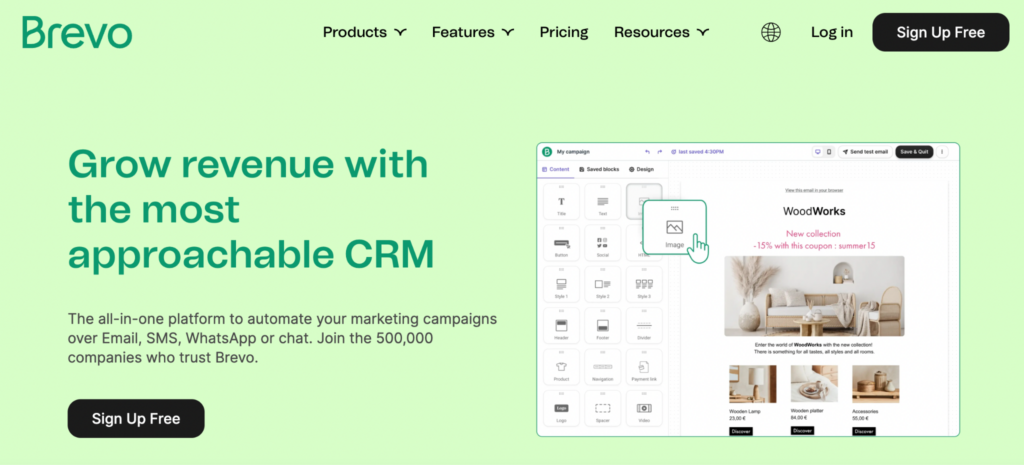 Brevo (formerly Sendinblue) doesn't specifically prohibit affiliate marketing, although some industries such as real estate, gambling, loan services, and lead generation services need manual approval.
The platform doesn't outright ban affiliate marketing, but it also doesn't shout about it like GetResponse and other platforms. It's fine to use as long as you're discreet about your links and avoid sending content related to risky industries.
However, Brevo comes with one big perk: Price. It's one of the best-value email platforms for affiliate marketing with a free plan that's incredibly comprehensive. For paying literally nothing each month, you can add as many subscribers to your list as you want, get full access to the handy drag-and-drop email builder, and use any of the email templates or sign-up forms.
The automation capabilities are pretty sweet too, with a visual workflow editor and the ability to A/B test your affiliate email marketing campaigns to see which ones perform best.
Finally, Brevo has a built-in CRM that lets you store, organize, and monitor your subscribers and customers from one central place. This is particularly useful for sending a targeted, personalized affiliate link to each individual subscriber and it comes at no extra cost.
Pros of Brevo for affiliate marketing:
Great value for money
Built-in CRM to organize and store customer information
Visual workflow editor and powerful automation
Cons of Brevo for affiliate marketing:
Doesn't openly state it's okay with affiliate marketing
Some industries need manual approval to get started
Pricing:
Free for up to 300 emails per day (unlimited contacts)
From $25 per month for 20,000 emails on the Starter plan
Read our full review of Brevo or try it for free.
4. Moosend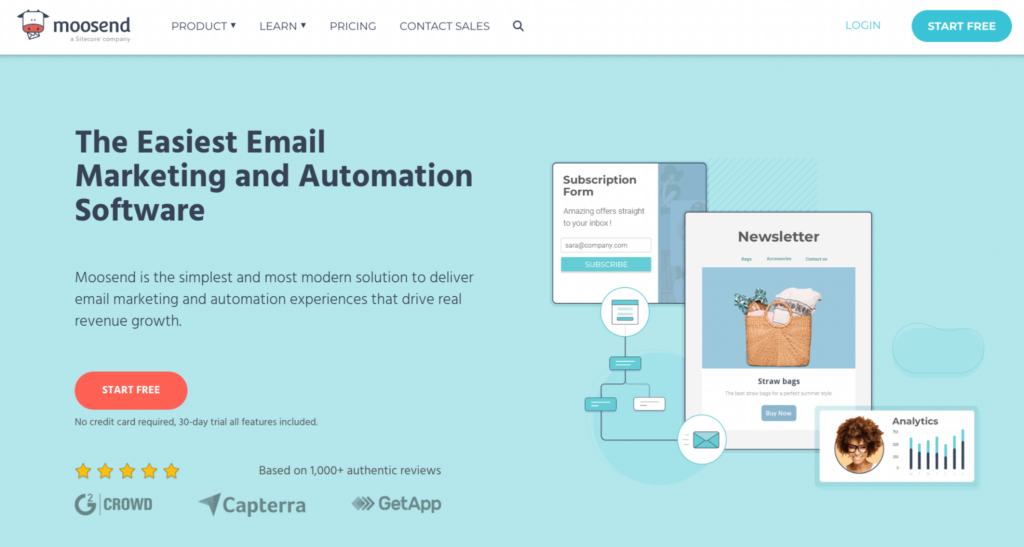 Moosend's meaty guide to affiliate marketing proves it's okay with users sending an affiliate link or two. It comes equipped with the usual features you'd expect of an affiliate email marketing program, including an intuitive drag-and-drop email editor, no-code templates, a library of sign-up forms and landing pages, and powerful segmentation features. It also has a comprehensive dashboard with built-in analytics so you can see who's bought what through your affiliate links.
However, it's Moosend's automation capabilities that make it stand out. It has a visual workflow builder like the other ESPs here, but it goes one step further and lets you build out sequences with very specific conditions. For example, you can create individual sequences for each subscriber depending on the links they click and the actions they take—super useful for getting a better understanding of what affiliate products each subscriber will enjoy.
Moosend has recently added an AI-powered product recommendation tool to its arsenal of features, which lets you suggest products based on the previous browsing behavior of your subscribers.
And, if you're looking for something that's easy on the bank account, Moosend is a good option. It's one of the more affordable ESPs for affiliate marketers. For just $9 a month, you can access the email builder, landing page builder, detailed reporting, and automation. It even has several detailed automation templates that do all the work for you.
Pros of Moosend for affiliate marketing:
Affordable plans available
Comprehensive dashboard and analytics
Automation templates and builder
Cons of Moosend for affiliate marketing:
Limited selection of form templates
There's no free plan available
Doesn't offer the highest deliverability rates
Pricing:
From $16 a month for up to 1,000 subscribers on the Pro plan
Read our full review of Moosend or try it for free.
5. Freshmarketer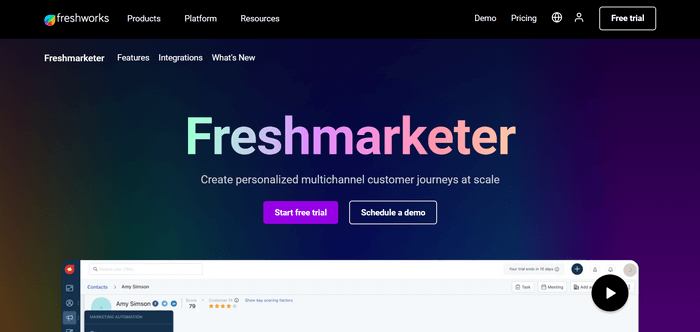 Freshmarketer isn't your run-of-the-mill email marketing tool. Part of the Freshworks business suite, it's a marketing powerhouse that enables you to reach your audience through various channels like email, live chat, SMS, WhatsApp, and more. Think of it as your multi-tool for digital outreach, helping you connect with potential customers at multiple touchpoints.
When it comes to automating your marketing chores, Freshmarketer is on another level. With AI-powered chatbots available in all its paid plans, you can have round-the-clock customer interactions without lifting a finger. Add to this an extensive array of "playbooks" that simplify automating your marketing messages, and you've got a tool that makes life easier for any affiliate marketer.
And let's not overlook its fantastic social media integrations. You can plan and publish Instagram and Facebook posts from within the platform, and automatically save any leads captured on Facebook in Freshworks' CRM. Plus, the Custom Audience feature syncs seamlessly with your Facebook and Instagram ad campaigns, helping you target audiences that have already shown interest in your offerings.
Pros of Freshmarketer for affiliate marketing:
Diversify your outreach by connecting through emails, live chats, SMS, WhatsApp, and more
AI-powered chatbot to take care of questions and requests
Various playbooks and robust segmentation options to help you send targeted messages
Landing page builder available with paid plans
Excellent social media integrations, including post management and Custom Audiences
Cons of Freshmarketer for affiliate marketing:
 The free plan's 100-contact limit and single segment option could be outgrown rather quickly
Once you scale beyond 12,000 contacts, be prepared for your costs to climb
Email templates are not available with the free plan. Neither is access to the landing page builder
Although you can build landing pages with paid plans, the templates could use some sprucing up
Optimization features, such as A/B testing, heatmaps, and funnel analysis are only available through a pricey add-on
Pricing:
1oo contacts: Free
2,000 contacts: $23/month (Growth plan)
5,000 contacts: $179/month (Pro plan)
10,000 contacts: $359/month (Enterprise plan)
6. AWeber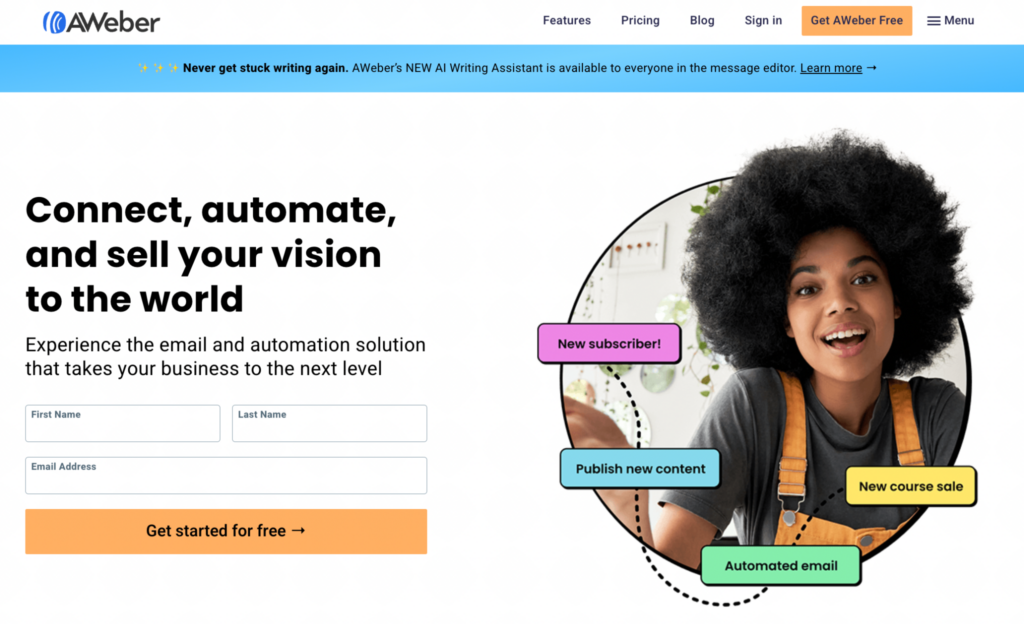 AWeber hasn't stated outright whether it's okay with affiliate marketing, but it does include several affiliate program platforms in its library of native integrations, such as ClickBank and JVZoo. It also has a lot of blog content about using affiliate promotions as a side hustle and promoting other people's products. From this, we can decipher that it does allow affiliate links, but as always, proceed with caution.
Otherwise, AWeber comes with all the usual ESP features, including a huge library of 600+ email templates, a drag-and-drop editor, and landing page templates categorized by industry. You can also split-test your campaigns and use the comprehensive Email Web Analytics feature to get detailed reports on your affiliate email marketing campaign performance. Even better, you can use your own domain in links to track clicks and product sales.
And for the price-conscious affiliate marketers, AWeber recently launched a free plan if you have less than 500 subscribers—great if you're just getting started. It does come with limitations, though. For example, you can only send 3,000 emails a month.
Pros of AWeber for affiliate marketing:
Huge library of customizable email templates
Powerful analytics and detailed reports
Free plan for those just starting out
Cons of AWeber for affiliate marketing:
Automation features aren't as comprehensive as others
Can get quite costly when you leave the free plan
Pricing:
Free plan for up to 500 contacts
Paid plans start at $19.99/mo for 500 contacts
Read our full review of AWeber or try it for free.
7. Mailjet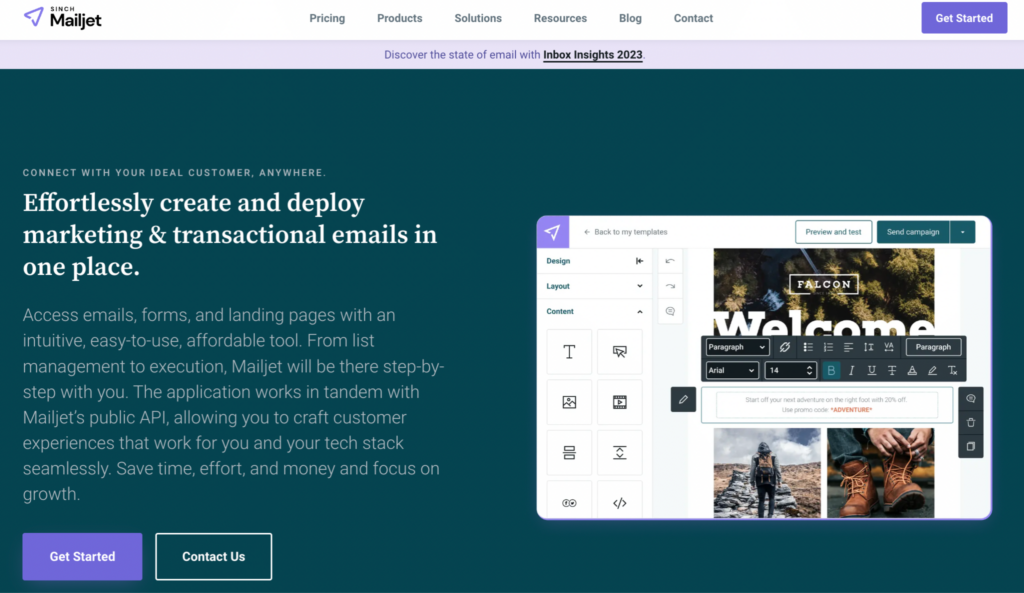 There's no evidence suggesting that Mailjet does or doesn't support sending affiliate links via email marketing, but as there's nothing to say it's a hard no, you can probably proceed with caution.
The biggest selling point of Mailjet is its affordability—it's one of the cheapest email platforms on the market without sacrificing quality or number of features. Like the other email tools here, you can access a library of no-code email templates, set up automation workflows, and embed opt-in forms on your website with a user-friendly widget feature.
It might not be helpful if you're working alone, but Mailjet also has a cool collaboration feature that lets multiple people edit the same email at the same time. This could be useful if you're working in partnership with a brand or fellow content creator on an affiliate email marketing campaign.
There are two downsides to Mailjet. The segmentation capabilities are pretty limited in comparison to other providers and so are its automation features. You can only group together subscribers based on their contact details and whether they clicked or opened an email in a certain timeframe. This can be restrictive if you want to better understand which subscribers click which affiliate links.
When it comes to automation, you can't edit the workflow once it's activated or reactivate an inactive workflow. It might not seem like a big deal, but it can mean you have to create repetitive or seasonal campaigns from scratch every time.
Pros of Mailjet for affiliate marketing:
Very affordable plans for beginners
Handy widget feature for embedding sign-up forms
The collaboration feature is great for working with affiliate partners
Cons of Mailjet for affiliate marketing:
Limited segmentation capabilities
Limited automation options
Pricing:
Free to send 6,000 emails a month
From $15 a month on the Essential Plan
Read our full review of Mailjet or try it for free.
8. Flodesk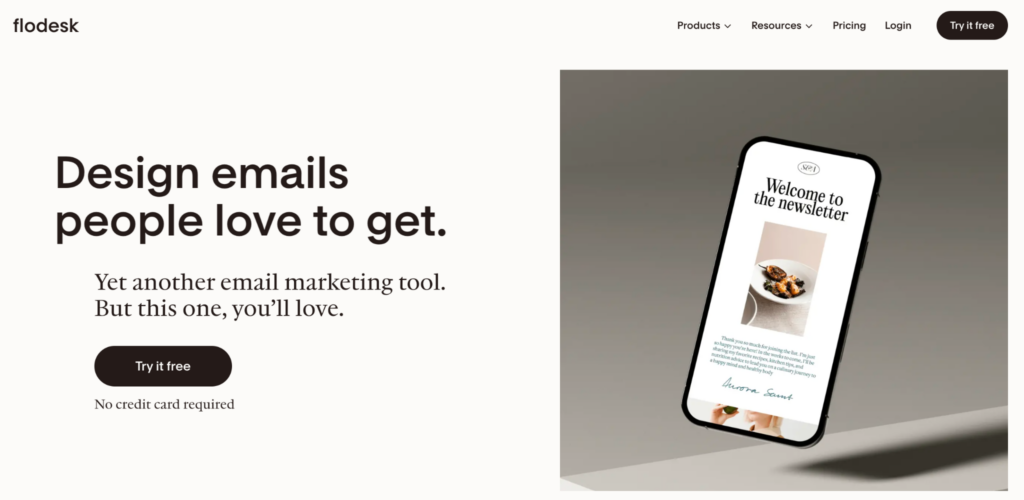 Like Mailjet, there's no concrete evidence that Flodesk does or doesn't allow affiliate programs, but it does provide a beautiful platform to share your affiliate links and campaigns. The smart layout designs let you create email content blocks to show off individual affiliate products and you can easily swap out affiliate links based on their performance over time.
You can also build out personalized email sequences based on previous behavior and segmented interests, while the automation feature has plenty of welcome email templates and drip campaigns to experiment with.
Flodesk has a particularly simple (and beautiful) interface—and the eye-catching design extends to its library of professional, no-code email templates that you can customize with your own branding. On top of this, Flodesk has a built-in analytics feature so you can track the performance of an affiliate email marketing campaign, while flat-rate pricing means you can grow your list without growing your costs.
Pros of Flodesk for affiliate marketing:
Beautiful, customizable email templates
Easy-to-use interface
Flat rate pricing
Cons of Flodesk for affiliate marketing:
No A/B testing capabilities
Limited advanced segmentation features
Pricing:
From $38/month for unlimited sends and subscribers on the Email plan
9. tinyEmail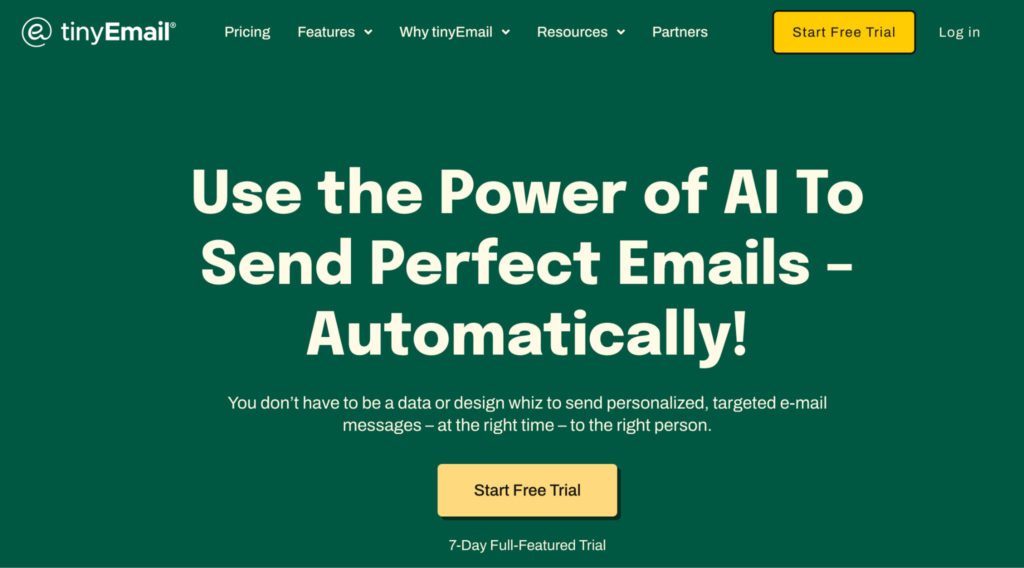 tinyEmail has all the features you might need to run a successful affiliate email marketing campaign. Segmentation and automation features make it easy to send the right email to the right people at the right time, which is a huge bonus if you're an affiliate for multiple different products.
The platform recently launched an AI-powered messaging feature that automatically generates subject lines and copy to save you time. You can even group together your most loyal customers and send them special offers to drive sales.
As well as email templates, automated workflows, and segmentation, tinyEmail lets you track affiliate sales through URL-based attribution. This gives you real-time data on who's buying what products from which affiliate links.
Pros of tinyEmail for affiliate marketing:
AI-powered messaging to save time
URL-based attribution to track your affiliate links
Access to real-time data
Cons of tinyEmail:
Segmentation capabilities are not as powerful as others
Limited automation capabilities compared to other ESPs (e.g. ActiveCampaign)
Free trial requires credit card details
Pricing:
Free for up to 500 subscribers
From $15/month for 15k emails on the Standard plan
How to build an email list for affiliate marketing
Of course, choosing the right affiliate email marketing platform is just one part of the puzzle! For your affiliate email marketing strategy to be successful, you'll need to find ways to not only build an email list – you'll also have to offer valuable content to keep them subscribed.
Here are a few simple ideas for building an email list for affiliate marketing:
Product Reviews and Recommendations: Create in-depth reviews and recommendations of affiliate products within your niche. At the end of each review, encourage readers to subscribe to your email list to receive updates on new product reviews and exclusive discounts.
Affiliate Exclusive Content: Offer exclusive content or insider information to your email subscribers. For instance, promise to share limited-time affiliate deals or early access to product launches with your email list.
Comparison Guides: Create comparison guides that help your audience make informed purchasing decisions. Encourage users to subscribe to your list for downloadable PDF versions of these guides.
Email Courses: Develop an email course that educates your audience about a specific topic related to your affiliate products. Promote the course and ask for email sign-ups to access it.
Affiliate Webinars: Host webinars where you discuss the benefits and features of affiliate products. Require participants to register with their email addresses to attend the webinar.
Affiliate Newsletters: Create a newsletter that highlights the latest affiliate product releases, updates, and industry news. Encourage users to subscribe for timely updates.
Exit-Intent Pop-ups: Use exit-intent pop-ups on your website when users are about to leave. Offer a last-minute discount or access to your affiliate resource library in exchange for their email addresses.
Affiliate Case Studies: Share success stories and case studies of people who have benefited from using affiliate products. Include a call-to-action to subscribe for more inspiring stories.
Affiliate Toolbox: Create a resource library with helpful tools, templates, and guides related to your niche's affiliate products. Ask visitors to subscribe to gain access.
Referral Contests: Organize referral contests where existing subscribers can earn rewards for referring new subscribers to your email list.
These examples show how to integrate affiliate marketing seamlessly into your email list-building strategy, providing value to your subscribers while promoting affiliate products effectively.
Which affiliate email marketing solution is right for you?
Affiliate links are a great way to monetize your newsletters and email marketing efforts. The tool you choose will ultimately depend on your business model, your industry, and how you plan to slot an affiliate program into your wider money-making activities and email campaigns.
Well-known platforms like GetResponse and ActiveCampaign come equipped with powerful features that will scale with your business, but if you're looking for something smaller and more cost-effective as an affiliate marketer, opt for something like tinyEmail or Mailjet to get started. Alternatively, choose a cheaper plan with one of the well-known providers to get a feel for the features you might need.
We highly recommend trialing a few of these ESPs to see which ones you find the most intuitive, have the best templates and workflows for your needs, and provide the best analytics.
We keep our content up to date
06 Oct 2023 - Added Freshmarketer
Our Methodology
This article has been written and researched following our EmailTooltester methodology.
Our Methodology