GetResponse is a popular all-in-one email service provider (ESP) that provides businesses with advanced automation, reporting, and landing page features. Its user-friendly interface and broad range of pro features make it an obvious and desirable option for small and medium-sized businesses.
However, while it may be one of the best email marketing services out there, it's not the only provider with advanced email marketing capabilities.
In this article, we will explore a number of GetResponse alternatives that offer a different feature set and, in some cases, more affordable pricing plans.
Let's find out who GetResponse's competitors are. But first, a little bit about GetResponse's product.
Pros and Cons of Using GetResponse
Whether you're a small business owner or a marketer for a large corporation, there's a GetResponse alternative out there for you. So let's first take a look at the pros and cons of using GetResponse:
GetResponse Pros
User-friendly interface: GetResponse is known for its easy-to-use interface, making it accessible to users of all skill levels.
Automation capabilities: Autoresponders and a wide variety of triggers. Set up multistep automations from a range of templates
Integration options: E-commerce platforms, CRM systems, social media platforms, etc.
Advanced analytics and reporting: Detailed analytics, including conversion and ecommerce tracking
Good customer support: Access to the knowledge base, video tutorials, and email and live chat support.
GetResponse Cons
Low Email Deliverability: Not the best email deliverability rates compared to other providers and have decreased since our previous round in April.
Higher pricing: Pricing plans can be relatively expensive if you want to access more advanced features.
Limited segmentation capabilities: Some users have reported that GetResponse's segmentation capabilities are limited compared to other email marketing tools.
Marketing automation limitations: You'll need the higher-tier plans to access these features
An Overview of The Top GetResponse Alternatives and Competitors
EMAIL MARKETING SOFTWARE
COMMENTS
PRICE

Brevo

Advanced automation, reportingand list management features. Also inludes CRM software for free. Email builder could be more user-friendly. Their pricing plans are much more affordable than GetResponse's.
Free version available

Paid plans start at $25 per month

MailerLite

Very easy to use tool for beginners. Excellent email and landing page builder. Unfortunately, email templates aren't available on the free plan. Automation features are basic and not as powerful as GetResponse, although they are available for free and their plans are much cheaper.
Free version available

Paid plans start at $15 per month

ActiveCampaign

Email campaign builder is a pleasure to use, with great design capabilities and responsive email templates. This is a tool for those serious about email marketing automation and omnichannel marketing. Slightly steeper learning curve and at the pricier end of the spectrum.
No free version available

Email Marketing plans start at $39 per month

AWeber

Fairly easy-to-use platform with good support. Sales tracking, landing pages and marketing automation features included. The language used within the platform could be a bit intimidating for inexperienced email marketers. Deliverability could be better.
Free version available

Paid plans start at $19.99 per month

Mailchimp

One of the most well-known email marketing tools. The email campaign builder is perfect for beginners. The paid email templates are very modern and attractive, but the free ones are very outdated. Strong reporting features and great eCommerce integration options. List management limitations and unfair subscriber charges.. Paid plans can get pricey pretty quickly.
Free version available

Paid plans start at $13 per month

Constant Contact

On the whole, Constant Contact is pretty easy to navigate, although its the interface is a little on the dull side. The email editor is also lacking design features, but it is fairly straightforward to work with. In addition to this, they offer a niche set of features that other providers don't, from social media scheduling to logo creation and digital product selling.
No free version available

Paid plans start at $12 per month

Omnisend

Their drag-and-drop email builder is pretty easy to use, and they offer some cool niche features for e-commerce users. Almost all advanced features are available on their free plan, including marketing automation, landing pages, website tracking, and more.
Free version available

Paid plans start at $16 per month

Moosend

It is a very affordable tool, starting at just $9 a month. It offers pro features such as multi-step marketing automation, detailed ready-to-use automation templates, reporting and excellent customer support.

Not the easiest of tools to use, it's email campaign and landing page builder could do with some improvements in terms of usability.

No free version available

Paid plans start at $9 per month

HubSpot

HubSpot offers free email marketing and CRM software with unlimited users. Their platform is extremely user-friendly with excellent customer support. Unfortunately, there is a massive price jump for more advanced features such as omnichannel marketing, and users often complain about their hidden fees.
Free version available

Paid plans start from $20 per month

ConvertKit

ConvertKit's editor isn't the easiest to use, and their interface is a little on the dull side, it looks like a . They do offer a free plan but it's quite limited. Their design options are also a bit limited. ConvertKit offers 50 landing page templates, basic reporting features, and even offer free migration from another esp. You can also sell digital downloads with ConvertKit.
Free version available

Paid plans start $15 per month
The Best GetResponse Alternatives: A Detailed Look
1. Brevo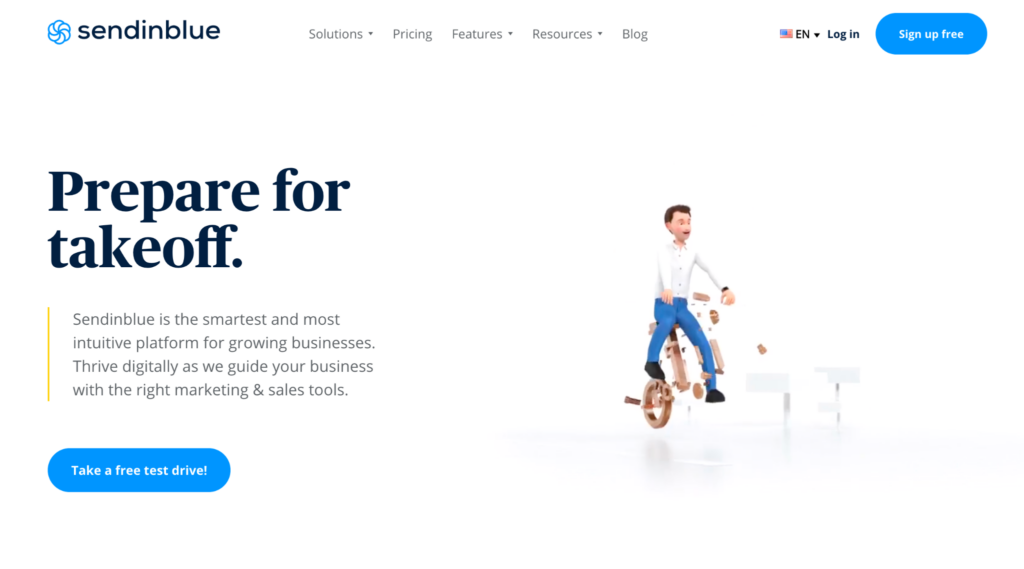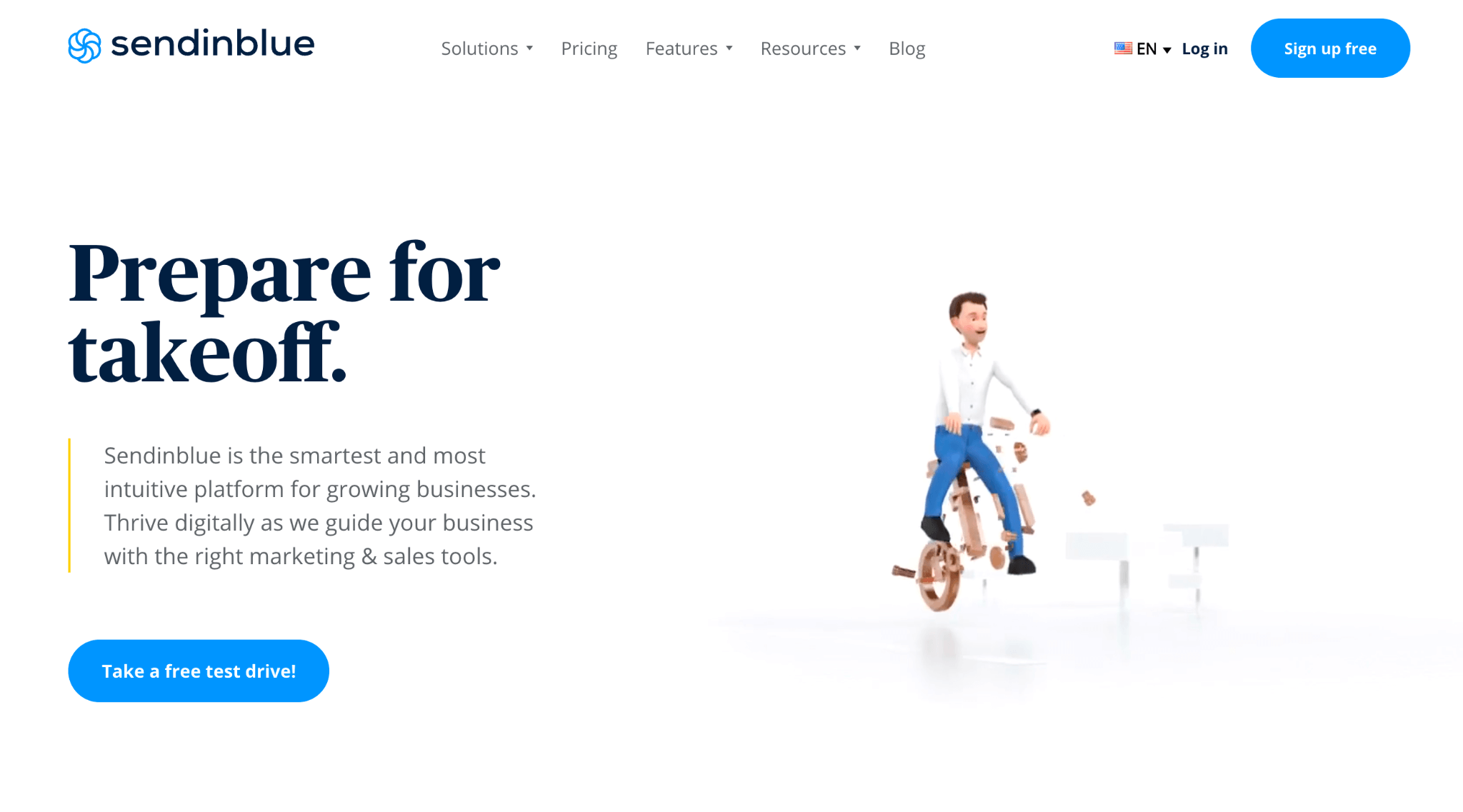 This all-inclusive marketing software offers an array of features such as email marketing, SMS marketing, and CRM software, making it an ideal solution for businesses of all sizes and types. What's more, they offer a really generous free plan that gives you access to its automation features, allowing you to send up to 300 emails a day.
Some of the key features that Brevo offers include:
Strong automation features: Automated email sequences, transactional email functions, lead generation, and SMS capabilities (for the US).
Strong reporting: Advanced analytics and reporting to easily track the success of email campaigns
Design flexibility: A variety of pre-built email templates and design options
Ideal for ecommerce business owners: Partnerships with popular e-commerce platforms such as Shopify, and WooCommerce
Very affordable: Brevo offer access to a wide selection of automation features and unlimited contacts on their free plan, which is a lot more generous than GetResponse's free plan.
What they should improve:
Ecommerce features: Although there are ecommerce integrations available, you can't sell digital products via Brevo's platform
Email deliverability: Unfortunately, Brevo's email deliverability results were pretty low in our recent email deliverability tests.
Pricing
Paid plans start from $25/month
See our Brevo pricing guide for more information.
2. MailerLite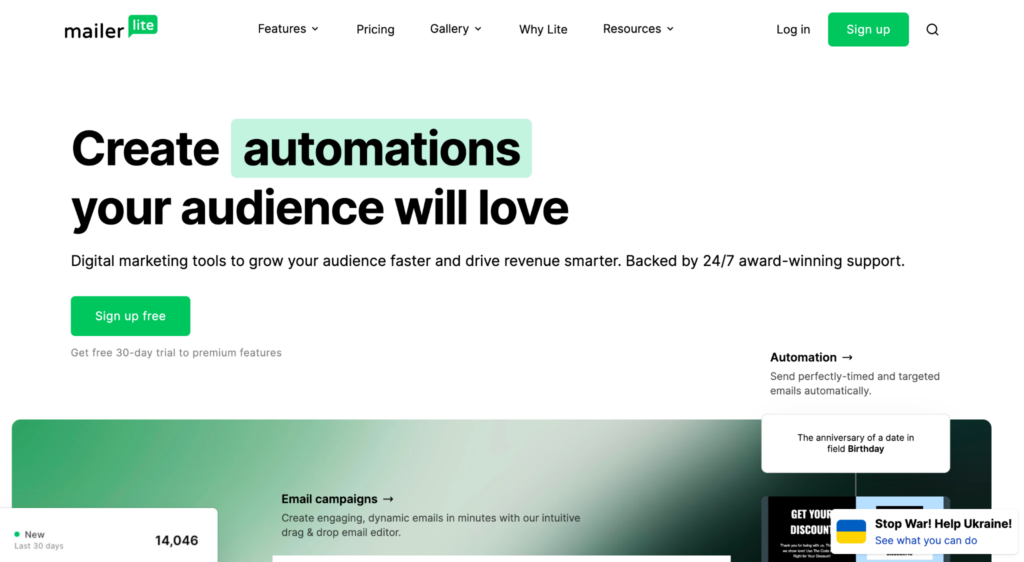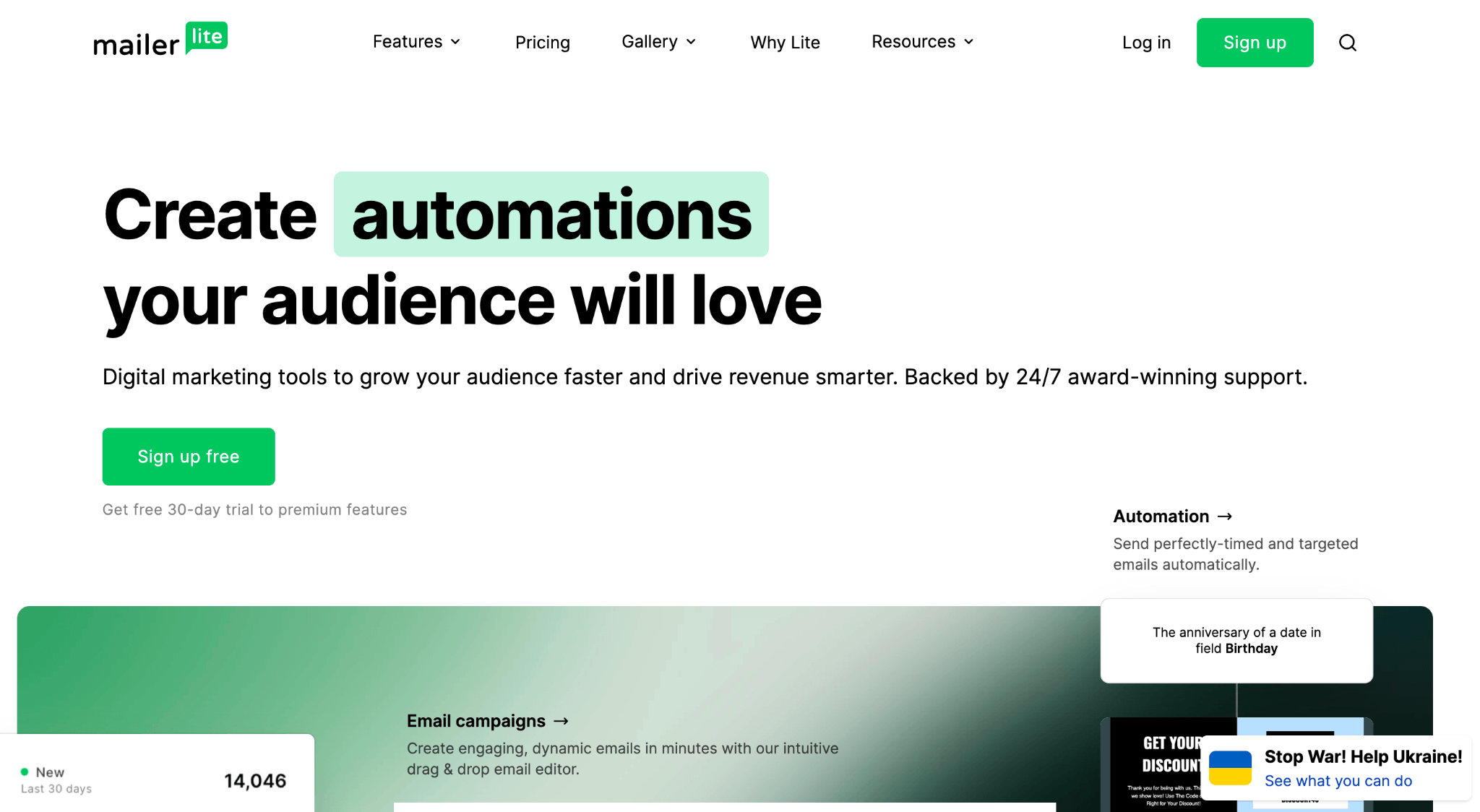 MailerLite is an extremely affordable and easy-to-use email marketing solution. The tool is ideal for small business owners, offering an extremely user-friendly email campaign and landing page builder, basic email automation features, and reporting analytics all for free.
Some of the key features that MailerLite offers include:
Extremely user-friendly: Great for beginners, one of the easiest email marketing tools we've tested
Excellent deliverability rates: MailerLite is one of the highest-scoring tools in our email deliverability tests
Automation on the free plan: Their free plan offers access to a visual email automation builder and unlimited automation steps
Free landing pages: An excellent free landing page builder is included
Templates: A variety of modern pre-built email and landing page templates (on a paid plan). Design options on the free plan are also very good.
Attractive pricing: Free plan available for up to 1,000 subscribers, great for businesses who want to keep their marketing expenditure low
Free online courses: Users gain access to MailerLite Academy on the free plan, which enables them to become a certified MailerLite email marketing expert
What they should improve:
Language limitations: Since MailerLite upgraded their product, they have removed four languages that they previously offered. Bad news for existing customers.
Advanced reporting: MailerLite does lack more advanced reporting and contact management features.
Pricing
Paid plans start from $15
See our MailerLite pricing guide for more information.
3. AWeber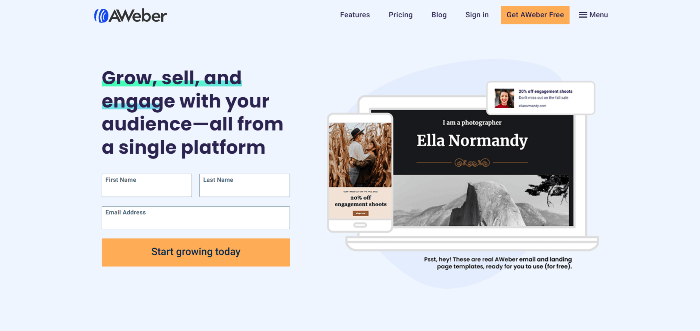 AWeber is a widely-used email marketing tool that provides a comprehensive set of features, including email automation, analytics, and integration options with a selection of other business tools. They've also been around for more than 20 years, which is pretty impressive.
Some of the key features that AWeber offers include:
Automation tools: They boldly claim that the autoresponder was a creation of their own. Unfortunately, triggers are limited to when someone subscribes to a list or has a particular tag
Performance tracking: A/B testing, email analytics, and conversion tracking
Email templates: Businesses can choose from a wide variety of pre-made templates to suit any occasion or communication opportunity.
Ecommerce features: Thanks to their PayPal integration, you can sell your services and products via emails and your sales landing page. You can track all PayPal sales within your AWeber dashboard.
Good customer support: Responsive and helpful customer support. Educational tools are available for first-time users such as video tutorials, help articles, and podcasts.
What they should improve:
Subscriber count: Unsubscribed users count towards your monthly quota, which is pretty unfair.
Pricing: In comparison to other similar tools, their plans and pricing are quite expensive.
Pricing
Paid plans start from $19.99 per month
See our AWeber pricing guide for more information.
4. ActiveCampaign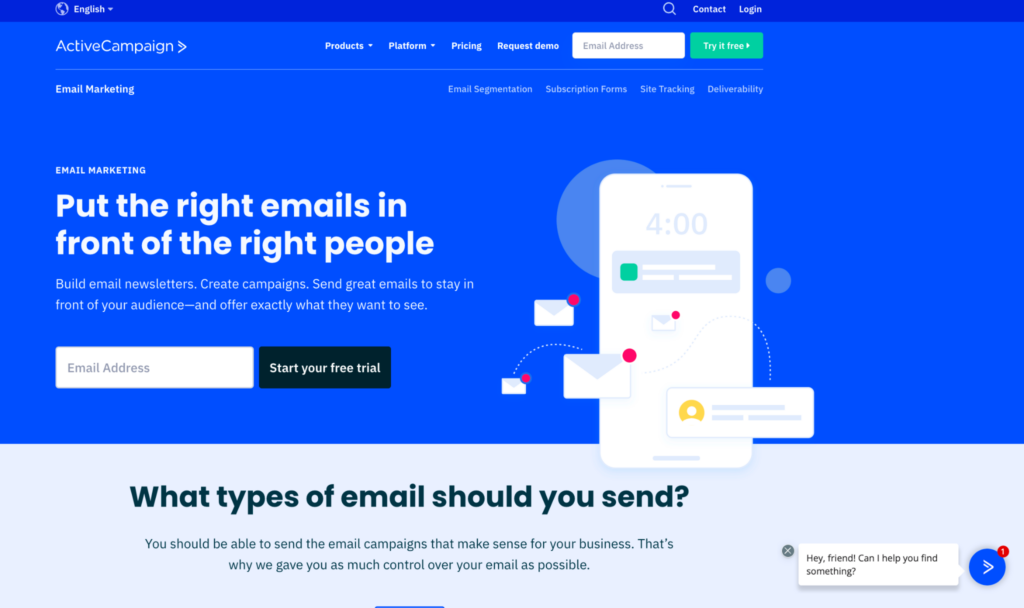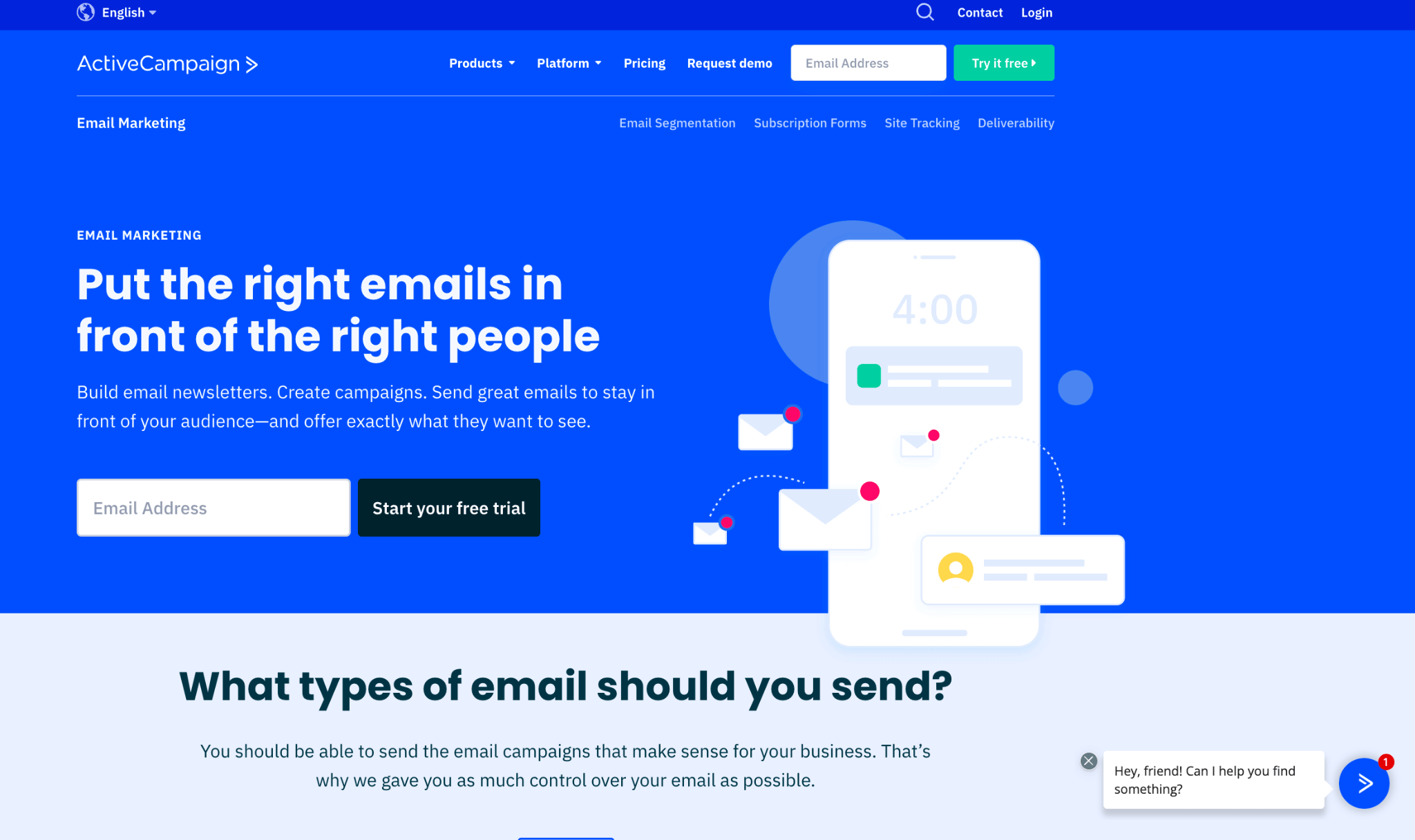 We can honestly say this is one of the best email marketing services we've tested, (and they even got our badge to prove it). This all-inclusive marketing software offers an array of advanced email marketing features, from a landing page builder to a robust CRM, to other handy sales and marketing automation tools. It's safe to say, ActiveCampaign is a top solution for businesses of all sizes (though you will need a decent email marketing budget).
Some of the key features that ActiveCampaign offers include:
Unbeatable email automation: You can automatically tag users based on behavior, run A/B tests, and create complex, timed automation workflows. Segmentation and deal management can also be automated.
Omnichannel marketing features: Live chat for your website, SMS marketing, Facebook Custom Audiences and "site messages", which lets you create personalized content on your website/landing pages.
Robust CRM and sales tools: The platform provides decent sales management features to move leads through a sales funnel and convert them into paying customers
Industry-winning deliverability: Their deliverability rates have been consistently very good in our email deliverability tests.
What they should improve:
No free plan: They don't offer a free plan, only a free trial period. GetResponse and other very similar tools offer free plans, so this is a little off-putting
Extra charges: They only allow 5 email tests and previews per month, and this isn't available on the lite plan, you are charged extra for this service which is pretty unheard of!
Pricing
Email Marketing plans start from $39 /month
See our ActiveCampaign pricing guide for more information.
Try ActiveCampaign for free for 14 days
5. Omnisend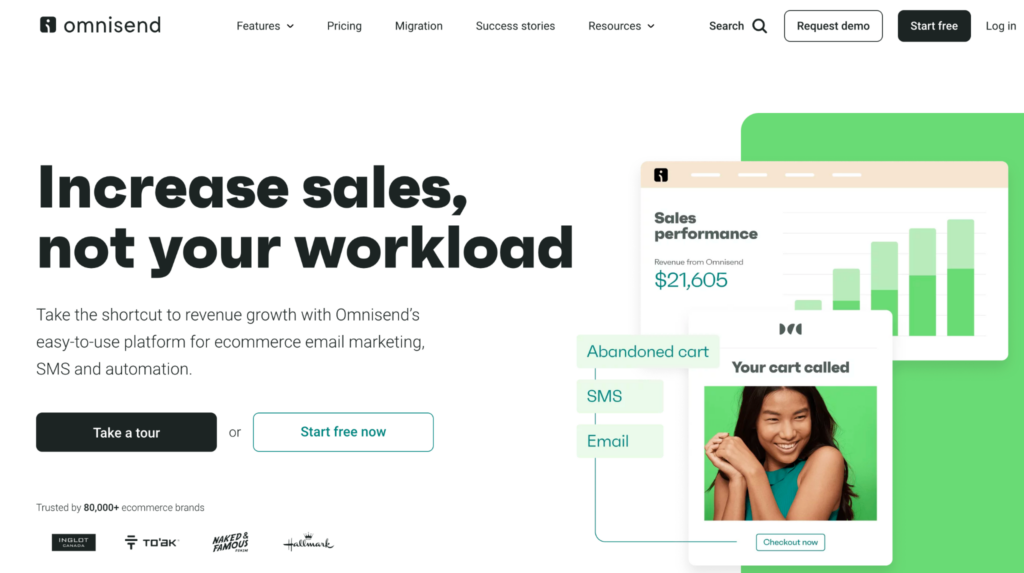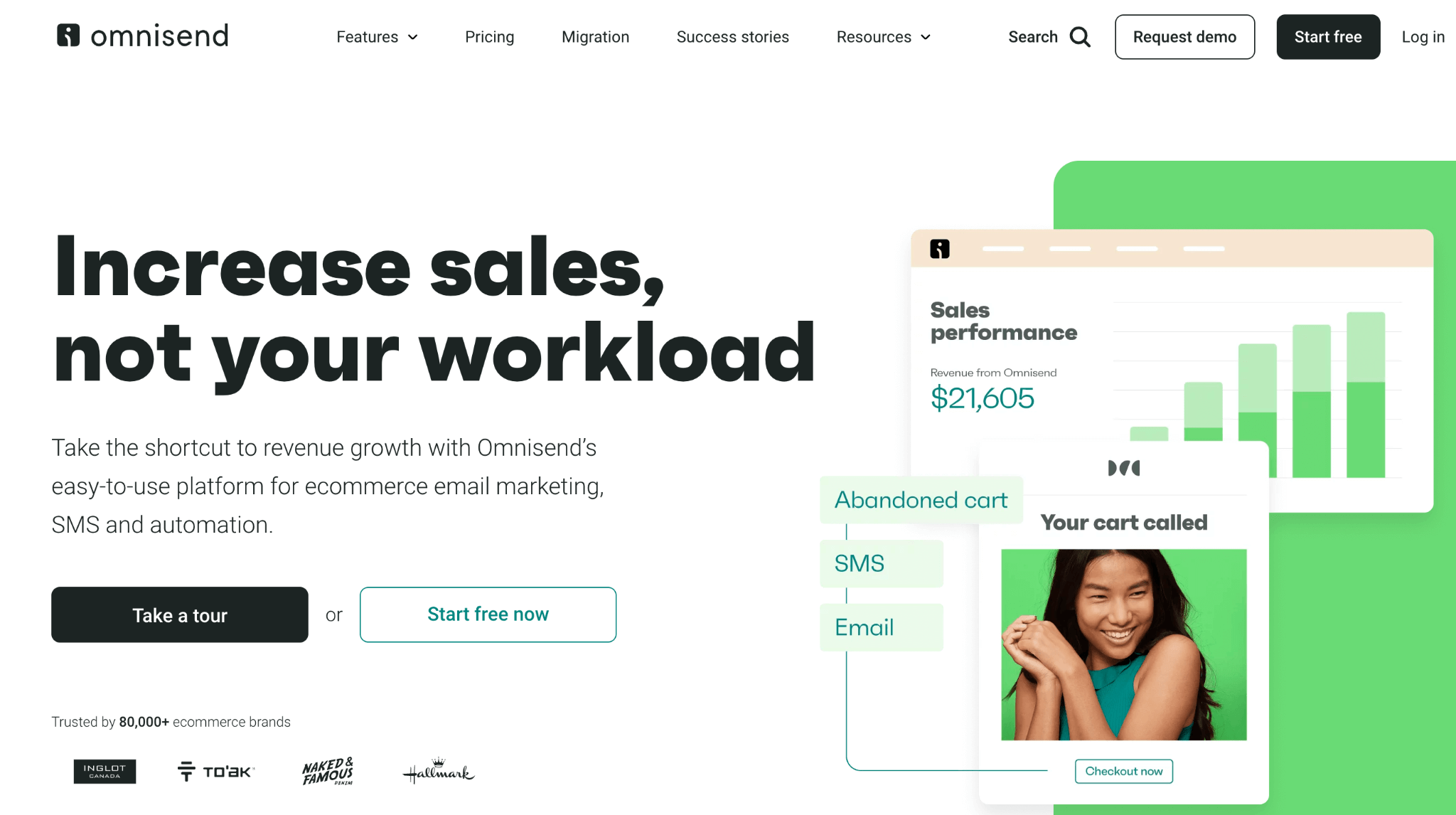 Omnisend is an email marketing automation platform designed for e-commerce businesses. It offers a range of impressive features including email, SMS, and web push notifications, as well as advanced segmentation and automation capabilities. This tool helps store owners with the ability to automatically add products to your newsletters, and cool email add-ons like scratch cards and gift boxes. What's more, all of these features are available on the free plan, along with website tracking, 24/7 support, deep reporting, and landing pages. Not bad at all.
Some of the key features that Omnisend offers include:
Email marketing: Omnisend offers a range of email marketing tools, including a user-friendly drag-and-drop email editor, automation workflows, and advanced list segmentation. It also provides detailed analytics and reporting to help users track the performance of their email campaigns.
SMS marketing: Omnisend has built-in SMS marketing tools that allow users to send SMS messages to their customers (even on the free plan!).
Ecommerce integrations: Omnisend has a wide range of e-commerce integrations including Shopify, Magento, BigCommerce, and more.
Web push notifications: Omnisend allows users to send push notifications to their website visitors.
What they should improve:
Email Deliverability: Omnisend didn't score too well in our latest deliverability tests, there's definitely room for improvement. Tracking: You can't see where your subscribers are based or other useful information such as social media profiles.
Pricing
Paid plans start from $16 /month
See our Omnisend pricing guide for more information.
6. Mailchimp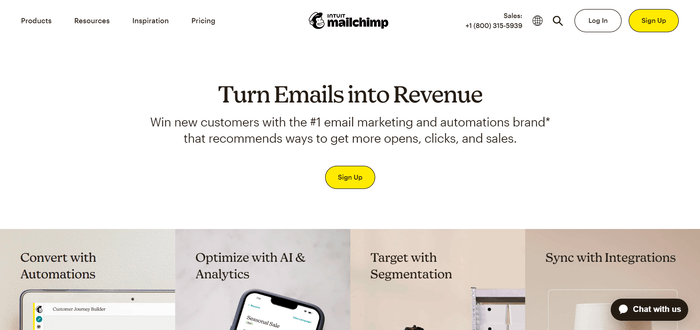 Mailchimp is an extremely popular email marketing software solution, used around the world by businesses of all sizes. One of the most exciting things about the chimps is that they are constantly introducing new features to reach a wider audience. They now offer additional marketing features on their paid plans, such as social media scheduling and retargeting ads for Facebook, Google and Instagram. It also offers a website builder and appointment scheduling for free.
Some key features that Mailchimp offers include:

Beginner-Friendly Email Builder: Mailchimp offers an easy-to-use email campaign builder that guides you through the various steps.
Customer Segmentation: Mailchimp encourages you to divide customers into segments, or as they call them, 'audiences'.The downside is that you'll be charged extra if a contact appears on more than one list. This is also the case for unsubscribed contacts.
Marketing Automation: Multi-step automation workflows are possible, but you'll need the higher-tier plan. More basic autoresponders are available on the free plan.
Social Media Marketing Tools: Gives you the ability to set up Facebook ads, schedule social media posts, and organize your marketing calendar.
What they should improve:
User management: Mailchimp charges you for unsubscribed, and non-subscribed contacts, meaning you need to stay on top of your list hygiene.
Customer support: They only offer support on the Essentials plan or higher.
>Make sure to check out our top
Mailchimp alternatives
Pricing
Paid plans start from $13 /month
See our Mailchimp pricing guide for more information.
7. Constant Contact: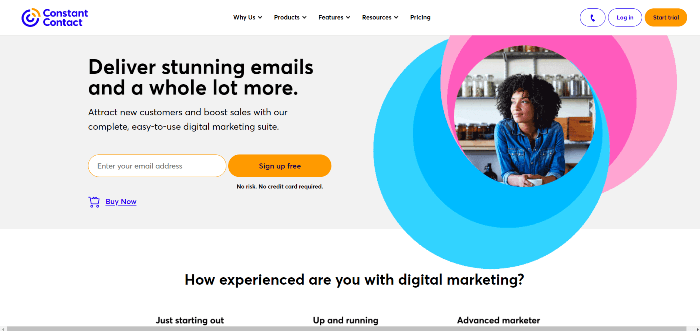 Constant Contact is another email marketing tool that has been around for a while. They set up shop back in 1995 and have since been known for their offering of email automation tools and event booking features. In our opinion, their email automation capabilities have room for improvement, however, Constant Contact does offer integrations with over 270 apps and consistently does very well in our deliverability tests. This email software certainly caters to small businesses and organizations all over the world for a reason. Let's find out what it is!
Some of the key features that Constant Contact offers include:
Event management features: Through their Eventbrite integration, businesses can easily market events and manage event registrations and tickets
Digital marketing tools: Businesses can manage their social media scheduling in the same platform as their email campaigns, and what's more, they can even create their own logo – a niche feature we haven't come across in other email marketing tools
Templates: They offer over 200 templates which is a lot more than many other providers, you can use their "brand your email" template generator, which creates an email template based on your logo
What they should improve:
Pricing
Paid plans start from $12 /month
See our Constant Contact review for more information.
8. Moosend
Moosend offers an all-in-one email solution at a great price. Offering pro automation features for as little as $9 a month, this great email service is clearly designed to serve small businesses and startups. Landing pages/web forms, subscriber management, mailing list management, marketing automation, and website visitor tracking is all included.
Some of the key features that Moosend offers include:
Reporting: Real-time analytics of each campaign including open rate, bounce rate, and location tracking
Pre-built workflows: Offers pre-built workflows with specific triggers to set up fairly advanced automations
Good customer support: Moosend offers phone support, which can be an essential factor for some businesses
What they should improve:
Free plan: Moosend no longer offer a free plan
Third-party integrations: They offer a very limited selection of third party integrations, which makes other tools more appealing
Pricing
Paid plans start from $9 /month
Try Moosend out for free for 30 days
9. HubSpot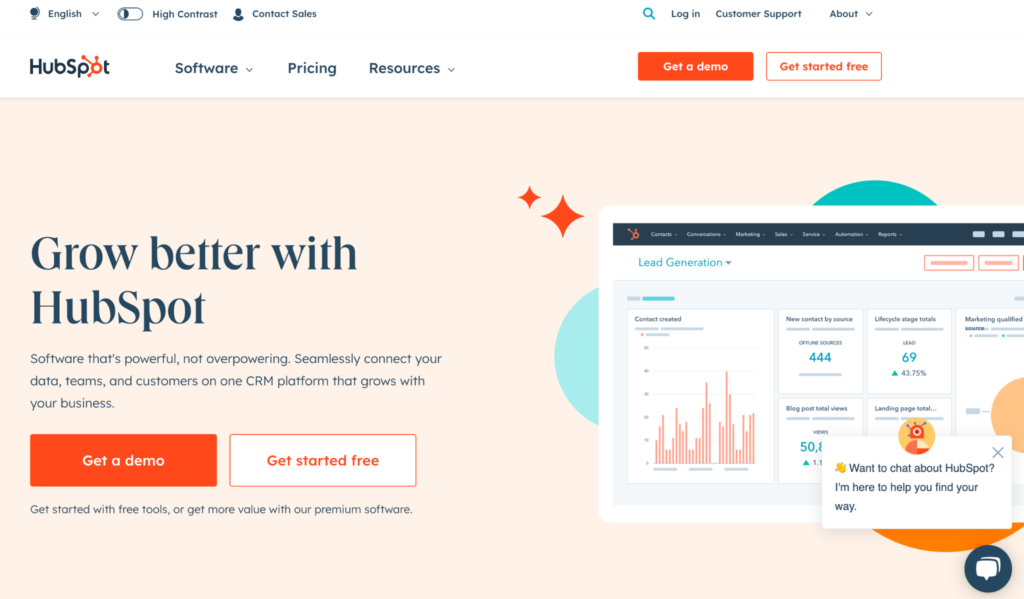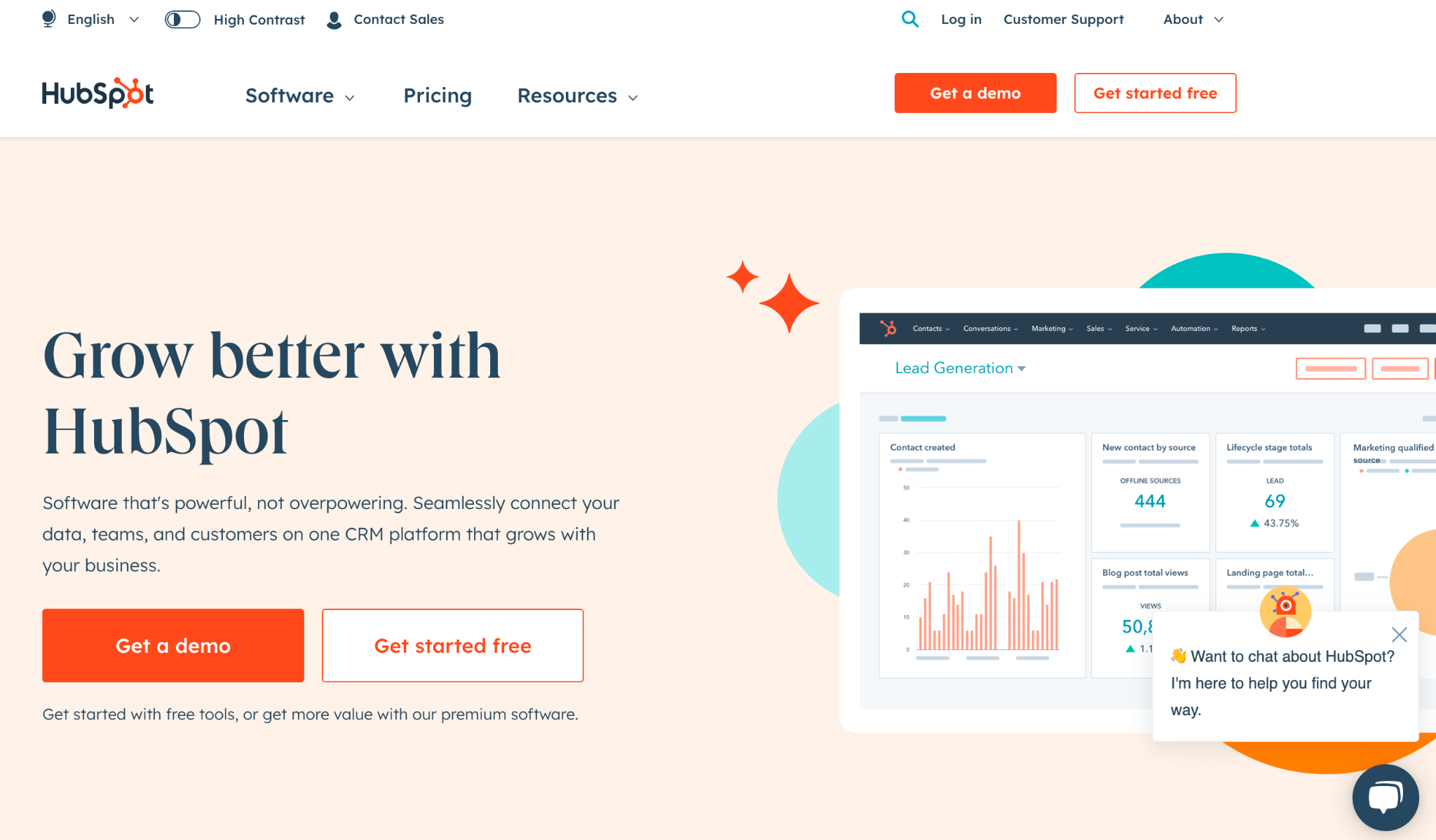 HubSpot is an all-in-one marketing, sales, and service software that helps businesses of all sizes grow by offering a range of inbound marketing tools. Key features including a website builder, marketing automation, CRM software, and analytics. The software is designed to be easy-to-use and help businesses streamline their marketing and sales efforts.
Some of the key features that HubSpot offers:
All-in-one platform: HubSpot offers tools for marketing, sales, and service, as well as CRM and analytics.
Website optimization: HubSpot offers website optimization tools and analytics to help users improve their website's performance and SEO.
Sales features: HubSpot provides sales and collaboration tools to help sales teams close more deals.
Service features: HubSpot includes a helpdesk and ticketing system, knowledge base, and chatbots to help users provide better customer service.
What they should improve:
Expensive plans: Theres quite a significant jump from marketing plan to Professional plan
Branding: You'll need to fork out $20/month to remove HubSpot's branding on your emails, live chat and blog.
Pricing
Paid plans start from $20 /month
See our HubSpot pricing guide for more information.
10. ConvertKit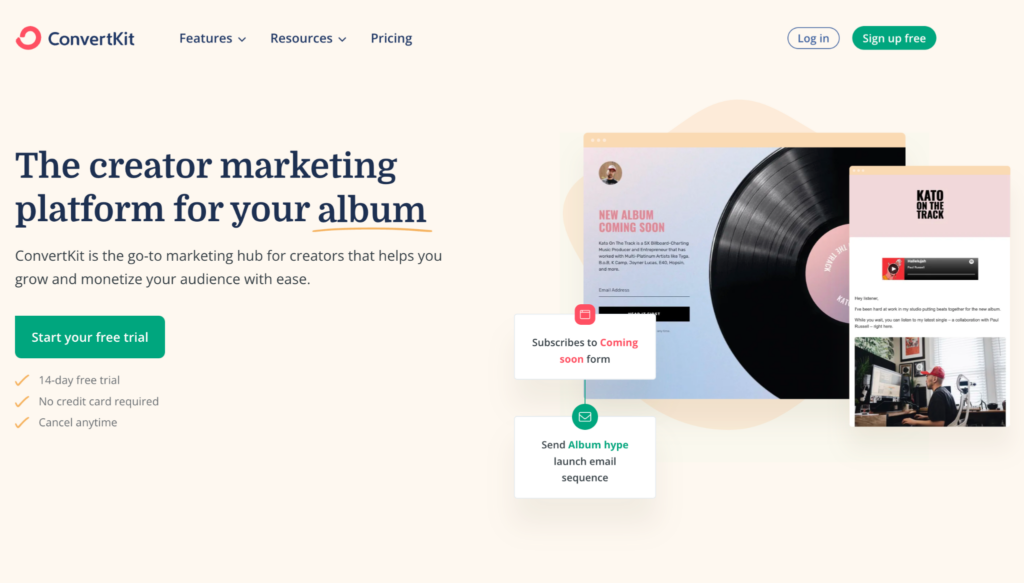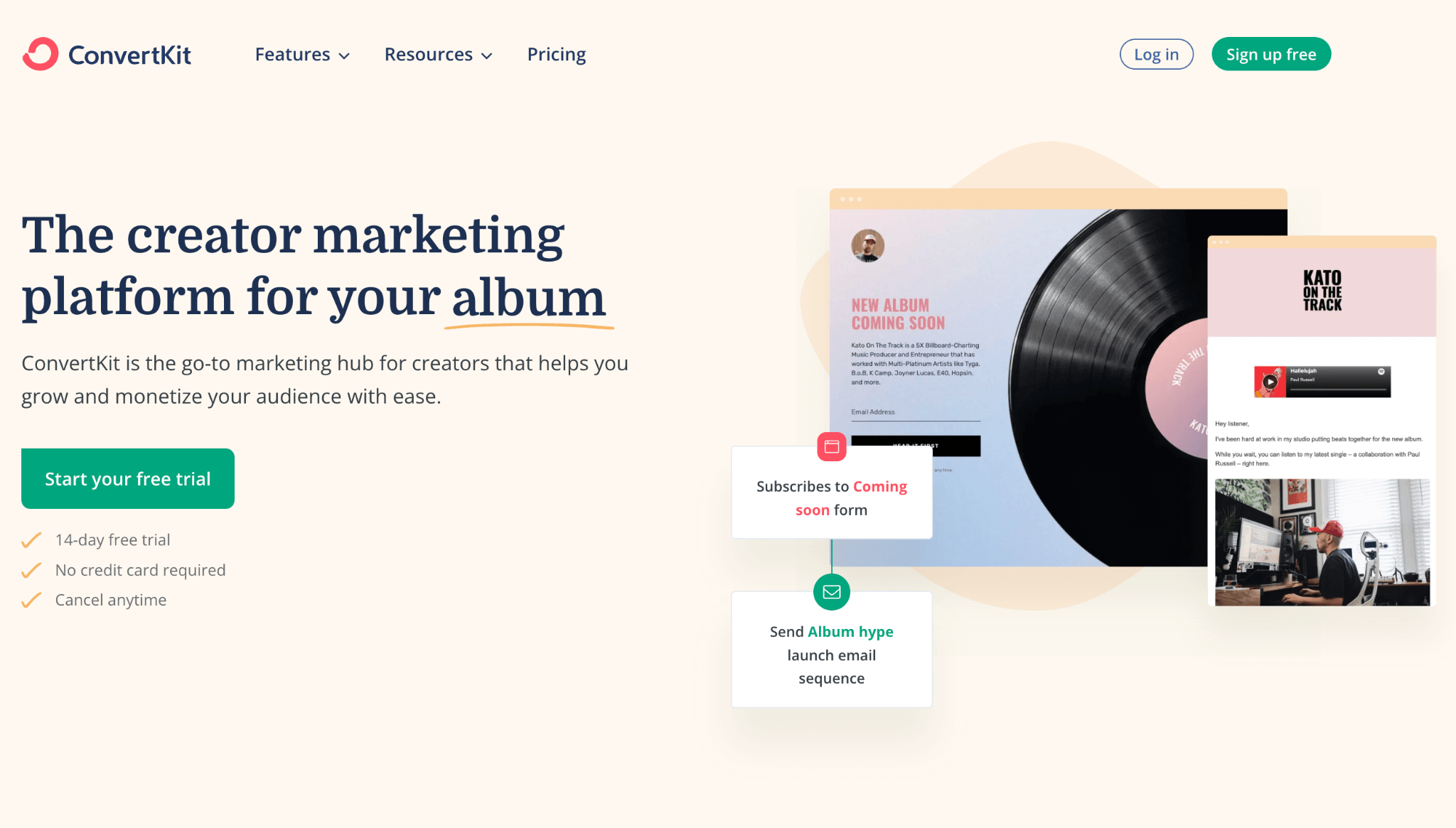 ConvertKit is one of the newer kids on the block and is mainly geared towards professional bloggers, podcasters, course creators, and YouTubers. They want to help creators connect with their audiences, and explore how email marketing can help to maximize their earnings.
Some of the key features that ConvertKit offers include:
Monetize newsletters: They make it really easy to monetize your newsletters, ¡with their "tip jar" feature, and by charging your readers for your newsletters.
Automation options: Basic sequences/autoresponders, automation, A/B testing (for subject lines only
User management: Easily add and remove subscribers from workflows with their easy-to-use tagging system.
Landing page editor: You can create simple landing pages even without your own website, this is really handy for social media campaigns. You can explore their landing page templates, which are pretty nice and available on the free plan
What they should improve:
Limited reporting: They don't include click maps, geo-tracking, and bounce rates.
Poor design options: They only offer text-based email templates
Pricing
Paid plans start $15 per month
See our ConvertKit pricing guide for more information.
Best Free GetResponse Alternatives:
GetResponse's free plan allows you to try out a limited version of the marketing features available on their paid Email Marketing plan. The main limitations with the free plan are that you'll only be able to collect up to 500 subscribers and set up 1 landing page/website. But if you are looking for a free GetResponse alternative with a bigger sending allowance and greater functionality, here are some free email marketing software to consider:
MailerLite
MailerLite's free plan is an attractive GetResponse alternative, with a subscriber limit of 1,000 and 12,000 monthly email sends. You'll also gain access to automation and landing pages on their free plan, as well as basic email support.
Omnisend
Omnisend allows users on their free plan to gain access to almost all of their features, from email, SMS, user segmentation, and automation. This is also ideal if you are looking for a free alternative with a bigger contact limit, you have an unlimited number of contacts on their free plan and a monthly email sends limit of 500. Though, it's important to note that you'll only be able to contact up to 250 subscribers/month. Overall, a good option for e-commerce owners just starting out in the email marketing realm.
Brevo
Brevo offers access to a good selection of automation features and website tracking. Not to mention unlimited contacts on their free plan, in comparison to GetResponse's 500 contact limit.
If you are looking for more free alternatives, you can check our free email marketing software article, where we cover these platforms' free plans in more detail.
Get Response Alternatives: Final Thoughts
In conclusion, there are many alternatives to GetResponse that can offer different features and pricing plans to suit the email marketing strategy of any business.
Whether you're looking for a more affordable option or a tool with more advanced automation capabilities, the options outlined in this article are worth considering.
The great thing is, most offer a free plan or a free trial of the higher-tier plans, which means you can test the software without any risk. We'd highly recommend you take them for a spin!
If you have any questions about the tools or wish to share your experience using any of them, please leave us a comment below.
FAQ
GetResponse is an all-in-one marketing platform that focuses on email marketing and automation. Additional features include landing pages, webinars, and sales funnels. It also offers integration with ecommerce platforms for targeted marketing based on customer behavior and purchase history.
GetResponse provides contact management features such as contact tagging and scoring, site and event tracking, and automation segmentation. While these features can be useful for managing contacts, it's important to note that there are other CRM options available specifically designed for small businesses. It might be worth exploring those solutions for a more robust CRM experience.
GetResponse offers a free plan with up to 2,500 newsletters a month and 1 landing page (with a monthly limit of 1000 visitors). You can also create 1 website with its website builder and access galleries, popups, and forms. However, you won't get access to A/B testing, autoresponders, automations, or lead scoring.
We keep our content up to date
10 Jul 2023 - Added FAQs
25 Apr 2023 - Added new video reviews
Our Methodology
This article has been written and researched following our EmailTooltester methodology.
Our Methodology